Dr. Michael Plater is an academic visionary, who is making access to high-quality, postsecondary education a top priority. He draws from his established career in the private sector and more than 20 years in academic administration. Dr. Plater is the new guest in this Higher ED Thought Leadership Series by Dr. Emad Rahim.
Dr. Michael Plater served as the former President of Strayer University from 2012 – 2015, and was honored with the distinction of President Emeritus by the Board of Trustees, 2015 – 2020. He served as the former Dean of the College of Arts and Sciences at North Carolina A&T State University, where he managed 13 academic departments and five affiliated academic programs. He was also the Associate Dean of the Graduate School at Brown University and taught the "capstone" business policy and strategic management classes in the MBA program at the University of Florida.
Dr. Emad Rahim: Please tell us how you got started in your career as a University President.
Dr. Michael Plater: My original goal was to manage and lead a corporate enterprise because that was something I could understand and visualize. In an attempt to realize that dream, I received an MBA from the Wharton School and began a corporate career in Cleveland, Ohio.  However, I missed the deep intellectualism of academic life, the diverse range of thoughts and conversations, the excitement and gratification of being around, and training young minds to achieve their greatness. This intellectual longing drove me to seek my PhD and follow my passion by earning my PhD degree in a liberal arts discipline, American Studies.
While the thrill of teaching in the classroom was intoxicating, I found a greater sense of satisfaction contemplating business issues as they relate to the unique culture and landscape of the academic enterprise.  As not many experts have this combined skillset, I was able to drive results and changes, and make a name for myself in this niche area.  Focusing on the intrinsic rewards of providing intellectual, social and economic value to students, I continued to enjoy increased responsibilities and accountability, which culminated in reaching my goal to be the University President, the ultimate academic administrative achievement. With a great deal of hard work, a supportive network, and a little bit of good luck, I was fortunate enough to achieve my goal and retire with enough energy and passion to look forward to achieving my next goal of supporting the post-secondary students at Lincoln Tech, indulging in the EdTech field and collaborating with the private sector.
E.R: How would you describe your leadership style?
M.P: My leadership style is rooted in empathy and compassion, and I am absolutely intentional about it.  I recognize that all individuals in an organization want honesty, a consistent value system rooted in best practices, respect and acknowledgement of their contributions, and to know you care about them and their families.  I pride myself on being a very active listener, and encouraging people to express their concerns and points of view.  Certainly, after listening, I may debate the issues and assumptions, but everyone leaving my office knows I understand their perspective and hopefully they respect my leadership enough to feel their perspective will be incorporated into my decision-making.
I make a concerted effort to surround myself with intelligent people and encourage open, vigorous discussions, with the understanding that diverse thoughts and perspectives aggressively debated yield the best solutions and strategies.  I make it absolutely clear that any well-argued points and supported strategy can prevail in any of my meetings.  My leadership style is also one of consistency and is rooted in strong values.  Engagement and productivity increase when teams have a deep understanding of how you would handle any given situation, in fact, my teams have an 80% probability of accurately anticipating my responses.   A fully-functioning, well-oiled team is one that is able to proactively prepare answers and suggested solutions or begins a discussion with what my answer is likely to be and debates against that anticipated answer.
E.R: During your time at academic administration, what institutional initiatives are you most proud of and why?
M.P: Courageous leaders forge paths for themselves and their institutions which may be unconventional and forward thinking.  I am most proud of one such path I forged at the University of Florida back in the 90's.  At that time, nearly 30 years ago, I spearheaded and oversaw a remote initiative that was not only outside the mainstream pedagogy but met with much disdain by traditional institutions.  By embracing what I learned and understood from teaching classes that were a combination of live instruction, video playback and on cable tv for 1500 students each semester, I had confidence that online education was the way of the future. In fact, I went on to spend the last ten years managing online instruction at the University level, understanding the infrastructure requirements, leading faculty training, and gaining student acceptance.  It was not until as recent as 2020, and the historic Covid-19 pandemic, that institutions were forced to reinvent instruction delivery and skill up their faculty to adapt to the new normal. Today, adoption of online initiatives such as the one I  began over 30 years ago have given hundreds of Universities economic long-term viability and will be a key determining factor in the fate of their future.
E.R: For over a decade, you were leading a non-traditional university promoting the value of online education. What are your thoughts knowing that every university around the world now offers or planning to deliver some type of online option for students?
M.P: Online instruction is hard.  It is not something you can just set on top of your existing structure.  With an intentional and well thought out strategy, you can endow your students with a plethora of invigorating, stimulating and interactive content, enhance the overall learning experience and provide an abundance of ways to meet the needs of students in their daily lives. However, excellent online instruction must be intentional.  One must commit to building a robust learning management system, providing technical access and vigorously training faculty to be great online teachers with corresponding rewards for excellence.
Most Universities fell into online instruction as a means to solving an emergency calamity, but the world and Universities will never be the same and go back to business as usual.  Therefore, it is worth investing the resources and planning for the sustainability of these new ways of delivering and engaging.  Academics are at a crossroads.  What will the University of the future look like?  It is too short-sighted to think of this crossroads merely as on-campus instruction, online, or even some sort of hybrid.  Instead the question should be what is the value of University education?  Are we giving our students the training to handle and be successful in a changing world that is evolving far more rapidly than anything happening in our academic space? Have we priced ourselves out of relevancy?
---
More Higher Ed thought leadership Series Interviews
Emad Rahim Interviews Dr. Mary Hawkins, President of Bellevue University
Interview With CalSouthern Chancellor Glenn Roquemore: Leadership, Innovation And The Rise Of Online Education
Emad Rahim Interviews Merodie A. Hancock, PhD President, Thomas Edison State University
Emad Rahim Interviews Michele Nealon, Psy.D., President, The Chicago School of Professional Psychology
---
E.R: With COVID-19 affecting how every campus is operating around the world, what ways can curriculum innovation and technology help to keep college students and faculty safe?
M.P: Colleges and universities that are able to innovate their curriculum and leverage technology will be the educational systems that thrive in the Covid-19 era. It is imperative that administrators are first and foremost mindful of how to keep students and faculty safe. Fortunately, there are several ways that educators can disrupt the traditional environment and remain relevant, effective, and safe which includes online courses, teaching aids, educational software, social networking tools, and fostering collaborative ecosystems. Understanding the effects that technological innovations have on students, teachers, and schools is also critical to developing strategies and techniques to manage and use technology and positively effect student outcomes while remaining appropriately socially distanced. Additionally, there is a great deal we can do to use technology to communicate effectively and be transparent about arising safety concerns so that students and faculty are immediately notified to mitigate issues. Taking the time to put in place such procedures and adapting them as needed is important during Covid-19 and best practice in any environment.
E.R: In your opinion, what role does higher education play in responding to a global pandemic like COVID-19 and supporting social justice causes like Black Lives Matter?
M.P: Educational systems set the tone for social justice and have a duty to promote equality as a human imperative.  We must support efforts that lead to a more equal, just, and safe world.  Safe from racism as well as health hazards. University and college educators are poised to provide students with an accurate history education, develop students' critical thinking skills, equip them with the ability to differential between empirical fact and opinion, and guide them in articulating their opinions.  Another role of higher education is to encourage students to question the world around them, continually questioning themselves and their assumptions. We have a responsibility, and the ideal setting, to teach and model effective discussions around race and equality.  Equipping the next generation with these skillsets are essential for increased understanding of the issues and the need for fundamental, institutional changes.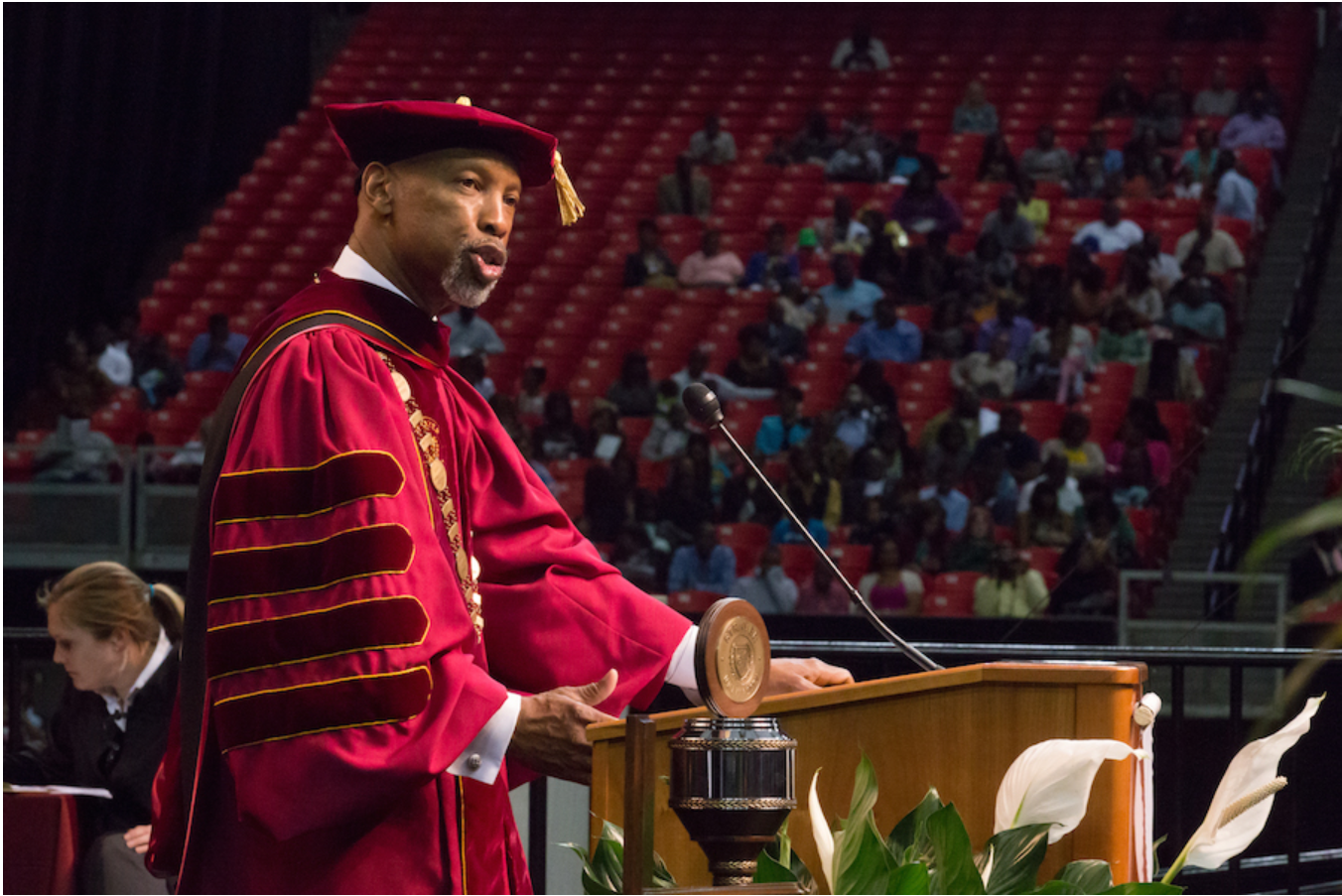 E.R: What is your advice to academic leaders that are responding to all of these growing crises on their campuses for the first time?
M.P: First have empathy for your faculty, students and staff as they are all under tremendous pressure, fear, and emotional and economic distress.  Academic leaders need to listen, communicate with transparency and provide updates on all issues while explaining the overarching values and constraints that guide their decisions.  Certainly, with these challenges not everyone is going to agree with your solutions, but a well-articulated, supported set of decisions delivered with empathy provides reassurance and in many cases comfort to an audience filled with anxiety. Making a point to highlight small successes and individual or group efforts go a long way to sustain morale and ease feelings of distress. Lastly, my advice would be to set the tone by remaining calm and reassuring everyone that we will get through this together.
E.R: You officially stepped down as President Emeritus at Strayer University and now serve as a corporate board member for Lincoln Tech. What is your role at Lincoln Tech and what can we expect from you in the next few years?
M.P: As a national leader in specialized technical training offering diversified career-oriented post-secondary education in hands-on fields, Lincoln Tech is looking for new opportunities to better serve students and solve our nation's skills gap.
My role will be to provide my unique expertise in workforce development considerations and enterprise business objectives. As a graduate of Harvard University, the University of Pennsylvania's Wharton School of Business, and the College of William and Mary I applied my knowledge in my various roles at state universities, Ivy League colleges, community colleges, and historically black colleges and universities which gives me broad understanding of the issues Lincoln Tech is tackling.
You can expect me to provide solutions and processes to continue to expand how Lincoln Tech provides economic mobility through skilled trades training for in-demand career fields.  I will be championing innovative strategies and partnerships that are mutually beneficial and empower the next generation to sustain a successful career in the much-needed fields that fall under the training offered at Lincoln Tech.  It goes without saying but is sometimes under emphasized how valued and talented skilled labor is to our thriving economy and overall quality of life.
E.R: Many of our subscribers are new leaders in higher education or aspiring to become a university administrator, what recommendations or advice would you give them as they move forward in their careers?
M.P: Serving as a leader in higher education is a noble endeavor worth the hard work and dedication that inevitably comes with the territory. Seeking out a mentor early on will pay dividends your entire career. I recommend finding someone in administration who will candidly assess your skills, provide you with guidance, and advocate for you by helping you get into positions to be noticed. I was fortunate to have more than one mentor over the course of my career, each supporting my growth and assisting in locating my next role.  Keep in mind that your direct supervisor can and should serve as a steward of your career and serve as a mentor.  If this essential direct supervisor/mentor leaves or is promoted, do not underestimate the importance of seeking out a new position with a new supervisor who will be an ambassador for you, providing continued professional development and coaching.  I heeded the advice one of my mentors gave me early on and that was to interview your supervisor to ensure you are investing your time in a role that will benefit your career trajectory.  I actually went so far as to strategically choose supervisors even when it meant selecting a job that was out of state.  If you have to move to find a good fit position, it can be very rewarding as it proved to be for me.
Dr. Emad Rahim is an award-winning entrepreneur, educator, author, community leader and TEDx Speaker. He currently serve as the Endowed Entrepreneur-in-Residence at Oklahoma State University and teaches at the Jack Welch Management Institute in the Executive MBA program. He was recognized by the United Nations Foundation as a 2013 Empact100 Honoree for his social entrepreneurship work, received a Congressional Award for his community service and was the recipient of the Forty Under 40 Business Leadership Award sponsored by Syracuse University. His personal story was turned into a short documentary, "Against the Odds," and featured in the Huffington Post and Forbes. He co-authored "Leading Through Diversity: Transforming Managers Into Effective Leaders" and "The 4-Tions: Your Guide to Developing Successful Job Search Strategies" and is a frequent contributor to the Refractive Thinker book series, CEO Magazine, TweakYourBiz and YFS Entrepreneurship Magazine. Fellow him on Twitter @DrEmadRahim