In today's increasingly connected world, social networking has made the ordinary man in the street a news source, one that is capable of spreading real-time information quickly through his network. Admittedly this new revelation sometimes results in inaccuracies, for example we have all seen numerous false reports of dead celebrities on Twitter. Never before in our history has there been such a burning desire to guard and disseminate news in such a global and instantaneous way. This actually poses a problem for businesses, who may find themselves in a difficult situation when coping with the speed with which social media news spreads.
According to research from law firm Freshfields Bruckhaus Deringer, at least half of businesses are currently unprepared to corporate crisis management due to the speed of news. The law firm conducted the research based on in-depth interviews with communication professionals working in some of the world's largest's global blue chip organizations. Some of the findings, your marketing department may want to pay close attention to.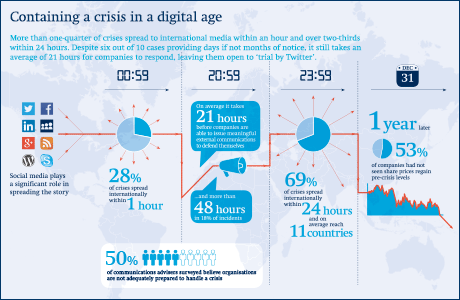 For example did you know more than a quarter of crises spread to international media within an hour? Or that lack of preparation average response time of 21 hours leave businesses open to "trial by twitter". Social media have played a major role in spreading the story – within the country of origin in half (50%) of cases and globally in almost a third (30%) of cases.
It's obvious, if firms have no measures in place to control reputational crises in the early stages this can prove not only damaging but costly for firms in the long run. Remember Oprah and the handbag incident? Freshfields crisis management expert Julian Long said; 'Until recently, responding to a crisis by initiating a thorough investigation bought companies a little bit of time to agree a fuller response with management and the company's legal advisers. Today, largely as a result of the growth in social media use, the window to buy more time has virtually disappeared. The moment a negative story breaks it has the potential of spreading like wildfire to the other side of the world.'
Key Takeaways from the research:
Half (50%) of the communications advisers surveyed believe organizations are not adequately prepared to handle such situations
A clear majority (94%) said that failing to prepare to effectively handle the issue online leaves an organization open to "trial by twitter"
Almost two thirds (63%) believe the businesses they have recently advised in relation to a significant crisis could have foreseen the event and better prepared for it
Companies have to come to terms with the fact that everyone now has a global platform to passionately voice their beliefs. The only route left for companies in this connected world, is to establish extensive and deep rooted preparation and be ready to take control of an issue and minimize the spreading of damaging a un-influenced stories in the media. Remember, right or wrong, the public is always going to find gossip and the speed at which it travels exciting.
Image credit: Freshfields Bruckhaus Deringer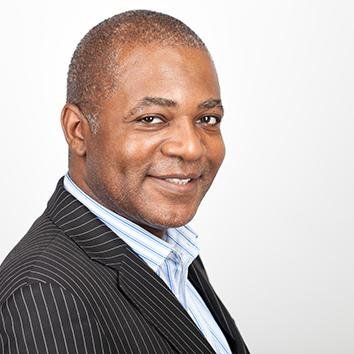 Hayden Richards is Contributor of IntelligentHQ. He specialises in finance, trading, investment, and technology, with expertise in both buy-side, sell-side. Contributing and advising various global corporations, Hayden is a thought leader, researching on global regulatory subjects, digital, social media strategies and new trends for Businesses, Capital Markets and Financial Services.
Aside from the articles, interviews and content he writes for IntelligentHQ, Hayden is also a content curator for capital markets, analytic platforms and business industry emerging trends. An avid new media explorer Hayden is driven by a passion for business development, innovation, social business, Tech Trading, payments and eCommerce. A native Trinidadian, Hayden is also a veteran, having served with the Royal Air Force Reserves for the past 10 years.
Follow Hayden on Twitter @HaydenARichards, linkedin.com/haydenhrichards and http://www.scoop.it/u/hayden-richards