Future-tech strategist, entrepreneur, and the author of 'Stepping Into The Metaverse', Dr. Mark van Rijmenam was featured in the latest episode of Dinis Guarda YouTube Podcast, powered by ciitiesabc.com, opensbuisnesscouncil.org, and fashionabc. Dr. Van Rijmenam highlighted the framework of an open metaverse and explained how it empowers the creators and the consumers with ownership of their own data.
Dr. Mark van Rijmenam is a speaker and best-selling author on the future of work and technology. He has deep expertise in how AI, big data, blockchain, the Internet of Things, and other digital technologies disrupt your business, government, and society.
At the beginning of the interview, Van Rijmenam told Dinis that starting his career in the hospitality sector after his Bachelor's in Hospitality Management, he landed up in banking and finance after a Master of Science in Marketing Management. However, his apprehension to work in the corporates led him to leave the job. During this time, he went on a big adventure to cycle around Australia, covering 14,000 Km in exactly 100 days.
After taking his life into his own hands, Mark told Dinis, he launched Datafloq, the one-stop source for big data, offering information, insights, knowledge, and opportunities to drive innovation with data.
"I did not have much time to learn before launching it, but I knew it was going to be a hot topic, and I'm going to learn while being at it.", he recalled.
A month later, Mark said, he was invited as a keynote speaker at a conference on Big Data. He learned the technology and wrote enough content about it to be published in the form of his first book, Think Bigger. "From then on, I went down to explore the technology, and I found out that I really enjoy exploring emergent technologies about how these technologies have been changing the society.", he said.
Grabbing an opportunity to pursue Ph.D., Mark spent his initial time researching Big Data and Design Thinking, when he came across the blockchain. "I thought it is such a fundamental technology that is going to change society, and I thought of incorporating it into my thesis, and restarted my Ph.D. I wrote my second book during this time, Blockchain. It is all about how blockchain can be used for social good with Dr. Philippa Ryan.", he mentioned.
After finishing his Ph.D., he converted his thesis into the third book, The Organisation of Tomorrow. He took up the path of a keynote speaker. But when the pandemic happened, he re-invented himself and founded The Digital Speaker. He made an avatar of himself and created a podcast with it. And that's when he wrote his latest book, Stepping Into The Metaverse.
---
More Interviews
James Zhang, CEO The Concept Art House – Games, Art And NFTs
Adam Hollander, Serial Entrepreneur, Pack Leader at Hungry Wolves – NFT, Gamification
Interview with Rishi Kapoor, Founder & CEO of paus.tv – The Revolutionary Streaming Platform For Independent Creators
Interview Kireet Khurana, Filmmaker & Creator Of Animation Film "Toonpur Ka Superhero" – Homelessness In India: The "Invisible Visible"
Pedro Gadanho – Architecture, Arts, Cities & Society – Former MoMA & MAAT Curator, Architect
Susan Oh, Future of AI, Blockchain; Blockchain For Impact Global Summit @ UN HQ, Top 10 Frontier Women in Digital
---
Exploring the foundations of an open metaverse
Being an expert himself, Dinis facilitated Mark to peel the layers that form the open metaverse for all. Explaining the basic features that he has mentioned in an entire chapter dedicated to this in his book, Mark said, "An open metaverse is where your identity is protected so it can't be deleted, it's private it's about you, it's specific and persistent, community-driven, it's portable, you can take it from one platform to another, and has a self-sovereign identity. I think those are the crucial elements of how you can create an open metaverse."
Both the experts agreed that this is very difficult to achieve all these characteristics as they need a shift in behaviour and perspective, Gestalt shift, as Dr. Mark named it. With the internet and other technologies still inaccessible to quite a large proportion of global populations, he said, "This is the challenge how are we going to achieve this? We need to make that next shift, next iteration to make it accessible for everyone."
An open metaverse is a utopian reality for the creator community
Referring to his book, Dinis asked Mark about the ways in which an open metaverse can be beneficial for creators around the world. Dr. Rijmenam said it is time that we move to a system of value creation where if someone is putting an effort to create something should be rewarded for that content.
"That's where NFTs are so important. Because they allow us to have a different perspective and monetize whatever we create in ways that we want. It's a lot of hard work in an open metaverse to create a fan following, build a community, and market yourself to create a brand. But at least in the open metaverse, those efforts are fully rewarded, instead of handing over 50-70% of the money that you make.", he added. He also insisted on transitioning from the shareholder model to a stakeholder model where every stakeholder contributes to building a thriving space.
The two experts also discuss the dangers associated with the metaverse and the emergent technologies. Sharing a staggering number to explain the gravity of the situation, Mark said, "While we all enjoyed web 2.0 with free services, platforms, and social media, we all were at risk. It is estimated the amount of expenditure in data breaches will be 10 trillion USD per year to put data security and data privacy matters in place."
Referring back to his book, he shares that he has described the three possible ways to solve this problem- verification, education, and regulation. "It's not a happy story, but I wanted to include it in the book because it is important to tell the whole story of what the metaverse would bring to us.", he concluded.
About citiesabc.com
https://www.citiesabc.com/​​​​​​​​​​​
https://twitter.com/citiesabc__​​​​​​
About openbusinesscouncil.org
https://www.openbusinesscouncil.org/
4IR: AI Blockchain Fintech IoT Reinventing a Nation by Dinis Guarda and Rais Hussin (4irbook.com)
Dinis Guarda citiesabc openbusinesscouncil Series is also available as podcast on
Apple Podcasts: https://podcasts.apple.com/us/podcast/dinis-guarda-citiesabc-openbusinesscouncil-series/id1510330391
On Spotify: https://open.spotify.com/show/1vA8KaDaRpJ0mAfpNbfTSF?si=H_WngL4RSOyu1W7VAmM41w&dl_branch=1
Google Podcasts: https://podcasts.google.com/feed/aHR0cHM6Ly9mZWVkcy5idXp6c3Byb3V0LmNvbS8xMDMyMzg4LnJzcw==
Amazon Music: https://music.amazon.com/podcasts/953a5156-823c-4e86-baeb-4fda1128e44c/DINIS-GUARDA-CITIESABC-OPENBUSINESSCOUNCIL-SERIES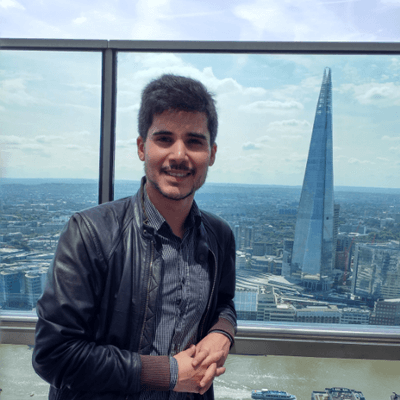 Hernaldo Turrillo is a writer and author specialised in innovation, AI, DLT, SMEs, trading, investing and new trends in technology and business. He has been working for ztudium group since 2017. He is the editor of openbusinesscouncil.org, tradersdna.com, hedgethink.com, and writes regularly for intelligenthq.com, socialmediacouncil.eu. Hernaldo was born in Spain and finally settled in London, United Kingdom, after a few years of personal growth. Hernaldo finished his Journalism bachelor degree in the University of Seville, Spain, and began working as reporter in the newspaper, Europa Sur, writing about Politics and Society. He also worked as community manager and marketing advisor in Los Barrios, Spain. Innovation, technology, politics and economy are his main interests, with special focus on new trends and ethical projects. He enjoys finding himself getting lost in words, explaining what he understands from the world and helping others. Besides a journalist, he is also a thinker and proactive in digital transformation strategies. Knowledge and ideas have no limits.