Scott Dolan was named dean of the School of Graduate Studies in May 2019. As dean, he provides academic and administrative leadership and leads the development and pursuit of the vision and goals of the School of Graduate Studies in alignment with the College's mission.
As a member of the College's leadership team, Dolan is responsible for all academic matters relating to graduate education, including curriculum planning, delivery, and assessment. Previously, he was the associate dean of graduate studies. In that role, he provided academic leadership for all graduate programs in cooperation with the faculty, staff, and dean of the School of Graduate Studies.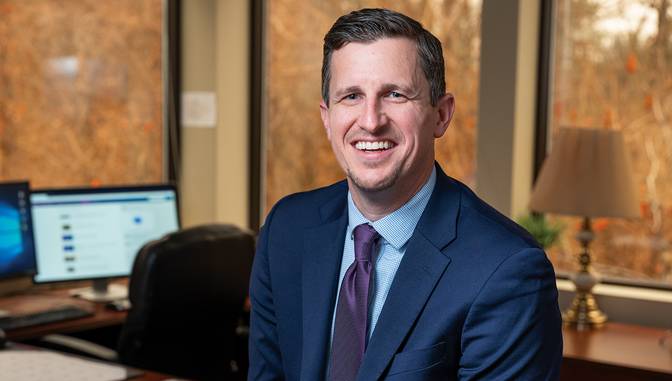 Dolan joined Excelsior College in 2014 as director of assessment and program evaluation for all the degree programs in the former School of Business & Technology. He was promoted in 2015 to executive director of accreditation, assessment, and strategy, and become associate dean of business in 2016. His experience also includes teaching at Saint Rose, Siena College, Schenectady County Community College, University at Albany, and Excelsior College. He earned a Ph.D. in Sociology from the University at Albany (State University of New York) and a BA degree in English Literature and Sociology from Loyola University of Maryland.
Emad Rahim: Please tell us how you got started in your career as the Dean of Graduate Studies at Excelsior College?
Scott Dolan: Well, I have been at Excelsior College since 2014, and started my career as Director of Assessment and Program Evaluation in the School of Business and Technology. In many ways, when I look back, I was incredibly lucky to land this position at Excelsior because of the college's long history and expertise in assessment of all types: student learning outcomes, the assessment of prior learning, and institutional effectiveness.
The value the institution placed on assessment provided me with opportunities to work on many of the college's strategic initiatives, which led to an expansion of my role over time, including increased responsibilities for accreditation and strategy.  Because of my work in these roles, I was promoted to Associate Dean of Business in September 2016, transitioned to Associate Dean of the School of Graduate Studies in 2018, and ultimately became Dean of Graduate Studies in May 2019.   Along the way, I have had numerous mentors who have really supported me by providing me with opportunities to learn and grow. I wouldn't be here without them.
Reflecting on this, I feel incredibly lucky to work at institution that remains a pioneer in online education, with an incredible group of colleagues who are deeply committed to serving our students in innovative ways.  I love my job!
E.R: What is your leadership style and how has it evolved during your time at Excelsior College?
S.D: Prior to joining Excelsior College, I worked for a private research firm conducting program evaluations for federal, state, and foundation-funded grant programs.  Most of my work focused on helping organizations develop strategic plans for evaluating the impact of their grant-funded projects in health and human services and P-20 education fields.  This work gave me a deep appreciation for data-informed decision-making, and how data can be used to drive continuous improvement.  The importance of data and developing a culture of continuous improvement remain central tenets of my leadership philosophy.
I have found one of my biggest strengths as a leader is my ability to work collaboratively and communicate a shared vision. Over time, I've learned how to tap into this strength to bring people together to think about issues in new ways and to strategize about how we can innovate on the work that we are doing.
In higher education, we have the luxury of working with incredibly passionate and intelligent colleagues and professionals.  On the academic side, our faculty and staff bring their disciplinary knowledge and enthusiasm for educating students, but we also have tremendous expertise on the business and operations side.  It has served me well to learn how to bring together the complementary strengths of the different groups and individuals that work at the college.
E.R: Business is constantly changing, what types of things is your business school doing to make sure students are learning the most updated business information?
S.D: There's no doubt the world work today is incredibly dynamic, and this was the case even before COVID.   The global economy is undergoing a significant transformation, with technology changing the way we distribute goods and services. COVID-19 has only accelerated this: whether that's the volume of data that we have at our fingertips and concerns about the ethical and privacy issues as an outgrowth of this development; or whether that's work becoming increasingly distributed or remote; or the extent to which AI and robotization may radically restructure entire sets of occupations.
We use industrial advisory committees to advise us on how the market is changing, and what elements we need to include in our curriculum in order to stay aligned with the market.  Input we received from our industry partners has led us to expand curriculum in the areas of data analytics, artificial intelligence and machine learning, distributed workforce management, renewable energy and sustainability management, and more.  Recently, we also launched a certificate in Cannabis Control, which was our response to an emerging industry.  Our focus on the regulatory aspects of the industry came after conversations with industry leaders and experts who pointed to the challenges of operating in this complicated legal environment.
We use this feedback and our faculty's disciplinary expertise to drive updates to courses frequently.  To ensure courses remain current, we revise them on a set cycle, with rapidly changing fields and content revised more frequently.
With that said, some fields are changing so rapidly that we also focus our curriculum on developing skills and dispositions that will serve students well throughout their lives and careers regardless of what changes in the environment.  This includes a focus on written and oral communication, ethical leadership, innovation and agility, curiosity, grit, and an appreciation for diversity, equity, and inclusion.  We think these are essential elements of success for a world that is becoming increasingly interconnected and complex.
the care and compassion that everyone needs right now.
---
More Higher Ed thought leadership Series Interviews
Emad Rahim Interviews Dr. Mary Hawkins, President of Bellevue University
Interview With CalSouthern Chancellor Glenn Roquemore: Leadership, Innovation And The Rise Of Online Education
Emad Rahim Interviews Merodie A. Hancock, PhD President, Thomas Edison State University
Emad Rahim Interviews Michele Nealon, Psy.D., President, The Chicago School of Professional Psychology
---
E.R: Faculty play a critical role in the development of your student's learning and in helping build their business competencies. What type of things are your faculty involved in and doing that makes their classroom unique to the student's learning experience?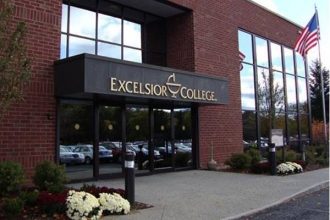 S.D: Faculty use numerous strategies that make our courses unique.  They embed experiential learning opportunities into our courses, and utilize current case studies and open-ended problems that situate students within contexts organizations are facing today, whether that is crisis communications amidst a pandemic or shifting a workforce to remote.  On the co-curricular side, we place an emphasis on developing students' networks with professionals in their field—this could be their peers or through student associations or chapters or through invited panel events and webinars we host.  Faculty see these as important ways to help students understand how business is changing.
Finally, we have been working hard to develop collaborative, interdisciplinary learning communities.  When we formed as a graduate school in 2018, we held a retreat focused on building coherence across our master's degree programs, and used Lumina's Degree Qualifications Profile to guide some conversations about what we wanted all of our master's level students to achieve by graduation.  This led to the development of a set of common graduate student career competencies, and a review of our curriculum at a deeper level.  Faculty found that every professional master's degree programs had key elements of ethics, leadership, and talent management.   And while it was important to understand issues facing the field, the faculty agreed that that real-world solutions to some of the big questions facing organizations and society today would require coordination and collaboration across disciplines and sectors.
This led us to take a pretty bold step and develop a 6-credt interdisciplinary core in the areas of ethical leadership and talent management.  The courses satisfy requirements in all of our master's degrees, and bring together students from business, cybersecurity, health sciences, criminal justice, and public administration. They focus on big questions like approaching a global pandemic, managing in a multi-generational and diverse workforce, and shifting a workplace to remote work. The courses launched in the Spring of 2021, and we are excited about some of the early student feedback.  We really see this as a unique approach to graduate curriculum.
E.R: What type of qualifications and experiences does your faculty bring to the class? How do you make sure they stay updated in their area of expertise and field of study?
S.D: At Excelsior College, we have a faculty-practitioner model, and therefore recruit faculty who not only have a terminal degree within their discipline, but also have practical industry experience.  We are looking for people who can bring workplace and career relevant experience into the classroom.  We provide professional development opportunities for faculty, not only to support their instruction in the classroom, but also to further their disciplinary expertise.  As conferences have shifted online, the college has purchased institutional licenses to enable the college community to participate in these events.
Faculty play an important role as thought leaders and serve as panelists and experts for events we host in collaboration with professional and student associations.  This enables faculty to share their research and career experiences across a number of fields: human resources, public health, digital forensics, cybersecurity, and more.  They serve as mentors to our students for case study competitions, which focus on current issues organizations are grappling with or problems they are looking to solve.  This helps faculty stay abreast of the needs in the market, but also allows faculty to lend their expertise by guiding students through these practical experiences.
And finally, faculty play an important role providing mentorship to students through our Annual Research Symposium, which provides students the opportunity to showcase their research from courses in a conference-style forum.
E.R: Do your students have input on faculty promotion, award, and recognition programs? If so, can you expand on this and provide examples.
S.D: Students play an important role though the feedback and input they share at the end of their courses.  They also lend their perspective about their degree programs through surveys they complete at graduation and one-year after graduation.  These feedback mechanisms are formally included as a components of our annual evaluation process for our full-time faculty program directors, as well as elements of our instructional evaluation process.
Students also can nominate faculty for our annual recognition awards, which are given to faculty who distinguish themselves in the classroom at our commencement ceremonies. I am always extremely impressed with the thoughtful student nominations we receive, and it shows how much students care about their relationships with our faculty in the classroom.  It's often a very difficult process to select the final awardee because there are always many deserving faculty members.
E.R: MBA degrees are still in high demand, but the competition is larger than ever. How does your MBA program at Excelsior College differ from other universities?
S.D: We have definitely seen the re-emergence of demand for MBA degrees, especially among students looking for options offered fully online.
We differentiate our MBA program by focusing on content students need to work across key business functions, building meaningful relationships and a sense of community with our students, faculty and partners by leveraging our technology platforms to deliver a high-quality and rigorous online learning experience, and using a collaborative team-based approach to develop courses that focus on experiential learning and ensuring relevance of class assignments to current business environments.
On the content side, our MBA program includes the core business fundamentals required for business leaders to succeed.  Courses are revised on a set cycle based on changes in the market, with revisions annually to certain parts of the course to keep them current.  And as noted above, the courses are designed by an academically- and professionally-qualified team who utilize experiential and problem-based learning approaches to ensure learning material reflects actual business dynamics.
On the community side, we place extra effort on helping students expand their professional network in every class, not only through peer and faculty networking activities, but also co-curricular elements like student and professional associations, panel events, and webinars.  We connect students with one another using our Canvas Learning Management system, and are always looking for ways to connect our students to one another and to us in ways that fit conveniently into their lives as working adults.  We are also accredited by IACBE, which has values and principles that are well-aligned with our experiential learning approaches.
In addition, we also utilize cross-functional concentrations that help students specialize within specific business leadership functions (like Accounting or Human Resources) or expand into a new industry or sector.  For example, we recently added a concentration in Cannabis Control with the goal of supporting individuals looking for an emerging market.
E.R: Almost every university is going online or trying to offer online degree programs. What innovative things are you doing in your online graduate programs and how do you set yourself apart?
S.D: Excelsior College is one of the oldest distance education providers in the world having been founded in 1971.  And we have been offering high-quality online learning for decades now.  Over time, we have learned that rigorous and engaging online learning requires a significant amount of planning and intentionality.  I am happy to say that our approach has helped shape the best practices in the field, and that we would be happy to work alongside any institution that is looking to make this shift online.  To deliver fully online education well is no easy task.
Our team-based course development model is unique.  Every course we develop is created collaboratively by a group consisting of a faculty member, a subject matter expert, a learning experience designer, and an outcomes assessment professional.  We use a backwards design approach that ensures learning experiences within the course are well aligned with the overarching outcomes established for our programs.  The centralized model also ensures the entire curriculum is mapped with the end goals in mind.
We've learned how to develop asynchronous courses that fit well with the busy lives our working adult students, but still utilize high impact teaching practices with a focus on active learning.  We have developed courses with semester-long team-based projects, we enable students to practice their oral communication skills despite educating students throughout the world remotely and asynchronously.  We are developing experiential learning opportunities in our courses by embedding employer-based projects and exploring the use of micro-internships as a component of our classes.
Finally, we have expanded the use of e-portfolios with the goal of bridging the gap between what students are learning in the classroom and how it can apply to the workplace. We think e-portfolios allow students to reflect on their educational experiences and make connections across courses.  They can ultimately become a valuable tool as students seek to demonstrate the value of their education to employers.  These meta-cognitive approaches can often help students translate what they are doing for employers, who often have questions about how education will apply in the context of their work.
E.R: What do you think are some of the biggest challenges that graduate schools are facing now and what is your college doing to confront them?
S.D: There is no denying that there is a shifting demand towards fully online graduate education, which is making the sector more competitive.  And I think many of the elite colleges and universities are starting to see competition emerge from lower-cost providers.  We are also seeing the emergence of credentials of shorter duration, including microcredentials and certificates that can either stack into or on top of master's degrees.  Personally, I see this as a positive generally, as it provides students with more options to continue their education.  And in a world where we are living and thereby working longer, continuing education is a necessity.
But it is incumbent upon us as institutions of higher education to ensure we are providing a high-quality experience within our classroom.  The credentials must create value for our students.  This means utilizing the most effective teaching methods and creating an environment that helps students meet important learning outcomes and complete credentials, that support their goals.  At the graduate level, this often means helping students advance or change their careers.
E.R: We learned a great deal about you and your school. If I was a potential student or employer that was stuck between choosing two different MBA programs, what other things would you want me to know about your degree and college to help with my selection?
S.D: As a school, we are invested in our student's future. When you come to Excelsior College for a graduate degree, you can expect a transformative and empowering student experience that is not only intellectually stimulating, but also professionally-enriching.  We really care about our students and their success deeply, and we love to connect with students personally in ways that work for them.   And anyone who is interested in learning more can always stop by my Zoom office hours, the third week of the month, 4-5 PM EST or reach out to me via Linked in here: https://www.linkedin.com/in/scott-dolan-79369745/
Dr. Emad Rahim is an award-winning entrepreneur, educator, author, community leader and TEDx Speaker. He currently serve as the Endowed Entrepreneur-in-Residence at Oklahoma State University and teaches at the Jack Welch Management Institute in the Executive MBA program. He was recognized by the United Nations Foundation as a 2013 Empact100 Honoree for his social entrepreneurship work, received a Congressional Award for his community service and was the recipient of the Forty Under 40 Business Leadership Award sponsored by Syracuse University. His personal story was turned into a short documentary, "Against the Odds," and featured in the Huffington Post and Forbes. He co-authored "Leading Through Diversity: Transforming Managers Into Effective Leaders" and "The 4-Tions: Your Guide to Developing Successful Job Search Strategies" and is a frequent contributor to the Refractive Thinker book series, CEO Magazine, TweakYourBiz and YFS Entrepreneurship Magazine. Fellow him on Twitter @DrEmadRahim