Wiley is one of the world's largest publishers and a global leader in scientific research and career-connected education. Founded in 1807, Wiley enables discovery, powers education, and shapes workforces. Here we unveil the latest spring collection of Wiley, featuring some of the exclusives for leadership and professional development.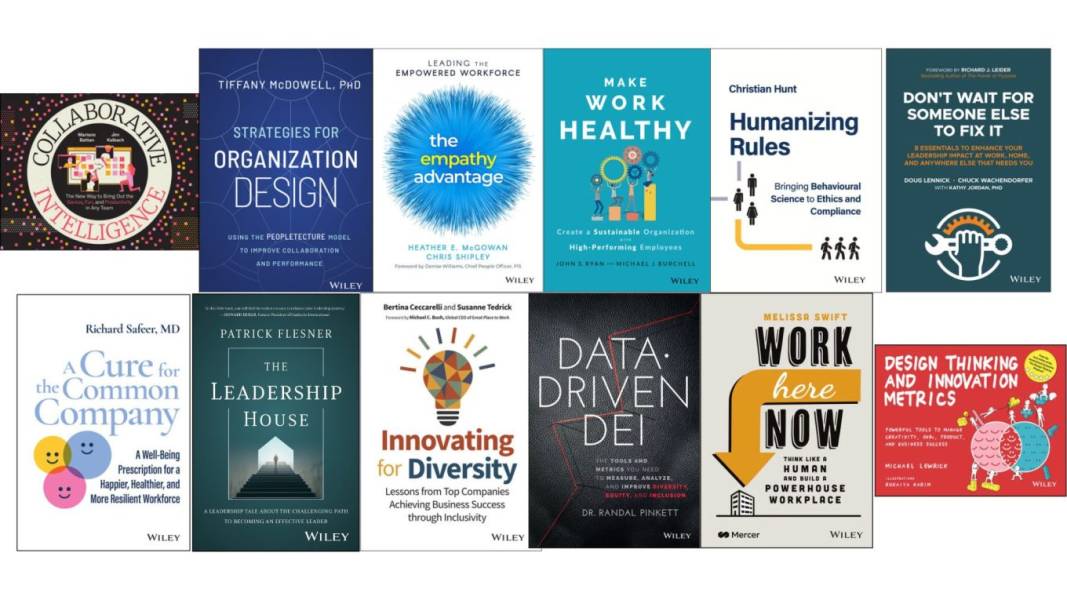 Leadership and professional development are key aspects of personal growth and success in today's world. In order to progress in one's career and achieve professional goals, individuals need to continuously improve their skills and knowledge. While there are many ways to learn and develop, books remain one of the most powerful and effective tools for personal growth, particularly in the realm of leadership.
Father of Modern Philosophy, René Descartes, once said:
"The reading of all good books is like a conversation with the finest minds of past centuries."
Books are unique in their ability to convey a wide range of ideas and concepts in a clear, concise, and engaging manner. Unlike other learning mediums, such as videos or podcasts, books allow readers to absorb information at their own pace and in their own way. This flexibility is especially important for busy professionals who may not have the time or inclination to sit through long lectures or workshops.
Wiley, an American multinational publishing company, has produced some of the most popular titles to facilitate the personal growth and development of a wider spectrum of audiences, globally. In its latest spring selection, Wiley covers a diverse range of business and leadership subjects including DEI, employee wellbeing, business transformation and change management, improvements in leadership skills, team productivity and business success, and behavioural science.
Here are some of the key highlights of some of the books from this selection:
• Strategies for Organization Design: Using the Peopletecture Model to Improve Collaboration and Performance is a practical guide that simplifies the complex and overwhelming task of business transformation and change management, by offering straightforward solutions that are based on insights from applied management and psychology.
Author Tiffany McDowell, PhD, provides a data-driven and evidence-based approach to help readers accelerate organizational transformation, innovate at scale, and foster meaningful collaboration between people. To be published in March 2023, the book covers organization design at the individual, team, and enterprise levels, offering step-by-step guidance to create a context for people to find meaning and teams to achieve higher performance.
• The Empathy Advantage: Leading the Empowered Workforce is a book that provides guidance for leaders at all levels, from seasoned executives to emerging leaders, on how to recruit, engage, lead, and retain the next generation of workers. The authors, Heather E. McGowan and Chris Shipley, offer insights and strategies for shifting mindset, culture, approach, and behaviors to better lead and inspire a diverse, complex, and multigenerational workforce. Through this empathy-driven approach to leadership, readers will be better equipped to address the challenges of the future of work. The book has been published in March 2023 in paperback and ebook.
• Work Here Now: Think Like a Human and Build a Powerhouse Workplace provides a roadmap for better work that benefits both companies and employees. Authored by Melissa Swift, the North American Transformation Leader at Mercer, the book challenges the outdated and ineffective people management practices that have hindered growth and offers practical strategies to improve them. The approach is grounded in real-world experience and does not rely on idealistic or algorithmic management practices. Work Here Now is an essential read for executives, managers, HR professionals, and other business leaders who want to improve their management skills and create a better workplace for everyone. It has been published in March 2023 in hardcover and ebook.
• Make Work Healthy: Create a Sustainable Organization with High-Performing Employees by John S. Ryan and Michael J. Burchell offers practical solutions to some of the biggest challenges facing organizations today, including COVID recovery, diversity and inclusion, mental health management, and sustainability. The authors argue that by redefining what "health" means in your company and changing how your people achieve it, you can improve productivity, work capacity, and sustainability. Make Work Healthy provides a strategic, data-driven, and culture-based approach to employee health and well-being that goes beyond reducing absenteeism and acute sickness. It's a valuable resource for executives, managers, HR professionals, and other business leaders seeking to create a healthier and more productive workplace. The book is due to be published in March 2023 in hardcover and ebook.
• Data-Driven DEI: The Tools and Metrics You Need to Measure, Analyze, and Improve Diversity, Equity, and Inclusion offers practical and research-based strategies for companies to make their diversity, equity, and inclusion (DEI) initiatives successful. The book, by Dr. Randal Pinkett, provides readers with proven techniques to mitigate biases, improve decision-making, and best practices for creating a sense of belonging and promoting teamwork. Additionally, the author presents a library of metrics and KPIs to measure progress and evaluate results, along with examples of DEI scorecards and dashboards. This book is suitable for DEI champions and leaders, as well as individuals seeking personal and organizational growth, including managers, allies, executives, founders, entrepreneurs, and other business professionals. It is due to be published March 2023 in hardcover and ebook.
• Innovating for Diversity: Lessons from Top Companies Achieving Business Success through Inclusivity shares inspiring stories from business leaders who have applied innovation principles to address limited progress in diversity, equity, and inclusion (DEI) within their companies. The book, co-authored by Bertina Ceccarelli and Susanne Tedrick, showcases successful strategies for accelerating the hiring, retention, and advancement of underrepresented talent, while improving the bottom line. The authors discuss why commitment to DEI is essential during any economic cycle, how to implement successful DEI strategies across industry sectors, and how to operationalize culture change. They also provide advice for scaling DEI practices and expanding DEI from an HR and compliance discussion to a business-driven requirement. It is due to be published March 2023 in hardcover and ebook.
• A Cure for the Common Company: A Well-Being Prescription for a Happier, Healthier, and More Resilient Workforce presents a blueprint for creating a culture of health in his book, "A Cure for the Common Company." The author, Dr. Richard Safeer, Chief Medical Director of Employee Health and Well-Being at Johns Hopkins Medicine, outlines six building blocks for establishing a well-being culture and provides practical strategies that can be implemented immediately to support the transformation. Dr. Safeer emphasizes the importance of organizational leaders stepping up to help their employees live happier and healthier lives and offers a path forward to enable companies to create a robust culture of health. The book has been published in March 2023 in hardcover and ebook.
• Humanizing Rules: Bringing Behavioural Science to Ethics and Compliance offers a practical discussion on managing and reducing the risk of non-compliant behavior in organizations. Former Senior Regulator and Compliance Officer, Christian Hunt, draws on academic research and practical experience to present behavioural science-based frameworks that motivate ethical and lawful behaviours. The book includes effective techniques that work with natural human decision-making processes and emphasizes the importance of increasing employee engagement. "Humanizing Rules", due to be published in March 2023, is useful for managers, executives, board members, ethics, compliance, and risk professionals who are interested in practical strategies for reducing human risk in organizations. The book will be available in hardcover and ebook.
• Don't Wait for Someone Else to Fix It: 8 Essentials to Enhance Your Leadership Impact at Work, Home, and Anywhere Else That Needs You provides a roadmap for improving one's ability to positively influence others, both in professional and personal settings. Co-authored by Douglas Lennick and Chuck Wachendorfer, the book emphasises the importance of empathy, compassion, and continuous learning in effective leadership. It outlines eight key principles that are critical to leadership success and provides real-world guidance that readers can apply immediately. "Don't Wait for Someone Else to Fix It" is a practical handbook for impactful leadership, applicable to a variety of environments, including companies, teams, and military organisations. Due to be published April 2023, the book is available in hardcover and ebook.
• Collaborative Intelligence: The New Way to Bring Out the Genius, Fun, and Productivity in Any Team offers a system for improving teamwork culture through collaboration design, a practice for creating intentional and effective collaborative experiences. With a focus on activities and rituals that can be implemented immediately, the authors Mariano Suarez-Battan and Jim Kalbach, show businesses how to innovate faster through better collaboration skills. Based on extensive research and experience working with teams globally, Collaborative Intelligence provides direction for teams to innovate together in various collaborative spaces. Available in paperback and ebook, it is due to be published April 2023.
• Design Thinking and Innovation Metrics: Powerful Tools to Manage Creativity, OKRs, Product, and Business Success is a book that provides a modern and comprehensive set of tools for managing creativity, product development, and business success. Written by Michael Lewrick, it covers various topics such as design thinking, artificial intelligence, and neurodesign to drive innovation. The book is ideal for innovation teams, managers, and executives across all industries, as well as product owners, department heads, and controllers looking to modernize their approach to managing innovation. Due to be published April 2023, the book is available in paperback and ebook.
The Leadership House: A Leadership Tale about the Challenging Path to Becoming an Effective Leader is a book that emphasizes the importance of effective leadership and offers insights into how to develop the skills needed to become a highly effective leader. Authored by Patrick Flesner, the book presents a leadership story of a CEO who successfully transforms a set of strong individuals into a thriving, cohesive team, highlighting the importance of leading people, groups, and organizations effectively. Whether readers are at the beginning of their career as a founder, entrepreneur, or manager, or are a senior executive or CEO, this book offers practical advice and guidance to help them transition to become highly effective leaders. The book is due to be published April 2023 in paperback and ebook.
All the above-listed books and ebooks will be available for purchase in all locations where they are sold.
About Wiley
Wiley Publishing House is a leading global publisher of academic and professional materials, with a history spanning over two centuries. The company publishes a wide range of books, journals, and online resources across various fields such as science, technology, medicine, social sciences, humanities, and business. Wiley's mission is to provide researchers, students, and professionals with the knowledge and tools they need to succeed in their fields and make a positive impact on society.
In addition to traditional publishing, Wiley has also expanded into digital learning and technology solutions, offering online courses, test preparation materials, and other digital resources. The company is committed to innovation and adapting to the evolving needs of its customers, while also upholding its reputation for quality and excellence in publishing.
With a driving passion to create a relatable content, Pallavi progressed from writing as a freelancer to full-time professional. Science, innovation, technology, economics are very few (but not limiting) fields she zealous about. Reading, writing, and teaching are the other activities she loves to get involved beyond content writing for intelligenthq.com, citiesabc.com, and openbusinesscouncil.org