"When digital transformation is done right, it's like a caterpillar turning into a butterfly, but when done wrong, all you have is a really fast caterpillar." — George Westerman, MIT Sloan Initiative on the Digital Economy
"There is no alternative to digital transformation. Visionary companies will carve out new strategic options for themselves — those that don't adapt, will fail." — Jeff Bezos, Amazon
According to a World Bank Study there are over 400 to 500 million SMEs & startups in the world and this number continues to grow. But as John Chambers, from Cisco System pointed out, "at least 40% of all businesses will die in the next 10 years if they don't figure out how to change their entire company to accommodate new technologies." Growth in our era of disruptive technologies is being willing to 'change, learn and relearn' even if what these businesses knew previously brought them success. The Fourth Industrial Revolution, thus, is not about new Tech Apps or new technologies, it is about change relearn and keep transforming.
SMEs are the backbone of the economy – they account for 65% of net new jobs – and they not only need to keep up with technological developments but also with the rising consumer trends. In the UK alone there are over 5.7 million small and medium businesses while in the USA, the biggest economy of the planet, the US Census Bureau said there are over 32 million SMEs. While their growth and potential are enormous, a vast majority of these businesses face complex and often insurmountable challenges: a lack of business connections, limited awareness of digital tools and best practices, limited staff, lack of timely information, poor funding and economies of scale. In this world dominated by data and continuum digital innovation, businesses need to keep adapting and upgrading their models if they are to thrive.
In fact, the general trend is actually the opposite. Most small and medium-sized enterprises aren't prepared for the digital world. To start with, their visibility online is limited as it was pointed out by B2B research firm Clutch.co. They stated that less than two-thirds (64%) of small businesses have a website. In retail and commerce things are even worse with the figures going up to 74% in the US. If we add 4IR technologies into the equation, the data is even more worrisome. According to a recent research by Salesforce, only 11% of SMBs currently use AI, however 51% believe AI is an important factor when choosing new technologies.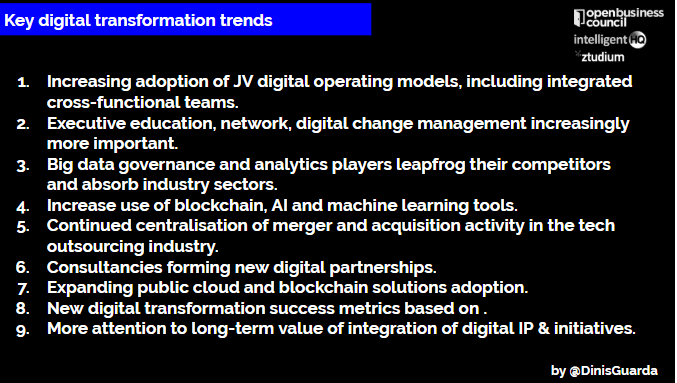 The impact of 4IR technologies on businesses
The impact of information and communication technology is felt omnipresent in our daily life: from financial services to social services, education, health care, transport, economic development, etc. Consumers are already up to pace – 93% of online experiences begin with a web search – while businesses need to play a key role in all those sectors as catalysts between technology development and user experience. And for that, they are obliged to embrace Digital Transformation and 4IR technologies.
Because whether we like it or not, 4IR or the 4th Industrial Revolution is changing the way we work completely on a far larger scale and at a faster pace than what human beings have seen in previous industrial revolutions. The development of new technologies in the fields of Artificial Intelligence (AI), Blockchain, Internet of Things, 5G wireless technology or Virtual Reality (VR) have given way to a new wave of disruption in many traditionally tech-reluctant sectors. In Financial Services, these technologies have allowed the nascent of Fintech and a whole new sub-sector of financial-related solutions; insure tech startups have taken the insurance world, while Big Data and robotization are now widespread techs used in critical areas like healthcare, education and national security.
By the numbers, the impact of these technologies is even greater. According to a report written by Ross Chainey for the World Economic Forum, Artificial Intelligence sets of technology solutions will create up to a $16 trillion new economy. On the other hand, a 2017 Gartner research states that Blockchain will create a $3.1 trillion new economy by 2030. Together we are talking about 20% of the world economy that will be replaced by these emerging technologies. If we add Fintech and IoT derivative solutions and technologies, we are talking about a new digital transformation of the global GDP economy.
Among all those technologies, AI is probably the one that its impact can be felt strongly among all sectors. Artificial Intelligence can analyse a staggering amount of data and can make a decision in a matter of nanoseconds. This will allow technology and people to work together to create value and improve systems and businesses. The data economy we live in has fostered the development of Machine Learning which at the same time leverages a greater volume of data. This has allowed enterprises to use machine learning and AI to better understand customers and their behaviours.
In a business context, AI can help companies to streamline and speed up their processes. It also helps with error-proofing and to reinvent the daily operations of companies. One of the great opportunities AI offers businesses is the fact that when programmed with masses of data, trends and patterns can be identified and acted upon. This helps businesses to optimize their decision making. In particular, vast strides have been taken towards developing platforms that enable the automation of data analytics processing, fast advancing the field of business intelligence and 360º models.
Digital Transformation 360
Consumers now invest extensive time in research and decision-making before entering a traditional or virtual store, and their buying decisions can, and will, be influenced by peer-to-peer customer reviews, feedback, loyalty programmes, promotions and savings generated with special offers. Because of these factors, customer and product information matters now more than ever before.
Most of today's organisation's sales, marketing, customer service and operations efforts struggle to capture the information needed to present a single, common view of customer and product information across the value chain for a consistent presentation along all channels. The goal is to have an integrated approach to maintaining both customer and product data.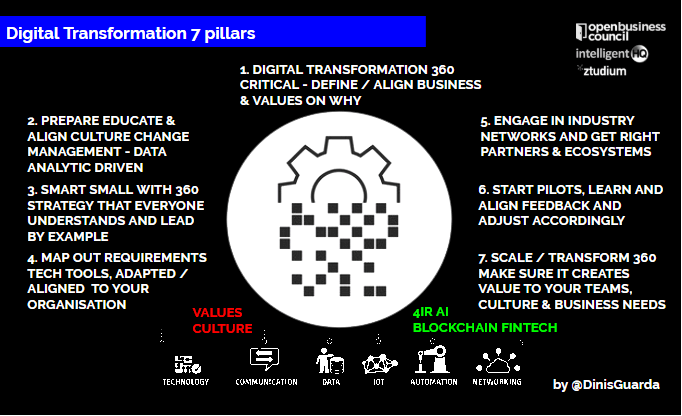 For these organisations that are struggling to adapt their processes to accommodate the changes brought about by digitalisation, the 360-degree model is the best way to begin restoring the company's ability to keep up with shifting consumer demands.
But digital technology affects every company differently, and it tends to create or destroy value in four critical areas of the organization: customer engagement, digital products and services, operational performance, and preparing for disruptive new business models.
According to Forbes, the Digital 360 model guides corporate leaders and their different departments to a holistic view of the digital threats and opportunities facing key parts of the business, linking them to an overall vision for how digital is reshaping the competitive landscape. This brings order to a chaos of initiatives and provides a clearer basis for narrowing down priorities and managing the cross-functional interdependencies that the best digital solutions often present.
"Understanding these dependencies and managing them is an essential part of developing an agile model for accelerating innovation, which has to be the ultimate goal of any digital transition. But it starts with a recognition that at a time when technology is in constant flux, success isn't about simply applying technology anywhere and everywhere. It's a matter of developing an agile and reconfigurable operating model—one that gives the company the capability to see what's coming, prioritize the right solutions and deploy them faster than the competition," was said by author Laurent-Pierre Baculard in the aforementioned article.
How Businesses can embrace Digital Transformation: Joint Ventures and Platform Businesses
Innovation is all about the process of taking ideas from inception to impact while solving problems. Businesses have to focus on an impact on 10x rather than 10%.
Joint Ventures
The method we have found most successful in catalyzing this level of value creation and transformation for a traditional corporation is to partner with proven tech entrepreneurs within a joint venture (JV) vehicle to rapidly grab new market opportunities.
"Collaboration between technology start-ups and large corporations is key for fostering innovation. It can benefit both sides, helping corporates to enter and create new markets, and start-ups to develop their products, and to scale: chief executive officers of both corporates and start-ups share the common strategic goals of growing their company, improving its competitive positioning and generating revenue. Even partnerships with potential disruptors can be beneficial because of the difficulty for an established business to disrupt from within," a white paper by the World Economic Forum, called Collaboration between Start-ups and Corporates, stated.
Entrepreneurs are unlikely to want to work directly for an incumbent corporation, but they value their assets (customers, cash, IP, networks).  So, incentivized by an equity-based JV structure, entrepreneurs can leverage these assets to rapidly grab new, strategically relevant market opportunities before others do.
Likewise, working together comes with various potential pitfalls. The WEF added that: "Chief executive officers of start-ups often find themselves talking not to the chief executive officers of corporates, but to employees much further down the hierarchy. Complications also commonly arise from a clash of cultures: agile versus static work processes, different work ethics and different levels of appetite for risk."
Successful collaboration depends on each side learning to understand the interests, expectations, incentives, culture and work ethic of the other. It depends on the two parties identifying the most appropriate proven collaboration model for their situation – which could be incubation, acceleration or partnership – and clearly defining roles and responsibilities.
Platform Business
A platform is a business model that creates value by facilitating exchanges between two or more interdependent groups, usually consumers and producers. They are a different business model in the way that they facilitate interactions between parties, matching supply with demand.
In order to make these exchanges happen, platforms harness and create large, scalable networks of users and resources that can be accessed on-demand. Platforms create communities and markets with network effects that allow users to interact and transact.
As it was pointed out by Deloitte, platform businesses create value by facilitating exchanges between two or more interdependent groups, usually consumers and producers. Like Facebook, Uber, or Alibaba, these businesses don't directly create and control inventory via a supply chain the way linear businesses do. What is important about platform businesses is that they don't own the means of production— instead, they create the means of connection.
Successful platforms facilitate exchanges by reducing transaction costs and/or by enabling externalized innovation. With the advent of connected technology and fostered by 4IR technologies like AI, ultra-speed wireless connection or Big Data, these ecosystems enable platforms to scale in ways that traditional businesses cannot.
There are different types of business platforms according to Deloitte:
1. Aggregation platforms bring together a broad array of relevant resources and help users to connect with the most appropriate resources. These platforms tend to be very transaction- or task-focused: Express a need, get a response, do the deal, and move on. Marketplace and broker platforms like eBay and Etsy are well-known examples. Aggregation platforms tend to operate on a hub-and-spoke model, whereby the platform owner and organiser brokers all of the transactions.
2. Social platforms are similar in that they also aggregate a lot of people—Facebook and Twitter are leading examples—but rather than supporting the completion of a transaction or a task, they support engagement among people with common interests. They also tend to foster networks of relationships rather than hub-and-spoke interactions—people connect with each other over time in ways that usually do not involve the platform organiser or owner.
3. Mobilisation platforms move people to work together to accomplish something beyond the capabilities of any individual participant. They tend to foster longer-term relationships rather than focus on isolated and short-term transactions or tasks. In a business context, the most common form of these platforms brings together participants in extended business processes like supply networks or distribution operations.
4. Learning platforms facilitate learning by bringing participants together to share insights over time. They tend to foster deep, trust-based relationships, as participants have the opportunity to realise more potential by working together. Business leaders who understand this will likely increasingly seek out platforms that not only make work lighter for their participants, but also grow their knowledge, accelerate performance improvement, and hone their capabilities in the process.
The three most successful platforms to date are Google, Apple, and Facebook. But they are only the tip of the iceberg. The number of platforms at the top of our economy is growing fast. In 2019, three of the top five members of Forbes's list of most valuable brands were platform companies, as were eleven of the top twenty. And as of early 2020, the top five companies by market cap are all platforms.
The Challenges
These two models are only two examples of innovating in a world dominated by technology and digitalisation processes. From a broad perspective, the business industry is still struggling with the challenges along the way, while facing new ones. Automation is set to disrupt the labour market as we know it now. According to a report by McKinsey Global Institute, half of the activities and more than 800 occupations people are paid to do globally can theoretically be automated using the current existing technologies by 2030. This takes us to another challenge, the need to re-think education policies and programs. The industry sector and value chains are still full of loopholes, with raising sustainability issues, lack of transparency and a fierce consumerism culture. Furthermore, a rise in investment in technology will raise the price of the products and increase the costs of production.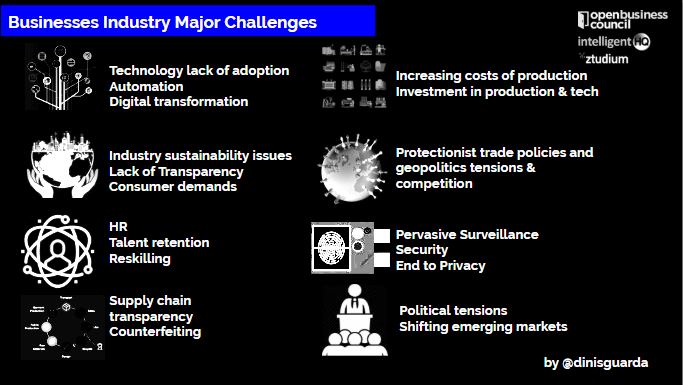 There is also the cybersecurity issue, one that seems pegged to digital transformation. As processes and models go digital, so doest it the risk of more and potentially devastating cybersecurity breaches. Aligned with it, privacy is also a growing concern and the need to match and preserve the Digital Identity.
Final words
As the world is changing with the 4IR, it is important to reflect on the way we as individuals, nations and businesses respond to the challenges. The only way forward is to look at the situation by harnessing its potential, but this needs to be done in a wise way. First of all, because technologies keep changing, leading to continually emerging trends. There will be a need to adapt quickly, participating fully in the new innovation cycles, creating new driven ecosystems and tech cities, redesigning new business models, products and services, re-skilling the labour force, designing new legislation and doing all of this in a balanced way that thoroughly thinks through what growth means.
This article has been written by Dinis Guarda with the collaboration of Hernaldo Turrillo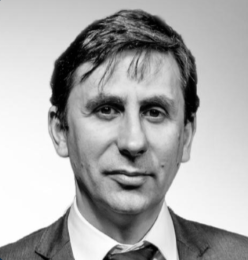 Dinis Guarda is an author, academic, influencer, serial entrepreneur, and leader in 4IR, AI, Fintech, digital transformation, and Blockchain. Dinis has created various companies such as Ztudium tech platform; founder of global digital platform directory openbusinesscouncil.org; digital transformation platform to empower, guide and index cities citiesabc.com and fashion technology platform fashionabc.org. He is also the publisher of intelligenthq.com, hedgethink.com and tradersdna.com. He has been working with the likes of UN / UNITAR, UNESCO, European Space Agency, Davos WEF, Philips, Saxo Bank, Mastercard, Barclays, and governments all over the world.
With over two decades of experience in international business, C-level positions, and digital transformation, Dinis has worked with new tech, cryptocurrencies, driven ICOs, regulation, compliance, and legal international processes, and has created a bank, and been involved in the inception of some of the top 100 digital currencies.
He creates and helps build ventures focused on global growth, 360 digital strategies, sustainable innovation, Blockchain, Fintech, AI and new emerging business models such as ICOs / tokenomics.
Dinis is the founder/CEO of ztudium that manages blocksdna / lifesdna. These products and platforms offer multiple AI P2P, fintech, blockchain, search engine and PaaS solutions in consumer wellness healthcare and life style with a global team of experts and universities.
He is the founder of coinsdna a new swiss regulated, Swiss based, institutional grade token and cryptocurrencies blockchain exchange. He is founder of DragonBloc a blockchain, AI, Fintech fund and co-founder of Freedomee project.
Dinis is the author of various books. He has published different books such "4IR AI Blockchain Fintech IoT Reinventing a Nation", "How Businesses and Governments can Prosper with Fintech, Blockchain and AI?", also the bigger case study and book (400 pages) "Blockchain, AI and Crypto Economics – The Next Tsunami?" last the "Tokenomics and ICOs – How to be good at the new digital world of finance / Crypto" was launched in 2018.
Some of the companies Dinis created or has been involved have reached over 1 USD billions in valuation. Dinis has advised and was responsible for some top financial organisations, 100 cryptocurrencies worldwide and Fortune 500 companies.
Dinis is involved as a strategist, board member and advisor with the payments, lifestyle, blockchain reward community app Glance technologies, for whom he built the blockchain messaging / payment / loyalty software Blockimpact, the seminal Hyperloop Transportations project, Kora, and blockchain cybersecurity Privus.
He is listed in various global fintech, blockchain, AI, social media industry top lists as an influencer in position top 10/20 within 100 rankings: such as Top People In Blockchain | Cointelegraph https://top.cointelegraph.com/ and https://cryptoweekly.co/100/ .
Between 2014 and 2015 he was involved in creating a fabbanking.com a digital bank between Asia and Africa as Chief Commercial Officer and Marketing Officer responsible for all legal, tech and business development. Between 2009 and 2010 he was the founder of one of the world first fintech, social trading platforms tradingfloor.com for Saxo Bank.
He is a shareholder of the fintech social money transfer app Moneymailme and math edutech gamification children's app Gozoa.
He has been a lecturer at Copenhagen Business School, Groupe INSEEC/Monaco University and other leading world universities.