An immersive, near-to-reality trip to the Bahamas on a metaversive cruise, or exploring a virtual art exhibition at a metaversive gallery. These experiences are already in the mainstream. But what does it take to build a metaverse? Find it out in this infographic about how to build a metaverse.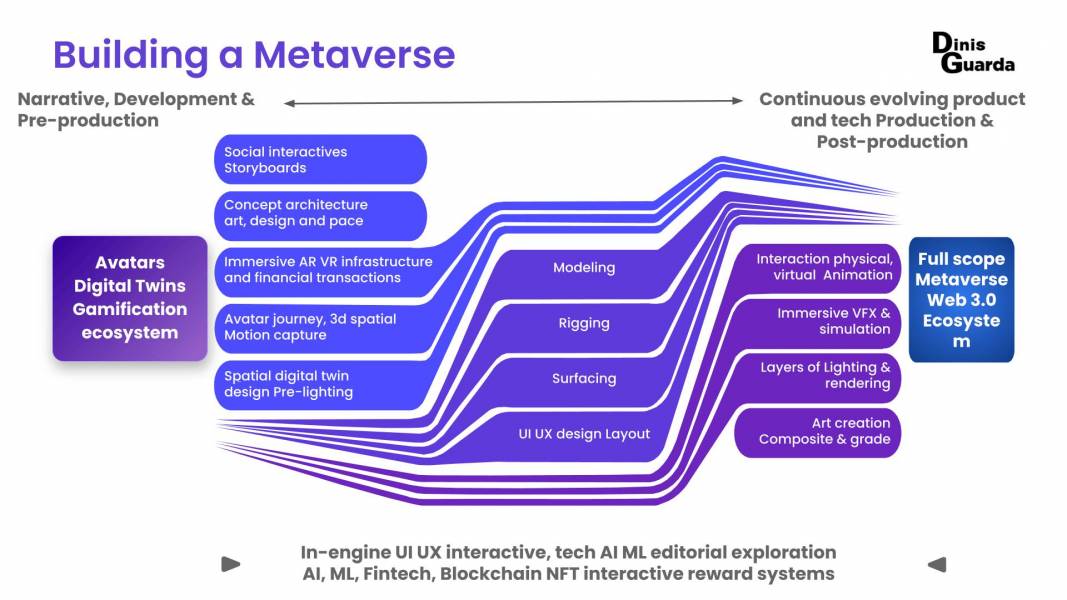 As the world explores newer use cases of the metaverse, an ever-existing, online, three-dimensional, simulation of the real (physical) world, Metaverse is reshaping itself every day with Web 3.0 at its foundation and a permutation of multiple other elements.
Although it is complex at its base since multiple technologies play a role in this virtual world, the construction of a Metaverse must take into account the following principles:
Conceptualising avatars, digital twins, and gamification ecosystem
The foremost step here is to create a social interactive storyboard. Nothing beats a structured and appealing storyline. This requires exhaustive brainstorming sessions to build a gripping narrative.
It is imperative that the concept architecture and infrastructure align with the narrative. This is the stage where a storyteller can decide how to make the concept engaging for the audience. Decision-making and in-app purchases are some of the features to ensure participation from the audience. Therefore, making room for immersive AR VR infrastructure and creating a gateway for financial transactions are some of the elements critical during the pre-production stage.
Scheming the colour palette, designing the language and mood of the scene, and building perceptions using multiple senses (visual, auditory, etc.) are also some of the additional things a creator can plan for.
An interactive and safe UI/UX experience
AI and Machine Learning are the two of the top technologies that are powering the metaverse to create avatars and digital twins, the simulations of ourselves, our cities, and infrastructure, as close to reality as possible. This is very much like the characters we control in our games, socializing, learning, and working in the metaverse.
Real-life images, 3D spatial motion capture, and recordings can be weaved together to narrate the avatar journey through the storyline. Modelling, rigging, and surfacing techniques provide the frameworks, basic and advanced, that are close to reality when complemented with real-time data.
After carving out the scene, the next step is to design a layout that enhances an overall user experience. This encompasses creating an interactive space for users and limiting any toxicity and negative behaviour like bullying. Introducing reward systems, NFT alternatives, and fintech ways are some ways that encourage the users to participate in the metaverse and make a safe and growing community.
Full scope Metaverse Web 3.0 ecosystem
Now that the overall design and architecture of the metaverse are ready, it needs a few more finishing layers of rendering and art to make it completely immersive. Immersive Visual effects (or VFX) enhance the gaming and visual experience with better animations, simulating it closer to real-time. Layer it with better sound and lighting, and this piece of art is composite and ready to immerse the user into a world that is a digital twin of the real world.
Ensuring a safe and reliable metaverse future
A journey from narrative development & pre-production to continuously evolving product and tech production & post-production, building a metaverse is a time-consuming and skill-intensive process that utilizes a few of the finest technologies today. Nevertheless, with blockchain at its foundation, the metaverse is quite a powerful and reliable decentralized virtual space that promises to evolve in its degree of immersion.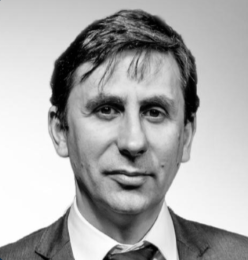 Dinis Guarda is an author, academic, influencer, serial entrepreneur, and leader in 4IR, AI, Fintech, digital transformation, and Blockchain. Dinis has created various companies such as Ztudium tech platform; founder of global digital platform directory openbusinesscouncil.org; digital transformation platform to empower, guide and index cities citiesabc.com and fashion technology platform fashionabc.org. He is also the publisher of intelligenthq.com, hedgethink.com and tradersdna.com. He has been working with the likes of UN / UNITAR, UNESCO, European Space Agency, Davos WEF, Philips, Saxo Bank, Mastercard, Barclays, and governments all over the world.
With over two decades of experience in international business, C-level positions, and digital transformation, Dinis has worked with new tech, cryptocurrencies, driven ICOs, regulation, compliance, and legal international processes, and has created a bank, and been involved in the inception of some of the top 100 digital currencies.
He creates and helps build ventures focused on global growth, 360 digital strategies, sustainable innovation, Blockchain, Fintech, AI and new emerging business models such as ICOs / tokenomics.
Dinis is the founder/CEO of ztudium that manages blocksdna / lifesdna. These products and platforms offer multiple AI P2P, fintech, blockchain, search engine and PaaS solutions in consumer wellness healthcare and life style with a global team of experts and universities.
He is the founder of coinsdna a new swiss regulated, Swiss based, institutional grade token and cryptocurrencies blockchain exchange. He is founder of DragonBloc a blockchain, AI, Fintech fund and co-founder of Freedomee project.
Dinis is the author of various books. He has published different books such "4IR AI Blockchain Fintech IoT Reinventing a Nation", "How Businesses and Governments can Prosper with Fintech, Blockchain and AI?", also the bigger case study and book (400 pages) "Blockchain, AI and Crypto Economics – The Next Tsunami?" last the "Tokenomics and ICOs – How to be good at the new digital world of finance / Crypto" was launched in 2018.
Some of the companies Dinis created or has been involved have reached over 1 USD billions in valuation. Dinis has advised and was responsible for some top financial organisations, 100 cryptocurrencies worldwide and Fortune 500 companies.
Dinis is involved as a strategist, board member and advisor with the payments, lifestyle, blockchain reward community app Glance technologies, for whom he built the blockchain messaging / payment / loyalty software Blockimpact, the seminal Hyperloop Transportations project, Kora, and blockchain cybersecurity Privus.
He is listed in various global fintech, blockchain, AI, social media industry top lists as an influencer in position top 10/20 within 100 rankings: such as Top People In Blockchain | Cointelegraph https://top.cointelegraph.com/ and https://cryptoweekly.co/100/ .
Between 2014 and 2015 he was involved in creating a fabbanking.com a digital bank between Asia and Africa as Chief Commercial Officer and Marketing Officer responsible for all legal, tech and business development. Between 2009 and 2010 he was the founder of one of the world first fintech, social trading platforms tradingfloor.com for Saxo Bank.
He is a shareholder of the fintech social money transfer app Moneymailme and math edutech gamification children's app Gozoa.
He has been a lecturer at Copenhagen Business School, Groupe INSEEC/Monaco University and other leading world universities.