In the latest episode of his YouTube Podcast series, Dinis Guarda interviewed Hirander Misra, Chairman and CEO of GMEX Group. The two discuss key challenges in the current financial markets and the sustainable strategies to meet the ESG goals. Dinis Guarda YouTube channel, a certified, Silver channel, was created to share ideas and people, and help bring in innovative projects and insights for a better future. 
Hirander Misra comes from a family of entrepreneurs. As he mentioned to Dinis early in the interview, his interest in financial markets was aroused early in his life, during his school. It was during this time when he started getting to the bottom of the processes, did he "realise that everything behind the scenes was powered by technology", and that "the real opportunity arises when they both meet."
Relating his journey of establishing GMEX Group, a company that offers innovative solutions for the creation and operation of electronic exchanges, and security infrastructure, Hirander said that there is a need to balance traditional finance with the latest financial models available. He calls this balance HyFi: Hybrid Finance. "The old and the new need to exist, and need to be interoperable.", he emphasises.
He highlighted that GMEX partnered with Amazon Web services to come up with the microservices version as an adaptive layer to connect this traditional infrastructure with APIs and multiple blockchains.
---
More Interviews
Demystifying The Metaverse: Tommaso Di Bartolo, Author Of 'Navigating The Metaverse' On Dinis Guarda YouTube Podcast Series
Innovation and Trading Between India And Europe: Poul V. Jensen, Managing Director At EBTC, In The Latest Episode Of the Dinis Guarda YouTube Podcast Series
The Multi-Faceted Aspects Of A Modern Virtual Speed Dating App: Zach Schleien, CEO Of Filteroff, In Dinis Guarda YouTube Podcast Series
Copyright In The Web 3.0 Era: Glyn Moody, Author Of Walled Culture, With Hilton Supra In citiesabc YouTube Podcast
---
Blockchain Technology for Finance
As the interview progressed, Dinis provoked Hirander to comment on the evolution of financial markets and the dynamics that exist there. An expert, Hirander said that downturns and upturns are a part of any new technological revolution. Referring to the current crypto winter situations, he explained:
"After a period, things reset. This cyclical trend exists in equity classes and asset classes, and crypto is no exception to that. But I think one of the things that has been through these cycles is that most of the things that happen are when that bubble bursts or there is a reset because it's the good time without the hype. People really start to look at innovation, and build something meaningful that reaps or rewards in certain years to come."
He insists that these cycles of downturns are necessary for a sustainable project to thrive. Governance and collaborative efforts, according to him, play a vital role in making technology a tool for the betterment of society. Citing an example, he said:
"The technology, when used wisely, could be a game changer and can help leapfrog with the existing constraints like limited access to banking both on the retail and wholesale side."
He emphasised the importance of the convergence of technologies, he said financial institutions need an equal degree of access to public blockchains and private ledger-based projects. Citing various use cases from across the globe, he presented a valid case of how blockchain-based smart contracts and other technologies are creating an atmosphere of better financial models.
ESG and carbon neutrality with blockchain
Highlighting the present status of carbon markets, Dinis asked Hirander to explain the efforts that GMEX is making in the area. Hirander expressed his concern over the absence or little automation in carbon markets and carbon registries. He further brought to light the other major concern that exists in the space: no real validation of data.
Speaking about the essence of collaborative efforts, he said:
"If we put our heads together, we can create a multi-hub that'll benefit 65% of the digital companies. Different cultures and languages on the platform will help reach the maximum percentage of people across the globe. That orchestration and translation are important." 
Concluding the interview, he said:
"With AI and other technologies, businesses and markets become seamless: more like a push than a pull."
About Hinrander Misra:
https://www.openbusinesscouncil.org/wiki/hirander-misra
About GMEX Group:
https://www.openbusinesscouncil.org/wiki/gmex-group
About citiesabc.com
https://www.citiesabc.com/​​​​​​​​​​​
https://twitter.com/citiesabc__​​​​​​
About openbusinesscouncil.org
https://www.openbusinesscouncil.org/
4IR: AI Blockchain Fintech IoT Reinventing a Nation by Dinis Guarda and Rais Hussin (4irbook.com)
Dinis Guarda citiesabc openbusinesscouncil Series is also available as podcast on:
Apple Podcasts: https://podcasts.apple.com/us/podcast/dinis-guarda-citiesabc-openbusinesscouncil-series/id1510330391
On Spotify: https://open.spotify.com/show/1vA8KaDaRpJ0mAfpNbfTSF?si=H_WngL4RSOyu1W7VAmM41w&dl_branch=1
Google Podcasts: https://podcasts.google.com/feed/aHR0cHM6Ly9mZWVkcy5idXp6c3Byb3V0LmNvbS8xMDMyMzg4LnJzcw==
Amazon Music: https://music.amazon.com/podcasts/953a5156-823c-4e86-baeb-4fda1128e44c/DINIS-GUARDA-CITIESABC-OPENBUSINESSCOUNCIL-SERIES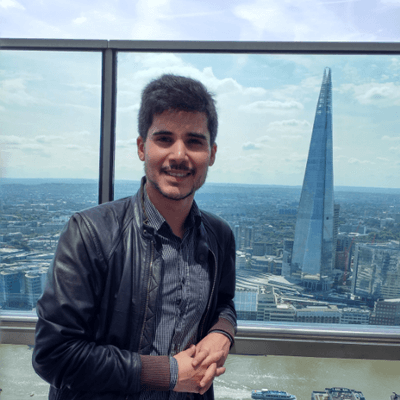 Hernaldo Turrillo is a writer and author specialised in innovation, AI, DLT, SMEs, trading, investing and new trends in technology and business. He has been working for ztudium group since 2017. He is the editor of openbusinesscouncil.org, tradersdna.com, hedgethink.com, and writes regularly for intelligenthq.com, socialmediacouncil.eu. Hernaldo was born in Spain and finally settled in London, United Kingdom, after a few years of personal growth. Hernaldo finished his Journalism bachelor degree in the University of Seville, Spain, and began working as reporter in the newspaper, Europa Sur, writing about Politics and Society. He also worked as community manager and marketing advisor in Los Barrios, Spain. Innovation, technology, politics and economy are his main interests, with special focus on new trends and ethical projects. He enjoys finding himself getting lost in words, explaining what he understands from the world and helping others. Besides a journalist, he is also a thinker and proactive in digital transformation strategies. Knowledge and ideas have no limits.