Kireet Khurana is an Indian animator, filmmaker, storyteller, and ad-film director. In his career of 12 years, he has made over 300 short films, documentary films, ad films and also directed India's first live action-3D animation film "Toonpur Ka Superhero".
Kireet has won more than 30 awards, including 6 prestigious President's National Awards for his films, the first of which he won in 1995 for the animated film Mahagiri. He has made over 12 short films and over 500 ad films.
He is also the creator of India's largest animation series, Vartmaan, with animation pioneer Bhimsain.
Recently Kireet Khurana released the film documentary 'The Invisible Visible', highlighting the plight of India's destitute millions suffering from homelessness.
'The Invisible Visible', is an 81 minutes-long documentary that will be released mid-2022. It has been shot across Mumbai, Delhi, Patna, Dehradun, Kanpur and a few villages in Maharashtra and Bihar.
Kireet Khurana Interview Topics
1. Personal and Academic Background
2. Career in the film industry
3. The state of the film and animation industry in India
4. The Invisible Visible
a. Homelessness in India
b. Tackling poverty
c. Solutions
---
More Interviews
From The Oscars to Bollywood: Dinis Guarda Interviews The Multitalented Amrita Sen On Her Career In Music, Film And Design
Interview with Nick Jonsson – Co-founder & MD at EGN Singapore – Asia's largest Confidential Peer Network for the C-Suite, International Best Selling Author
Interview with Rishi Kapoor, Founder & CEO of paus.tv – The Revolutionary Streaming Platform For Independent Creators
Interview with Daniel Liu – Co-Founder of NFT Creative Studio INFLUXO – Creating The Ronaldinho NFT Collection
Interview with Alvin Foo – Co-Founder at DAOventures, Emerging Tech & Marketing Evangelist, AI, Blockchain, DeFi
Explaining NFTs with QuHarrison Terry – Author of The NFT Handbook and Head Of Growth Marketing at Mark Cuban Companies
---
Kireet Khurana Biography
Summary
Kireet Khurana is an Indian animator. In his career of 12 years, he has made over 300 short films, documentary films, ad films and also directed India's first live action-3D animation film "Toonpur Ka Superhero".
After graduating from Sheridan College, Canada with high honours in animation film making, he started his organization 2nz Animation Co. which makes animated films – shorts, ads or documentaries in 3D/ 2D/CG etc.
He won his first President's National Award in 1995 for the film "Mahagiri" a film about cruelty against animals. The film won two National Awards for Best Animation Film Direction and Best Animation, respectively. It also won a Certificate of Merit at the Mumbai Int'l Film Festival in 1996.
Over the years he has won 5 President's National Awards and 3 International Awards including Japan and Austria. He has also won 15 Awards in various festivals in India and abroad. He is currently directing India's first live-action – 3D animation combo film "Toonpur Ka Superhero".
Personal Life
Born to pioneer Bhimsain Khurana who is considered one of India's pioneer animators and is the winner of the prestigious president's national award 16 times, he was born into a family that had the creativity and infrastructure required for animation. He made his first animation short film at the early age of 6.
A B.A. Economics major graduate from Mumbai University he went on to do his high honours from Sheridan College in Canada, a prime institute for animation film making. After graduating, he started his organization 2nz Animation Co. which specializes in 2D and 3D animation. He made his directorial debut with India's first Live-Action – 3D animation film "Toonpur Ka Superhero."
Professional Experience and Accomplishments
In his career as an animator, he has directed award-winning shorts on Child Rights for the National Film Board of Canada co-produced with UNICEF for the prestigious 'Rights From The Heart' series. He is the creator, director and screenplay writer for the award-winning animation series – 'Adventures of Chhota Birbal' which was aired on Cartoon Network in the year 2003. Chhota Birbal has the distinction of being the 1st Indian animated character to be licensed. He was also the executive producer & co-director for the live-action feature film 'Laadli' made for Children's Film Society, India.
He is the director of 2nz Animation Co. established in 1996 and has executed 300+ ad films for 90+ leading brands including Coke, Pepsi, 7 Up, Kellogs, Sirf, Rin, Nestle, & for ad agencies JWT, O&M, Lowe, Mudra, etc. 2nz also caters to feature VFX, PS films and international projects.
He is also the Creative Head of the sister concern Metaphor Studios established in 2006 in Kolkata which won the Seagate Tech. excellence award for their debut production Sand-Castle. He also made his directorial debut with India's 1st live-action-3D animation cum combo feature film "Toonpur ka Superhero" starring Ajay Devgan and Kajol. He was also the co-writer for the film.
About The Invisible Visible
THE INVISIBLE VISIBLE is a poignant 'Impact' documentary feature on the estimated 70 million homeless people in India. It draws attention towards these 'invisibles' and seeks to 'visibilize' them. The sordid stories of the homeless people humanize them and depict how poverty has been criminalised under an archaic, draconian law in India. The stories unfold through the lens of India's leading crusaders – TARIQUE MOHAMMED, and his organisation members who have dedicated their lives to the homeless and destitute. The fight against injustice and violence is an ongoing one and THE INVISIBLE VISIBLE has some call to action.
Check the trailer now:
Kireet Khurana Links and Sources
https://en.wikipedia.org/wiki/Kireet_Khurana
https://www.imdb.com/name/nm0452022/
https://in.linkedin.com/in/kireet
https://www.news18.com/news/movies/filmmaker-kireet-khurana-conventional-cinema-wont-be-around-for-too-long-4425422.html
https://filmfreeway.com/climbmedia
https://www.instagram.com/kireetkhurana/?hl=en
https://www.youandi.com/director-kireet-khurana-announces-documentary-invisible-visible
About citiesabc.com
https://www.citiesabc.com/​​​​​​​​​​​
https://twitter.com/citiesabc__​​​​​​
About openbusinesscouncil.org
https://www.openbusinesscouncil.org/
4IR: AI Blockchain Fintech IoT Reinventing a Nation by Dinis Guarda and Rais Hussin (4irbook.com)
Dinis Guarda citiesabc openbusinesscouncil Series is also available as podcast on
Apple Podcasts: https://podcasts.apple.com/us/podcast/dinis-guarda-citiesabc-openbusinesscouncil-series/id1510330391
On Spotify: https://open.spotify.com/show/1vA8KaDaRpJ0mAfpNbfTSF?si=H_WngL4RSOyu1W7VAmM41w&dl_branch=1
Google Podcasts: https://podcasts.google.com/feed/aHR0cHM6Ly9mZWVkcy5idXp6c3Byb3V0LmNvbS8xMDMyMzg4LnJzcw==
Amazon Music: https://music.amazon.com/podcasts/953a5156-823c-4e86-baeb-4fda1128e44c/DINIS-GUARDA-CITIESABC-OPENBUSINESSCOUNCIL-SERIES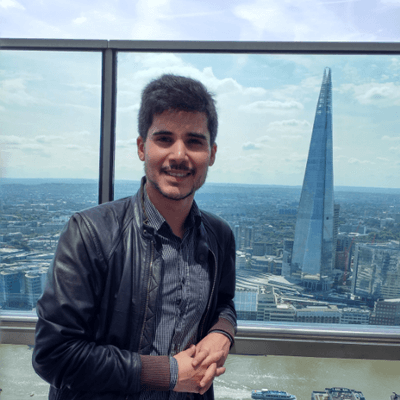 Hernaldo Turrillo is a writer and author specialised in innovation, AI, DLT, SMEs, trading, investing and new trends in technology and business. He has been working for ztudium group since 2017. He is the editor of openbusinesscouncil.org, tradersdna.com, hedgethink.com, and writes regularly for intelligenthq.com, socialmediacouncil.eu. Hernaldo was born in Spain and finally settled in London, United Kingdom, after a few years of personal growth. Hernaldo finished his Journalism bachelor degree in the University of Seville, Spain, and began working as reporter in the newspaper, Europa Sur, writing about Politics and Society. He also worked as community manager and marketing advisor in Los Barrios, Spain. Innovation, technology, politics and economy are his main interests, with special focus on new trends and ethical projects. He enjoys finding himself getting lost in words, explaining what he understands from the world and helping others. Besides a journalist, he is also a thinker and proactive in digital transformation strategies. Knowledge and ideas have no limits.