It's 2020 and traditional marketing methods are slowly dying out. Today's modern marketers can no longer rely on things like cold calling, cold emailing or direct mail to get them the leads that they need. Marketing is evolving on a strategic level and is expected to continue to do so.
Technology continues to evolve rapidly, so of course, many of the marketing trends that we're seeing today are focussed around technology. However, there's been a desire to make marketing more human again, and a pushback against the increased digitization and automation of the interactions between businesses and their customers.
Although technologies like data-driven marketing and artificial intelligence are certainly going to find their way into marketing trends, the ultimate focus is going to be on people rather than technology.
The Customer Experience Will Dominate Marketing:
2020 is the year of the customer. The industry has begun to see a huge shift in beliefs regarding what marketing actually is; it's no longer all about trying to convince people to buy from your company or work with you. Instead, it has begun to place far more focus on delivering exceptional customer experiences that keep people coming back for more. When you focus on providing great service and building a positive business culture, the marketing will almost take care of itself.
And, the growth of online content available today has given consumers far more power. They are no longer playing a passive role when it comes to learning about products. They don't need you to tell them about how great your products or services are; they're going out and doing their own research.
· 73% of people list the customer experience as an important factor in their buying decisions
· 49% of consumers in the US say that the companies they purchase from provide a good experience
So, what exactly is a good customer experience? Both online and offline, customers expect:
· Knowledgeable and friendly service
· Convenience
· Efficiency
· Easy payment options
· Up-to-date technology
· An easy experience when shopping on mobile
· Consistent brand image
· A website designed with the user experience in mind
· Personalization
Employee Engagement:
The trend of focusing people for your marketing efforts doesn't start with your employees – it starts right at the office. If friendly, efficient service is the foundation of great customer service, you need to ensure that you are providing this. And the answer lies in your employees.
· 46% of consumers will stop shopping with a brand if its employees aren't knowledgeable
· Poor employee attitude is the number one factor stopping individuals buying from a company
Your employees are, after all, the face of your business, so it's important to prioritize the interactions between your employees and customers as a key focus of your marketing strategy. How you approach your employees makes all the difference. You need to make sure that they want the business to succeed as much as you do, but you can't achieve this if your employees aren't engaged and feel undervalued at work.
Prioritizing employee happiness works. Not only is the workplace a more pleasant and enjoyable place to be, but it also leads to better productivity and better interactions between employees and customers.
Personalized Marketing:
Increased collection of data, plus numerous technological advancements, has already had a massive impact on the level of personalization that's possible in marketing today. And, consumers have come to expect this level of personalization when interacting with brands.
Today, consumers are constantly bombarded with marketing messages from multiple channels. Whether you turn on the TV, switch on the radio, scroll through social media or even drive down the street you're likely to see some kind of marketing or advertising material. People are tuning traditional marketing out. It's lost its effectiveness. So, what's the answer? Personalized marketing messages that encourage a real connection between the brand and its target market.
· 80% of consumers are more likely to do business with a brand that provides them with a personalized experience.
· Marketing personalization is no longer limited to simply using the first name of the person you're addressing in your email newsletters. Hyper-personalizing everything is easier than ever, thanks to AI and increased data collection.
· Social media has made it possible to go even further with personalization as it provides brands with access to personal information on their target market that was not previously available.
Visual Content:
With the rise of smart speakers and voice search recently, you might think that 'readable' or 'listenable' content is more important than design and visuals these days. But in reality, that couldn't be further from the truth.
Advancements in voice search and certainly influencing and changing the way that we create content, both now and in the future, but they shouldn't be a reason to neglect visual content.
· People prefer visual content to plain text; images and video posts always get better engagement than articles with no photographs or graphics.
· 65% of people are visual learners.
· Colorful visuals increase the desire to read content by 80%.
· People are 85% more likely to buy your product after they watch a video about it.
· Posts with images get 180% more engagement than ones without.
· 93% of all communication is visual.
· The human brain processes visual content sixty thousand times faster than text.
· 19% of Google searches are for images
· 62% of millennials say that they prefer a visual search to any other technology.
When it comes to marketing, visuals are also easier to remember than written content. Consumers are more likely to take in and remember your message when they see an image, infographic or a video about it, compared to reading an article. Adding visual content to your text not only makes it more attractive and interesting but also helps viewers absorb your message better.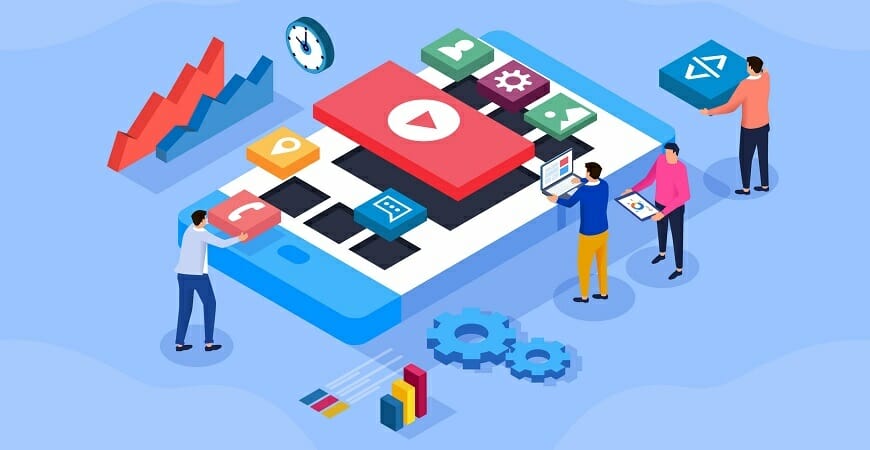 SEO Shifts:
Search engine optimization will continue to be an important factor in digital marketing throughout 2020, but we're seeing one of the biggest shifts in SEO in the last ten years. The growth of mobile and voice search means that consumers are changing the way that they use Google. Aiming for the number one result in search engine result pages is no longer necessarily the biggest goal to aim for in business.
You might have noticed that your own search and browsing behavior has altered over the past for years, too. Changes from Google themselves, plus the fact that you're looking for the quickest information available when on the move means that you don't need to click through to a website to get the information you're looking for.
· Featured snippets and 'on page' information means that the details people are looking for are right there on the search engine results page.
· The most-coveted position is right at the top of the page before any organic results, known as 'position zero'.
· Position zero is often the only information that a searcher will view.
· Over 60% of the search results returned by Google are position zero search results.
AI-Based Automation:
2020 might not be the year that robots start doing everything for us, but we have seen some huge advancements in AI over the past few years. There's been a huge increase in the number of companies using AI-powered technology to support their marketing efforts.
AI is one of the major technologies behind things that we take for granted today, including voice search, smart assistants and chatbots. And it's popping up on websites and in other places online more than ever.
AI-powered technology and automation tools are expected to continue helping to take some of the repetitive work out of marketing, allowing brands to place more focus on their strategy for creating a brilliant customer experience.
And, the human aspect of marketing is more important than ever before, so marketers need to use AI technology to enhance, rather than replace human marketing efforts.
AI and predictive analytics provide big data, which is helping businesses learn more about their target market. Making use of it can give you valuable insights into your customers, allowing you to make data-driven decisions on how best to serve them in the future. You can learn more about the skills modern marketers need via this blog post from Emerson College Online.
Voice Search:
It's been mentioned a few times – there's no getting away from voice search in 2020. It's showing no sight of slowing down and with devices like Google Home and Amazon Echo becoming commonplace in homes, voice search will continue to be a big influence on how brands market themselves and share content online.
Currently, around 20% of online searches are voice searches, but it's expected to rise over the next few years. The smart speaker business is booming and more people are expected to purchase one as they become more affordable and accessible to the public.
· Consumers expect to use voice search more in the near future.
· 61% of 25-64-year-olds who already use a smart speaker or other voice search device intend to use it more in the future.
While voice search may present some challenges, it also brings exciting opportunities for businesses. 'Branded skills' is a good example of smart speaker marketing opportunities that have emerged over the past few months. Patron, for example, has seen huge success from using this – users can ask their smart speaker for a 'cocktail recipe from Patron', increasing brand awareness and driving sales.
As a marketer, which of these trends is going to have the most impact on how you do your work this year?

Founder Dinis Guarda
IntelligentHQ Your New Business Network.
IntelligentHQ is a Business network and an expert source for finance, capital markets and intelligence for thousands of global business professionals, startups, and companies.
We exist at the point of intersection between technology, social media, finance and innovation.
IntelligentHQ leverages innovation and scale of social digital technology, analytics, news and distribution to create an unparalleled, full digital medium and social business network spectrum.
IntelligentHQ is working hard, to become a trusted, and indispensable source of business news and analytics, within financial services and its associated supply chains and ecosystems.