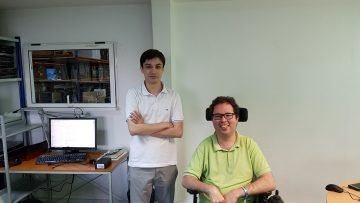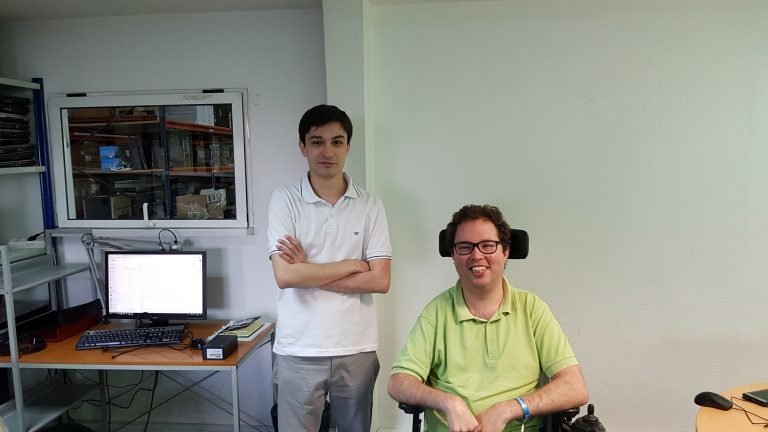 Bruno Osorio is the vivid example of overcoming. At the age of 30, Bruno leads the Adamastor Studio, a video game developer working on a VR music project to be launched exclusively on Sony's Playstation 4. Bruno's perseverance not only has taken him and his small Portuguese studio to work hand in hand with one of the biggest companies in the world, but also turning his childhood passion, video games, into his current lifestyle. Now, the studio is expanding its horizons to translate exclusive aspects of games to other scenarios in the form of gamification solutions.
Being an entrepreneur and making a living out of your dream is definitely something many would like to achieve, but in Bruno Osorio's shoes, it was just a matter a of time before it came true. Bruno is decisive, ambitious and mature, and his physical condition – Bruno suffers from a cerebral palsy – has not retained him for what he has always wanted to become.
Intelligenthq: At the age of 30, you are running the Adamastor Studio developing video-games as well as providing other services, what's it like to create a new business, in this case a studio?
Bruno Osorio: Adamastor Studio emerged first and foremost as a result of my passion for the Portuguese Discoveries. Making the parallel of my life with the mythological figure of the Adamastor, a monster seemingly impossible to bend, that the Portuguese "dominated", thus bringing great hope to the world, I can say that we started out as a very large group of Adamastors (difficulties) and now, in the present, I have a thriving life full of hope in the future (Cape of Good Hope).
In addition, I'm passionate about video games!
Our goal is to make Adamastor Studio a top company in this sector globally.
I: What did it take you to run a video-game studio? Why developing video-games?
B: My relationship with video games has always been an umbilical one since childhood, as it was with video games that I was able to kick a ball and become whatever I wanted! Video games are one of my greatest passions for numerous reasons, but the main reason is because it was with them that I accepted my condition of having cerebral palsy.
To put it briefly, I owe everything I am today to video games! Therefore, I understand that the creation of Adamastor Studio is a way for me to thank the industry for everything it has done for me over the years! Let's mark it, too!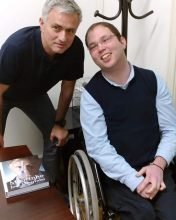 I: How was the process of creating it? Did you receive some sort of help or support to make it real?
B: In my opinion, the leader of a startup has to have two fundamental characteristics, passion and persistence. These are undoubtedly two of my main features. Before getting this far, it took a lot of research, a great deal of ideas exchanged in the game development area and other cross-cutting business areas in order to draw on their experience, knowledge, and advice, mostly to avoid making the same mistakes they did in their early stages of development. The sharing of experiences is equally fundamental with regard to entrepreneurship in general.
This industry is a very competitive one and to stand out it is crucial to find out what sets us apart from other studios. In addition to the titles we want to implement and the very strong bet on the gamification application in a cross-sectional and multisector way, our greatest differentiation will be the betting on accessibility in video games.
As far as support is concerned, of course no one can do anything on their own. I have the full support of my family, which was and still is vital to my professional education. In addition to my family, I also have the support of my investor, friend and mentor Pedro Antunes in the areas of business structuring, management and general mentoring.
I would also like to highlight my friend Filipe Santos who backed me up from start in the structure of Adamastor Studio and continues to work with me on this journey.
Last but not least, I would like to mention all the other studios that gave me advice and shared their know-how with me.
I: Did you always want to become an entrepreneur? When did this entrepreneurial sentiment start?
B: My family has always been business related. First we had a coffee shop and, for many years now, a taxi company. When I started to learn Microsoft Excel, I had my first notions of accounting and gained a taste to develop something and create wealth.
Given the fact that I have cerebral palsy, I move around in a wheelchair. My life goal is to be an inspirational icon for new businessmen and entrepreneurs, showing that, despite all the difficulties, it is always possible to make it happen. I have always been passionate about entrepreneurship; my goal has always been and will always be to create businesses, because I believe that I will change the world and succeed! I am a person who fights for all his dreams to the end! For me nothing is impossible!
In 2012 I started to project my entrepreneurial path by building a multidisciplinary team that comprised the areas of computer and electrical engineering with the intention of developing a project that would fit in a contest promoted by Microsoft, known as Imagine Cup. The project consisted of a system that could be coupled to any electric wheelchair, thus allowing the user to choose a particular destination on the map using a mobile device, by means of a system that would control the driving of the chair until it reached the intended destination. In 2013 we participated in Imagine Cup with a small prototype of this system, ultimately reaching the national finals.
Due to the excellent feedback received, we began to take more seriously the possibility of initiating a business model. Based on this project, we began to create connections with the business world, such as associations and other businesses in the area, as well as participating in fairs, lectures and entrepreneurship events. Along this route, our team developed computer and electrical skills; we also began to implement our concepts and prototypes, having managed to build solid foundations that allowed us to open the Foxtech business in 2016. I want to create a new business every 5 years. Being an entrepreneur has always been my dream, and now I can firmly say I got it.
I: What sorts of games you would like to develop or be involved with in the future? What are your references right now?
B: My favorite game genres are: Action /Adventure and Stealth. I fell in love with these genres due to the Metal Gear Solid saga. I would risk saying that this saga has deeply affected me for several reasons:
1st As mentioned above, because I have cerebral palsy, I move around in a wheelchair. In addition to this factor, I also have quite a few movement limitations on the right arm and hand. Given the lack of accessibility solutions in video games, it has always been a problem for me as a gamer. There was rarely a game I could play alone from start to finish. The solution I found was to ask another person to play whilst I watched; consequently my gaming experience was very similar to watching a movie in the cinema, giving rise to frustration and only allowing an incomplete experience.
In 1998, I already owned a PlayStation, and Metal Gear Solid came out, it being one of the first games with a complex story, full of details, with many long cinematic scenes. Basically it was with Metal Gear Solid that I learned to be pleased and satisfied with the kind of gamer I am. Throughout the duration of the game, while someone else was holding the command in his hand, I was relishing the story, grasping details and making decisions along with the person who had the controller.
2nd Hideo Kojima is the creator of Metal Gear and my biggest reference in the world of game design and development. I follow his work avidly and one day I want to work with him and his team. It is a dream I wish to accomplish!
I know I have the skill and the know-how, and a team that can make games even better by opening up the gaming experience to everyone.
The second game that struck me was Grand Theft Auto mainly because it was with it that I felt I could do things that I would never be able to in the real world, such as walking on the street, going home alone, going to the gym, driving, and so on.
Rockstar Games is an inspiration to me for how it created the GTA saga and how it opened my mind as to make me feel free in the open world!
In short, I also would like to work with Rockstar Games and make their games even better, opening up the gaming experience to everyone.
As far as future video game projects are concerned, we already have a few ideas for developing an action RPG with multiplayer features.
I: What are the most challenging aspects of developing a video game?
B: My experience tells me that the main difficulty in game development is to create a cohesive and complementary team in each sector. Each member has to know the game development cycle well, which may not seem like it, but it is very specific. One often hires people who have excellent skills in an area but do not know the game development cycle. This factor can make this element "one less" and delay the projects development.
I: And what about distribution? Have you got a distributor already for your games? How does that work?
B: At Adamastor Studio, when it comes to games, we have VRock which will be exclusive to Sony PlayStation. This is an advantage for us because we will be working with one of the strongest players in the industry and we will have a great marketing machine working on VRock with us. That's pretty good on top of Vrock being our first game.
For future projects, we will have to look for publishers who can help in relation to marketing, publishing, and funding the development of our upcoming games. There are many options at publisher level. Of course the products have to differentiate from others and have quality.
I: What do you see would be the next step for yourself and for the studio?
B: Excellent question! In addition to the games we want to launch, we also want to open a department whose mission will be to work and develop software able to be incorporated into existing games so that they may become accessible to people with some kind of physical disability and vision problems.
We also intend, within this department, to create hardware devices that can be developed in partnership with other companies in the industry, to make possible a total experience in the world of video games.
This department will consist of several areas that will bring together physiotherapists, ergonomists, engineers and designers.
I will be the best person to run this department because, in addition to having a game development studio, I also have a disability that is physically severe, so, I will be the best lab rat. I know many associations that are linked to various types of physical disabilities and thus I believe this department in the future will be a strong asset for the whole sector.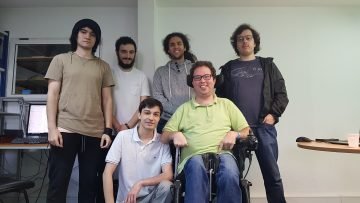 I: How's the video-game ecosystem in Portugal?
Registered as game development companies: 34

Avg team size: 6
Situation of the sector:

The last 2 years have seen less new companies, and the growing of established companies. Plus investment from foreigner studios in Portuguese studios and even some foreigner studios directly opening studios in Portugal.

Main barriers:

Main barrier for the Videogames Industry in Portugal are taxes, mostly taxes over work or employees. The cost for a company to have a senior developer is bigger in Portugal than in Spain or even Belgium. In both these countries they game taxes credits and special condition just for the video games companies. In Portugal we don't have any special condition and the one that apply only have effect for companies above 300 employees.

Challenges:

The biggest challenge for the industry in Portugal is to have senior management and developers available to join teams in Portugal. Even with the taxes issues the quality of our devs and the country conditions are still seen as a plus. The main problem that foreigner studios and even established portugueses ones have is hiring developers, producers and management people with experience. The development ecosystem is also fragile with few companies in the same city or area. Usually a strong ecosystem means that developers can jump from a company to another without the need of relocating themselves. This situation also influences the lack of senior teams in Portugal, because when devs gain experience they usually end-up going outside of the country.
About Adamastor Studio and Gamification
I: What can you tell us about Adamastor Studio? (Size, profile, location, etc)
B: We are a Portuguese studio based in Porto city, with a team of 11 people and batteries aimed at the world! Our startup profile is framed in early-stage. We're opening an investment round soon.
I: What Adamastor provides? What is the studio all about?
B: Adamastor Studio is a company focused on the development of video games, gamification and digital content for a wide range of platforms such as consoles, PC and mobile.
I: What are the projects you are working on at the moment?
B: We are currently working on a PS4 virtual reality game called VRock. Additionally we are developing a "Party Game" genre game for another client (more information coming soon).
I: I understand you are working on a VR experience right now (VRock), can you tell us a bit more about it? What do you think about VR? Will gamers and the industry finally embrace VR?
Q: VRock is an immersive music rhythm Virtual Reality game for PlayStation where the player can experience the life of a rock star by playing with guitar and drums with the superior immersion VR provides.
In relation to VR technology, this is a question which its answer is still unknown, as we must not forget that it is a very recent technology and most players are not yet formatted for new accessories other than the controller / mouse / keyboard. On the other hand, if we investigate the history of the video game industry, all the technological innovations introduced in the market have had their time of adaptation and acceptance. If the technology and its contents have quality, players will end up joining.
I: Your other project, Wrath of the Wu, is a mobile game, what can you tell us about it? And are mobile games finally taking off after Apple Arcade?
B: Wrath of the Wu is a game based on the Chinese culture. The concept is inspired by the five elements of the Chinese nature (fire, earth, metal, water and wood).
The objective of the game is to mix and destroy elements according to their creation and destruction cycle in order to fight elemental enemies.
Wrath of the Wu was designed for mobile because at the time we knew someone who could open the Chinese market for us and we decided to bet on a simple and casual concept. Then the opportunity was lost but we kept an interesting concept to boost in the future.
It is true that the mobile market for some time now is saturated, but I doubt that Apple Arcade has much influence on it, because, in my opinion, the factor that contributes most to this saturation is the fact that the mobile platform fits mostly to casual games genre where there is already abundant offer and variety.
I: Gamification is becoming mainstream as the game industry grows and all their aspects are being translated to other sectors. What exactly is gamification?
B: The gamification definition is very self-explanatory; it consists in the application of typical gaming elements to other areas of activity. The objective is to motivate the execution of tasks and fulfillment of processes by providing a more entertaining and competitive way.
I: How can gamification be applied to other sectors?
B: Gamification can be applied in different ways depending on the sector. If a sector is more focused in sales and want to motivate their productivity, gamification can be molded to be more oriented to motivate productivity. If a given sector wants something to help train new members, gamification can be molded to be more focused in this objective. Gamification can be applied in many ways.
I: What are the main aspects of games that are specially attractive in non-games scenarios?
B: The main aspects that are attractive in non-games scenarios are scoring for performance, rankings between players, feeling of progression and rewards.
I: Can you tell us any real-life project of gamification that your studio has taken part of or provided?
B: Right now we're working on a gamification solution for a tourism company and soon to start a solution for a company of technological development. We're also evaluating the fashion and human resources market.
I:Finally, you also provide digital content, can you tell us a bit more about what sort of digital content?
B: 3D modeling, brand logos, videos, animations and possibly others!
I: Any project you would like to undertake in the future?
B: With regard to future projects related to video games, we have some ideas to develop an RPG action with multiplayer features.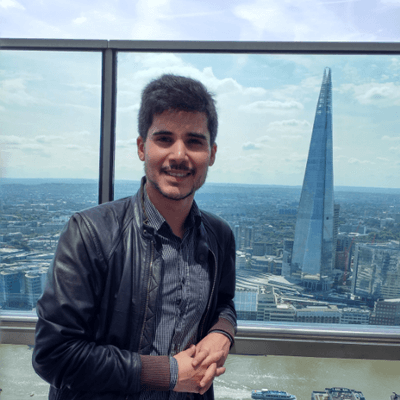 Hernaldo Turrillo is a writer and author specialised in innovation, AI, DLT, SMEs, trading, investing and new trends in technology and business. He has been working for ztudium group since 2017. He is the editor of openbusinesscouncil.org, tradersdna.com, hedgethink.com, and writes regularly for intelligenthq.com, socialmediacouncil.eu. Hernaldo was born in Spain and finally settled in London, United Kingdom, after a few years of personal growth. Hernaldo finished his Journalism bachelor degree in the University of Seville, Spain, and began working as reporter in the newspaper, Europa Sur, writing about Politics and Society. He also worked as community manager and marketing advisor in Los Barrios, Spain. Innovation, technology, politics and economy are his main interests, with special focus on new trends and ethical projects. He enjoys finding himself getting lost in words, explaining what he understands from the world and helping others. Besides a journalist, he is also a thinker and proactive in digital transformation strategies. Knowledge and ideas have no limits.