Interview: The Inspiring Story Of Emad Rahim, Survivor, Professor And Entrepreneur – part one
There are lack of words to introduce and explain Emad Rahim, because it is his life that speaks by itself.  Emad Rahim is a professor, a dynamic educator and an outstanding business leader. His incredible journey began as a survivor of the Fields of Cambodia, that moved as a political refugee to New York. He surpassed various hardships while growing up, such as abuse, dyslexia and learning disabilities, earning a doctorate and post-doc and becoming a renowned thought leader. Emad Rahim tells the story of his life in his own words, in an autobiographical short film he produced.
His list of achievements is immense as Dr. Rahim earned a AACSB Bridge Post-Doctorate in Marketing and Management Research, Doctorate of Management in Organizational Development and two graduate degrees in project management and business management.  In 2013 Dr. Rahim was recognized for his contribution to the entrepreneurship ecosystem at the United Nations Headquarters for the Empact Showcase Honoree and in 2012 he was invited to attend the Empact Summit at the White House and US Chambers of Commerce in Washington DC. He is currently the Assistant Dean of Business at Strayer University and Full Professor with the Jack Welch Management Institute.
Recently he gave an exclusive interview for Intelligenthq that will be divided in two parts. In the first we will address his story and extraordinary example of his life path. The second part of the interview, will adress issues concerning the challenges of higher education.
Emad Rahim
Can you tell us about you, your family and cultural background?
I am a Khmer American that came to the United States as a refugee. I was born in a concentration camp in the Killing Fields of Cambodia. My father and older brother were killed in the concentration along with millions of other Cambodians during the war. As a refugee, we grew up in Brooklyn NY in the early 80s in section 8 housing and on welfare. My family and I eventually was forced to move to Syracuse NY after I was shot in the leg during black party due to an altercation between two drug dealers.
In what ways did the hardships you endured in your earlier life propelled you to the success you have now?
It taught me to appreciate how I was able to overcome my adversities instead of playing the victim. I understood that it was not just my own sacrifice that paved my way, but my family and friends. I did not take anything for granted and learned to seize every opportunity that is put in front of me. If I don't take advantage of every opportunity, fight to achieve my goals and reach my full potential, then everyone's sacrifice to get me here was in vain. I no longer live in the past, but use my life experience to inspire my journey forward. My hardship has made me more determined, ambitious, driven and focused towards my goals.
You have an exceptional education and academic career, can you tell us more about it?
Thank you for your kind words. My education was very nontraditional. I discovered my passion for higher education later on in life. In public school I struggled with dyslexia, poverty and violence. I spent much of my elementary school years in special education. In high school I was always a grade behind and got into a lot of fights. I barely graduated high school. My grades were not good enough for any private universities. I did not have the money to take any tutoring for the SAT or had established any professional relationships to acquire recommendation letters. My only option was community college. At the community college, I  struggled and was ready to give up. I was trying to balance my work and family obligations with school. In addition, my learning disability and lack of drive caused my GPA to drop and I was placed on academic probation. I was fortunate enough to discover nontraditional education and online learning which propelled my academic success and career. Fast forward 16 years later since I started community college, I have earned two undergraduate degrees, two masters, a doctorate degree and completed my post-doctoral studies at University of Maryland University College, Tulane University and will be attending Harvard University's post-doctoral seminar this summer.
Can you identify what was the turning point in your academic and professional life?
When I earned my associate degree from SUNY Empire State College and realized my dreams were obtainable. After that, education became my new obsession. I quickly realized that I was growing as a person, becoming more confident in myself and my abilities as I continued to earn more academic accolades. I also noticed that my education was affording my access into new networks, opportunities and possibilities.
You sometimes took the non-traditional approach of learning online – do you think this is better?
It was better for me because of my family and work situation. Independent study and online education was a better fit for my learning style and schedule. Early into my undergraduate studies I needed a more mentorship type of relationship with my faculty. As a graduate student I seek a flexible schedule that afforded me an opportunity to learn on my own time. When I was ready to pursue my doctorate, I needed a hybrid option with small class size and a personable institution. It is these types of academic experiences that contributed to my academic success and love for higher education.
You have a long list of achievements. Can you tell us about one of these that you are particularly fond of?
I was recently recognized by the United Nations Foundation as an Empact100 Honoree for my social entrepreneurship work. It was a life change moment for me. I met a lot of amazing startup founders, inventors, business leaders and dynamic entrepreneurs. I was so proud and grateful to be able to stand amongst a group of such amazing and accomplished people. Seeing how all of these people and their businesses were change how we live and work. It allowed me to do a great deal of reflection on myself and how far I came to get there.
Interview: the Inspiring Soty of Emad rahim (part two)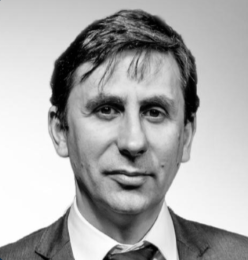 Dinis Guarda is an author, academic, influencer, serial entrepreneur, and leader in 4IR, AI, Fintech, digital transformation, and Blockchain. Dinis has created various companies such as Ztudium tech platform; founder of global digital platform directory openbusinesscouncil.org; digital transformation platform to empower, guide and index cities citiesabc.com and fashion technology platform fashionabc.org. He is also the publisher of intelligenthq.com, hedgethink.com and tradersdna.com. He has been working with the likes of UN / UNITAR, UNESCO, European Space Agency, Davos WEF, Philips, Saxo Bank, Mastercard, Barclays, and governments all over the world.
With over two decades of experience in international business, C-level positions, and digital transformation, Dinis has worked with new tech, cryptocurrencies, driven ICOs, regulation, compliance, and legal international processes, and has created a bank, and been involved in the inception of some of the top 100 digital currencies.
He creates and helps build ventures focused on global growth, 360 digital strategies, sustainable innovation, Blockchain, Fintech, AI and new emerging business models such as ICOs / tokenomics.
Dinis is the founder/CEO of ztudium that manages blocksdna / lifesdna. These products and platforms offer multiple AI P2P, fintech, blockchain, search engine and PaaS solutions in consumer wellness healthcare and life style with a global team of experts and universities.
He is the founder of coinsdna a new swiss regulated, Swiss based, institutional grade token and cryptocurrencies blockchain exchange. He is founder of DragonBloc a blockchain, AI, Fintech fund and co-founder of Freedomee project.
Dinis is the author of various books. He has published different books such "4IR AI Blockchain Fintech IoT Reinventing a Nation", "How Businesses and Governments can Prosper with Fintech, Blockchain and AI?", also the bigger case study and book (400 pages) "Blockchain, AI and Crypto Economics – The Next Tsunami?" last the "Tokenomics and ICOs – How to be good at the new digital world of finance / Crypto" was launched in 2018.
Some of the companies Dinis created or has been involved have reached over 1 USD billions in valuation. Dinis has advised and was responsible for some top financial organisations, 100 cryptocurrencies worldwide and Fortune 500 companies.
Dinis is involved as a strategist, board member and advisor with the payments, lifestyle, blockchain reward community app Glance technologies, for whom he built the blockchain messaging / payment / loyalty software Blockimpact, the seminal Hyperloop Transportations project, Kora, and blockchain cybersecurity Privus.
He is listed in various global fintech, blockchain, AI, social media industry top lists as an influencer in position top 10/20 within 100 rankings: such as Top People In Blockchain | Cointelegraph https://top.cointelegraph.com/ and https://cryptoweekly.co/100/ .
Between 2014 and 2015 he was involved in creating a fabbanking.com a digital bank between Asia and Africa as Chief Commercial Officer and Marketing Officer responsible for all legal, tech and business development. Between 2009 and 2010 he was the founder of one of the world first fintech, social trading platforms tradingfloor.com for Saxo Bank.
He is a shareholder of the fintech social money transfer app Moneymailme and math edutech gamification children's app Gozoa.
He has been a lecturer at Copenhagen Business School, Groupe INSEEC/Monaco University and other leading world universities.