Entrepreneurs, throughout history, have always actively participated in the construction of the future. They are usually visionaries, who have the guts to actually build things that transform the world. From Leonardo da Vinci to Thomas Edison or Coco Chanel, entrepreneurs's contributions to the world have greatly impacted our society. Who are the entrepreneurs of our days that are constantly pushing the standards of their fields to leave the world, hopefully a better place ?
Intelligenthq had the pleasure of interviewing Ben Way, a startup technologist, inventor, and serial entrepreneur based in Silicon Valley who is considered to be one of the best in the world. Ben recently embarked in a new innovative project connected with blockchain, Digits. Digits is a company that is developing a product that allows users to transact crypto just like fiat, using any debit or credit card.
Ben Way began his entrepreneurial adventures very young, and in his teens, he raised £25 million, making him one of the first dot com millionaires. He is considered an important influencer on the challenges and benefits of the future's technology and has advised some of the world's leading institutions, including the White House, regarding technological preparations for the future. Ben Way is also a best selling author, and has participated in various documentaries such as The Startup Kids, the The Secret Millionaire and Start-Ups: Silicon Valley. He is the recipient of the millennium entrepreneur of the year award, was named a top 50 UK Influencer in 2016, and has appeared on numerous technology and philanthropy television programs, as well as presenting Bright Young Wonders on Robotics.
His crypto credentials are also considerable, ranging from advising Tradehill founders in 2011 to developing a strategy for the roll out of the largest Bitcoin mining operation in San Francisco. In the following interview, Ben Way, tell us about his last adventure, Digits, and draws on his long experience with the tech world, to inform us of some of the challenges and opportunities of blockchain technology.
From being the founder of Europe's first incubator, to advisor to the White House during Clinton's administration,and lecturer at the LSE, your cv is impressive. Can you tell us more about your background and some its key experiences?
It may be fun to start out with that the first business experience I ever had was selling eggs on a farm. I grew up on a farm in the middle of nowhere. I would drive a tractor, milk a cow, and then was very lucky to be diagnosed with dyslexia at a very young age. Because of that I got a laptop from the local government when I was 7. And then I just got very good at computers and started programming them when I was about 9. Then I started helping my schoolmates, and their parents, then their parents businesses and started my first formal business at 15 which was a great sedgeway out of school because I didn't like it very much.
2. You engaged in unusual experiences, such as your participation in a social experiment that led to the film "The secret millionaire". For the making of the film you spent some days in a poor and very tough community in London, as a volunteer doing social work in a youth club. Can you tell us more about your experience there and how it transformed you? What led you to do it?
Secret Millionaire was one of the most amazing and challenging experiences of my life. I spent two weeks in Murder Mile on my own, because the film crew left at night. I was housing with someone who had been incriminated for homicide. It was a really humbling experience. It allowed me to understand and appreciate some of the challenges we face in society, and allowed me to make some great long term and deep relationships with people in the community and people I helped. All I can say is I hope I made a difference.
3. Blockchain is an undeniably ingenious invention that has the potential to transform the world.When did you become interested in Blockchain technology and what attracted you into Blockchain?
I started looking into Blockchain really early on. Around 2011, when it was more of just a technology I wanted to understand. I set up a little mining rig and mined some crypto. But back then it was just a toy, no one took it seriously. It was just for interest's sake. Then I got involved with some pretty big hitters in the crypto space and helped them with the bitcoin.com deal, which, due to regulatory issues we decided to shut down, but I've always kept a keen interest since. When crypto started becoming mainstream, I wanted to build something that would help the community and make crypto more widely accessible.
4. How do you see blockchain as a driver for society overall? What is its potential for creating positive social impact?
I think the big thing on the social impact side is really being able to help the underbanked and unbanked communities. To take the power out of the gatekeepers' hands and allow more freedom in the flow of capital without the associated costs, and a more diverse and innovative financial sector.
5. You founded Digits, a blockchain company that aims to turn any debit or credit card into a crypto card. What led you to found Digits? Can you tell us more about its vision?
I joined a traditional payments company around three years ago and had no payments experience at that point but was always fascinated in fintech given that my father is an accountant. So I joined a fintech company and learned about the payments industry and how fragmented and unusual it is. Then a year ago I decided we need a crypto strategy and I was challenged to make crypto payments as simple as credit card payments, and that's exactly what I did. I conceptualized and built digits to help the crypto market become mainstream.
6. What are the types of new innovations you are trying to build with Digits?
There are two main issues with transacting crypto currencies now and they are volatility, and transaction times. Digits is solving for both of those with the creation of The Hedge Lending Network, a platform that makes transacting cryptos both stable, and instantaneous.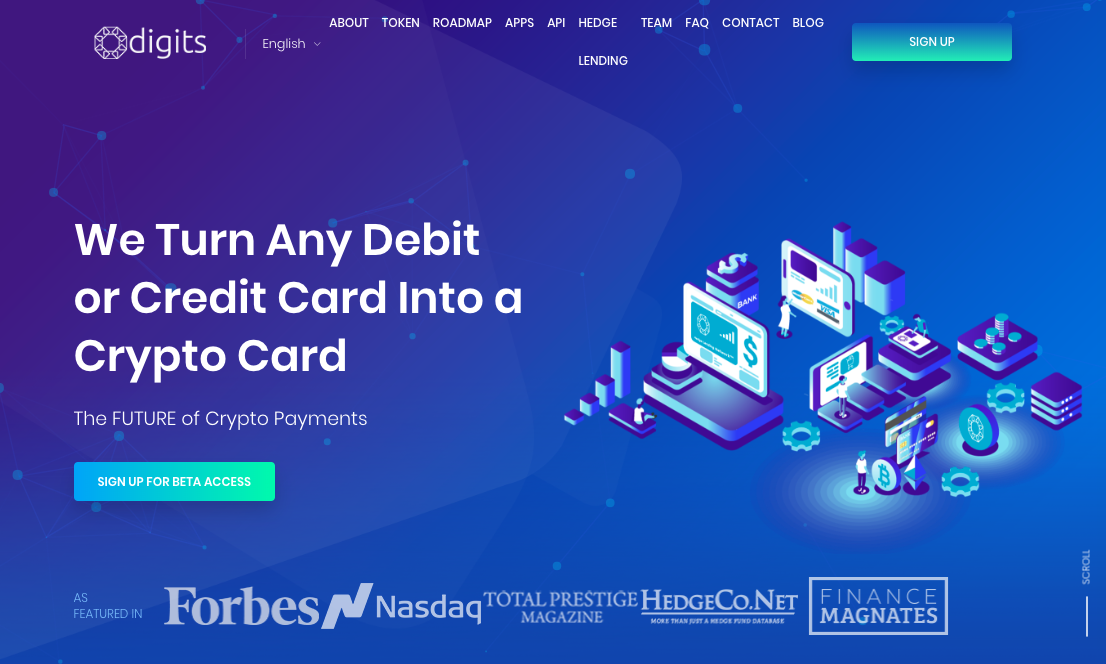 7. What is your predicted landscape for Blockchain in terms of finance/payments industry in 5 years time? How will those industries be challenged by this new wave of innovation?
For the foreseeable future there will be quite a divide between traditional fintech and crypto fintech but over the next 5 years they will start to mingle more. Traditional institutions will get an idea of how crypto markets work, there will be more capital inflow, and more innovative technologies will be created by this process.
8. Recently we have seen some major scandals concerning Blockchain ICOs supposedly promoting projects with social impact intentions, which were in reality scams. What is your take on this, and how can an investor choose an appropriate project that truly delivers what it proposes?
As I always say investing in crypto is like investing in any startup. The first thing is you should never invest any money that you can't afford to lose. Regardless if its crypto or a normal startup, the statistic is there's a 95% chance it will fail. You should always distribute your capital against a variety of investments.
9. What is your opinion about the impact of some cryptocurrencies such as Bitcoin, on the environment, and what steps should be taken to tackle this ?
Right now, the way that value is inherited through mining is inherently inefficient. I think there should be value in creating useful work. Once we can mine and create useful work, then the value on the environment of cryptocurrencies disappear because you create a value of creation beyond worth. I think it's just crazy that we spend this huge amount of wealth that could otherwise be used for other purposes.
10. What are your views about the impact of Blockchain and AI in the world. Do you think they will become powerful trends? If so, what will be some of the challenges and opportunities?
Both AI and crypto can be core technologies that have a fundamental impact on the way in which we process transactions both in the real and the virtual world. There are a lot of challenges. You have to be careful that crypto is not used for nefarious purposes, and on the AI side you've got a lot of automation coming that will create challenges in the future when it comes to employing humans because technology is relieving the need to do menial tasks.
Sponsored Content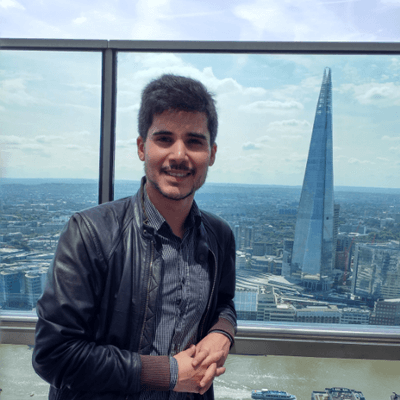 Hernaldo Turrillo is a writer and author specialised in innovation, AI, DLT, SMEs, trading, investing and new trends in technology and business. He has been working for ztudium group since 2017. He is the editor of openbusinesscouncil.org, tradersdna.com, hedgethink.com, and writes regularly for intelligenthq.com, socialmediacouncil.eu. Hernaldo was born in Spain and finally settled in London, United Kingdom, after a few years of personal growth. Hernaldo finished his Journalism bachelor degree in the University of Seville, Spain, and began working as reporter in the newspaper, Europa Sur, writing about Politics and Society. He also worked as community manager and marketing advisor in Los Barrios, Spain. Innovation, technology, politics and economy are his main interests, with special focus on new trends and ethical projects. He enjoys finding himself getting lost in words, explaining what he understands from the world and helping others. Besides a journalist, he is also a thinker and proactive in digital transformation strategies. Knowledge and ideas have no limits.