Brandon Donnelly is the Founder of Intellect Horizon, a Web 3.0 event platform that focusses on the transformative capabilities of AI, XR, and Web 3.0 technologies. In the latest episode of his YouTube podcast, Dinis Guarda discusses with Brandon the relevance of global platforms like Intellect Horizon where intellectual minds and institutions innovatively converge to bring open discussions and showcase innovations in the Web 3.0 realm. Their upcoming event on October 28, is thought of as a destination for startups, technology developers, academia, and investors to go through these ideas. The podcast is powered by openbusinesscouncil.org and citiesabc.com.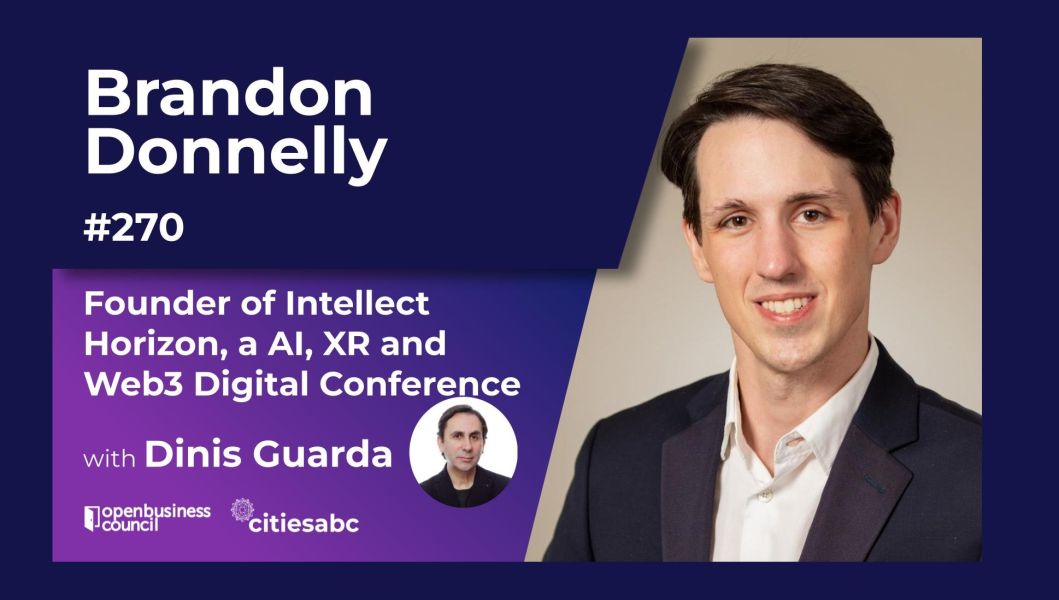 Brandon Donnelly is an innovator in technologies like AI, ML, AR, VR, and digital transformation. He holds 11 patents, 4 trademarks, and over 40 transformative projects, and has been recognized as a Global Talent by two governments.
Currently, Brandon Donnelly is the founder of Intellect Horizon, a free digital conference with top minds and institutions focused on the transformative capabilities of AI, XR, and Web3. Speaking about the event, Brandon told Dinis:
"This is a great opportunity for us to have a dialogue, to not just come as people from one country or college or identity, but more so as a public discussion on humanity, and to really add a point in time that is going to be greater than the industrial revolution or the age of the internet, and unlock human potentials."
Intellect Horizon: A Web 3.0 event platform
Intellect Horizon is a 24-hour digital conference scheduled for October 28, 2023. With eminent speakers from renowned institutions such as the Asia School of Business, MIT, Oxford, Cornell, XBOX, and more, Intellect Horizon is supported by accelerators and incubators like Starshot Startups and Hubspot.
During the interview, Brandon highlighted some of the eminent speakers from global institutions such as the Asia School of Business, Dragonscale AI, University of Oxford, MIT, Cornell, National University Singapore, University of Waterloo, and many others will attend the conference, sharing their invaluable insights. "More universities are to be added during the coming weeks, especially in XR", he told Dinis.
The event will also welcome some of the recruiters like Matt Barney and Adrian-Oliviu Cercel, world visionary leaders like Dinis Guarda and Douglas McCready, and academic maestros like Aaron D, Dr Sepi Chakaveh and Matthew Weait, and disruptive startups like the ones by Michelle Gordon and Bianca Bauer.
The philosophy and ethics of AI and emergent tech in Web 3.0: Core focus of Intellect Horizon
The field of AI has its philosophical roots in the quest for understanding human intelligence. Brandon explained that the technology was built on basic pondered questions of consciousness, perception, and cognition. AI seeks to replicate these abilities in machines, leading to debates on the nature of intelligence, the limits of technology, and the implications for human existence.
He highlighted the key issues associated with the technology, including data privacy, algorithm bias, and accountability come to the forefront. "If you research computational linguistics, the utilisation of English in a lot of programming languages has a western bias, because you are excluding or mistranslating voices that would normally be able to provide input or speak or have a dialogue", he said.
He also highlighted that while the world is still embracing the tech revolution, the society is simultaneously witnessing its implications, finding out ways to bring a positive narrative associated with these technologies, not just to improve efficiencies, but also the quality of living and working with it.
This is where, he explained, that the events like Intellect Horizon play an important role in opening common grounds for innovators, users, and other experts to discuss the various challenges and possibilities that the Web 3.0 technologies bring.
"Experts from pedagogical, philosophical, and technical sides are the most effective people to help us express the greatest tapestry of creativity that makes us up as a species and guide us as to where it's going to end. 
Giving them a platform and enabling them not just to come with answers, but to provide perspectives so that people can ask the right questions, and to let awareness not become complicity so that we can navigate this together – culturally, societally, and from a human level globally", he said.
How to engage with Intellect Horizon?
Brandon also explained that Intellect Horizon brings with itself a wide array of engaging events and activities designed to captivate and inspire attendees. Scheduled on October 28th, the conference is a 24-hour event that welcomes both digital and physical participations from across the world.
The conference provides valuable opportunities for aspiring entrepreneurs to showcase their innovative ideas and business models at an event partnered by Starshot Startups.
"Over $270 billion in private equity and venture capital funds are going to be secret shopping where we literally give the stage to startups", Brandon told Dinis. Participants can pitch their innovative ideas to funders and a global audience, opening doors for potential collaborations and investment possibilities.
Similarly, Starship Seekers offers a platform for individuals to find their next crew and company in the technology field, fostering connections that can propel careers and ideas forward.
Cyber Clash is an event where AI bots navigate intricate battle arenas, showcasing the incredible possibilities of AI, Web3, and XR technologies. This high-octane experience brings digital and physical individuals to a unified teamwork and showcase their diverse skill sets.
"The best part is that Intellect Horizon is 100% free, and has no corporate sponsors. We want you guys to come away without feeling some sort of strange desire of buying coffee or some cloud service by the end of it", he said.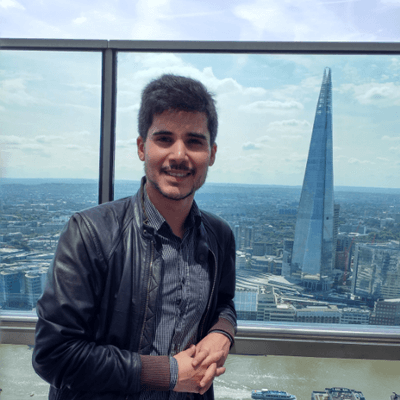 Hernaldo Turrillo is a writer and author specialised in innovation, AI, DLT, SMEs, trading, investing and new trends in technology and business. He has been working for ztudium group since 2017. He is the editor of openbusinesscouncil.org, tradersdna.com, hedgethink.com, and writes regularly for intelligenthq.com, socialmediacouncil.eu. Hernaldo was born in Spain and finally settled in London, United Kingdom, after a few years of personal growth. Hernaldo finished his Journalism bachelor degree in the University of Seville, Spain, and began working as reporter in the newspaper, Europa Sur, writing about Politics and Society. He also worked as community manager and marketing advisor in Los Barrios, Spain. Innovation, technology, politics and economy are his main interests, with special focus on new trends and ethical projects. He enjoys finding himself getting lost in words, explaining what he understands from the world and helping others. Besides a journalist, he is also a thinker and proactive in digital transformation strategies. Knowledge and ideas have no limits.