Chief Financial Officers (CFOs) have a particularly tough role in organisations. at least, according to a recent report published by Russell Reynolds Associates. It is expected that CFOs are very good at paying attention to detail. An obvious example is with regard to financial matters, but CFOs also have to pay attention to all kinds of detail. However, somewhat conflicting with this in terms of skill sets, they also need to be strategic thinkers who have foresight and can develop a suitable strategic approach for the organisation from a financial perspective, at the highest level. These two types of skills may often be hard to find in one person, but CFOs have to master it.
In understanding what goes on in the minds of CFOs Russell Reynolds Associates utilised its database to compare different CFOs on different psychometric assessments. This was compared with other executives like CEOs. Overall there were four main findings as a result of this. One was that CFOs have fast analysis skills that along with a certain level of gravitas in personality helps to keep the executive team on track. The second finding was that CFOs may in many cases aspire to be CEOs to have characteristics that make them good leaders, but that they also have to assess their development areas to be able to make this jump. The third finding was that CFOs with a variety of different personality characteristics have offered a variety of benefits at different stages of the economic cycle. These have included being:
"Unassuming before the recent recession, bolder during the recession and perfectionist in the post-recession era."
The fourth major finding was that CFOs from public and private organisations had almost the equivalent leadership and behavioural styles. Meanwhile those CFOs from enterprise organisations were found to have higher levels of composure and a greater likelihood of taking action over those CFOs in divisions.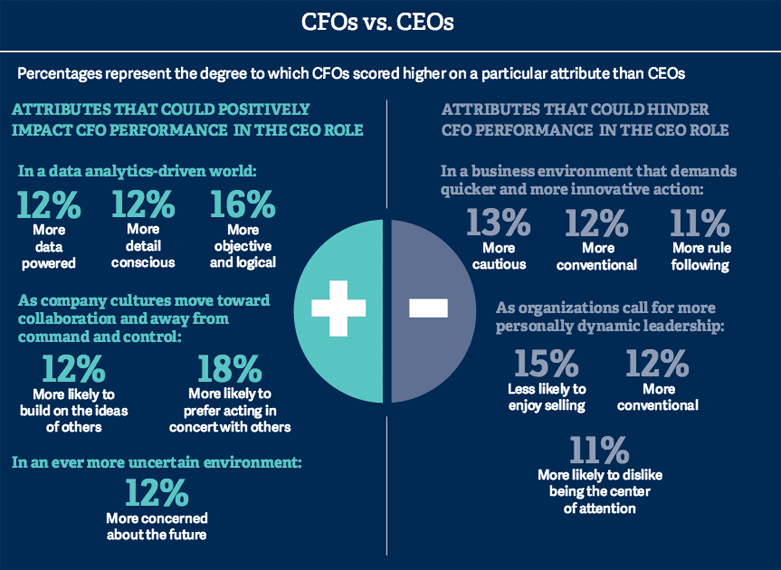 Looking closer at some of the details, the report noted that CFOs have a greater focus on data than other people in the executive team. This is important as it is thought to provide a balance given that other executives may have a greater level of emotional decision making. The ability to crunch the numbers is thought to provide an approach that is logical and objective, providing helpful input. This characteristic was also found to be very important and noticeable in CEOs.
Examining the developmental challenges that CFOs have in terms of moving into a CEO role, it was found that there were some characteristics that could hold CFOs back if not addressed. Some of these were the fact that they have been found to be more cautious, more conventional, greater followers of rules and considerably less likely to enjoy selling. These were argued to have the potential to hinder CFO performance in a CEO position. There were two areas in particular where CFOs were shown to be able to use their specific skills to address these challenges. One is by focusing on innovation that is related to data, as this is a particular area of strength for them. The other is becoming more comfortable with introverted leadership.
In addition looking at different CFO roles in more detail, CFOs in divergent roles were found to in some cases have considerable personality differences, and in other cases, not at all. It was found that enterprise CFOs were more likely to be calmer, and they were also more comfortable with choosing the right risks to jump on board with. One interesting difference between private and public company CFOs was found to be that private company CFOs are 13% more likely to be more thoughtful and reflective. However, other than that between private and public companies CFOs had no statistically significant differences in 59 out of 60 different attributes measured.
Looking to the future it is argued that a higher level of complexity in business and increased legislation may mean that CFOs have to have more of a strategic mind set than in the past, and that in addition they will need to be able to combine this with technical, commercial and operational know-how. There are also likely to be more stakeholder challenges, and this may lead to the emergence of a greater number of CFOs that have better interpersonal skills and who are good with written communications as well.
You can find the whole report here.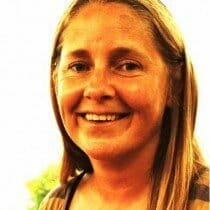 Paula Newton is a business writer, editor and management consultant with extensive experience writing and consulting for both start-ups and long established companies. She has ten years management and leadership experience gained at BSkyB in London and Viva Travel Guides in Quito, Ecuador, giving her a depth of insight into innovation in international business. With an MBA from the University of Hull and many years of experience running her own business consultancy, Paula's background allows her to connect with a diverse range of clients, including cutting edge technology and web-based start-ups but also multinationals in need of assistance. Paula has played a defining role in shaping organizational strategy for a wide range of different organizations, including for-profit, NGOs and charities. Paula has also served on the Board of Directors for the South American Explorers Club in Quito, Ecuador.