Host Dinis Guarda interviews COO of Blocksport.io, Samir Ceric, in the latest episode of his YouTube podcast series, powered by citiesabc.com, openbusinesscoincil.org, and fashionabc. Samir highlights the unique digital model by Blocksport for the sports industry, the importance of education in sports tech, and the essence of creating an ecosystem. 
Samir Ceric is a well-known investor and entrepreneur who has managed various senior executive roles in his professional career. Being from a multi-faceted family, Samir feels privileged to be nurtured with values of philanthropy and charity.
His love for Mathematics urged him to pursue a Master's with majors in Decision Theory, Statistics, and Probability from Università di Bologna. There, he realised that Mathematics is not just about numbers, "The human behaviour and psychology are based on stats and probability. So, these subjects helped me understand the world, the life, and the society that we live in as rather a different kind of a platform- just a number crunching exercise.", he explained.
Explaining to Dinis about his multicultural experience during his extensive professional years of investment banking and entrepreneurship, he said, "We should celebrate the similarities, but we learn about the differences in the way that helps us do business, help us open opportunities for each other, help us combine interests, and generate success stories as a result of that."
Golden words of a veteran
Speaking directly from his experience, Samir told Dinis that the gist of progressing along to the C-level is the ability to spot and create opportunities. He emphasised the essence of inspiring, encouraging, and empowering those around us.
Sharing the key element to being a true leader, he said, "If you can be the leader that recognises the potential lying around when the people are struggling and is able to articulate the challenges to the investment groups and boards at the times when they are also looking to make the decisions, you are doing the right things, you are on the road to success."
To Dinis's curiosity as to how he deals with the challenges, Samir had the most pragmatic answer. According to him, no achievement or success comes without lessons learnt. He is a firm believer that 'There are no failures in life, only lessons learnt.'
"Even if you don't achieve all the things, you set out to achieve, you will probably achieve so much more if you are ambitious, committed, and showcase the most difficult skill to acquire- patience. If you can draw from difficulties, challenges, and failures, you sharpen yourself, improve your character, and dramatically improve your chances of success.", he enlightened.
Blocksport: A holistic ecosystem that is one-of-its-kind
As the discussion progressed to more intriguing elements, Dinis Guarda congratulated Samir for his achievements in life, especially for his exemplary contribution to his current organisation. Explaining the unique nature of Blocksport, Samir said that it is the only sports tech company in the world that offers a full ecosystem for sporting entities and their fans.
"The fan engagement and the ability to offer fans even better opportunities to engage with their beloved clubs is something that's been massively overlooked over the past few years, and it's still today. So, Blocksport has thought of a full ecosystem for all these sporting entities to be able to help them facilitate opportunities in terms of revenue creation, improvement of their sponsorship, activation missions, improvements in fan engagement, and has come up with a very smart thing which is a non-speculative fan token.", he explained.
He further mentioned to Dinis that the token products offer better utilities and benefits for fans and sporting entities. Also, he added that educating the community is the prime focus of Blocksport. While on one hand the club management is made aware to involve itself responsibly in the crypto space, the fan base is educated about the better content that can be made available at the digitalised platform- never-before experiences, opportunities, and digital assets (NFTs).
Pointing at the element that maintains the sustainability of the project, Samir said, "I think that five years down the line when we look back, we will see that all this buzz that's been happening in the sports tech industry, majority of the buzz is long gone, and the players like Blocksport are sustained because they held the hierarchy to the utmost importance."
Explaining this pyramid in the sports industry, he said that it has the fans at the top, the sports management in the middle, and the players like blockchain technology providers at the bottom. "We are here to serve the industry, we are not here to steal the customer data. Our partners own all the data, we are purely the facilitator and the enabler for further engagement and new revenue creation, in order to make their business model succeed.", he elaborated.
Highlighting the achievements of the project, Samir told Dinis that Blocksport has launched token offerings for two of the sporting clubs already, including Partizan BC and Empoli FC. Bulgarian Football Federation and Kaizan Chiefs Football Club, the biggest franchise in South Africa, have also been signed and are in the planning phase of releasing their fan engagement apps and fan token offerings. Taking cultural differences into account, the company is strategically identifying a variety of markets to penetrate worldwide.
Speaking of Blocksport's plans to bridge blockchain, 4IR, and the metaverse, Samir told Dinis, "Metaverse is something I'm very excited about and something that Blocksport is very keen to develop in partnerships and corporations at other places."
Concluding an enlightening interview, Samir told Dinis that he is a supporter of the Blue Ocean business strategy, which believes in incorporation and collaboration. "We will only benefit and win if we truly want to incorporate our partners and also competitors. We will not win even if all we care about is the return of investment towards the investment groups or dragon horses of those companies.", he shared.
About citiesabc.com
https://www.citiesabc.com/​​​​​​​​​​​
https://twitter.com/citiesabc__​​​​​​
About openbusinesscouncil.org
https://www.openbusinesscouncil.org/
4IR: AI Blockchain Fintech IoT Reinventing a Nation by Dinis Guarda and Rais Hussin (4irbook.com)
Dinis Guarda citiesabc openbusinesscouncil Series is also available as podcast on:
Apple Podcasts: https://podcasts.apple.com/us/podcast/dinis-guarda-citiesabc-openbusinesscouncil-series/id1510330391
On Spotify: https://open.spotify.com/show/1vA8KaDaRpJ0mAfpNbfTSF?si=H_WngL4RSOyu1W7VAmM41w&dl_branch=1
Google Podcasts: https://podcasts.google.com/feed/aHR0cHM6Ly9mZWVkcy5idXp6c3Byb3V0LmNvbS8xMDMyMzg4LnJzcw==
Amazon Music: https://music.amazon.com/podcasts/953a5156-823c-4e86-baeb-4fda1128e44c/DINIS-GUARDA-CITIESABC-OPENBUSINESSCOUNCIL-SERIES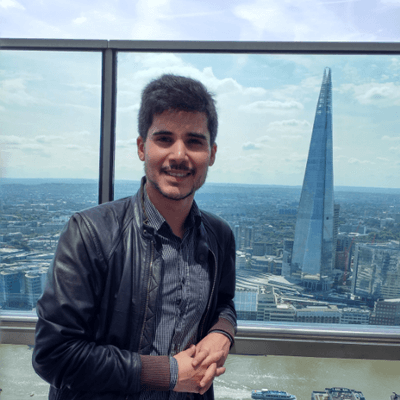 Hernaldo Turrillo is a writer and author specialised in innovation, AI, DLT, SMEs, trading, investing and new trends in technology and business. He has been working for ztudium group since 2017. He is the editor of openbusinesscouncil.org, tradersdna.com, hedgethink.com, and writes regularly for intelligenthq.com, socialmediacouncil.eu. Hernaldo was born in Spain and finally settled in London, United Kingdom, after a few years of personal growth. Hernaldo finished his Journalism bachelor degree in the University of Seville, Spain, and began working as reporter in the newspaper, Europa Sur, writing about Politics and Society. He also worked as community manager and marketing advisor in Los Barrios, Spain. Innovation, technology, politics and economy are his main interests, with special focus on new trends and ethical projects. He enjoys finding himself getting lost in words, explaining what he understands from the world and helping others. Besides a journalist, he is also a thinker and proactive in digital transformation strategies. Knowledge and ideas have no limits.