In a bid to maintain relevance in both the IT (Information Technology) and business context, companies strive to augment the operation and management of their networks. This process has given rise to business models that are able to match the demands of an ever-growing market trend and prospects.
One business model that has been tested and trusted to meet the needs of these companies, despite being new, is Network as a Service, or NaaS.
This flexible innovative model has been at the revolutionary core of providing companies with more efficient ways of handling every aspect of their businesses. Prior to the use of NaaS, companies implemented the expansion of cloud services, which sometimes made it confusing to map out clear which employees and customers' data was exposed to risk, and where.
NaaS has provided more flexibility for employees to work remotely on the go, thereby creating an increase in the operation and security of global cloud computing. All thanks to NaaS, companies can adopt the latest applications, compete effectively, upload resources, and meet clients' needs in real-time, without having to worry about security issues such as data breaches and exposure to malware.
However, to know more about the benefits of NaaS in a company, it is important to understand what it is first; hence, bringing us to this question, "What is Network as a Service?"
What is Network as a Service?
Network as a Service, or NaaS, is an enterprise monitoring solution that provides businesses without personal networking infrastructures a subscription-based virtual network service. Having this IT business model, corporate organizations need not undertake the burden of configuring and operating WAN (Wireless Area Network) optimizers, routers and network protocols, firewalls, and endpoints.
The third-party network provider handles these responsibilities, making them available for use. The company may need to pay a one-time fee or subscribe to the individual services provided by the service provider. Networking areas that are being provided include simple network configuration, ultra-secure connectivity, and the supply of service to mobile and provisional locations.
Companies with migrating networks are provided with the ability to increase the availability of their networks, create more flexibility and simplicity at various management levels, and increase their returns on investment (ROI). Also, NaaS creates market expansion.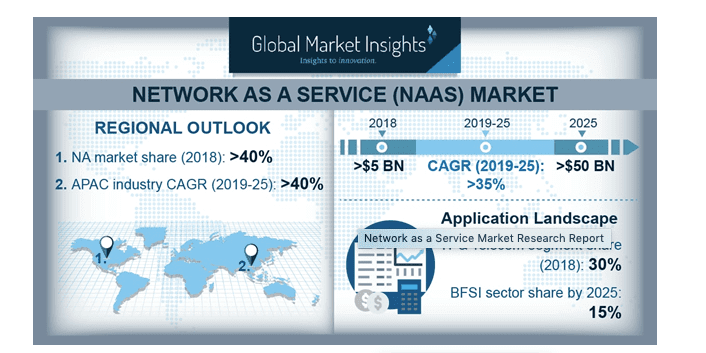 Validation of this proof was recorded in 2016 when the NaaS market value rallied at $1.85 billion. It was also predicted that by 2022, the market value will be pegged at $22.5 billion with a six-year compound annual growth of 51.6%
Despite the potential growth of the NaaS market and the increased rate in its integration into several organizational business models, it is advised that companies apply caution when using this service. Having some aspects of a business network infrastructure being controlled by a third-party service provider means less oversight over the whole network.
Companies That Are Migrating Their Network To The Cloud Using NaaS
With the increasing demand by companies to run IT infrastructures efficiently, while adding value to their clients and businesses, many have considered NaaS to be an ideal solution. Here are some companies amongst others that have migrated their networks using NaaS.
· PCM, Inc. – El Segundo, Calif.
PCM is a direct marketing technology company that provides hi-tech products and services to customers. It is regarded as one of the best IT companies in the world. This company has incorporated NaaS into its network operations. Though their WAN connectivity is being provided by telcos, using software-defined networking, other networking areas are being handled by their own network operations center. They have an IT service management team that ensures smooth operations.
· Arlanxeo – Maastricht.
Arlanxeo, a synthetic elastomer company based in Maastricht, has its network infrastructure fully operational with the use of Network as a Service, all thanks to Telefonica. The latter was being selected to deploy NaaS Solutions for Arlanxeo's contract.
This contract has coverage in 11 countries on four continents, with a world-wide delivery of Wi-Fi (Wireless-Fidelity), IP-Telephony (Internet Protocol-Telephony), LAN (Local Area Network), SD-WAN (Software-Defined Wide Area Network), and embedded Managed Security end-to-end. One of the benefits Arlanxeo sets to gain is a future-proof communications platform. This benefit implies that over 20 production sites would have efficient communications solutions.
Part of the network solutions included in the agreement includes WAN optimization features; WAN2Cloud and Multi-Cloud management which include Office 365, MS Azure (Microsoft Azure), and SAP-HANA (High-Performance Analytic Appliance); and a redundant SD-WAN network covering several business and production locations. These features enhance customer support and the delivery of a world-class network.
· TELUS Telecommunications Company – Canada.
NEC Corporation and Netcracker Technology have deployed Network as a Service Business and Operational Support Solution in TELUS network infrastructure. The solution services offered have created a more efficient self-serve platform to virtually establish, manage, and enhance their networks easily in the cloud.
Also, NaaS has greatly helped TELUS cut down on network cost while providing its customers with reliable services. Its network solutions feature new secure network services like SD-WAN, a network with a configuration 80% faster than most traditional networks. The TELUS NaaS platform uses these solutions provided by NEC Corporation and Netcracker Technology:
· NEC/Netcracker's Business Enablement Application – This application includes NaaS self-service built to provide real-time configuration and monitoring.
· NEC/Netcracker's Order Management and Service Orchestration
· Netcracker's Customer and Product Information Management Offering
Why is Network as a Service useful for your company?
Guaranteed Uptime Via SD-WAN Technology
With the SD-WAN technology provided by NaaS, you are guaranteed fast uptime to a location. Multiple network links can be used to establish connectivity back to various NaaS sites on the internet and direct link back to the NaaS backbone. With this solution service, you can save more money on your investment and reduce the time needed by your staff to oversee the business network infrastructure.
You Do Not Need To Set Up, Configure, and Repair Equipment
Some NaaS network providers offer Network Functions Virtualization (NFV) which is linked to the Software-Defined Networking (SDN). The NFV and SDN, in turn, handle the intrusion detection systems, firewalls, domain name services and other network systems. With some network solutions, administrators can remotely set firewalls and content filters based on some preferred locations.
You Can Scale The Network Speeds Of Your Business By Using Bandwidth On Demand
With Bandwidth on Demand (BoD), you can increase the network speeds your company uses, based on real-time events such as unexpected traffic and seasonal trends that may create an impact on the performance of the application. BoD also provides you with certain levels of automation.
In addition to these advantages, you can allocate more bandwidth to the most valuable applications that are being run by your business, and ensure its smooth operation by using an integrated disaster response and automatic failover service.
This is an article provided by our partners' network. It does not reflect the views or opinions of our editorial team and management.
Contributed content

Founder Dinis Guarda
IntelligentHQ Your New Business Network.
IntelligentHQ is a Business network and an expert source for finance, capital markets and intelligence for thousands of global business professionals, startups, and companies.
We exist at the point of intersection between technology, social media, finance and innovation.
IntelligentHQ leverages innovation and scale of social digital technology, analytics, news and distribution to create an unparalleled, full digital medium and social business network spectrum.
IntelligentHQ is working hard, to become a trusted, and indispensable source of business news and analytics, within financial services and its associated supply chains and ecosystems.