Artist and Co-Founder of the Art Talks brand, Carolina Conforti, is the guest on the latest episode of Dinis Guarda YouTube Podcast, powered by citiesabc and openbuisnesscouncil. Dinis and Carolina discuss how art is an integral part of human society, and how new digital solutions can transform it to become a huge opportunity for budding artists using digital platforms. 
Carolina Conforti is an artist and the co-founder of the Art Talks, a brand designed to highlight the wonderful enthusiasm and creativity that makes up the essence of the 'art ecosystem'. She told Dinis that it was during her childhood itself that she found her connection to the world of art and began her career in ancient drawing.
Working as an intern at old master galleries, she gained an immense wealth of knowledge at The Louvre, Paris, The Sotheby's, and The Christie's, amongst others. She revealed to the audience that she fell in love with contemporary art at an Art Fair in Jeddah. It was at this moment that her brand, The Art Talks, was born and became the renaissance of her own being.
Explaining to Dinis what inspired her, she said: "Art is very personal. There is something that you like and something you don't. Nobody can tell you that for you. But what's beautiful is the story behind each piece.". She told him that it was this hunger to know what lies behind the scene that got her involved in the contemporary world. "The fascinating moment to meet the artist, to speak with the artist, and to understand what is behind the scene. That, according to me, is the most incredible thing about contemporary art.", she added.
Dinis and Carolina talked about how digitisation is creating opportunities and challenges in the art world. They discussed the boom in the industry with the popularisation of NFTs and consequently lifting the art economy like never before.
---
More Interviews
James Zhang, CEO The Concept Art House – Games, Art And NFTs
Adam Hollander, Serial Entrepreneur, Pack Leader at Hungry Wolves – NFT, Gamification
Interview with Rishi Kapoor, Founder & CEO of paus.tv – The Revolutionary Streaming Platform For Independent Creators
Interview Kireet Khurana, Filmmaker & Creator Of Animation Film "Toonpur Ka Superhero" – Homelessness In India: The "Invisible Visible"
Pedro Gadanho – Architecture, Arts, Cities & Society – Former MoMA & MAAT Curator, Architect
Susan Oh, Future of AI, Blockchain; Blockchain For Impact Global Summit @ UN HQ, Top 10 Frontier Women in Digital
---
Education and Unification for a thriving 'Art Ecosystem'
Dinis and Carolina discussed that the digital revolution reached the art world very recently. They shared facts and statistics to support their argument that COVID-19 was the turning point in bringing the needed transition from traditional art to digital and more recent NFT creation.
Revealing her empathy towards the creator community, Carolina shared:- "If you are an emergent artist, and tech-savvy, it's going to be very easy to be on a platform, and market yourself. For others, it's not possible. For instance, artists in Africa don't have the same digital abilities."
She emphasised the role of education in creating awareness about these platforms and the opportunities that lie within them. She believes this could create a stronger community to thrive in. She also highlighted to Dinis that although there are so many platforms that could provide the necessary impetus, most of them are competing amongst themselves. "I think it's important to support each other at this moment and to create a community that the artists (and galleries) can really benefit from.", she said expressing her concern.
This is the sole reason she created Art Talks- a platform that showcases the hidden talent within the art community and guides them to be able to market themselves.
The Art Talks: A platform that connects the 'Art Ecosystem'
"I started Art Talks to highlight the voices that nobody heard. It was through different social media handles, I met incredible artists. Those artists didn't have a gallery to represent themselves. They actually had to market themselves in a certain way. I think that's a very important change that happened in the last few months.", said Carolina beaming with warmth.
Carolina explained to the audience that "Art Talks" was created as a brand designed to highlight the wonderful enthusiasm and creativity around the art world during the challenging times of the pandemic. The goal of this platform has been to pursue client engagement and the development of strategic partnerships through different initiatives like video podcasts and a magazine.
"Since its launch, we have not stopped. We have had more than 600 artists, creators, and galleries from all around the world: from America to Africa, to Asia, and Europe, of course. And then, I and Francois Renet have been working for the Art Talk Magazine. Now we are at the fifth edition, partly digital but also on paper," she told Dinis.
She also highlighted that another purpose that the platform fulfils is to use all the knowledge from the art experts from the past generations. She believes that it is a treasure that we all can benefit from. It's that key that unifies past and present in order to have a future.
Carolina concluded the delightful session by calling the audience to participate in the platform. She said: "The Art Talk and The Art Talk Magazine are including what anyone would like to write or would like to express themselves. The art language is the most important. There are no boundaries for us.".
About citiesabc.com
https://www.citiesabc.com/​​​​​​​​​​​
https://twitter.com/citiesabc__​​​​​​
About openbusinesscouncil.org
https://www.openbusinesscouncil.org/
4IR: AI Blockchain Fintech IoT Reinventing a Nation by Dinis Guarda and Rais Hussin (4irbook.com)
Dinis Guarda citiesabc openbusinesscouncil Series is also available as podcast on
Apple Podcasts: https://podcasts.apple.com/us/podcast/dinis-guarda-citiesabc-openbusinesscouncil-series/id1510330391
On Spotify: https://open.spotify.com/show/1vA8KaDaRpJ0mAfpNbfTSF?si=H_WngL4RSOyu1W7VAmM41w&dl_branch=1
Google Podcasts: https://podcasts.google.com/feed/aHR0cHM6Ly9mZWVkcy5idXp6c3Byb3V0LmNvbS8xMDMyMzg4LnJzcw==
Amazon Music: https://music.amazon.com/podcasts/953a5156-823c-4e86-baeb-4fda1128e44c/DINIS-GUARDA-CITIESABC-OPENBUSINESSCOUNCIL-SERIES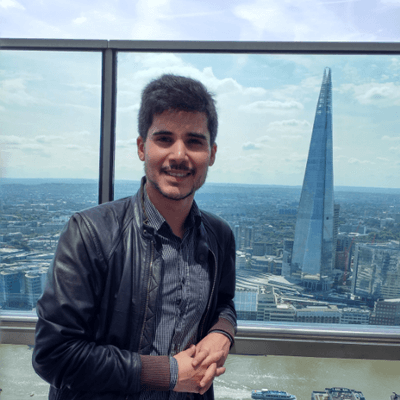 Hernaldo Turrillo is a writer and author specialised in innovation, AI, DLT, SMEs, trading, investing and new trends in technology and business. He has been working for ztudium group since 2017. He is the editor of openbusinesscouncil.org, tradersdna.com, hedgethink.com, and writes regularly for intelligenthq.com, socialmediacouncil.eu. Hernaldo was born in Spain and finally settled in London, United Kingdom, after a few years of personal growth. Hernaldo finished his Journalism bachelor degree in the University of Seville, Spain, and began working as reporter in the newspaper, Europa Sur, writing about Politics and Society. He also worked as community manager and marketing advisor in Los Barrios, Spain. Innovation, technology, politics and economy are his main interests, with special focus on new trends and ethical projects. He enjoys finding himself getting lost in words, explaining what he understands from the world and helping others. Besides a journalist, he is also a thinker and proactive in digital transformation strategies. Knowledge and ideas have no limits.