Intelligenthq interviews Charles Radclyffe, Innovation Specialist, TEDx Speaker On Data Science As the Art of the Possible 
"We're living in the final days of the pre-data driven world. Analytics, both to drive improved human decision making and to drive intelligent, so-called, 'smart' machines will permeate all aspects of our lives. From cradle to grave our lives will create data, and whether the use of this data will enrich our lives or threaten us – is up to how we think about the challenges today." Charles Radclyffe
From his student days at Cambridge until becoming an innovator specialist and TEDx Speaker, Charles Radclyffe´s rich life journey led him finally to the immense world of data science. In fact, Charles Radclyffe is an expert in #DataScience and #DataAnalytics and former CEO of BIPB.
In Charles Radclyffe's career so far he has built and sold three tech companies. In-between Charles has consulted to large Financial Services organisations on Emerging Technology. Outside Charles Radclyffe's day-job, he advises organisations on how to develop a strategy of ethical AI, Automation and Robotics as well as speak at events on this subject, co-host a soon-to-be-released podcast, and write a blog on the ethics and societal impact of emerging technology.
Charles is passionate about entrepreneurship which he sees as the activity by which a person strives to become all they can be while on a mission to make a positive change to the world. In his spare time Charles support young entrepreneurs in two fields: Quantum and Agricultural Technology. Chalres Radclyffe holds an MA in Law from Cambridge, and his hobbies include golf, motorsport, science fiction and early modern history.
Intelligenthq interviewed  Charles Radclyffe concerning his career, his journey and his unique vision concerning Big Data.
1. Could you introduce yourself and tell us a bit about your background?
What I often find amusing is that in telling my 'story' it doesn't at all seem clear that the path I have chosen is the one I ought to have followed at an earlier stage. The good thing when I was the CEO of BIPB was that I could trace all the skills and experience that help me do my job effectively to my earlier endeavours. I studied Law at Cambridge although never practiced it as a profession. I had always been fascinated by the opportunities technology created for society, and so it seemed natural to start my first IT business rather than jump on the career ladder. In fact, I started my first business before I even took my place at Cambridge – having budgeted very poorly for my gap year, I found myself back in my hometown after just four months abroad – and penniless! Well, not quite penniless- I still had £50, but I used this to advertise my services as an IT support engineer, and got lucky. Five years later, I had sold this business –the largest of its kind in the Westcountry – and having graduated also. Next I worked in the AdTech industry for a small Affiliate Network that we later sold to a large Direct Marketing business. Following this, I spent a couple of years in Banking – this is where I first was introduced to BIPB's founder – and we agreed a few years later that I would succeed him as CEO in order to put my energy to growing our Consulting business.
2. In your opinion what are the most important challenges and opportunities presented by Big Data and the Internet of Things?
I personally resist using the term 'Big Data' wherever I can, as I find that it really has no meaning as it neither describes how it is useful nor indicates the thresholds for when it becomes a problem! I choose to use the term 'analytics' which, I believe can be used interchangeably with Big Data and describes much more simply what it is that 'Big Data' is useful for! It's the convergence with the Internet of Things that makes analytics really exciting though. Currently, IoT devices are busy collecting data which feed into our 'Big Data' systems. It's when the operational feedback loop though that the solutions really get exciting – imagine moisture sensors passing data back to your Home Automation System which together with weather predictions analyses and determines the optimum amount to water your garden via the irrigation system? Now imagine this on an industrial scale! No longer will we need to genetically modify crops in order to optimise their growth, we can optimise using analytics – and we can all eat organic! Everywhere we look there are opportunities for analytics + IoT convergence (with a bit of AI too)! This is why this is such an exciting industry to be part of.
3. With the amount of data increasing everyday and doubling how do you the future of hyper data and the necessary simplification?
We've got so good at collecting volumes of data in real time, we've lost sight of the fact that our IT systems of today we're only really designed to deal with aggregated information at moments in time to report the 'what' that's happened. The human mind is in fact very good at taking all the sensory inputs we have and only reacting to a fraction (and storing even less). This is why the current research in Artificial Intelligence is so necessary. Unless we can start to build machines which 'think' (by which I mean in this context, process information) like we do – then we're going to keep getting bogged down by the volume and variety of data. It's questions like this, that my team and I love to help our clients solve!
3. Can you tell us about your time at BIPB? How has the company evolved, what are it present and future challenges?
Our business evolved greatly in the five years I was part of it. We originally focused on a single technology product, and were experts in this. It was a very simple strategy and worked very well, but over time it was clear that our clients were calling on us for a broader range of services. When we asked our clients what their biggest challenges are, we hear the same stories. Our clients were looking for how to unlock transformational business value from their data much like companies such as Netflix or Uber have transformed their industries using analytics. Our clients were also looking for a trusted advisor who can helped them make sense of the technology landscape. Our Enterprise clients weren't just looking to implement and integrate the latest Hadoop variant – they were looking to build a Centre of Excellence for Big Data – platforms for analytics, and they wanted it robust, scalable, secure and performant. Thirdly, our clients were struggling with the massive skills shortage that existed (an still exists) in the Data Science/ Analytics industry. We know we needed to create new skills in the market, and we knew that the best work we did is face to face with our clients. That's why the company invested heavily in our relationships with top educational establishments and hiring some of the brightest minds and strongest personalities we could, training them in Data Science and Analytics so we could better serve our clients. This was what our mission was when I left.
3. BIPB has been organizing the #drivenbydata Summit for the past 4 years. Can you tell us what led you to start the summit, and what you have learned with the experience? 
We started the Summit originally as a day to share ideas, skills, and best practice with our own team – who we very rarely manage to get together as they are always so busy out solving our client's challenges. The next step in the Summit's evolution was when our clients started asking us if they could send other people along. We knew we couldn't refuse this – but we were initially wary of the impact this might have on our initial intentions. From the feedback we received, it quickly became clear that hearing the art of the possible was the main draw most of our clients had to our event. We've since found it's become a virtuous circle: the more we focus on the quality of the presentations, the higher audience we attract – and the more competition there is for people to who want to present!
---
More Interviews
Video Interview: Mamadou Toure, Founder Africa 2.0 Foundation – Digital Transformation In Africa 
Video Interview: Prof Darryl Newport, Director of Sustainability Research Institute (SRI) – Green Economy And The Future of Cities
Dinis Guarda Interviews Michael Terpin, Founder and CEO of Transform Group And BitAngels – Legendary Blockchain Investor And Crypto Investor Influencer
Anil Singh, Vivek B. Singh, Founders Procam And Creators Of The Tata Mumbai Marathon On The Growing Sport Industry in India
---
If you want to know more about Big Data and Emerging technologies, check out Dinis Guarda's 4IR: AI BlockchainFintech IoT – Reinventing a Nation and signing up in one of our premium courses.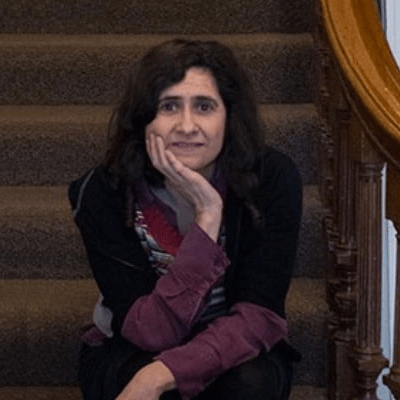 Maria Fonseca is the Editor and Infographic Artist for IntelligentHQ. She is also a thought leader writing about social innovation, sharing economy, social business, and the commons. Aside her work for IntelligentHQ, Maria Fonseca is a visual artist and filmmaker that has exhibited widely in international events such as Manifesta 5, Sao Paulo Biennial, Photo Espana, Moderna Museet in Stockholm, Joshibi University and many others. She concluded her PhD on essayistic filmmaking , taken at University of Westminster in London and is preparing her post doc that will explore the links between creativity and the sharing economy.