Andrew Woods Unveils Balance For A Fit And Healthy Life At Finding Your Atom
From the world of boxing, fitness, and healthcare, Andrew Woods has had a dedicated decade to educating, instructing, and inspiring a community for wellbeing and happiness within. 
Andrew Woods started his formal boxing training in the city of Watts, California at the Broadway Boxing Gym as an (ABA) American Boxing Association coach. He was educated in World History & Kinesiology at Cal Polytechnic University Pomona while honing his skills in the field.
"We as the human family have a responsibility to uplift & encourage one another while uprooting the many things that hinder us from achieving success. Our job is to help you continue your fight towards victory over life's challenges. Our members come in all different physical shapes, ages, ethnicities & educational backgrounds; regardless of those differences we are all here to support & expound on the beauty you were already created in," Andrew Woods mentions.
He featured as a guest at the 'Finding Your Atom' podcast series, co-hosted by Amrita Sen and Dinis Guarda. He takes them on an enlightening journey of finding self-care and betterment. Here are some of the excerpts from the interview.
---
More Episodes
Amrita Sen And Dinis Guarda Create Mindfulness And Rediscover Self At "Finding Your Atom" Podcast
Finding the core
Andrew highlights the essence of focussing on the 'core' that is the centre of any fitness program or regime. It is his utmost belief that realising the centre of every action is 'self'. He insists that understanding that one's body, mind, and spirit should be in harmony with the goals and tasks it is assigned with.
"It starts with the basic understanding of 'What is it that I want, what is it that I treasure, what is it that I reward, and do I have the mental, physical, and spiritual conditioning to keep it?'. That's the key to strengthening the core", he emphasises.
The importance of recovery
The human body is programmed to heal itself, provided it is given sufficient time for the same. Andrews explains this with several examples during an hour-long session. He assures that it brings no harm to the velocity of life, and one never misses on to anything on coming to a transient period of recovery.
"If you find yourself hitting the hall, take the time out to rest. Recover. You'll be surprised what your body can come up with by just not doing anything. It's okay, doesn't mean you're missing out on anything. It doesn't mean that you're not doing anything. It' doesn't mean that you're being lazy or procrastinating. It's just I'm going to use wisdom this time. I'm just going to rest, relax my body. See what my body can come up with just by standing still", Andrew stresses.
Balancing with 'moderation'
Andrew Woods has mastered the art of incorporating discipline, consistency, and self-control with fitness and healthcare. With a rough start at the beginning of his fitness journey, he has learnt that it is imperative to avoid extremes. Creating a balance between nutrition, work-out, and adequate rest is an inevitable step in achieving happiness, peace, and physical and mental wellbeing.
"It starts with the basics of having a foundation of what's important for you and your life. Your health is number one. 'Where do I start eating, thinking, and living healthy', that's the key. And that's different, based upon every individual", he insists.
Creating a relationship with the community
The hosts of the podcast and the guest himself were in consensus with the concept of getting involved in a community for wellbeing and happiness. Andrew explained that it is not only the personal level that a healthy lifestyle impacts in a positive way. It is responsible for the peace and betterment of society as a whole.
"I remind everyone, we're here for one go, and that's to get better. I don't know if it's to get better at being a better individual, a better wife, a better husband, a better family man, a better employee let's figure out how we can get better as people. However, this journey that I'm going to take you on is a reminder that you'll be going to have to fight in order to get there. So, if it's joy, if it's peace, if it's a virtue such as self-control or discipline, we all need to support each other in regards to achieving that goal. So, let's fight for this".
The episode concluded on a very insightful note as Andrew enlightens "Are you taking care of yourself? Are you eating right? Are you thinking right? Are you loving right? Are you supporting right? Slow down to see where you hit. Don't be in a rush. I try to encourage people to hone in on that. You got to slow down before you miss your stop. If you slow things down just a little bit, calm down, you'll be surprised with the kind of revolution experience you've had. You're not going to miss anything by just slowing down".
Andrew's achievements also include training amateur fighters as a certified USA Boxing Coach and as a group fitness boxing instructor at the Equinox Fitness Clubs in South Bay, Newport Beach, Westwood, Downtown LA, and Century City. He is also a well-respected speaker & educator for the greater Los Angeles public schools, churches, recreation centres, and community colleges.
Woods Boxing and Training Wheels Health Care bring elite boxing services and a totally holistic approach to health direct to their clients. Woods Boxing was created to help enrich the physical, spiritual and psychological needs of every community through education, fitness, boxing, nutrition & wellness.
Finding Your Atom is also available on
Apple Podcasts, Spotify, Google Podcasts, Amazon Music and more.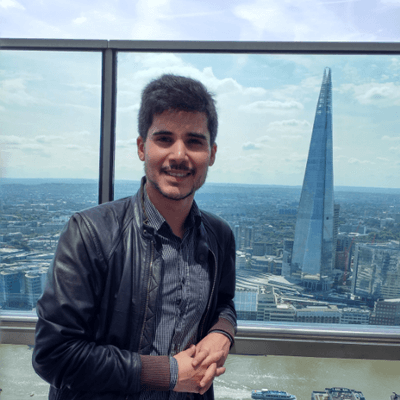 Hernaldo Turrillo is a writer and author specialised in innovation, AI, DLT, SMEs, trading, investing and new trends in technology and business. He has been working for ztudium group since 2017. He is the editor of openbusinesscouncil.org, tradersdna.com, hedgethink.com, and writes regularly for intelligenthq.com, socialmediacouncil.eu. Hernaldo was born in Spain and finally settled in London, United Kingdom, after a few years of personal growth. Hernaldo finished his Journalism bachelor degree in the University of Seville, Spain, and began working as reporter in the newspaper, Europa Sur, writing about Politics and Society. He also worked as community manager and marketing advisor in Los Barrios, Spain. Innovation, technology, politics and economy are his main interests, with special focus on new trends and ethical projects. He enjoys finding himself getting lost in words, explaining what he understands from the world and helping others. Besides a journalist, he is also a thinker and proactive in digital transformation strategies. Knowledge and ideas have no limits.