A PIONEERING event held in the UK which brought together nuclear innovations and cutting-edge digital technology to help solve some of the world's most complex challenges is being hailed as the blueprint for launching similar events in the USA and Canada.
Forth Engineering was chosen by Atkins, a member of the SNC-Lavalin Group, to showcase nuclear technological expertise at a special demonstration event which attracted experts from as far afield as USA, Canada, Japan, Sweden and Spain, as well as from across the UK.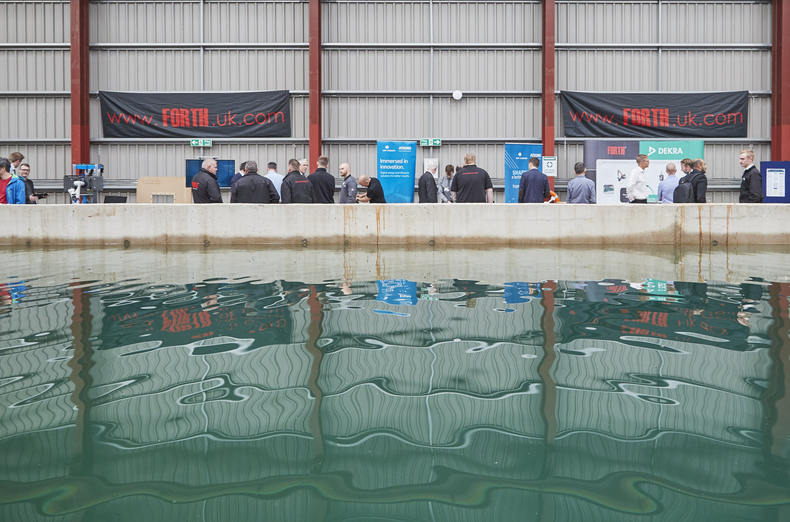 Atkins, one of the world's most respected design, engineering and project management consultancies, chose Forth as the venue because, as well as wanting to display its own latest technologies, it also wanted to shine the spotlight on some of the UK's leading SMEs.
Speaking at The Nuclear Technology Showcase event held at Forth's headquarters in Cumbria Julianne Antrobus, Global Technology Director for SNC-Lavalin Atkins, said she was delighted by what had been achieved by bringing together some of the world's leading innovators to look at potential future collaborations.
Julianne said: "There has been a great vibe today with, really interesting conversations starting on how different technologies can be applied and integrated to address a number of our clients' greatest challenges. Listening to the conversations has been incredible and I am extremely excited about what we are going to achieve as a result of the event."
Many exhibitors praised the setting at Forth, with the trade stands, presentations, discussions and demonstrations taking place in an industry setting around Forth's Deep Recovery Facility, the largest covered research, training and testing pond in the UK, holding more than two million litres of water.
"This has been the perfect setting," said Julianne. "This represents what is real and happening now. This is at the coalface of meeting today's challenges and paving the way for the future.
"The event has worked really well. We wanted to give the day some structure with a range of presentations with (shared VR company) Igloo offering an immersive technology experience every hour.
"But we also wanted it to be relaxed and for all of the different technologies and SMEs to come together in an environment where they could start new conversations and maybe have the next  lightbulb moment.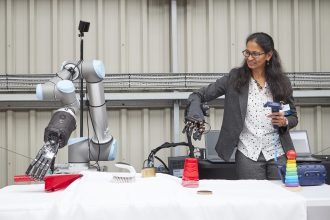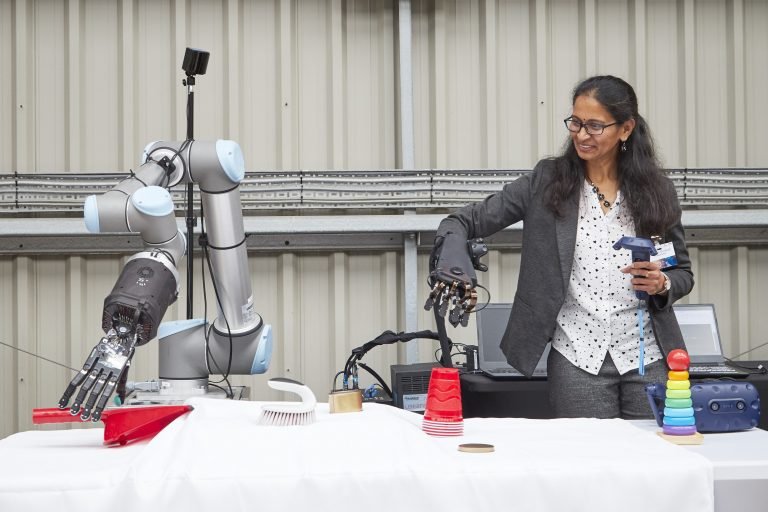 "We are now keen to take this to the USA and Canada as the blueprint for how to work with our supply chain partners and generate the same level of interest and more in these regions.
Benn La Bouchardiere, business development manager at Igloo, which set up its theatre for its 360-degree VR immersive experience next to the testing pond, said he was excited by the collaboration opportunities from the range of businesses attending the event.
"It has been really interesting to find out about how different businesses are developing new technologies," he said.
Igloo Vision, which has bases in the UK, USA, Canada and Australia and has plans to expand into the Middle East, showed attendees how immersive virtual reality can be used for up to 12 people in its standard 360-degree visualisation environment, such as walking through a detailed simulated site, which is ideal for design review sessions with clients or for stakeholder engagement.
Latest technologies from SNC-Lavalin Atkins were among those being demonstrated. These included an Advanced Portable Polymer Tester which was launched less than a year ago.
Andy Drugan, of Atkins, explained how the technology, which has already been successfully used in nuclear power stations in Canada, is applied to test the condition of cables without the need to shut down supplies.
The tester clamps the cable, heats it to a constant temperature and, after applying an indent, then measures the recovery time to check the condition of the cable with real-time results displayed on a screen on the tester.
As well as significantly reducing costs by not involving any downtime in production while the testing is taking place, if the cable achieves a good result then there is the option to extend its lifetime which also increases efficiency.
Robotics were also to the fore. Attendees were able to remotely control a specialist robotic arm developed by robotics company Kinova designed to access areas where people are unable to reach. It's operated by an easy-to-use controller, similar to a hand-held gaming controller, to enable users to direct it instinctively. It can also be programmed with barriers to prevent it touching or accessing certain off-limits areas.
Shadow Robot Company, an SME with headquarters in London, demonstrated its tactile telebot developed in conjunction with HaptX and SynTouch, both based in the USA. The Shadow robot hand, designed to have the level of dexterity and manipulation ability of a human hand, is operated remotely by a person wearing a special high-tech glove from HaptX.
Only three of HaptX glove prototypes exist in the world – and one was on display at the event at Forth to show how the technology works. Without needing to put a human being into a hazardous situation the glove operates the robotic hand remotely – from as far afield as the other side of the world through digital connectivity.
The Shadow's robotic hand with tactile sensors made by Syntouch on its fingertips is calibrated to work with the HaptX glove. The person wearing the HaptX glove can control the Shadow hand from a remote location to pick up and manoeuvre items, meaning it can be used in nuclear decommissioning for Post Operational Clean Out (POCO).
Dr Radhika Gudipati, business development manager for Shadow Robot said: "It means there is no need for a person to carry out the task in a hazardous environment, and no time needed such as them to get suited up for the task, the robot can get straight to work on the task. The Tactile Telerobot adds a layer of safety between the human and the harsh environment."
Shadow Robot is also collaborating with healthcare organisations in developing the technology to be able to carry out non-invasive, clinical diagnosis in e-health.
Also working in clean-up technology, attendees were able to discover how Spinionic™ uses Rotating Bed Reactor (RBR) technology to process liquid radioactive waste in contaminated tanks which significantly speeds up the clean-up process.
Three months ago, Atkins and Swedish company SpinChem AB signed a five-year license and collaboration agreement to deploy Spinionic™ solutions in the nuclear sector.
Forth's own collaboration on the CHIMERA Innovation UK Project was highlighted with two of its fellow collaborators Metallisation and Sound Mathematics also at the event.
Martyn Beardsell, Forth project manager for the CHIMERA project, which is nine months in to its three-year schedule, explained how Forth is developing the semi-autonomous robotic platform for internal pressure vessel inspection, repair and maintenance.
Pressure vessels are considered safety critical infrastructure industries such as oil and gas, nuclear, and petrochemical.
To successfully deliver on the project a consortium of experts has been formed with capabilities in robotics, inspection, navigation, in situ repair, AI, civil nuclear and oil and gas.
With close ties between the consortium and the targeted industries providing a direct route to market, CHIMERA represents a clear technological innovation for the UK pressure vessel inspection market with a major growth opportunity for the SME supply chain in the consortium.
The robot being developed by Forth will need to perform in a range of situations and spaces in this hazardous environment.
Martyn said: "There is a balance between its magnetic adhesion so that it functions upside down, or climbing up walls, and its ability to move over different surfaces and to drive over obstacles."
Martyn explained how 3D printing is helping the prototype process and how Forth's water facility will also be vital later in the project when the robot will be tested in a pressurised environment.
Also at the event, Stuart Milton, managing director of fellow CHIMERA collaborators Metallisation, explained how it was developing its thermal spray equipment and adapting the technology for different industries.
Metallisation has worked in collaboration with Rolls Royce and Nottingham University to develop technology which softens and sprays ceramic into otherwise inaccessible areas of aeroplane engines.
The company, based in Dudley in the West Midlands, has adapted the technology to service the aeronautical, automotive, marine, oil and gas, and construction industries and has exported its technology to 75 countries in the last three years with 80 per cent of its business coming from exports.
With more than 100 people attending the event at Forth's facility, Stuart said: "It has been very interesting. It has been good to be able to introduce people and educate people to the process and to promote what innovations are happening."
Professor Larissa Fradkin, who has worked in the nuclear industry for 25 years and is managing director of Cambridge-based Sound Mathematics, explained the company's role in the CHIMERA project is in artificial intelligence.
Sound Mathematics produces detailed automated reports on corrosion areas or cracks inside hazardous environments which will show whether they need immediate attention.
Among the exhibits there was an opportunity for attendees to try out the latest virtual reality and augmented reality technology. George Wormald-Kelly, digital engineering lead for SNC-Lavalin Atkins, said: "Virtual reality is the way we do business now and is used regularly in environments such as Sellafield.
"When you can't get people to a site you can use virtual reality to get people from different continents, such as UK, USA and Japan, into the same space to discuss a project."
Augmented reality allows models to be overlaid on a real-life environment giving users more information at their fingertips, and a more efficient way of working.
George said: "Augmented reality gives you that extra layer of information. While virtual reality is in day to day use now, we will see augmented reality being increasingly used in the next two years, and in five years' time it will also become something that is in day to day use."
Dr Leanne Cowie, Graduate Project Manager for Atkins Nuclear and Power in Europe, Middle East and Africa, said Forth's base had been the ideal venue for the event
Dr Cowie said: "Atkins has a huge portfolio of technology which we want our clients to benefit from. This was a great opportunity to see how Atkins' technological and digital capabilities can add value to projects, for people to see our products in action, and to have a chance to network with subject matter experts from across the field. It was great to see so many of our nuclear and energy clients attending the event.
"Atkins has a collaborative relationship with a number of companies where we use their facilities to test products. Working with SMEs like Forth is beneficial for everyone. It helps them, it helps us, and it helps the community."

Founder Dinis Guarda
IntelligentHQ Your New Business Network.
IntelligentHQ is a Business network and an expert source for finance, capital markets and intelligence for thousands of global business professionals, startups, and companies.
We exist at the point of intersection between technology, social media, finance and innovation.
IntelligentHQ leverages innovation and scale of social digital technology, analytics, news and distribution to create an unparalleled, full digital medium and social business network spectrum.
IntelligentHQ is working hard, to become a trusted, and indispensable source of business news and analytics, within financial services and its associated supply chains and ecosystems.