Venkat Atluri and Miklós Dietz are the guests in the latest episode of the Dinis Guarda Podcast to discuss the different aspects of their extensive professional careers and the Ecosystem Economy concept. In fact, the podcast highlights their recent collaboration on 'The Ecosystem Economy', a book that discusses the various aspects of the consumer-centric economy, the changing consumer trends, and the future of businesses and economies. The podcast is powered by openbusinesscouncil, citiesabc, fashionabc, and sportsabc.
In the traditional business model, companies operate independently and are mainly focused on maximizing their own profits and market share, even if it comes at the expense of other businesses or the broader ecosystem. This myopic view of the market often leads to a zero-sum game mentality, compromising with long-term sustainability of the businesses.
However, over the years, there is a growing recognition that success is no longer just about individual companies and their bottom lines. Instead, there is a movement towards what is known as an ecosystem economy, where businesses come together in the best interest of serving the end consumer. This approach involves pooling their resources, expertise, and credibility to create something greater than the sum of its parts – a win-win situation where both the businesses and the consumers benefit.
In an ecosystem economy, businesses shift their focus to collaboration and cooperation, recognizing that they can achieve more together than they can individually. By working together, businesses can create new products, services, and experiences that would be difficult or impossible to achieve on their own.
Venkat Atluri and Miklós Dietz are the Senior Partners at McKinsey, who have recently collaborated to author 'The Ecosystem Economy'. The book offers a fresh perspective on how the global economy is being fundamentally transformed by the acceleration of new technology development, evolving consumer preferences and behaviours, business models and organisational and performance management constructs.
Defining the concept of Ecosystem Economy for Dinis, Venkat said:
"An ecosystem is where business entities come together in various ways, either physically or digitally, in the best interests of serving the end consumer, their credibilities, and resources. In doing so, they are not just splitting the pie that exists, but expanding it with this ecosystem model and ultimately sharing the entire expansion of the pie."
---
More interviews
System Architecture, Software Design, And Open Blockchain: Kåre Kjelstrøm, CTO and CPO of Concordium Group, In The Latest Episode Of Dinis Guarda YouTube Podcast Series
Innovation and Trading Between India And Europe: Poul V. Jensen, Managing Director At EBTC, In The Latest Episode Of the Dinis Guarda YouTube Podcast Series
The Multi-Faceted Aspects Of A Modern Virtual Speed Dating App: Zach Schleien, CEO Of Filteroff, In Dinis Guarda YouTube Podcast Series
The Raise of Blockchain In France: Aurélien Onimus, CEO of Seein-apps.com, In The Latest Episode Of Dinis Guarda YouTube Podcast
---
What is the Ecosystem Economy?
Ecosystem might involve partnerships between businesses in the same industry, such as a retailer and a manufacturer, or it could involve collaborations between businesses in different industries, such as a technology company and a healthcare provider. The key is that each business brings something unique to the table, whether it be their expertise, their resources, or their customer base.
By pooling their resources, businesses can create a seamless experience for the end consumer. For example, a retailer and a manufacturer might work together to offer a new product line that is exclusively available in their stores. The manufacturer brings their expertise in product design and production, while the retailer brings their understanding of the market and their customer base. Together, they create a product that meets the needs and wants of their customers, while also driving sales and profits for both businesses.
"There is a lot more acceleration of technology, you can measure it with AI, Chat GPT, and many others taking place around us. But, in addition to this change, there is also a change in consumer behaviour. Collectively, these are bringing a lot of barriers down. With ecosystem trends, the players in various industries can now participate in different spaces that could have been harder otherwise", Venkat told Dinis.
The future of economies with the ecosystem economy model
In today's fast-paced and competitive business landscape, unlocking the potential of the ecosystem economy can offer businesses new avenues for innovation, customer-centricity, and long-term success.
Referring to the insights shared in the book, Miklós told Dinis about how new dimensions open up with the ecosystem model of businesses and economies:
"This concept of Ecosystem Economy is now so visible and unquestionable that it is cutting through cycles. Instances like COVID have shown how stronger ecosystems are than traditional supply chains. We are really pushing businesses to take a step back and look at their core businesses to understand the fundamental customer needs they solve. For instance, a car manufacturer is actually into the mobility business, because cars are just a fundamental need for mobility. So, this is like getting fresh perspectives.
And then, we are helping people to rethink the partnerships and collaborations, because that is the core of any ecosystem. When your business is free from sectorial barriers, it will be very much like a healthy constantly growing traditional ecosystem."
He further added:
"We believe that the primary element of the future economy will be like a huge ecosystem collapsing and emerging around major customer needs. The rules of this arrangement are vastly different from what companies have seen in the past. Competition is not for market share anymore, but for customer ownership. The winner is the one who orchestrates this ecosystem, or participates in unique data and unique customer understanding."
About citiesabc.com
https://www.citiesabc.com/
https://twitter.com/citiesabc_
About openbusinesscouncil.org
https://www.openbusinesscouncil.org/
4IR: AI Blockchain Fintech IoT Reinventing a Nation by Dinis Guarda and Rais Hussin (4irbook.com)
Dinis Guarda citiesabc openbusinesscouncil Series is also available as podcast on:
Apple Podcasts: https://podcasts.apple.com/us/podcast/dinis-guarda-citiesabc-openbusinesscouncil-series/id1510330391
On Spotify: https://open.spotify.com/show/1vA8KaDaRpJ0mAfpNbfTSF?si=H_WngL4RSOyu1W7VAmM41w&dl_branch=1
Google Podcasts: https://podcasts.google.com/feed/aHR0cHM6Ly9mZWVkcy5idXp6c3Byb3V0LmNvbS8xMDMyMzg4LnJzcw==
Amazon Music: https://music.amazon.com/podcasts/953a5156-823c-4e86-baeb-4fda1128e44c/DINIS-GUARDA-CITIESABC-OPENBUSINESSCOUNCIL-SERIES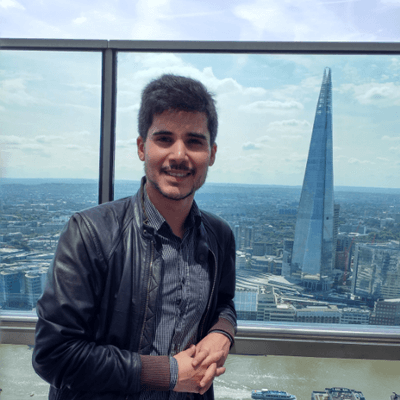 Hernaldo Turrillo is a writer and author specialised in innovation, AI, DLT, SMEs, trading, investing and new trends in technology and business. He has been working for ztudium group since 2017. He is the editor of openbusinesscouncil.org, tradersdna.com, hedgethink.com, and writes regularly for intelligenthq.com, socialmediacouncil.eu. Hernaldo was born in Spain and finally settled in London, United Kingdom, after a few years of personal growth. Hernaldo finished his Journalism bachelor degree in the University of Seville, Spain, and began working as reporter in the newspaper, Europa Sur, writing about Politics and Society. He also worked as community manager and marketing advisor in Los Barrios, Spain. Innovation, technology, politics and economy are his main interests, with special focus on new trends and ethical projects. He enjoys finding himself getting lost in words, explaining what he understands from the world and helping others. Besides a journalist, he is also a thinker and proactive in digital transformation strategies. Knowledge and ideas have no limits.