Dinis Guarda, a recognized expert in emerging technologies and the metaverse and the Founder, Chairman, and CEO of Ztudium and openbusinesscouncil.org, is ranked as the Top metaverse global thought leader and influencer by Thinkers360, among others, like Luis Bravo Martins, Kevin O'Donovan, Dr. Justin Goldston, Dr. Mark van Rijmenam, and Dr. Terri Horton.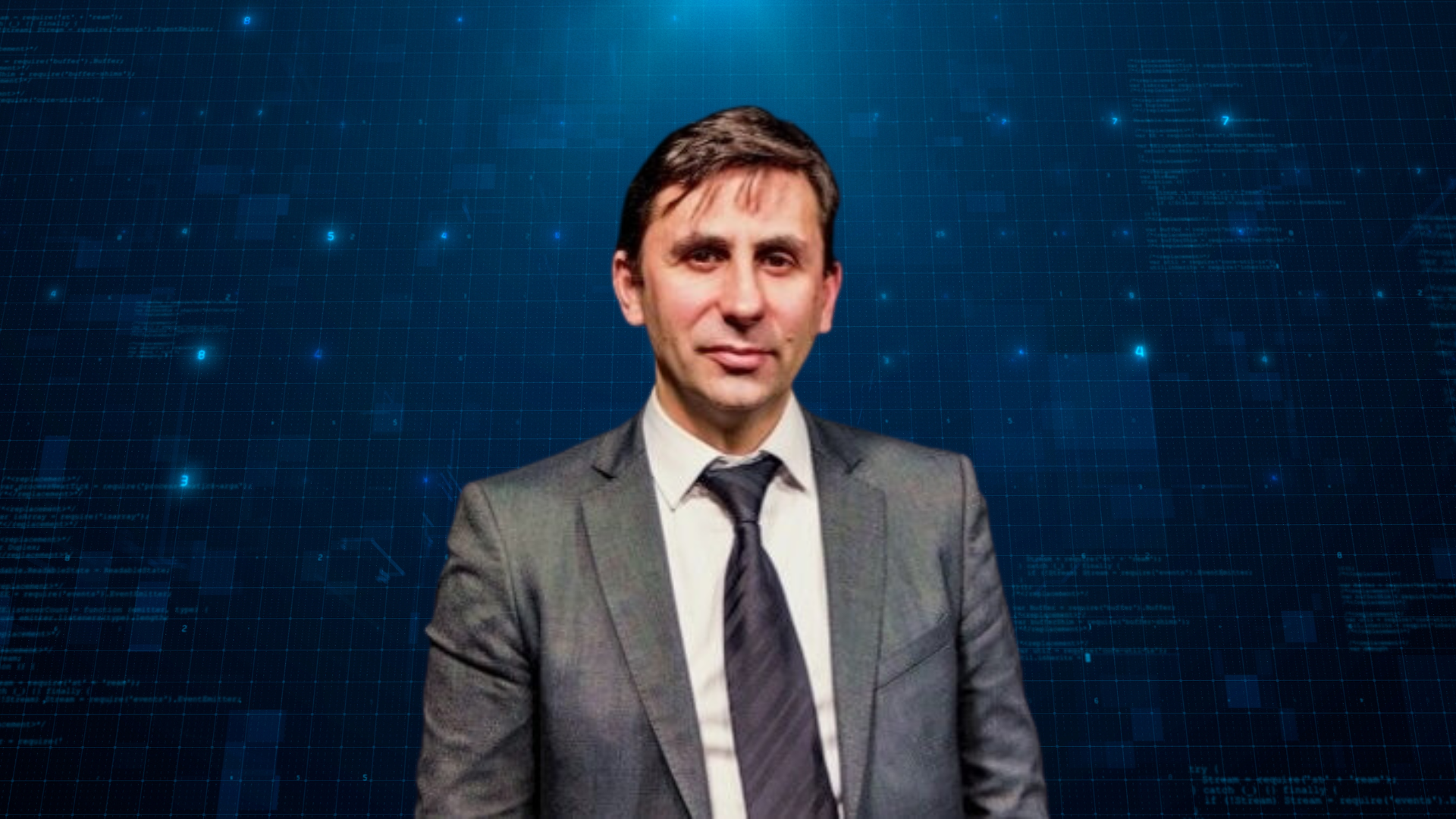 The influencers and global leaders ranking in the metaverse by Thinkers360 plays a pivotal role in shaping public discourse and understanding of the metaverse's implications for businesses, society, and individuals.
The metaverse, which represents a convergence of augmented and virtual reality, blockchain, artificial intelligence, and immersive experiences, is a promise to revolutionize how we interact, conduct business, and access information. As this metaverse ecosystem takes shape, it is essential to have knowledgeable and forward-thinking experts who can elucidate its complexities and possibilities.
"Metaverse and Web 3.0 are the two most important, exponentially growing technologies, 3D and narrative directions of our times as we digitalise and create bridges between the physical and digital. The definition of a metaverse comprehends a structured continuum of shared, 3D digital virtual space(s) aligned into an expended, augmented, virtual set of ecosystems, universe", says Dinis Guarda, Founder and CEO of Ztudium and openbusinesscouncil.org.
The top global thought leaders and influencers in metaverse
Thought leaders like Dinis Guarda provide a bridge between cutting-edge technology and everyday life. They translate intricate concepts into accessible insights, helping businesses and individuals harness the potential of the metaverse. These experts analyze the metaverse's impact on industries, from entertainment and education to healthcare and commerce.
"Metaverse, Web3.0, independent of the definitions or how we perceive it, are massively scaling the way we behave as a society and enterprises and hold the promise of having the capacity to shape and change our world for the better or the worst", says Dinis Guarda.
By sharing their expertise, thought leaders empower organizations to make informed decisions and individuals to adapt to this digital evolution.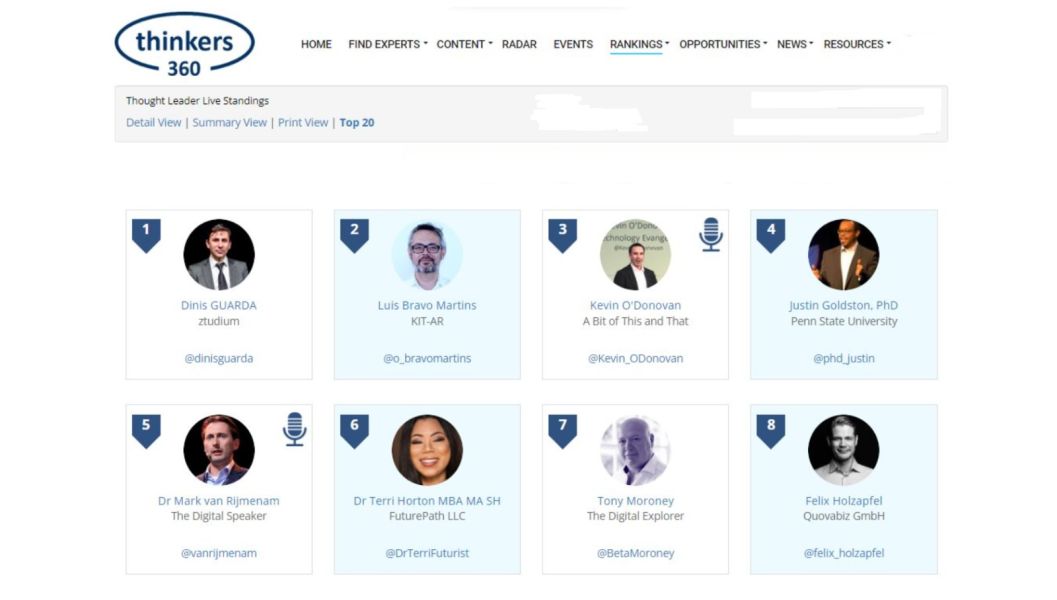 Other global influencers and experts in metaverse ranked amongst top 10 in this list by Thinkers360 are: Luis Bravo Martins, who serves as the Chief Marketing Officer at KIT-AR. Kevin O'Donovan, the founder of the boutique technology consultancy A Bit of This & That, focuses on the intersection of IT and the Energy Industries, providing innovative technology consultations, sales advisory services, and acting as a speaker and social media influencer.
Dr. Justin Goldston, a distinguished Professor of Project and Supply Chain Management at Penn State University, is another luminary in this lineup. His research is centered on blending supply chain management practices with emerging technologies and sustainability to drive positive global change.
Dr. Mark van Rijmenam, known as "The Digital Speaker," is a futurist who delves into how technology transforms organizations, society, and the metaverse. As an international keynote speaker and a four-time author, Dr. van Rijmenam's expertise extends to entrepreneurship. He is the founder of Datafloq and the author of the book "Step into the Metaverse: How the Immersive Internet Will Unlock a Trillion-Dollar Social Economy," which comprehensively explores the metaverse's potential and its benefits for organizations and consumers alike.
The list also includes other top metaverse thought leaders like Dr. Terri Horton, who leads FuturePath LLC, Tony Moroney from Saburai Consulting, and Felix Holzapfel, CEO of Quovabiz GmbH.
These thought leaders are making pioneering efforts and are instrumental in shaping the development of metaverse for the benefit of humanity, fostering innovation, and guiding its future with ethical considerations.
Metaverse Enterprise: Tomorrow's Outlook
Thinkers360 recognize leaders leading the metaverse revolution that promises to transform businesses in multiple ways so that they accelerate on their path to sustainability.
"Metaverse enterprise" represents a seismic shift in the way businesses operate and engage with the world. The Metaverse Enterprise is a multifaceted realm where physical and digital twins converge, offering novel possibilities for business models, innovation, and societal transformation. It serves as a catalyst for bridging our physical and digital realities, creating immersive experiences, driving economic growth, and redefining the way we work, interact, and conduct commerce. However, it also brings to the fore critical considerations, from cybersecurity and mental wellness to the very definition of human interactions.
"The understanding of special Metaverse Enterprise will open new fantastic business models and offer new ways to look at how the business world and entrepreneurial sector can greatly prepare and benefit from these technologies together with #artificialintelligence and how these can be an immense opportunity (and also challenges we need to manage) for each of us, society, countries and cities", says Dinis Guarda.
In essence, the Metaverse Enterprise is a dynamic arena where the profound potential of technology intersects with the complexities of our human existence, promising to shape our world in ways we are only beginning to fathom.
With a driving passion to create a relatable content, Pallavi progressed from writing as a freelancer to full-time professional. Science, innovation, technology, economics are very few (but not limiting) fields she zealous about. Reading, writing, and teaching are the other activities she loves to get involved beyond content writing for intelligenthq.com, citiesabc.com, and openbusinesscouncil.org