The business landscape is constantly evolving, and one of the biggest shifts in recent times has been the seismic change in the way people consume content and engage with brands through social media. This has redrawn the map for almost all consumer-focused businesses, but some have adapted a lot better than others.
A recent Report published by Altimeter entitled "The State of Social Business 2013", which lays out the results of several recent surveys of social media strategists at small-to-medium and large companies, shows that social media is becoming much more important to companies of all sizes. However, it also illustrates that many companies are far from being fully equipped for a social media age that is already upon us. Here are the key takeaways from the report:
The majority of organizations surveyed in 2013 are at what can be described as an 'intermediate' stage of social business maturity. Only 17% of those surveyed fall into the category of being "truly strategic"  in the execution of their social strategies.
One of the most common problems would seems to be a lack of coordination in their social efforts, with most organizations having a scattershot, unharmonized approach to social strategy.
The 'Multiple Hub and Spoke' model is an increasingly popular technique for organizing social business programmes, with the percentage of firms employing it up from 18% in 2010 to 23.6 in 2013.
Although most dedicated social media teams report to a centralized department such as Marketing (40%) or Corporate Communications/PR (26%), on average 13 different departments in each organization have staff dedicated to social initiatives.
On the whole, companies are committing more and more people to social media. The biggest jump has been seen in companies with more than 100,000 employees, with an average of 49 full-time employees supporting social media in 2013, up from 20 in 2010.
The top priorities for social across the organizations covered by the survey are integrating data, scaling for engagement, and training staff in social business.
Only 18% of companies described their employees' understanding of their social media policies as being "good" or "very good", highlighting the ongoing importance of training and education.
Over half of organizations now have procedures in place to measure the marketing effectiveness of social efforts.
The Social Business Gap
Even though more and more businesses are making efforts to integrate social media into their core activiites, there remains a yawning divide between businesses that merely execute social strategies and those that can truly be considered to be a "social business" – ie businesses that have social media and social methodologies integrated deeply within the organization.
In a 2012 report called "The Evolution of Social Business: Six Stages of Social Business Transformation", Altimeter described the various stages of maturity in terms of becoming a truly integrated social business. In the survey, businesses were asked which of the following categories they felt that they fitted into.
Stage 1: Planning – before developing a significant presence on social media, companies have to engage in a process of listening and learning in order to work out the best way to execute a social media strategy. Only 6% of those surveyed described themselves as being at this stage.
Stage 2: Presence – Moving from the planning stage into the early stages of executing a social strategy, including the establishment of a formal presence in social media. 25% of businesses said they were at this stage.
Stage 3: Engagement – A firm commitment to social as a critical element of relationship-building along the whole customer lifecycle. 26% of the businesses in the survey felt that they were at this stage.
Stage 4: Formalized – 26% of the surveyed businesses said that they were at the stage of organizing for scale in social deployment and engagement across several departments, sub-brands, and business units.
Stage 5: Strategic – Only 14% of businesses felt that they were at the stage where social methodologies and technologies were integrated across functions, and that social initiatives were having a visible impact on business.
Stage 6: Converged – A mere 3% of those surveyed felt that their organizations could be described as fully mature social businesses, with social media strategies intrinsically woven into the fabric of the organization.
"Social Anarchy" vs a Holistic Approach
In most cases, social media programmes are not fully harmonized and integrated across the entire organization, creating what the report describes as a state of "social anarchy". Only 26% of those surveyed adopted a holistic approach, operating against a common enterprise vision, across the entire organization, with a further 20% operating a multi-channel approach with coordination from the marketing/communications department.
Meanwhile, 27% operated a distributed social media approach, where departments such as sales, service, marketing, and HR made their own social efforts independent of each other. 9% placed the main emphasis on social media as a customer service tool, while 18% took a single-channel approach led by the marketing or communications departments.
One of the major concerns for many of the organizations surveyed was the apparent disconnect with the social strategy among senior executives, with just 52% of respondents describing their top executives as being "Informed, Engaged, and Aligned" with their organization's social strategy.  An even more immediate concern is that 35% of businesses felt that their Legal/Compliance teams did not have a good handle on the risk management issues around social media.
However, most companies are serious enough about adopting social media to have personnel dedicated to the endeavour, with 78% having a dedicated social media team. On the whole, most firms were still at the experimental stage when it came to the structure of their social business model, with variations on the "hub and spoke" model being the most prevalent.
The Rapid Expansion of Social Media Headcount
Most companies seem to be adding dedicated social media staff at a prolific rate, although the rate of this expansion varied according to the size of the organization. The companies that have undergone the most rapid expansion in this area seem to be medium-sized enterprises with between 5,000 to 10,000 employees, with these firms increasing their social media headcount from an average of 5.2 in 2010 to 19.4 in 2012, while firms with 10,000-50,000 employees added an average of 6.6 new social media staffers.
As you might expect, the biggest overall expansion came at large companies with more than 100,000 employees, with an average of 29 dedicated social media employees being added. Meanwhile, the average headcount at small companies with 1,000 to 5,000 employees remained static at 3.1, while companies with between 50,000 and 100,000 staff saw a slow rate of expansion, adding an average of just 4.1 dedicated social employees.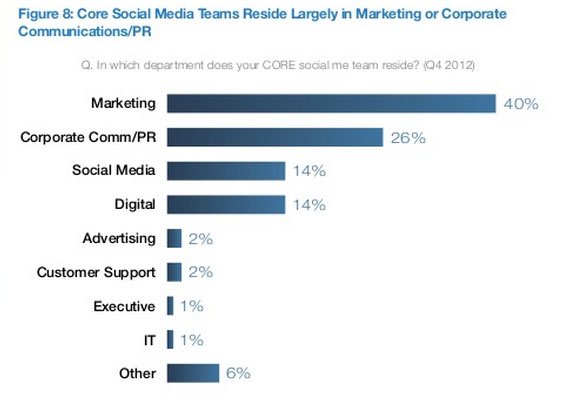 In most cases, companies' core social media teams have tended to reside in the marketing and communications departments, with 66% of firms adopting this strategy as opposed to just 14% having an independent social media department.  However, dedicated social staff are making their way into more and more departments, as the following chart indicates:
Shifting Priorities
On the whole, spending on social media by organizations has remained roughly constant between 2012 and 2013, with only the number of firms spending less than $100,000 dropping significantly. The main internal priority for most organizations remains measuring the effectiveness of social media, with 48% describing this as one of their top objectives, unchanged from 2012. However, there has been a major shift towards scaling and integration, particularly in terms of digital and mobile strategies.
With regards to external social media priorities, perhaps the most seismic shift has been a major push in terms of content marketing efforts, which have assumed the position of being the top priority for 57% of those surveyed. Other top priorities included engagement with customers (50%) and listening and learning from them (41%). Previous priorities such as social commerce and website integration seem to have dropped off the radar, indicating a shift towards a more softly-softly approach that prioritizes engagement on native social platforms.
So while we can see that businesses are taking social increasingly seriously, it remains the case that most firms have a long way to go before they can be truly considered to be "social businesses". An increase in net spend on social endeavours may help to catalyse this process, but as we have seen, the biggest hurdle for many businesses at the moment is strategy – or rather the lack of cohesion in this strategy. As the business landscape evolves, it is likely that the firms who can grasp this (and make the necessary changes) quickly will be the ones with their noses in front in the years to come.
I am a writer based in London, specialising in finance, trading, investment, and forex. Aside from the articles and content I write for IntelligentHQ, I also write for euroinvestor.com, and I have also written educational trading and investment guides for various websites including tradingquarter.com. Before specialising in finance, I worked as a writer for various digital marketing firms, specialising in online SEO-friendly content. I grew up in Aberdeen, Scotland, and I have an MA in English Literature from the University of Glasgow and I am a lead musician in a band. You can find me on twitter @pmilne100.