There is a place in the world where Sharing Economy platforms are growing faster than in any other region. That is Scandinavia. The four major countries along the north Baltic sea, Sweden, Norway, Finland and Denmark, have shown a rising interest in new economy waves and, more importantly, they have put them into practice with extraordinary results.
So far, these countries are globally famous for their social care, hospitality and tech-friendly mentality. They have also shown a great concern about clean technology either in develop new programs and make them happen. A report from The Nordic Cleantech Open this year, the top 25 competition working towards cleaner technology, reveals that 97 different companies filled entries, with the Swedes submitting the most, followed by the Finns, the Norwegians, the Danes, and finally the Icelanders.
These traits are deeply related to their own culture, without going any further. Earlier this year, Gothenburg — the second biggest city in Sweden — was voted as the world's "most sociable city." A fact that reflects the typical culture of the city, and therefore, the country. Community, collaboration and sharing are essential parts of their lifestyle, and they can be seen in any layer of society, even, of course, in terms of economics.
A representative example of this is Uber, and not because it is originally from any Scandinavian country but for its high-rate growth in these countries. Uber's head of expansion for the Nordics, Alex Czarnecki, even said recently that "Swedes are extremely interested in new technology and have been quick to use our technology. That is why Stockholm was the fourth international city in terms of users adopting Uber's platform. Tens of thousands of people in Stockholm already use the platform, and we've been overwhelmed by the positive response we have received."
There is still space for growth in this sector. As we can see in the graphic below, other countries in Europe, have taken the lead, in terms of number of sharing economy companies.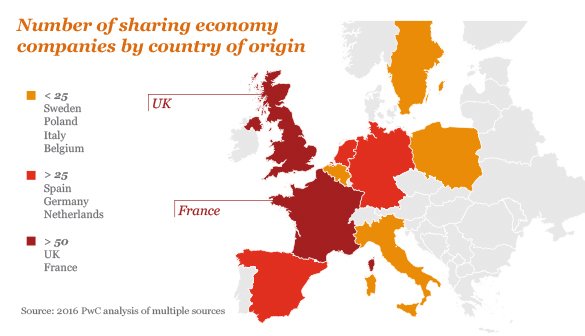 After Uber's landed in Sweden, many more users started to see both the positives and negatives of companies like Uber, that are criticised by some, as not being real sharing economy. Anyway, by focusing on some of the benefits of its ideas, people joined up together to start a new wave of platform coops, based on the principles of Sharing Economy.
The Swedish peer
In terms of number of companies and profit made, in these companies, Sweden is the leading country in the Scandinavia region. For Axel Bergström, a marketing manager of the Finnish event space search service Venuu, the reason why Stockholmers adopt sharing services so quickly is because for them, to adopt new ways of life, is as if a second nature", and he added, "without a fresh way of thinking by the users these sort of solutions would forever be just a marvellous idea instead of a great innovation".
Two of the most representative new companies in Sweden are Cool Company Scandinavia AB and Ework Group. Both companies have been created by following aspects of Sharing Economy or Collaborative Consumption. Swedish Cool Company has specialised in helping freelances who want to make money carrying out various tasks, but who don't want to have to take care of administrative issues like sending out invoices or paying taxes. Interaction, then, are a key element between these peers.
Ework Group, on the other hand, has become the largest provider of consultants in the Nordic region since it started back in the 2000. Without employed consultants, Ework can impartially match every assignment with the right consultant from the whole market. The company has frame agreements with more than 160 leading companies in most industries, while managing 7,000 consultants on assignment.
The law adaptability
This amazingly growing market has brought problems too. Governments fear they cannot hand the rapidly expansion of these new startups and platforms and struggle to keep up with acts and bills that aid their activities.
According to Cool Company, 69 percent of the self employed who use them say they would have struggled with administering their business, but 36 percent also say they want to avoid working in the black economy. They want to pay taxes in the correct way.
Additionally in Norway, companies and sector's representatives have warned against rushing into introducing regulations. And the Director General of the Confederation of Norwegian Enterprise, NHO have even sent a clear message "don't let fear of the sharing economy make us regulate ourselves into a corner. At least not before the problems have even occurred."
This new movement needs to be supported and embraced by the Governments, not the other way around.
Thought leadership series on the collaborative economy, sharing economy and blockchain, powered by Humaniq.
Launched in 2016, Humaniq aims to provide mobile finance to the 2 billion unbanked population through its mobile app for good, that uses biometric authentication to replace traditional methods of ID and security. Humaniq's open source stack and API will be available for startups and other businesses to build services on its core technology, making it easy to adapt their service and plug it into Humaniq's network to reach a huge, untapped audience.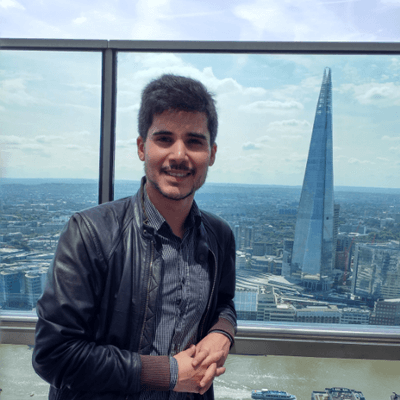 Hernaldo Turrillo is a writer and author specialised in innovation, AI, DLT, SMEs, trading, investing and new trends in technology and business. He has been working for ztudium group since 2017. He is the editor of openbusinesscouncil.org, tradersdna.com, hedgethink.com, and writes regularly for intelligenthq.com, socialmediacouncil.eu. Hernaldo was born in Spain and finally settled in London, United Kingdom, after a few years of personal growth. Hernaldo finished his Journalism bachelor degree in the University of Seville, Spain, and began working as reporter in the newspaper, Europa Sur, writing about Politics and Society. He also worked as community manager and marketing advisor in Los Barrios, Spain. Innovation, technology, politics and economy are his main interests, with special focus on new trends and ethical projects. He enjoys finding himself getting lost in words, explaining what he understands from the world and helping others. Besides a journalist, he is also a thinker and proactive in digital transformation strategies. Knowledge and ideas have no limits.