Amrita Sethi was the guest in the latest episode of the Dinis Guarda YouTube Podcast. She is an award-winning, golden visa holder and the first NFT artist in the UAE. Dinis and Amrita discussed the various ways in which emerging technologies like blockchain technology, AI, and NFTs are enabling artists and creators to express and reach out to a wider audience globally. The podcast is powered by openbusinesscouncil, citiesabc, and fashionabc. 
Throughout history, art has evolved in many ways: from cave drawings to the digital art that is exploding today. So much so that the modern world is witnessing an evolving blend of art and technology. In that sense, Dinis Guarda welcomed Amrita Sethi, an NFT artist that is exploring the digital tools to enhance her spectrum of expression over a wider range of global audience, to his YouTube podcast.
As most artists, she heard the call after a successful career in the finance world. She told Dinis about her transitional journey from being a financial expert to a digital artist and an entrepreneur in the art space. She is even an art creator of sorts, as she was the first that coined the SoundBYTE art form. She explained about her collection using this technique, where she uses technology to input a word and captures the shape and structure of the sound wave it forms. She uses each of these sound lines to depict the meaning of the word.
"My art kind of reflects who I am as a personality. I'm somebody who has a business background and is very artistically and spiritually connected. For me, my art combines all of those things. If I look at how the market is developing, I'm able to tune in all these things very subtly and create a path even before that trend happens."
Referring to her NFT art, she said that it is a revolutionary new way of creating, owning, and trading art. It allows artists to create unique digital art pieces that are completely verifiable and secure. She also said that NFT art has been gaining a lot of popularity recently, due to its ability to give creators a way to monetise their work and prove their ownership over digital art.
Adding to the benefits of NFTs, she said:
"The first few players in the world of NFT were genuinely building the community in a way that was organic and was highlighting some of the really great benefits of what NFTs can do in terms of utilities, community, and changing the way we work at a fundamental level, literally creating a paradigm shift on how we can reorganise society."
---
More interviews
System Architecture, Software Design, And Open Blockchain: Kåre Kjelstrøm, CTO and CPO of Concordium Group, In The Latest Episode Of Dinis Guarda YouTube Podcast Series
Innovation and Trading Between India And Europe: Poul V. Jensen, Managing Director At EBTC, In The Latest Episode Of the Dinis Guarda YouTube Podcast Series
The Multi-Faceted Aspects Of A Modern Virtual Speed Dating App: Zach Schleien, CEO Of Filteroff, In Dinis Guarda YouTube Podcast Series
The Raise of Blockchain In France: Aurélien Onimus, CEO of Seein-apps.com, In The Latest Episode Of Dinis Guarda YouTube Podcast
---
A 'remarkable' blend of art and technology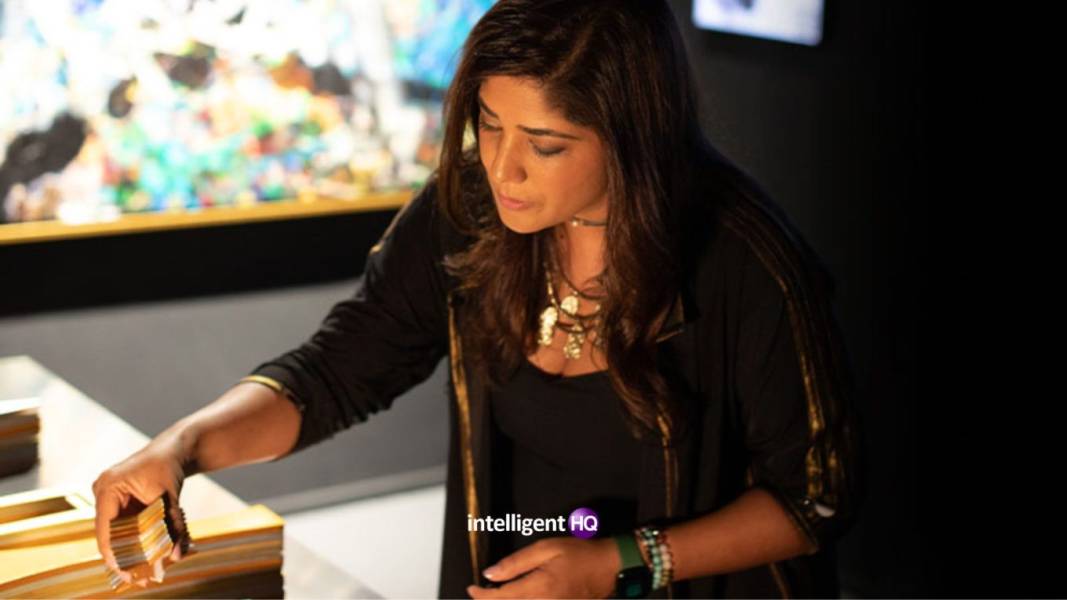 Art and technology have become increasingly intertwined in recent years. Artists can now utilize digital tools to create intricate designs, manipulate images, and even create interactive art experiences.
It has enabled artists to reach a wider audience. With the rise of the internet and social media, artists can now share their work with people all over the world. Furthermore, technology has made it easier for artists to collaborate and create art together, no matter how far apart they may be.
The use of technology in art is not just limited to digital tools and platforms. Many artists are experimenting with more physical forms of technology, such as AI, 3D printing, and Augmented Reality (AR). This allows them to create unique works of art that combine the traditional elements of art with the latest advances in technology.
"I want to change the way people see their lives and empower change through art and technology. Talking about the current generation: People want experiences, but also want to be taken along the journey. I tell the stories through my art, but I also choose the medium where I have to tell it and lay on the experience."
An NFT, she said, is another tool that helps people to access her art. According to her, it is a medium that unlocks the vast potential of creativity.
The progression of art with AR and VR into the metaverse
Augmented Reality has enabled artists to create immersive and interactive art pieces, both in physical and virtual forms. AR art is created by layering digital information over physical objects. The physical objects can be anything from walls to statues, and the digital information can be anything from 3D models to video clips. The result is an interactive, immersive experience that brings a new level of engagement and excitement to the art.
"AR, according to me, is the first step to engage people to see the world differently. AR enables people to understand that art is no longer a 2D flat experience. It's an interactive, sensory, multi-centric experience where you can bring a flat object to life. Using my collections, I tell my story in a dynamic form. I also find that this is the thing that brands are now most interested in."
As a relatively new technology, VR technology gives artists the ability to create virtual worlds and environments that are fully interactive and immersive. This allows viewers to explore the artwork on a much deeper level than ever before. Referring to her first mindful meditation metaverse experience that she created, Amrita said:
"AR is a quick interaction to either get some information, have an experience, be entertained, capture on social media, be with your friends. Whereas with VR, it became a more deeply personal experience, where you are able to go into a space that's fully immersive and it's there to amplify a meditation experience."
Amrita also admitted that she uses the AI tool to create her collection of art that she has named AIBytes. With all the digital tools, she believes, it makes it possible for artists to create works of art more quickly, accurately and imaginatively than ever before.
Speaking about the speculations about AI and other emerging technology, she assured:
"Just because there's going to be a digital revolution, nothing will replace a human touch, nothing will ever replace the energetic level of what it means to be connected on a physical level, and not everyone will just become obsolete. I think people will have to embrace technology and know that it's only going to enhance what we do already, but we are still the original creators of what we can do with the tech. We are still driving the tech, the tech is not driving us."
About citiesabc.com
https://www.citiesabc.com/​​​​​​​​​​​
https://twitter.com/citiesabc__​​​​​​
About openbusinesscouncil.org
https://www.openbusinesscouncil.org/
4IR: AI Blockchain Fintech IoT Reinventing a Nation by Dinis Guarda and Rais Hussin (4irbook.com)
Dinis Guarda citiesabc openbusinesscouncil Series is also available as podcast on:
Apple Podcasts: https://podcasts.apple.com/us/podcast/dinis-guarda-citiesabc-openbusinesscouncil-series/id1510330391
On Spotify: https://open.spotify.com/show/1vA8KaDaRpJ0mAfpNbfTSF?si=H_WngL4RSOyu1W7VAmM41w&dl_branch=1
Google Podcasts: https://podcasts.google.com/feed/aHR0cHM6Ly9mZWVkcy5idXp6c3Byb3V0LmNvbS8xMDMyMzg4LnJzcw==
Amazon Music: https://music.amazon.com/podcasts/953a5156-823c-4e86-baeb-4fda1128e44c/DINIS-GUARDA-CITIESABC-OPENBUSINESSCOUNCIL-SERIES
With a driving passion to create a relatable content, Pallavi progressed from writing as a freelancer to full-time professional. Science, innovation, technology, economics are very few (but not limiting) fields she zealous about. Reading, writing, and teaching are the other activities she loves to get involved beyond content writing for intelligenthq.com, citiesabc.com, and openbusinesscouncil.org