There is only so much we can do to stop a virulent pandemic such as the latest Novel coronavirus Covid-19, but thanks to new developments in technologies (and techniques) we can limit their devastating influence on our lives. From chatbots to advanced AI, let's take a look at how technology and innovation can help stop the coronavirus pandemic.
If we take a look at the latest pandemics in human history, there's one consistent trend over time – a gradual reduction in the death rate. And technology and innovative techniques are the ones to blame — or thank to — for that. Healthcare improvements, better research equipment, high-accurate prediction models and an improvement in understanding the factors that incubate pandemics have been powerful tools in mitigating their impact.
In the early stages of an outbreak, it is critical to act quickly. That means fast diagnosing for those who may already have symptoms. Tools that enable clinicians to streamline and expedite care delivery in a range of settings are helping some doctors more quickly diagnose (or rule out) coronavirus cases, provide virtual care and prevent the virus's spread among populations.
By testing more people and sharing more information faster during an epidemic, officials are more likely to slow a contagious disease, regardless of its origin or severity, says Dr. Ray Costantini, co-founder and CEO of Bright.md, a virtual care platform. "Years ago, it would take months to identify an epidemic; we're now doing that in days because of tech and the ability to do data analytics," Costantini says in an article written by expert Craig Guillot.
And besides diagnosing, the fight to contain the transmission and bring the spread of the Coronavirus to a halt is a hard — and long — process. However, technology is already lending a helping hand. Nonetheless, British start-up Exscienta became the first company to put a AI-designed drug molecule to human trials earlier this year. It took just 12 months for algorithms to create it, compared with four to five years for traditional research. Researchers believe that it will take up to 18 months to develop a vaccine for the Covid-19.
AI tools to stop the pandemic
AI and advanced predicting models are already being deployed to "modelling and tracking data." Private companies like Facebook or Google have put their technology to the cause. Facebook, for instance, is already working with researchers at Harvard University's School of Public Health and the National Tsing Hua University, in Taiwan, sharing anonymised data about people's movements and high-resolution population density maps, which help them forecast the spread of the virus. The social network is also helping partners understand how people are talking about the issue online, via tools such as Crowdtangle, which aggregates social-media posts.
Google, on the other hand, is helping people who want to track their own health. Likewise, the company's life-science research arm, Verily is developing a small body-worn temperature patch that transmits data to a phone app. "This could be especially useful in elderly populations, where viral infections have higher rates of morbidity and mortality," said chief executive Sundar Pichai.
The current Coronavirus pandemic is being broadcasted live across the world. Users are making use of social media to share their thoughts and feelings and stay united during these hard times, however, there is also the risk of a rise in fake news. That is why fighting misinformation is also important to avoid mass hysteria. According to a BBC article, Google said its team was "working round the clock to safeguard our users from phishing, conspiracy theories, malware and misinformation". Search for coronavirus or Covid-19, and an SOS Alert appears, alongside links to help and information about the virus.
YouTube, meanwhile, is using its homepage to direct users to the World Health Organization and other groups, for education and information, while working to remove videos suggesting alternative cures as soon as they go live.
Upgraded Software to Identify Coronavirus patterns in Health Records
According to Craig Guillot, some healthcare IT vendors are updating their software to better identify patterns and potential signs of trouble. In late January, electronic health record giant Epic updated its travel screening questionnaire in collaboration with biocontainment experts and infectious disease specialists, drawing on coronavirus guidance from the Centers for Disease Control and Prevention.
The goal: to ensure clinicians and other frontline medical staff ask patients about recent international travel and relevant symptoms that could prompt isolation precautions, Healthcare IT News reports. Both Athenahealth and Meditech have also released new guidance, testing orders and screening questions within their respective EHR software. "The technology and tools really help get information out to patients and providers more quickly," Costantini says.
Robots to lend a hand to the saturated healthcare system
Physicians at Providence Regional Medical Center in Everett, Wash., used a robot to take an infected man's vitals with a stethoscope and to communicate via a built-in screen in January. The remote-controlled telehealth cart allows physicians to perform basic diagnostic functions, such as taking blood pressure and temperature. "Technology is allowing us to reduce the number of up-close interactions" tied to coronavirus exposure, Dr. Amy Compton-Phillips, the organization's chief clinical officer, told Forbes.
Videoconferencing and Chabots to help go through self-isolation
One of the consequences of this pandemic is the "self-isolation" and quarantine of hundreds of thousands of people at the same time. That means a total disruption of their lifestyle.
Workers are told to stay home and work remotely where possible while people with mild symptoms are required to self-isolate themselves while waiting for professionals to visit them. In these two scenarios, communications technology can help greatly.
On one end, employees at home under government or self-imposed quarantines are turning to remote work tools such as Zoom videoconferencing. The platform could be very helpful in quarantined areas, as it enables people to communicate and reduce the risk of exposure.
In fact, these technologies are helping health professionals in diagnosing and following patients' symptoms. Earlier this month, Sheba Medical Center in Tel Aviv, opened a coronavirus telemedicine program to physically isolate and treat Israeli patients, according to The Jerusalem Post. A reactionary measure to install 5G networking and communications equipment at the West China Hospital of Sichuan University has allowed providers to conduct the first remote diagnosis of coronavirus with the help of a telehealth system. The initiative will be expanded to other hospitals, Business Insider reports.
Likewise, the demand for information has increased greatly since the start of the coronavirus outbreak, but there aren't enough operators to cope up with the demand. Several healthcare companies have updated their algorithms to create chatbots that help screen users for the virus before they visit a hospital or clinic. The idea is to help patients identify the symptoms earlier and reduce unnecessary visits.
Likewise, AI-backed chatbots are also interacting with the public to answer questions about the disease. A WhatsApp nCov help desk chatbot by conversational AI firm Haptik is trained to answer questions about the virus and provide users with timely information.
Tech has a history of helping the medical industry track and treat viruses and this new coronavirus pandemic is not different. From chatbots to high-advanced AI algorithms, the answer to stop the Covid-19 seems to lie, once again, in technology.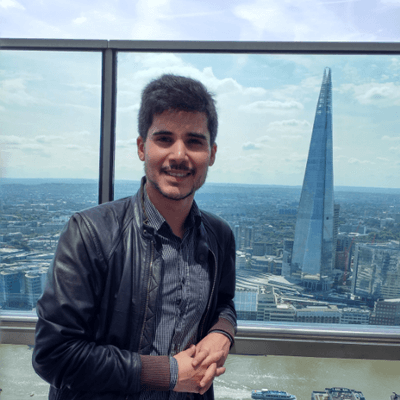 Hernaldo Turrillo is a writer and author specialised in innovation, AI, DLT, SMEs, trading, investing and new trends in technology and business. He has been working for ztudium group since 2017. He is the editor of openbusinesscouncil.org, tradersdna.com, hedgethink.com, and writes regularly for intelligenthq.com, socialmediacouncil.eu. Hernaldo was born in Spain and finally settled in London, United Kingdom, after a few years of personal growth. Hernaldo finished his Journalism bachelor degree in the University of Seville, Spain, and began working as reporter in the newspaper, Europa Sur, writing about Politics and Society. He also worked as community manager and marketing advisor in Los Barrios, Spain. Innovation, technology, politics and economy are his main interests, with special focus on new trends and ethical projects. He enjoys finding himself getting lost in words, explaining what he understands from the world and helping others. Besides a journalist, he is also a thinker and proactive in digital transformation strategies. Knowledge and ideas have no limits.