In a bid to establish stronger commercial and digital ties between the Turkish and UK business communities, the British Chamber of Commerce in Turkey (BCCT) organised a key event at Ferko Assembly, Istanbul, to introduce openbusinesscouncil. The event brought together business professionals from various sectors to explore the opportunities offered by openbusinesscouncil's technological infrastructure.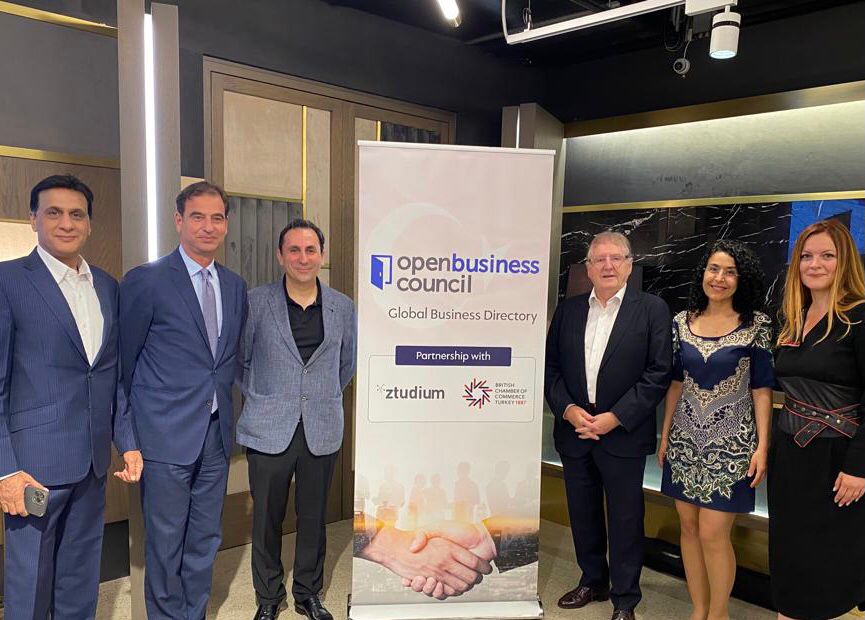 Türkiye boasts an extensive business landscape with over 3.6 million companies, according to Statista, while recent statistics from the UK Government show that there are approximately 5.5 million companies in the UK. Out of them, approximately 95% are small and medium-sized enterprises (SMEs).
However, the rapid pace of digital transformation presents challenges for these businesses. Recognising the need to bridge this gap, openbusinesscouncil plays a pivotal role by establishing open trade corridors between the British and Turkish economies. By doing so, openbusinesscouncil opens up opportunities for businesses in both Türkiye and the UK, granting them access to global marketplaces and verified directory services.
And that is because openbusinesscouncil, part of the ztudium group, is a global, digital certification directory and marketplace working with business networks, governments, tech ecosystems, leading universities, and organisations with the vision to help businesses find trusted clients and partners, digitally transform their companies and access finance international trade corridors. These are questions that SMEs ask themselves every day.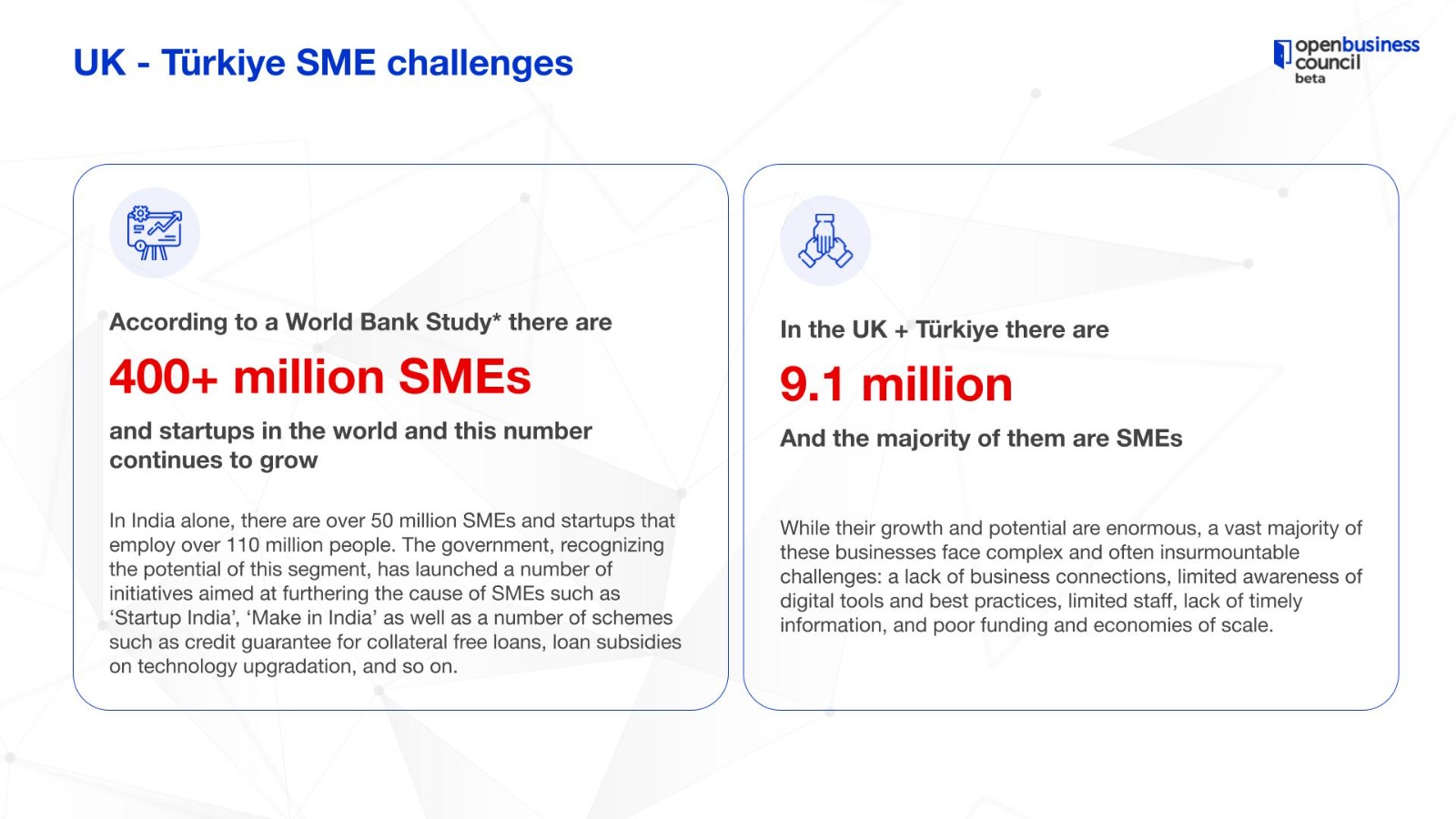 The founder and CEO of openbusinesscouncil.org and ztudium, Dinis Guarda, along with BCCT Chairman, Mr. Chris Gaunt, introduced the platform to the attendees, highlighting its potential to facilitate global business connections.
Mr Guarda emphasised the challenges faced by businesses, particularly SMEs, in the rapidly evolving digital landscape. He highlighted the partnership as a gateway for an extensive network of businesses and companies of all sizes, encompassing a wide spectrum of sectors, represented by BCCT.
Building upon that, Dinis described openbusinesscouncil as a comprehensive solution that helps businesses manage and cope with disruptions in the modern age of emerging technologies, opening up numerous digital transformation opportunities.
"With the increasing innovation and trends of 4IR in recent years, businesses, especially SMEs, are facing new challenges in trade and commerce. This partnership is a promise to offer digital verification with AI and Blockchain and carbon neutrality assessment solutions to businesses and their leaders. 
These solutions will help enable digital trade corridors to the wide range of sectors that BCCT currently represents, including large multinational corporations as well as a significant number of small and medium-sized enterprises (SMEs) from Turkey, the UK, and surrounding regions. It is a gateway for businesses to numerous digital transformation opportunities that can help them manage and cope with the pitfalls of emerging technologies in the modern age."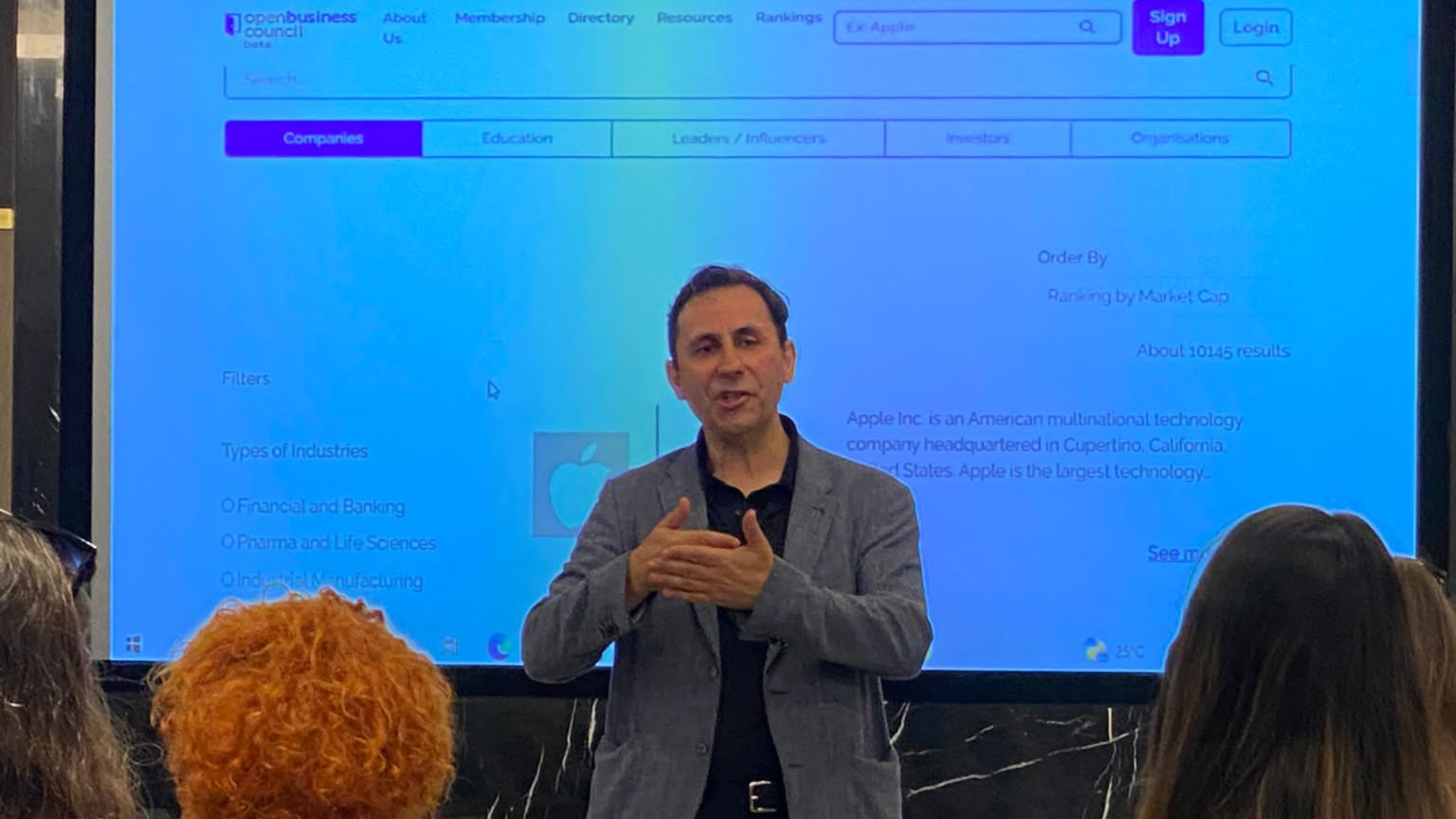 During the event, Mr. Chris Gaunt, Chairman of the Board of BCCT, emphasised the extensive business network and partnerships BCCT has built with local chambers of commerce in dynamic cities across Turkiye. He expressed optimism about the partnership, stating:
"Through partnerships with our extensive business network and local chambers of commerce in Turkey's vibrant cities, we strive to create a strong alliance. Our coordinated business network, showcasing substantial capacity. 
This partnership offers a platform for Turkey and the UK to leverage our shared history and collaborate on leadership, business intelligence, and mutual commercial and economic objectives. By harnessing this synergy, both countries can enhance their global presence and foster enduring relationships with other international stakeholders."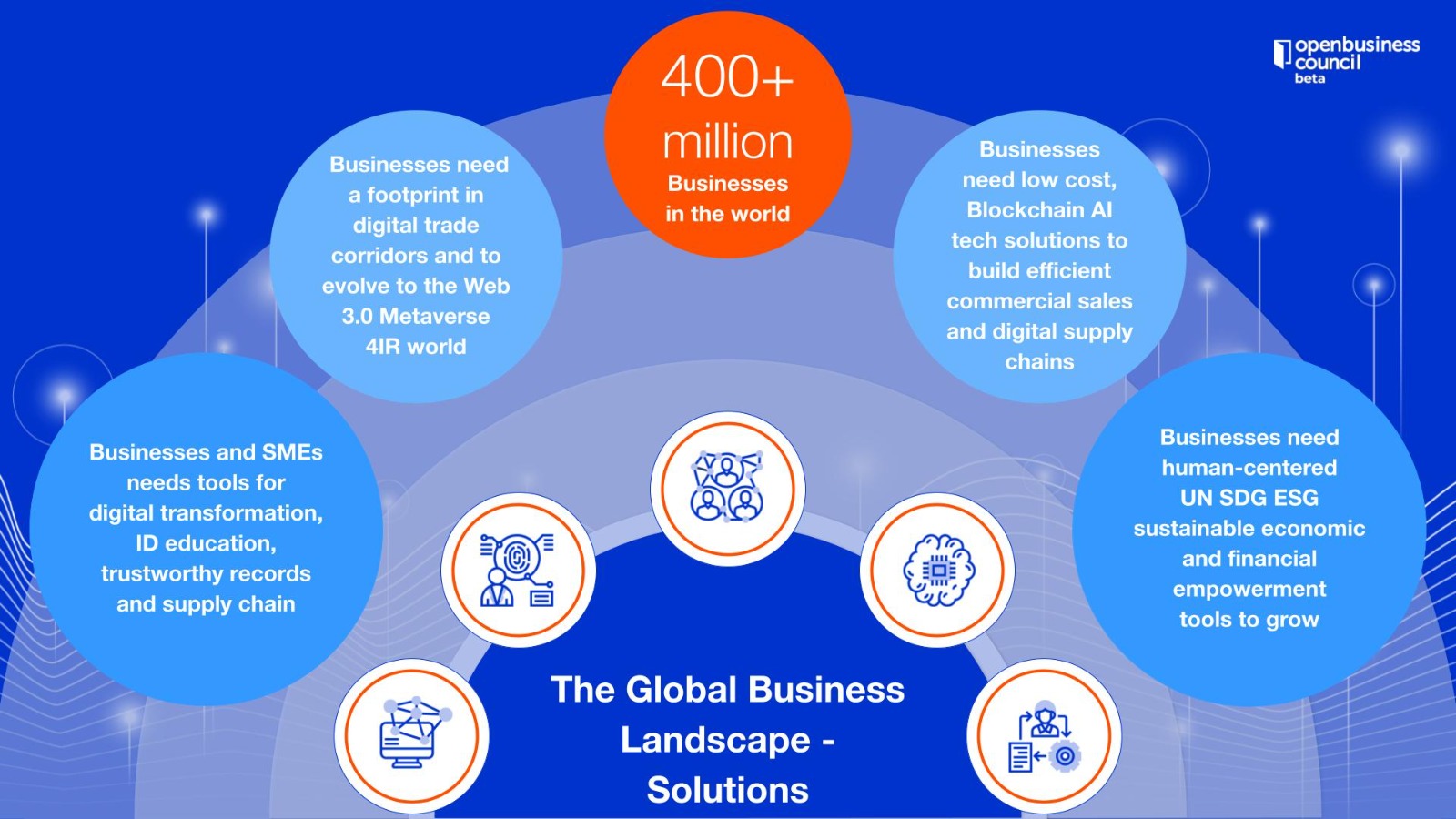 A relationship of trust and cooperation
The partnership's first project was Action Turkiye, a non-profit initiative created by openbusinesscouncil to support recovery and rehabilitation efforts in the aftermath of a series of devastating earthquakes in Türkiye.
As it was seen in their first project together, the partnership with openbusinesscouncil opens up new avenues for sustainable and socially responsible business practices. Both BCCT and openbusinesscouncil are committed to fostering economic growth and development while prioritising social and environmental responsibility. By working together, they aim to create a more sustainable and equitable business ecosystem in Turkiye, the UK, and beyond.
Openbusinesscouncil: A global open marketplace to empower and support businesses worldwide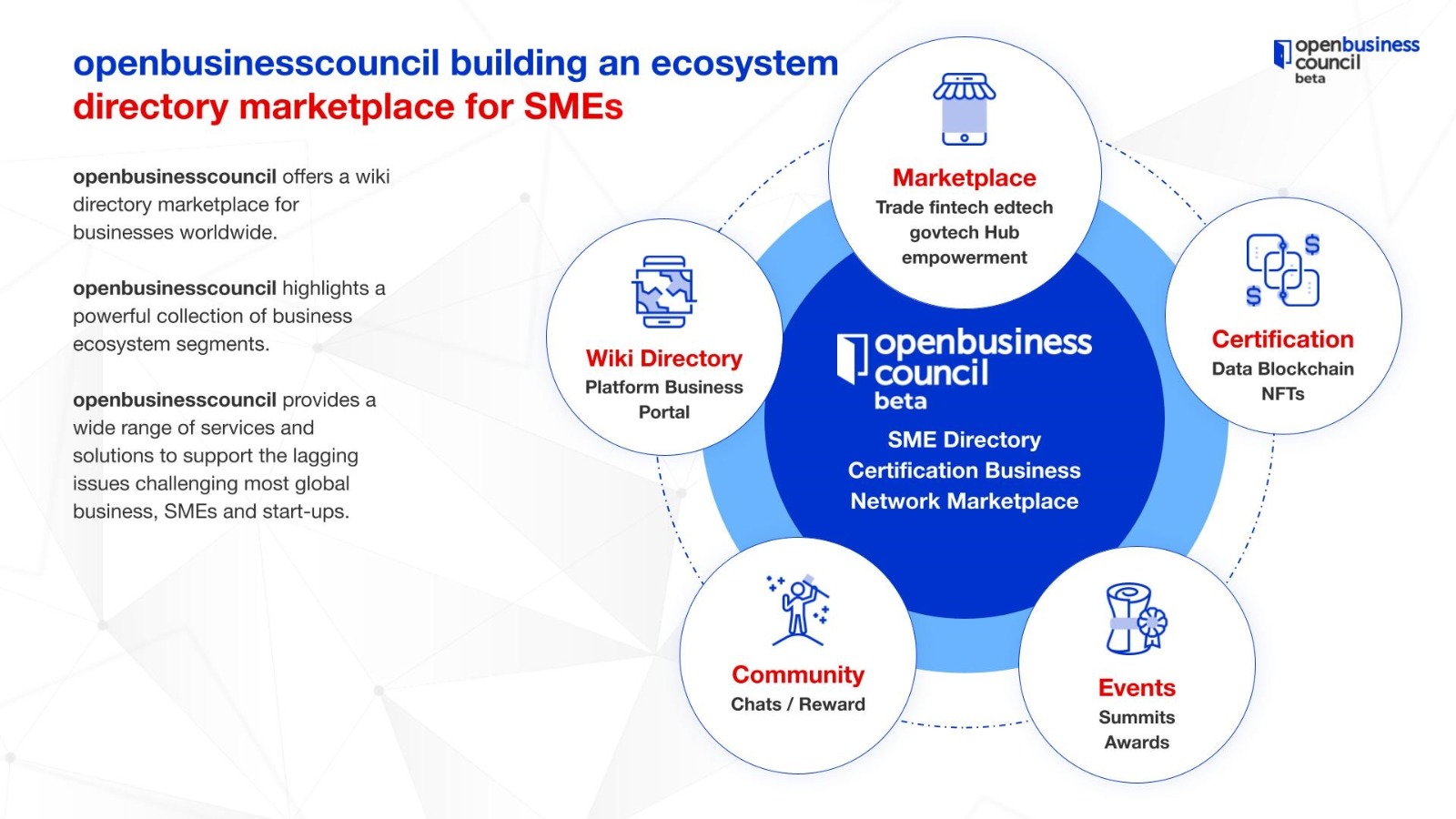 The openbusinesscouncil digital hub marketplace provides SMEs with B2B, B2C, or service marketplaces, chambers of commerce, trade corridors, digital supply chains, provenance tools, and multi-store e-commerce and partners.
Digital Identity and Verification lies at the core of openbusinesscouncil. In fact, they have developed a solution, the openbusinesscouncil Corporate Digital IDs. These 'CDIs' are a digital set of identifiers that can be decentralised and owned by the SME, can solve the issues of trust and identity in the digital ecosystem, enabling SMEs to efficiently access a range of trade-related and transactional services with a single ID.
As part of the ztudium group, a global leader in cutting-edge innovation technologies such as Industry 4IR, Web3.0, AI, Metaverse, and Blockchain, openbusinesscouncil.org stands at the forefront of driving advancements in these areas, enabling businesses to stay at the forefront of technological innovation and adapt to the changing business landscape.
With the world increasingly relying on online platforms, openbusinesscouncil's initiative seeks to empower SMEs, improve their productivity, reduce operational costs, and provide access to essential business intelligence services. By embracing digital transformation, SMEs can unlock growth opportunities, generate economies of scale and scope, and fully participate in the global digital economy.
A collaborative effort for a bright future of economies
The event at Ferko Assembly marks the beginning of a collaborative journey for BCCT, openbusinesscouncil, and their partners, as they collaborate to build stronger commercial and digital trade corridors, foster international connections, and support sustainable business practices.
Merve Kanat Dogan is a senior executive and entrepreneur with extensive experience in foreign communications and relations. She has worked across various sectors, including pharma, health tourism, and technological devices. Her diverse career spans various industries, including foreign trade, consultancy, banking, health tourism, medical, cosmetics, HVAC, electronics, automation, manufacturing, equestrian business, mining, and food service. She has co-founded several companies and cooperatives, managed different departments, and established business relationships. Currently, she is the Vice President and Business Partner for Turkiye & Central Asia at ztudium group.