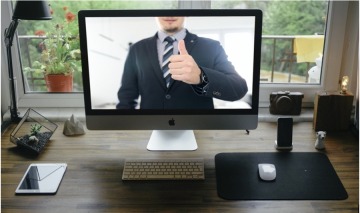 Your boss finally threw you that bone you were waiting for as you work to make yourself more appealing for the task.
"Sally, it's your turn to host the online conference."
While this is exactly what you were hoping for, you feel your throat tighten and your voice rise as you accept the responsibility. It's all eyes on you now.
Whether you're techy or not, there are some important things that will help the success of your online meeting. Continue reading through this article, and we will give you the information necessary to slay your first online video conference.
1.Set up to Record the Conference
Learning how to screen record on Mac or PC is a must when you're holding conferences online. Whether it's an online conference call or an online video conference, you want to record it in case there is any misunderstanding who said what.
It's also helpful to rewatch the meeting and see where you could have done something better or the parts that you liked most about the conference.
2.Outline an Agenda
Before getting started, you need to outline an agenda. If you go into the meeting without an agenda, it is unlikely you'll accomplish much. People will steer you off course, and they won't even know they're doing it.
Outlining an agenda will make sure everyone is on the same page. You'll be able to focus on what's important and get the outcome you desire.
Failing to create an agenda means people won't have anything to follow along with. They will probably lose their focus and start daydreaming about being out of the conference.
3.Organize and Prepare Your Space
One of the worst things you can do when you get on a video conference is to have a messy space. You don't have to have a big, fancy office, but you do need to have a clean one.
Make sure your space is tidy so it doesn't distract the people you're trying to get to focus on what you're saying. Straighten out any books and files that may be strewn out on tables or shelves behind you, and make sure you don't have a lot of random things that will get people to look away from you.
4.Pace Yourself
You might run meetings quickly when you're in person, but when you're running a remote meeting, you need to slow it down a little bit.
The reason for the slow down is because there could be internet issues that may the video jump. If you talk too quickly, people in the conference might miss your entire thought. If you talk a little slower, you won't have to worry about it as much since they will get the gist of it.
5.Use Descriptive Language
Some people might not be able to see your visual cues as well as the next due to their video quality. One of the best ways to get around this is through using descriptive language.
You want to make it easy for people to get images in their minds about what you're doing and how you see things happening for the project you're talking about.
6.Designate a Notetaker
There is going to be a lot of important information conveyed through this meeting. You need to make sure that you have someone to take notes so no one else has to focus on it.
While notetaking can help you retain more of what you hear, it can also distract some people. If they aren't good at writing or retaining information, taking notes could actually hurt their ability to focus.
Having a designated notetaker also means you'll be able to get the notes out to the people at the online meeting pretty quickly.
7.Recap at the End
Before you head off the call, you should do a quick recap. One of the reasons is to make sure everyone remembers the most important parts of the meeting. The notetaker might have missed one of the important points, and you'll give them the opportunity to put it in their notes.
Make sure everyone has an understanding of the main points of the meeting. You can choose whether you want to take questions now or if you want to have people reach out to you individually with any concerns or questions.
Many times, you might want to dismiss everyone before you take questions. That way it isn't rude for people to hop off if they don't have questions.
8.Use Another Line for Debriefing
If you need to speak to your senior or one of your people need to speak to you for a debrief, you should not do it on the same line or room. You need to either call each other directly or go to another room.
You might think everyone is gone from the conference, but if someone is accidentally still on there and you share sensitive information, that could cause big problems for the company. It only takes a few minutes to change over, and it could save you a lot of headaches.
Leading Your Online Conference Confidently
Now there's nothing that will stop you from leading the best online conference possible. Despite the fact that this might not be how you saw yourself leading a meeting for the first time, tech allows us to be where we need to be without physically being there. Use it wisely and watch your career soar.
Do you need more help with tech issues, leading meetings, and other key topics? Continue through our blog for more helpful information.
This is an article provided by our partners network. It does not reflect the views or opinions of our editorial team and management.
Contributed content

Founder Dinis Guarda
IntelligentHQ Your New Business Network.
IntelligentHQ is a Business network and an expert source for finance, capital markets and intelligence for thousands of global business professionals, startups, and companies.
We exist at the point of intersection between technology, social media, finance and innovation.
IntelligentHQ leverages innovation and scale of social digital technology, analytics, news and distribution to create an unparalleled, full digital medium and social business network spectrum.
IntelligentHQ is working hard, to become a trusted, and indispensable source of business news and analytics, within financial services and its associated supply chains and ecosystems.