Can a team of rebels artists, engineers and geeks based in Berlin launch a Fintech bank for small and medium businesses owners?
Yes it is possible. An innovative companie working in this field is Penta. www.getpenta.com resulted from the consistent effort of a group of visionaries, some young, others with a few wrinkles thriving to provide SMEs with alternatives.
Small and medium sized enterprises (SMEs) are often cited as the major driver of economies and one of the most important sources of job creation. Unfortunately, SMEs still have difficulty securing proper funding to prosper. Since the global financial crisis of 2007-2008, coupled with higher regulation and capital costs for loans to SMEs, it has become even more difficult for SMEs to secure financing. However, the late financial crisis has also created a plethora of fast growing disruptors in the FinTech area ("FinTech", the much-hyped contraction of "finance" and "technology", that now is becoming so trendy, is defined by the use of technology and innovative business models in financial services). Their innovative processes of assessing credit risk and fund SMEs, have provided SMEs with alternative ways to secure funding for their growth.
Penta is made with a loving and daring bunch that has been involved in dozens of businesses bringing in experience from various industries. Penta resulted from an acknowledgement that SMEs needed support.
Banking for SMEs is expensive. It's slow. The paperwork. The branches. The lack of innovation. The lack of overview of the business. Where's the 21st century? Where's the modern online banking? Data driven banking. Simple banking. Fast and cost-efficient banking.
Penta is on a mission to enable small and medium businesses to do more. They want to create more value for your clients, for their employees, for their business while saving time and money, making better, faster and data-driven decisions. That's why Penta is building one the greatest bank for SMEs. Penta is a cost-efficient, fast and simple bank enabling your business to do more, spend less and make smarter data driven decisions. Penta is a cutting edge fintech bank to empower business.
Intelligenthq interviewed Penta about their vision and how they want to put it in practice.
intelligentHQ: You have a team of serial entrepreneurs — team rebels and artists. Engineers and geeks. Small and medium business owners. Can you tell us about it?
Sir has tattoos and defies all odds to create the best user experience ever. He's been building beautiful UI/UX designs for the past 4 years that have grown companies by thousands of users. Lav is a hybrid corporate geek and startup enthusiast, selling his first company at 21. Luka is a nerdy type. He's been helping solve technical and businesses obstacles since he was 19. We've all done things differently in our lives: from what we studied at university to our free time as well as starting businesses as teenagers. We always questioned everything around us. Which led us to working on projects together and learning a lot of interesting things along the way.
We know the pains and advantages of owning a company and we've seen things go to to hell but we've also sold some of our businesses and smiled at the end.
Our advisors are bringing in 25 years of experience in fintech, government, software engineering and banking. Ultimately giving us a holistic view of how to build the best banking experience for SMEs.
We all come from different cultural and educational backgrounds allowing us to look at one problem in many different ways. Giving us an incredible perspective at the problems that lie ahead.
intelligentHQ: Can you tell us about Penta?
Our company creed is to empower small and medium businesses to get more done. We're doing this by aiming to create a smart, fast and cost-efficient banking experience for SMEs.
We're offering lower fees. Everything is completely online and you can sign up within minutes. We balance your account in real-time, even on the weekends. And Penta is the smartest bank you'll ever have. We plan to integrate various business applications that are crucial to businesses, like treasury management which helps owners understand future trends of their liquidity or when they should take out a loan. We'll also offer machine learning accounting apps to help small and medium businesses automatize most of their accounting.
Furthermore, we'll offer Smart Transactions.
A Smart Transaction allows the initiator of the transaction to set terms and conditions on anything that two sides can agree on as long as outcome is undisputedly clear, digitally verifiable and legal. Once the outcome gets realized, the transaction automatically goes through. This could happen after signing a online contract.
Penta's smart transactions allows small and medium businesses to set terms and conditions for when a payment should be released to a third party. Instead of having to wait on a deliverable and assessing the quality or time, we're offering a virtual escrow account. We freeze the funds on both sides, guaranteeing the payment, while the two parties are able to sort out the deliverables and determine when the payment should be released.
As Penta's creed states, we're doing absolutely everything we can to understand our member businesses. Their needs and their pain points. We're constantly interviewing every single one of our beta subscribers to get more feedback from them. Ultimately, we're building Penta with our members businesses.
intelligentHQ: What is the differential offer by Penta?
Penta is aiming to enable SME owners to make more data-driven decisions about growing their business, taking out a loan at the right time and how to balance liquidity so that business owners can have access to more cash to invest and grow. Penta's dashboard allows business owners to take actions on invoices, reminders so that they can do their banking more efficiently and in a fraction of the time that it would normally take.
We also want to give more power to small and medium businesses through Penta's Smart Transactions. No more needing to send half before and half after, as well as the paperwork involved. Instead it creates less worry for owners while speeding up the process and saving money for both businesses.
By leveraging smart applications and innovative products that empower businesses to get more done in less time, we're creating a unique banking experience that's leaving traditional banking and entering into the 21st century. Business needs are becoming more unpredictable and complex by the day. We're aiming to offer the necessary tools that will help businesses accelerate.
intelligentHQ: How do you define online smart Banking for Small and Medium Businesses?
No branches. No paper. No friction. Online smart banking for SMEs is more than just a transaction history, sending and receiving money. Instead, Penta's definition of online smart banking for SMEs incorporates data driven services, innovative solutions for running your business and a holistic overview of what's going on at all times and what's coming up in the future.
Here's our formula: trust of traditional banking — branches — paper + data driven services + innovative tools + great UX = online smart SME banking.
intelligentHQ: What countries are you targeting?
We're starting with Germany, then looking to expand to the rest of the EU.
In the big picture Fintech revolution for small business / banking where are your main selling points?
Sign up online in minutes. Have a completely online bank account. Leverage smart data-driven services. Include innovative security solutions like Smart Transactions when doing business.
intelligentHQ: In the big picture of small business Fintech what are you offering: peer-to-peer lending, saving money, InvoiceSharing, crowdfunding, Fintech for managing risk, loyalty programs?
We're offering lean, fast and efficient banking solutions for SMEs. From sending and receiving money domestically and internationally, to currency exchange and multiple currency support we plan to offer our member businesses a full fledged banking experience.
In the beginning we're going to concentrate on the core-banking. As we progress, we'll offer software integrations for managing risk and liquidity through the use of APIs. We'll also offer Smart Transactions where both parties can have a sense of security when doing larger deals by offering an escrow account that's dependent on certain terms and conditions that both parties outline.
Towards our second version we'll aim to roll-out business loans to help finance businesses to grow their business.
We're also exploring other innovative solutions around lending, invoicing and saving money that we'll have a better idea of how it fits into the big picture of SME needs and our vision at Penta.
intelligentHQ: Are you considering to offer social media / digital identity / blockchain solutions to your clients / partners?
We're experimenting and doing lots of research into some great technologies and solutions. In the upcoming months we'll have a clearer picture of how we'll use existing infrastructure to better the experience of our members. The merits of blockchain have been debated in the industry over the past few months as fintech is growing. It's a fascinating technology and something that we're looking more deeper into to form our own opinion.
intelligentHQ: Regarding regulation what is your proposal solution / set up?
We don't have a banking license. Instead, we're planning to partner with a white-label banking provider for the license. Of course, there's much more to it than just partnering with a bank and setting up. Our advisors have been in government and fintech for decades, so we're getting advice from some of the best people in the industry.
intelligentHQ: As cyber security becomes a critical element for finance and businesses worldwide what do you suggest about that?
Penta member accounts will be secure at the highest level and we're not willing to compromise. We're debating with lots of ideas for security. Some which are innovative and that we won't disclose just yet! But ultimately, by keeping people aware of what's going on in their account at all times, the more control they have over what's going on. Additionally, by adding machine learning algorithms to understand the patterns and behaviors of a certain account, we're able to identify security threats even before they arise. Allowing us to require further identification and confirmation for any changes that are going on. No more surprises for the account holder which allows us to identify when something may be wrong.
The most important is to find a solution that's convenient and extremely secure. More importantly, the question is whether people are willing to take certain inconvenient measures to secure their accounts. If they're not, then we have to look for alternatives. It's a matter of testing and something we're readily doing.
Hopefully, we'll have something to announce in the fall.
contact themhello@getpenta.com
Their Twitter: @getpenta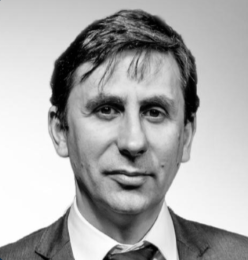 Dinis Guarda is the founder of intelligenthq.com and an author, serial entrepreneur and CEO of ztudium that manages openbusinesscouncil.org, fashionabc.org, blocksdna.com, lifesdna.com.
He creates and helps build ventures focused on global growth, 360 digital strategies, sustainable innovation, Blockchain, Fintech, AI and new emerging business models such as ICOs / tokenomics.
Dinis is the founder/CEO of ztudium that manages blocksdna / lifesdna. These products and platforms offer multiple AI P2P, fintech, blockchain, search engine and PaaS solutions in consumer wellness healthcare and life style with a global team of experts and universities.
He is the founder of coinsdna a new swiss regulated, Swiss based, institutional grade token and cryptocurrencies blockchain exchange. He is founder of DragonBloc a blockchain, AI, Fintech fund and co-founder of Freedomee project.
Dinis has created various companies namely Ztudium, a tech, digital and AI blockchain startup that builds cutting edge software, big data insights, publishes intelligenthq.com, hedgethink.com, fashionabc.org, openbusinesscouncil.org and tradersdna.com, citiesabc.com among others.
Dinis is the author of various books. His upcoming books "4IR AI Blockchain Fintech IoT Reinventing a Nation", "How Businesses and Governments can Prosper with Fintech, Blockchain and AI?", also the bigger case study and book (400 pages) "Blockchain, AI and Crypto Economics – The Next Tsunami?" last the "Tokenomics and ICOs – How to be good at the new digital world of finance / Crypto" will be launched in 2018.
Some of the companies Dinis created or has been involved have reached over 1 USD billions in valuation. Dinis has advised and was responsible for some top financial organisations, 100 cryptocurrencies worldwide and Fortune 500 companies.
Dinis is involved as a strategist, board member and advisor with the payments, lifestyle, blockchain reward community app Glance technologies, for whom he built the blockchain messaging / payment / loyalty software Blockimpact, the seminal Hyperloop Transportations project, Kora, and blockchain cybersecurity Privus.
He is listed in various global fintech, blockchain, AI, social media industry top lists as an influencer in position top 10/20 within 100 rankings: such as Top People In Blockchain | Cointelegraph https://top.cointelegraph.com/ and https://cryptoweekly.co/100/ .
He has been a lecturer at Copenhagen Business School, Groupe INSEEC/Monaco University and other leading world universities.
He is a shareholder of the fintech social money transfer app Moneymailme and math edutech gamification children's app Gozoa.
Between 2014 and 2015 he was involved in creating a fabbanking.com a digital bank between Asia and Africa as Chief Commercial Officer and Marketing Officer responsible for all legal, tech and business development. Between 2009 and 2010 he was the founder of one of the world first fintech, social trading platforms tradingfloor.com for Saxo Bank. In 2011 he created the B2B platforms socialmediacouncil.org and openbusinesscouncil.org with Jamie Burke.