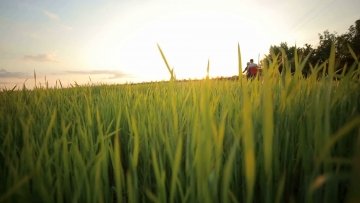 New models of business emerge all the time. Perhaps one of the most compelling is the social business model. These endeavours come in various types, sizes and structures: from social entrepreneurship to community interest company, and although they were once a niche area, they now flourish all over the place, improving communities and cultures as they move along. Across the world, almost half as many entrepreneurs are creating ventures with a primarily social or environmental purpose as those with a solely commercial aim.
As detailed recently by Ericsson, one of the reasons that the social business model is so interesting is because it gauges success very differently than in a traditional business. Conventional business approaches see business success being achieved through high levels of profitability and excellent returns for shareholders. Conversely, the social business model aims to bring in revenues to make sure the business is sustained, but it sees success as having occurred when it maximises the social impact that is brought about.
To ensure that the social business model achieves the sort of success it seeks, the way it tries to accomplish it is rather different from a traditional business that seeks profit first and foremost. The conventional business ensures that at the heart of its model sits a value proposition which differentiates it and defines it in the market in terms of the products/services it offers. It is also comprised of a revenue model which structures how it makes money from this value proposition. The third part of a traditional business model are network relations which include, "the different market actors that a business has relationships with," which it is explained as it needs to operate. This include places where it makes sales, customers and suppliers, among others.
One fundamental pillar of a social business model is that its first decision is not what the value proposition will be, but rather what the social impact proposition is. What this means is the way that the business will have a social impact – and this is the main purpose for the organisation existing. The social impact proposition ties it closely to the community that the social business seeks to help, and creating meaning is considered important. "The business aims to reach financial sustainability and finds success
in the evaluation of its social impact. The business is in co-opetition with other contributors in the community to maximize social impact for empowerees," described it the report.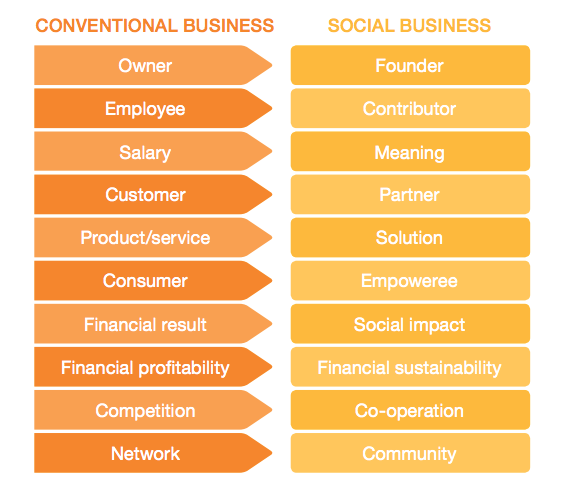 As well as the social impact proposition, it also needs a financial sustainability model. The financial sustainability model is configured in such a way that the business can achieve its social mission while being sustainable, ensuring it can scale. Unlike the traditional business model, revenues are not made without consideration to the social mission, and if the social business will be detrimental in going about this, it simply will not do it.
Last but not least, a social business must have a high dose of community engagement. This is also required to help increase relationships that can build revenue. This is similar to network relations in the traditional business model, but it keeps the social business grounded in the community and it ensures the social mission is the central point of focus.
All three characteristics are basic in any social entrepreneurship, and although going all-out social is not always successful (just like traditional businesses) in our profit-driven business mentality, their goals might certainly be considered more valiant and meaningful than old-style endeavours. Examples of social business can be seen all over the world, in cities as diverse as Nairobi in Kenya and Medellin in Colombia. Looking around in your local community you will likely find your own examples nearby too.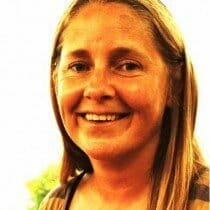 Paula Newton is a business writer, editor and management consultant with extensive experience writing and consulting for both start-ups and long established companies. She has ten years management and leadership experience gained at BSkyB in London and Viva Travel Guides in Quito, Ecuador, giving her a depth of insight into innovation in international business. With an MBA from the University of Hull and many years of experience running her own business consultancy, Paula's background allows her to connect with a diverse range of clients, including cutting edge technology and web-based start-ups but also multinationals in need of assistance. Paula has played a defining role in shaping organizational strategy for a wide range of different organizations, including for-profit, NGOs and charities. Paula has also served on the Board of Directors for the South American Explorers Club in Quito, Ecuador.