Retail banking and electronic payments software provider Compass Plus has revealed, that though popularity for the mobile channel continues to grow, support for NFC is in decline. The annual survey, which was carried out at the international CARTES Secure Connexions Event 2013 in Paris, took in the opinions of more than 70 respondents representing financial firms, mobile operators, payment processors and other industry professions. What I find interesting here is that NFC tech was being used as the basis for many interesting FinTech startups. So why the decline?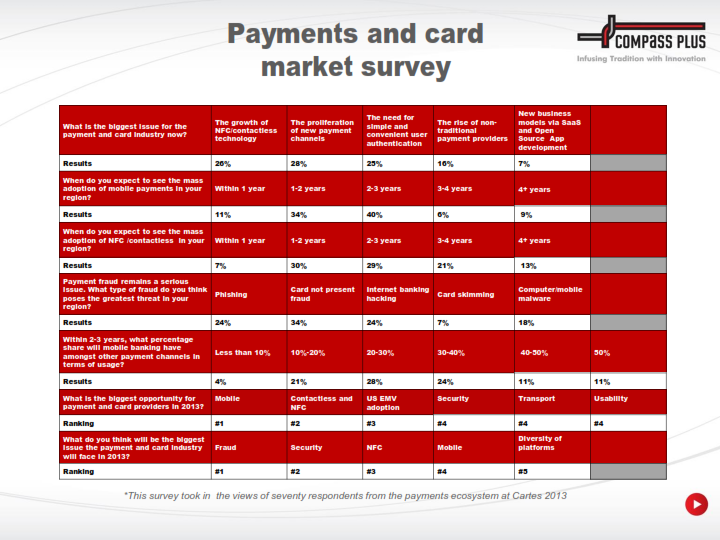 In April this year, Startupbootcamp launched an accelerator exclusively for NFC startups. 10 start-ups were chosen whose strategies included NFC and contactless unique selling points and were given a three-month program of mentoring, €15,000 in seed funding, office space and accessibility to venture capitalists. The intertwining of your mobile and NFC seems to be the perfect marriage of technology. For consumers it means no more credit cards or train tickets. My new Nexus 5 handset even comes with tap and pay built in. Compass Plus's survey saw the mobile channel not only feature as presenting the biggest opportunity for payment and card providers in 2014, but also as one of the biggest challenges in terms of security.
Although mobile did not feature in the top five in the 2012 survey, over half of respondents cited it as the biggest opportunity, whilst support for NFC technology decreased by 50 percent. EMV in the United States was highlighted in the top five for a second year running as loyalty, applications and globalization were replaced with security, transport and usability. Looking back at 2011, industry expectations for the timings of the mass adoption of both mobile payments and NFC and contactless technology were estimated at between one and three years. In 2013, the predictions are the same, showing initial expectations to be overambitious.
By taking into account the results of the 2011 survey, mobile payments and NFC and contactless technology should already have reached mass adoption or should be very close, however over a third of respondents still see mass adoption as more than three years away. With the amount of payment startups out there perhaps that sentiment can change or even be later proven to be inaccurate. In the U.K over a third of British adults (35%) are aware of NFC-enabled mobile devices, with 9% saying they know that their device is NFC-enabled and 22% of those have actually used NFC to make a payment, a recent YouGov survey of 1,501 people has found.
Also of interest is the fact that YouGov found that 56% of mobile device owners who are not interested in NFC, do not believe the technology is safe to use daily, while 53% are concerned about their financial data being stolen by hackers if their phone was lost. Maria Nottingham, executive vice president of Compass Plus Group commented, "With the increasing adoption of the mobile device as a banking channel, it is not surprising that the payments and card markets feel that it is an opportunity for growth. However, as with any new technology, the challenge is to offer new innovative services quickly without an adverse customer experience."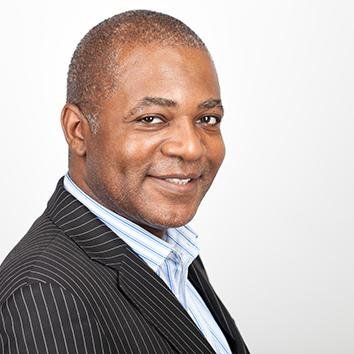 Hayden Richards is Contributor of IntelligentHQ. He specialises in finance, trading, investment, and technology, with expertise in both buy-side, sell-side. Contributing and advising various global corporations, Hayden is a thought leader, researching on global regulatory subjects, digital, social media strategies and new trends for Businesses, Capital Markets and Financial Services.
Aside from the articles, interviews and content he writes for IntelligentHQ, Hayden is also a content curator for capital markets, analytic platforms and business industry emerging trends. An avid new media explorer Hayden is driven by a passion for business development, innovation, social business, Tech Trading, payments and eCommerce. A native Trinidadian, Hayden is also a veteran, having served with the Royal Air Force Reserves for the past 10 years.
Follow Hayden on Twitter @HaydenARichards, linkedin.com/haydenhrichards and http://www.scoop.it/u/hayden-richards