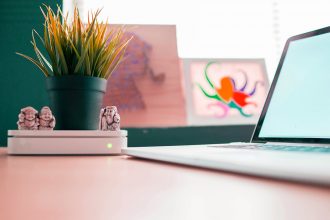 UK employees now have a legal right to request flexible working, and while employers don't always have to accept, the direction of travel is clear. More and more employers are choosing to provide agile office environments. They are doing so not only because more people are working from home but also to enhance productivity by introducing different kinds of meeting spaces, fluid working groups and quiet rooms.
Caring about the environment
Another huge driver behind the changing face of office space is the need to recruit and retain employees. A flexible environment that is well set up for today's agile working practices can be a significant factor in attracting and retaining creative thinkers, visionaries and hard workers that drive businesses forward. Even at the most basic level, an office that is well lit, ventilated and heated makes a huge difference to wellbeing.
Then, of course, there is the bigger environmental picture. With listed companies now required to report on the BREEAM status of their real estate portfolios, there is a clear need to manage the office environment to conserve energy and reduce emissions.
The problem with real estate
Conventional office layouts are unsuitable for agile working, so adapting to something better suited to new ways of working is common sense. After all, real estate – whether it's owned or leased – is for most office-based businesses their biggest overhead after their people. That's something that multinational businesses will be acutely aware of as new international accounting standards put leased assets on company balance sheets.
The time-honoured one-person one-desk layout is incredibly profligate with workspaces standing empty because employees are working from home, in meetings or on leave. Last year, Abintra carried out a study into the value of Grade A office space that is un-used in this way across England and Wales, which revealed that a staggering £10 billion was wasted. Our study was based on a modest estimate of 30 per cent under-use based on our experience with hundreds of corporations worldwide. A recent report by CBRE put the figure at twice that amount.
So the case for switching to more flexible working environments seems crystal clear. Yet many businesses have yet to adopt it, and unfortunately many that have tried have not done so successfully, failing to create spaces that work as well as they could or to exploit the full potential of space savings.
Space Oddity
Why? The simple answer is that corporations have a lack of understanding of how their real estate is used. Many make big investment decisions based on little more than guesswork. Others employ outdated methods to try to get a handle on their space usage. They say that in the realm of the blind, the one-eyed man is king, and it's fair to say that having consultants walk around your office with a clipboard will give you a snapshot of how the space is being used, which is better than nothing. However, that's not really good enough when the technology exists to paint a much more accurate picture.
The second reason is a lack of joined-up thinking in big organisations. Decisions about these hefty assets are often left to real estate managers or facilities management companies. The board member most likely to be taking an interest is the financial director but it should definitely not stop there. Maximising your office space should be regarded as mission critical with the CEO driving change, the HR director fully involved – flexible working is about people after all – and the IT director playing his or her part in ensuring systems develop to suit new ways of working.
Where are we now?
Adapting to flexible working begins with understanding exactly how you use your office space now. Rather than a paper study that only provides a limited picture, enlightened organisations will commission a sensor-based survey. These typically last for about four weeks and involve placing sensors under desks and in meeting rooms to monitor usage 24-7. Now, instead of a simple spreadsheet, the sensor generates a heatmap of how space is being used at any time and over time.
The journey to better
Equipped with this information, management can now work with flexible working specialists to model new working environments that are absolutely fit for purpose. However, it's vital to bring people along on the journey, and that is certainly a key part of the way we work with customers ourselves. Working for a major insurance company and based around the utilisation data and reporting we provided, we implemented an agile set-up on one floor of their building. News about this creative, flexible space with its array of benefits, aligned to a bright new, collaborative and agile environment, soon spread to staff working on other floors. This helped to generate enthusiasm and positive communication with staff, making the transformation process across the organisation so much easier.
Post by Tony Booty, the director of Abintra, the flexible workspace specialist and inventor of the Wisenet space utilisation and environmental monitoring system.

Founder Dinis Guarda
IntelligentHQ Your New Business Network.
IntelligentHQ is a Business network and an expert source for finance, capital markets and intelligence for thousands of global business professionals, startups, and companies.
We exist at the point of intersection between technology, social media, finance and innovation.
IntelligentHQ leverages innovation and scale of social digital technology, analytics, news and distribution to create an unparalleled, full digital medium and social business network spectrum.
IntelligentHQ is working hard, to become a trusted, and indispensable source of business news and analytics, within financial services and its associated supply chains and ecosystems.