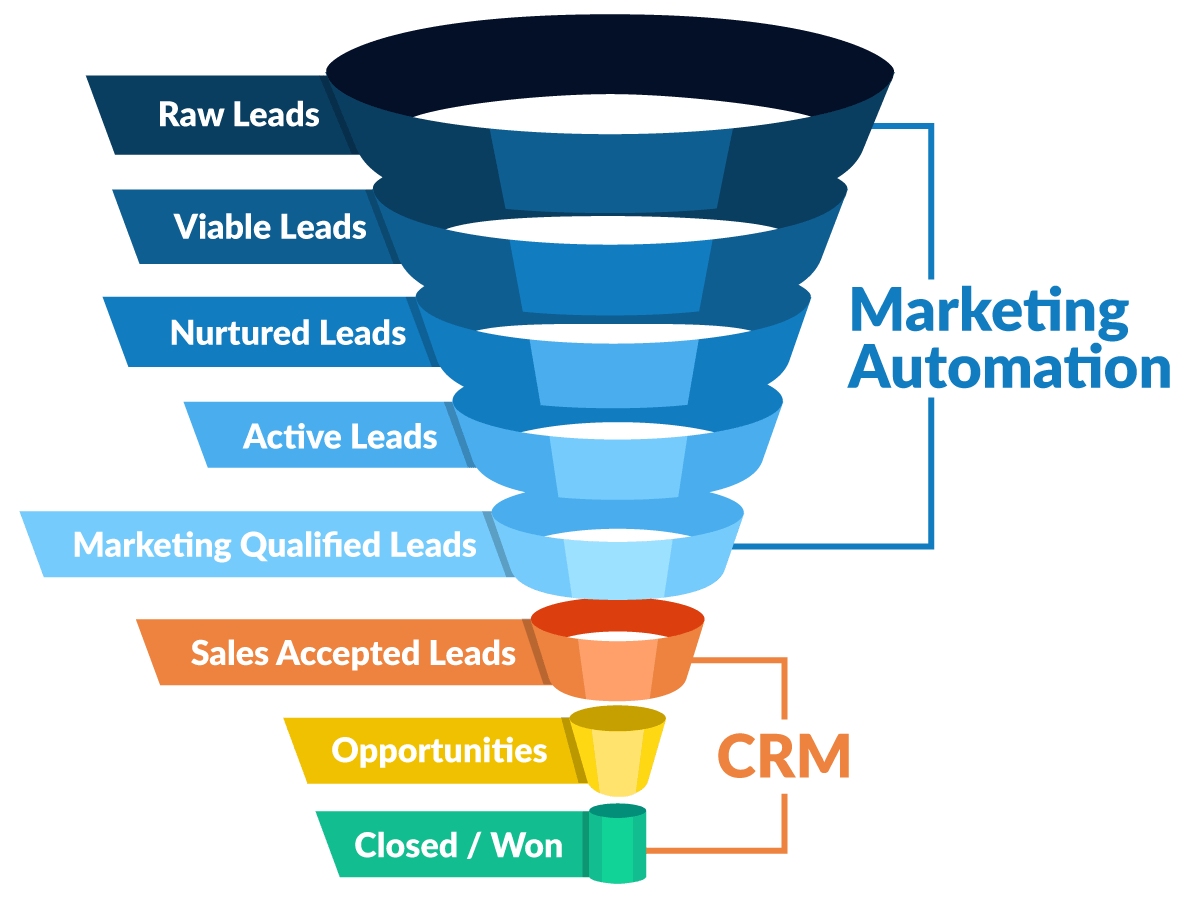 This may come as a bit of a surprise, but CRM (known as customer relationship management) software and marketing automation software, are two separate things. If this comes as a surprise, then don't be concerned, you are not alone.
At first glance, these two things appear to be very similar things. They are, however, two very different entities serving two very different purposes. For sales leaders and marketers, it is critical to clearly understand what separates these two types of software.
Why? Well, sales leaders and marketers need to be able to distinguish these two software types in order to select which one will be the best to implement for their company. While the two software types may appear similar, choosing the wrong one can mean a breakdown in the business's funnel system, thereby causing harm to the bottom line.
So, now that you know that there is a difference between the two and that it is important in deciphering which one to use, let's dig into exactly what those key differences are so that we can see which will serve your business the best.
What are the Key Differences Between Marketing Automation and CRM Software?
To put it simply, the major difference between these two software's is the target market. In even simpler terms, the main difference is that marketing automation software is focused on marketing while CRM software is focused more on sales.
When you use marketing automation tools, you will be enabling your company access to a system that will assist your company to manage your marketing tasks, including automation and workflow.
Using CRM software like https://sharpspring.com/crm-marketing-automation/, on the other hand, gives your company a strategy to manage your company's interactions with both potential clients as well as currents ones. This type of system will enable you to save your client's essential information and all the interaction that you have with that client, organized in one place. Imagine having one place for each client where you have all correspondence and information (like address, names, etc.) in one organized place.
Let's take a closer look at the differences between these two and how each software can benefit your business.
Firstly, we will dive into Marketing Automation Software.
Marketing Automation Software
What is it?
As we have already seen, marketing automation software allows your business to see all the potential top-funnel activity, especially the times that your website, email, and even forms are opened and/filled out. You will be able to monitor the time it takes between an email is received and opened, when and how your website is opened, and all helpful information of that sort.
What is it Used For?
What this type of marketing software is used for is pretty self-explanatory. Marketers will generally utilize this software when they want to have a system to organize and schedule marketing campaigns, including sending emails and publishing blog posts. What are the Benefits of Marketing Automation Software?
Organize current and prospective clients into mailing lists based on data gathered.     This data will include past interactions, preferences, and interests.
Your business will be enabled to send triggered emails at the optimum time when the customer shows peaked interest in a product or service.
Schedule drip campaigns.
Views analytics detailing the results of the campaign.
Furthermore, marketing automation software assists your company in gathering potential leads to your company's sales team. Once this lead has progressed to become a customer, the CRM software will be used to actually track the communication between your company and the customer.
Does your Business Need Marketing Automation Software?
Your business could benefit from the use of marketing automation software if you are dealing with the following:
Your business is expanding, and the client list is expanding along with it. This could prove challenging to manually manage the client list. If you have a long list of clients to email, then chances are this is a painstaking task that can be difficult to stay on top of. Marketing automation software is designed to help your business to handle these emails, ensuring that they are at the correct stage of the marketing funnel at the correct time thereby assisting in taking them from being potential leads to becoming clients.
You have a client list that is small. Marketing automation software is not just for businesses with too large to handle customer lists. If you are seeking growth for your client list, then marketing automation can help. This is because marketing automation software can assist in homogenizing your outreach experience.
 What are you have outstanding and engaging content but do not have any way to get it to potential clients? Marketing automation software can help you get your content to the eyes and fingertips of prospective clients.
If you are interested in helping your business to benefit from marketing automation software, then take a look at the following list. These are some of the most popular marketing software available:
MailChimp

HubSpot Marketing Automation

Infusionsoft
GetResponse
SendinBlue
If you want to use multiple apps, for example MailChimp and HubSpot, you can use a tool such as PieSync which will sync all of your customer data across the two apps. 
Now that we have covered marketing automation software, let's dive into CRM so that we can understand the differences between these two softwares.
CRM- Customer Relationship Management Software
What does CRM Software Do?
CRM software is designed to store information that can assist your business in communications between you and your clients. Among other things, this stored information includes:
How long the client has been a customer
Records of past purchases
Times, dates, and notes of telephone communications
Emails between the client, customer service and the sales between.
Once a potential contact becomes a client, CRM software steps in to take over. The CRM software is designed to optimize communications between your business and the client. This enhanced and intuitive communication can then assist your business in enhancing your customer satisfaction and this reflects in the profits.
How can your Business Benefit from CRM Software?
– CRM software will guide your sales personnel during the sale. For example, a   will be able to identify where in the sales process a customer is and your salesperson will easily be able to close the sale.
– CRM software will help your business to intuitively identify which promotional material, which is more likely to result in profitable sales, to present to clients.
– When your business interacts with clients, all the previous communication history will be gathered in one place, helping your company to provide a personalized experience.
– Some CRM software connects with social media. This will help your business to analyze which social media sites attract the most traffic.
– Internal alerts can be used to notify your business of several key factors; when a call is scheduled, a client's special occasion, or when an account requires renewal.
So, at the end of the day what can CRM software help your business to achieve? The sales process can be more intuitive and streamlined, offering your clients a personal and positive experience.
How do you Know if your Business Needs CRM Software?
If your business has consistent reports of bad service then CRM software can help bring your customer service up to good ratings.
Does your business lose track of clients and or their information? Then CRM software can track customers that are routed to various different departments and help your customers have a positive experience.
Before CRM software, businesses often use simple spreadsheets. However, a higher number of leads can make this difficult. Therefore, CRM software can step in and simplify the process of tracking customers' data.
The following CRM software systems are proving to be the most popular:
Zoho
Microsoft Dynamics
Salesforce
Odoo
OroCRM
Are you still wondering whether your business requires CRM software or marketing automation software? It can be helpful if you take a look at your sales funnel to see where your business is facing the most challenges. This should help you to identify the areas that could use the most assistance, and then which software to use.
In many cases, smaller business will use CRM systems to
Typically, small businesses begin by adopting a CRM to enhance the lower end of the sales funnel, which, in turn, will help to seal more sales. Typically speaking, the company begins to expand and more investment in marketing is usually made. Once the business has grown to this stage with an increase in marketing and promotions, then a marketing automation system can be extremely beneficial. Usually, the CRM system will then be integrated and synced with the marketing automation system. This is essential for both sales and customer service teams. This way, the sales team will be able to know what and how the customer has been exposed to in terms of marketing.
Summary
While the two systems have overlapping features, the key differences between the two are:
– the type of users
– the core function of the systems
– the goal and the role of the system in the buyer's process
Essentially, the two software's have distinctly different purposes and use different tools even though the same information is usually processed.
This is an article provided by our partners network. It might not necessarily reflect the views or opinions of our editorial team and management.
Contributed content

Founder Dinis Guarda
IntelligentHQ Your New Business Network.
IntelligentHQ is a Business network and an expert source for finance, capital markets and intelligence for thousands of global business professionals, startups, and companies.
We exist at the point of intersection between technology, social media, finance and innovation.
IntelligentHQ leverages innovation and scale of social digital technology, analytics, news and distribution to create an unparalleled, full digital medium and social business network spectrum.
IntelligentHQ is working hard, to become a trusted, and indispensable source of business news and analytics, within financial services and its associated supply chains and ecosystems.