Interview: The Inspiring Story Of Emad Rahim (part two): The Future Of Business Education. Intelligenthq
You are an academic, author, speaker, and entrepreneur. How do you manage the borders between such different areas?
I don't think they are different. If you view them as being different then it would be very hard to manage. I teach, talk, write and practice entrepreneurship. I am what I consider an "academic entrepreneur." I earned all graduate degrees and doctorate in business and conducted my post-doctoral research in management. I started businesses, operated organizations and have written a great deal on the topic of management and entrepreneurship. Everything I do supports my academic brand.
What challenges do you think education, particularly business education and the academic world will have to face, in a world obsessed with fast delivery and accelerated digital startup focus?
Its making their brand stick in a global market. There is a lot of noise out there and students are becoming very consumer savvy. Business schools and universities cannot just throw their curriculum online and use their brand name to get students into the door. They have to think like a startup and be innovative and creative with marketing, technology and growing their social media presence. There are for-profit schools and MBA programs out there that are growing three times the amount of traditional brick and mortar schools. They may not have the brand name of Harvard or MIT, but their online platform, social media engagement, action based learning approach and marketing is winning over students globally. Look at the Jack Welch Management Institute's Executive MBA at Strayer University which is predicted to be the fastest growing MBA program in the world. They are less than 5 years old and have achieved rankings, awards, press and is posed to compete against the top MBA programs around the world.
You have a quite high profile as a global thought leader, educational entrepreneur and strategist. What are the most important trends for businesses to pay attention to regarding education?
Generation Y students are embracing more non-traditional education and experiential learning. They are resisting the traditional management focused MBA. Universities have seen a big increase in student interest and engagement around topics relating to entrepreneurship, sustainability and global leadership. The MBA programs that seem to get a lot of buzz in social media and on the 'blogger-sphere' are those that provide students with the opportunity to start their own business (Syracuse University, Babson College, Oklahoma State University), contribute to solving social and environmental problems (Stanford University, UC Berkeley, Cornell University) and have a voice to help shape our world (Tulane University, IESE Business School, Thunderbird School of Global Management).
What are the areas on which you focus as an education strategist?
Creating meaningful curriculum, student focus culture and teach skills and competencies that will transform the student's career and personal life. We are talking about a "ready to work" type of education that teaches students to apply theory into practice. Making case studies, lectures, course materials and assignments relevant to the student's workplace and professional aspirations. Cultivating an online experience that fosters fellowship, meaningful networks and life-long friendships. Bringing the curriculum to life by using the latest technology, integrating the most creative pedagogy, providing relevant tools and apps, adapting to the students learning style and life situation, and making business education inclusive and approachable.
How are mobile, apps, and social media changing the way education is created, managed, and delivered today?
The online MBA program that effectively utilizes technology in their online platform will standout to students and employers. Universities will have to invest more money, time and resources in developing their online content and platform. I believe we will see more proprietary e-learning platforms being created and universities developing apps to support the usage of tablets and smartphones in the classroom (online and face-to face). Online MBAs need to offer more opportunities to attend live lectures that are fully online to engage with their students from around the world in real-time.
What trends do you see shaping with accreditations for Universities and business schools such as AACSB, ACBSP, AMBA or EQUIS as it relates to nontraditional education?
Accreditation is very important. When I started graduate school back in 2005 there were only a handful of traditional universities (research and state) offering online MBA degree programs accredited by the AACSB or ACBSP. There were a few more Executive MBA programs that offered evening and weekend options, but these programs still expected students to live and work locally. Now there are thousands of online degree programs being offered by traditional and proprietary schools that are accredited by the AACSB, ACBSP and AMBA. While enrolment has decreased in the last few years, I predict more schools will be taking their traditional MBA online in the next few years to meet the educational and flexibility needs and of their students. I also believe that more Executive MBA programs will offer a fully online option for their students or increase the percentage of courses being taught online. Universities must overcome challenges relating to budget, resources and campus space. Developing more online options for students will create more opportunities for a university and combat some of these challenges.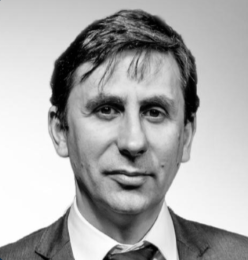 Dinis Guarda is the founder of intelligenthq.com and an author, serial entrepreneur and CEO of ztudium that manages openbusinesscouncil.org, fashionabc.org, blocksdna.com, lifesdna.com.
He creates and helps build ventures focused on global growth, 360 digital strategies, sustainable innovation, Blockchain, Fintech, AI and new emerging business models such as ICOs / tokenomics.
Dinis is the founder/CEO of ztudium that manages blocksdna / lifesdna. These products and platforms offer multiple AI P2P, fintech, blockchain, search engine and PaaS solutions in consumer wellness healthcare and life style with a global team of experts and universities.
He is the founder of coinsdna a new swiss regulated, Swiss based, institutional grade token and cryptocurrencies blockchain exchange. He is founder of DragonBloc a blockchain, AI, Fintech fund and co-founder of Freedomee project.
Dinis has created various companies namely Ztudium, a tech, digital and AI blockchain startup that builds cutting edge software, big data insights, publishes intelligenthq.com, hedgethink.com, fashionabc.org, openbusinesscouncil.org and tradersdna.com, citiesabc.com among others.
Dinis is the author of various books. His upcoming books "4IR AI Blockchain Fintech IoT Reinventing a Nation", "How Businesses and Governments can Prosper with Fintech, Blockchain and AI?", also the bigger case study and book (400 pages) "Blockchain, AI and Crypto Economics – The Next Tsunami?" last the "Tokenomics and ICOs – How to be good at the new digital world of finance / Crypto" will be launched in 2018.
Some of the companies Dinis created or has been involved have reached over 1 USD billions in valuation. Dinis has advised and was responsible for some top financial organisations, 100 cryptocurrencies worldwide and Fortune 500 companies.
Dinis is involved as a strategist, board member and advisor with the payments, lifestyle, blockchain reward community app Glance technologies, for whom he built the blockchain messaging / payment / loyalty software Blockimpact, the seminal Hyperloop Transportations project, Kora, and blockchain cybersecurity Privus.
He is listed in various global fintech, blockchain, AI, social media industry top lists as an influencer in position top 10/20 within 100 rankings: such as Top People In Blockchain | Cointelegraph https://top.cointelegraph.com/ and https://cryptoweekly.co/100/ .
He has been a lecturer at Copenhagen Business School, Groupe INSEEC/Monaco University and other leading world universities.
He is a shareholder of the fintech social money transfer app Moneymailme and math edutech gamification children's app Gozoa.
Between 2014 and 2015 he was involved in creating a fabbanking.com a digital bank between Asia and Africa as Chief Commercial Officer and Marketing Officer responsible for all legal, tech and business development. Between 2009 and 2010 he was the founder of one of the world first fintech, social trading platforms tradingfloor.com for Saxo Bank. In 2011 he created the B2B platforms socialmediacouncil.org and openbusinesscouncil.org with Jamie Burke.