FutureFest 2016 is back, bringing innovation that is technological and conceptual to curious revellers at Tobacco Dock in East London. With a whirlwind of installations, debates and performances, the future is bright and has something for everyone.
Getting the people in the future of work was a lively and thought-provoking panel debate on how the world of work is moving beyond the current and familiar 'hire and fire' systems. The panel explored a future of deep collaboration and job-sharing (even at senior levels) to allow greater diversity, cross-pollination and more effective problem-solving. This spirit of collaboration will extend to our relationship with technology, that will not replace humans, rather it will allow us to understand each other better. With mobile phones knowing more about us than our own mother, our data could hold a new layer of richness and tell us everything, from who we are most likely to get on with to what tasks we're naturally better at.
Optimising teams leads to better decision making and greater all round sustainability. Culturally, there is a drive for more connectedness, safety and transparency with smaller teams having the autonomy to carve out their own identity within an ever-changing landscape.
Is the future of love a complicated one?
The future of love, proves to be (rather unsurprisingly) a complicated one. In Hyper-enhanced sensualities, the panel chaired by Ghislaine Boddington, juxtaposed the development of body technologies and presence (including extended body projection) with the reality of millennials having less sex than previous generations and 61% of men in Japan are not in a relationship. It's difficult to know exactly how much technology is contributing to this situation, however, using it to enhance and foster connection is very valuable, for example with multi-player games and immersive, emotionally aware dating environments in virtual reality.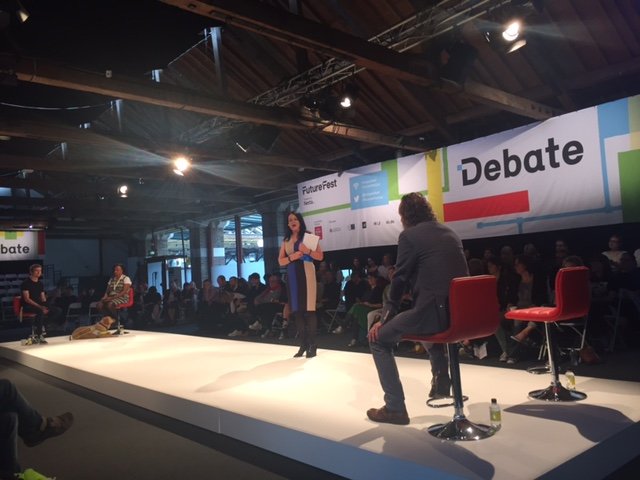 In these spaces, there is an opportunity for gender fluidity and a crafting of identities due to the breakdown of dualism. A drawback of digital intimacy is that sight becomes a dominant, seductive sense and that people who are ostracised in 'real life' due to disability may find it even harder to feel seen by society when they are not interacting with an avatar.
Social Entrepreneurship is Key
In How to change the world, Melody Hossaini, tells us that we are on the brink of a fourth industrial revolution and that social entrepreneurship is the key. We are moving away from how much we know intellectually to developing creativity, complex problem-solving and critical thinking. Emotional intelligence, collaboration and self-education are also seen as essential survival skills needed to succeed. With an ever-growing rise in freelancers and open source education platforms, young people are creating a new narrative for the world they want to belong in.
There was no shortage of creativity with a host of moving installations. Timeless, a fictional beauty brand, offered well-coined perfumes and drip-feeding of information on social egg freezing to raise awareness of the reasons why this industry has been booming in recent years. Perfumes include 'Stable Mate', 'No Money No Baby' and 'Man's World' and give us an olfactory wake-up call on the future of fertility.
The Economist provided food for thought by serving insect ice-cream, the dessert of choice in a future when we will struggle to feed a growing population. Insects are healthier than meat and packed with protein, calcium, fiber, iron and zinc. There are nearly 2000 different kinds that are edible and with significantly less impact on natural resources and the environment, it's difficult to imagine why we haven't added them to our culinary repertoire already!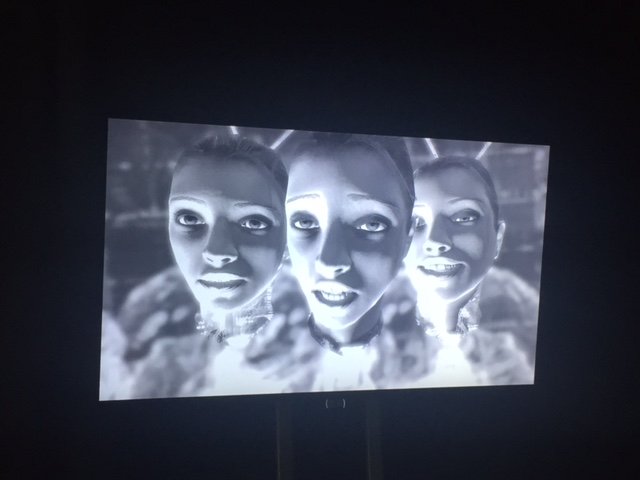 Love after death
Love after death invited us to consider our own mortality and turn the finality of death into creative expression. Fictional legacy experts were on hand to help us decide our wishes for our body and digital identity, with password keys and the opportunity to leave digital messages for our loved ones that fade over time, allowing them to grieve and let go. The project tells us that 'love does not end when someone dies, love takes on new forms, living through technology, through the earth cradling our bodies and the memories, which we keep in our hearts and on our devices'. This a hopeful vision for the future.
Kim Loliya is a facilitator, bodyworker and community leader who runs workshops and talks on sex, relationships and body positivity, using embodiment principles and deep listening practices to work with groups and individuals. With a commitment to hold safe spaces where people can really be (with) themselves, Kim promotes radical self-love as a way of bringing about transformation on an individual, societal and global scale. Kim loves convening others and building communities that are inclusive, non-judgemental and open-hearted.