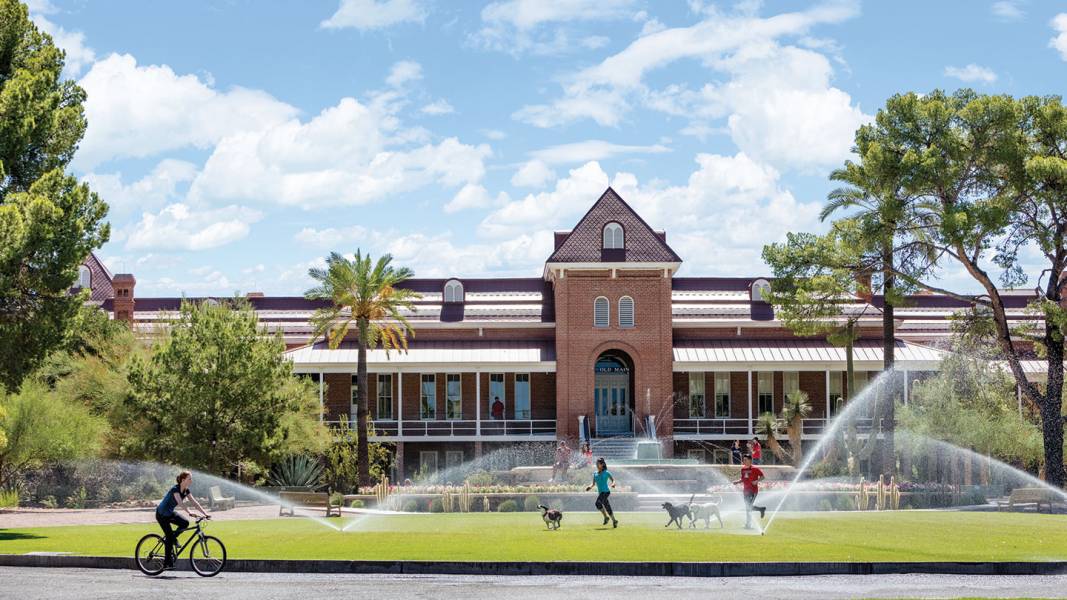 Dr. Charles Minnick serves as President Emeritus and Professor in the Forbes School of Business & Technology at the University of Arizona Global Campus (UAGC.) He also provides leadership for the MBA program and works to support new students entering the Forbes School of Business and Technology. Previously he served for 6 ½ years as president of the Ashford University residential and online campuses in Clinton, Iowa and eight years as dean of the College of Business and Professional Studies at Ashford.
Before Ashford and UAGC, Dr. Charles Minnick spent nine years at Saint Ambrose University in Davenport, Iowa. His last position there was associate director and instructor in the Master of Organizational Leadership program. Dr. Minnick's bachelor's degree and MBA are both from Saint Ambrose, and his PhD is in Management and Decision Sciences with a concentration in Leadership and Organizational Change from Walden University. He has done consulting work in the areas of employee motivation, business ethics, improving team performance, strategic planning, and conflict management, and has presented at conferences across the United Sates.
In April of 2021 he was elected to serve on the Board of Directors for the International Accreditation Council for Business Education.  In July of 2014, he was appointed by then Iowa Governor Branstad to serve on the Iowa Commission of Volunteer Service. He was reappointed by current Iowa Governor Reynolds to a second three-year term in 2017. In 2019, he was elected for a one-year term as President of the Iowa Advisory Council on Military Education (IA-ACME.)
In 2009, Dr. Minnick was recognized for excellence in teaching by the Commission for Accelerated Programs. He was one of three award recipients from across the United States. In 2010, he received Bridgepoint Education's "Best in Class" award. This is presented to Bridgepoint Education employees who best exemplify Bridgepoint Education's commitment to Quality, Caring, and Innovation. He is also co-author of two books: The Five Functions of Effective Management and Stay Engaged…It's Essential. Chunks of Leadership Wisdom and Knowledge to Improve Your Leadership Effectiveness.
---
More Higher Ed Thought Leadership Series Interviews
Higher ED Thought Leadership Series: Emad Rahim Interviews Dr. Casey Crabill, Onondaga Community College's President
Higher ED Thought Leadership Series: Emad Rahim Interviews Dr. Harper, Provost at Cambridge Corporate University
Emad Rahim Interviews Merodie A. Hancock, PhD President, Thomas Edison State University
Higher ED Thought Leadership Series: Emad Rahim Interviews Dr. Michael Williams, Dean of the School of Business, Public Service at Thomas Edison State University
---
Emad Rahim (ER): Please tell us how you got started in your administrative career in higher education?
Charles Minnick (CM): Almost 30 years ago my first position in higher education was director of admissions for a technical/trade school.  It was a great introduction for me to the field of higher education. It really showed me how higher education is such a powerful tool to help student's reach their personal, professional, and academic goals. I have been in love with higher education ever since!
ER: You have a unique role serving as President Emeritus University of Arizona Global Campus. Can you please share your role and responsibilities with us? 
CM: I am in my 16th year with the University and I have been blessed to have worked with so many people who have provided me with great opportunities.  In my role as Prescient Emeritus I have the honor of providing leadership for our MBA program plus I also serve as lead faculty member for our BUS 105 course which is the first course that our Forbes School of Business and Technology undergraduate students take. Both areas area a great passion of mine.
As President Emeritus I also have the opportunity to work on several projects that span the entire University.  Another passion of mine to collaborate with my UAGC colleagues as we maintain our laser focus on making a positive difference in the lives of each and every one of our UAGC students.
ER: What is your leadership style and how has it evolved during your time at the University of Arizona Global Campus?
CM: I think my leadership style revolves around that idea that you need to surround yourself with good, smart, committed, and passionate people, provide them with meaningful and important work, and help and support them along the way. Over my years at UAGC my leadership experiences have shown me the importance of providing opportunities for others.  We all get where we are in life because others have believed in us and have given us opportunities.  I feel it is my responsibility to provide opportunities for the next generation of leaders.
ER: Business is constantly changing, what types of things is Forbes School of Business and Technology doing to make sure students are learning the most updated business information?
CM: One of the significant advantages that our students possess is our relationship with Forbes media. Our students have the opportunity to take advantage of nearly a century's worth of business research at the Forbes School of Business and Technology. Our relationship with Forbes media allows our students to see where commerce has been, where it is at, and where it is going.
ER: Faculty play a critical role in the development of your student's learning and in helping build their business competencies. What type of things are your MBA faculty involved in and doing that make their classroom unique to the student's learning experience?
CM: I am so very proud of our MBA faculty.  Our esteemed faculty are involved in discipline specific research and have years of industry experience that they bring to the classroom on a daily basis.  Our faculty are also committed to designing and implementing learner-centered curriculum aimed at encouraging learners to become creators of their own education rather than passive recipients of secondhand knowledge. Connecting theory to practice is a critical component of designing learner-centered curriculum.
ER: What type of qualifications and experiences does your MBA faculty bring to the class? How do you make sure they stay updated in their area of expertise and field of study?
CM: All our faculty have masters' degrees and the majority have doctoral degrees. We are very selective when it comes to faculty who are approved to teach in our MBA program. They must have a combination of academic preparation, real world experience and the ability to transfer that knowledge effectively to our students. Most importantly, is that they must possess a passion for helping our students reach graduation day!
UAGC has an outstanding Center for Excellence in Teaching and Learning. They offer a myriad of professional development opportunities for our faculty. We feel it is important to provide our faculty with relevant, timely, and professionally relevant development opportunities.
ER: Do your students have input on faculty promotion, award, and recognition programs? If so, can you expand on this and provide examples.
CM: Each course that our students take at UAGC has an end of course survey in which student can provide us feedback on various components of their classroom experience.  I also receive emails from our students who are so appreciative and complimentary of our faculty and how they have gone above and beyond to support our students and their academic success. This is another reason I am so very proud of our faculty. Our UAGC students are truly the most important people at our university.  They are simply the best!!
ER: MBA degrees are still in high demand, but the competition is larger than ever. How does your MBA program at Forbes School of Business and Technology differ from other universities?
CM: As I mentioned earlier, our relationship with Forbes media provides a huge competitive advantage for our students. Steve Forbes is featured in our Global Economics and Political Influence course.  He shares his valuable business insight in videos throughout the course.
We have a scaffolding case study that builds from one course to the next thought the program. Additionally, our MBA program allows our students to build a personal portfolio of their work as they progress through the program.
ER: Almost every university is going online or trying to offer online degree programs. What innovative things are you doing in your online MBA program and how do you set yourself apart?
CM: I think you bring up a good point when you mentioned that almost every university is going online or is trying to offer online degree programs.  UAGC is not trying to go online we are online and have been offering relevant, accessible, affordable online programs for many years.  Student success driven online programming is at the very core of what we do, and have done, for many years. Our flexible and convenient online platform coupled with a full suite of resources provides UAGC students the ability to balance school and life while pursuing their dreams. Students are at UAGC for a better tomorrow.
Additionally, we offer interactive business simulations which, as I mentioned earlier, encourages our students to become creators of their own education rather than passive recipients of secondhand knowledge. We also offer gamification in our courses. These rigorous, thought provoking learning modules enhance both student learning and engagement.
We also provide our students with career development tools including CliftonStrenghts talent assessment, personal branding exercises, and LinkedIn profile development to name a few.
ER: What do you think are some of the biggest challenges that business schools are facing now and what is your institution doing to confront them?
CM: The world of business, and business education, has evolved over the years.  I feel that we cannot play the new game by the old rules. We need to engage our business community partners.  Based on input from our business community partners business schools need to develop programs that help students adapt to the ever-changing marketplace.
Another area of opportunity is globalization. Business schools must continue to develop courses, and experiences, that expose students to doing business in different parts of the world.  Business schools also need to put more emphasis on entrepreneurship, innovation, and technology balancing learning-by-studying with learning-by-doing.
Business schools also need to supplement the soft skills of leadership with the data analytics skills of the data analysis side of the house. Lastly, I think business schools need to look harder at the idea of micro-credentials. They need to be stackable, focus on cutting edge business topics, and be responsive to the needs of employers.
Business schools must be out in front of change. Business schools need to recognize the change, identify the change, and build programs to meet that change and the associated challenges.
Dr. Emad Rahim is an award-winning entrepreneur, educator, author, community leader and TEDx Speaker. He currently serve as the Endowed Entrepreneur-in-Residence at Oklahoma State University and teaches at the Jack Welch Management Institute in the Executive MBA program. He was recognized by the United Nations Foundation as a 2013 Empact100 Honoree for his social entrepreneurship work, received a Congressional Award for his community service and was the recipient of the Forty Under 40 Business Leadership Award sponsored by Syracuse University. His personal story was turned into a short documentary, "Against the Odds," and featured in the Huffington Post and Forbes. He co-authored "Leading Through Diversity: Transforming Managers Into Effective Leaders" and "The 4-Tions: Your Guide to Developing Successful Job Search Strategies" and is a frequent contributor to the Refractive Thinker book series, CEO Magazine, TweakYourBiz and YFS Entrepreneurship Magazine. Fellow him on Twitter @DrEmadRahim