The Global Green Finance Index (GGFI) is an initiative to develop a ranking of the quality and depth of Green Finance activity in financial centres. The index is based on a number of existing indices in combination with a regular survey of senior industry figures from around the world.
For GGFI, Green Finance is any financial instrument or financial services activity – including insurance, equity, bonds, commodity and derivatives trading, analytical or risk management tools – which results in positive change for the environment and society over the long term (sustainability). The most basic "greenness" criterion of a company or project it that contributes to reduce Green House Gases emissions.
One of the main goals of the GGFI is to provide the sustainable finance industry and policymakers with deep insights, clarity, and understanding on an international level on what works and what does not. This information allows the sector to assess, measure, and grow our financial centres' sustainable finance activities. The GGFI contributes to encouraging others to learn best practices. Finally, the index also acts as a driver to a healthy competition amongst the various players in finance on ways to combat climate change.
GGFI 3 was published in Paris in March 2019, Western European cities led the way, with a strong showing from Canada and leading Asia/Pacific centres.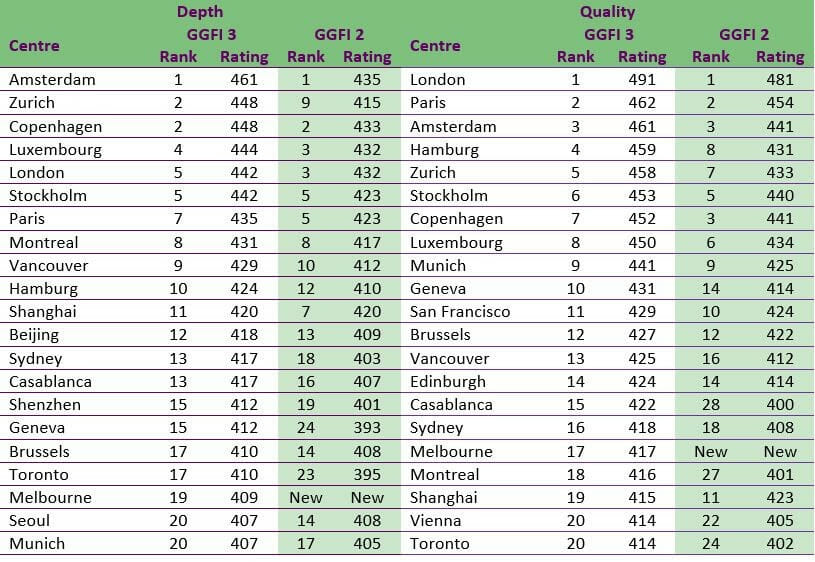 The main findings of the latest GGFI were the following:
Amsterdam retained its leading position in the depth index, with Zürich rising seven places to second equal with Copenhagen.
Luxembourg, London, and Paris all fell back slightly but remain in the top seven globally;
London and Paris retained their positions as first and second in the quality index, with Amsterdam third and Hamburg rising four places to take fourth position.
Copenhagen dropped four places in the quality index from third to seventh;A number of centres moved more than five places in the indices.
Zürich, Geneva, Toronto, Guangzhou, Edinburgh, Calgary, and Guernsey rose more than five places in the depth index; while Casablanca, Montréal, Guernsey, and the Isle of Man rose more than five places for quality;
Perceptions of the prevalence of green finance are still ahead of market reality, with the average assessment for depth of green finance at 386 out of 1,000. There are signs of slower growth in some green finance markets, for example the issuance of Green Bonds slowed significantly in 2018, although this is forecast to pick up in 2019, as demand still outstrips supply.
The third edition of the GGFI also included a focus section on disinvestment. It used existing data along with new data sets that were developed in collaboration with various partners to draw conclusions on the potential impact of disinvestment from fossil fuels on financial centres with high revenues drawn from large oil and gas companies.
The fourth edition of the GGFI is due to be published in September 2019. The GGFI 4 will continue to provide a dynamic view of financial centres' work to develop their green finance offerings.Companies can help in the survey by completing the following questionaire. People concluding it will be sent a copy of the findings.
The GGFI has been developed by Finance Watch and the Long Finance initiative with support from the MAVA Foundation.
Founded by the late Dr Luc Hoffmann in 1994, MAVA is a Swiss-based philanthropic foundation with a focus on biodiversity conservation. Running three region-based programmes in Switzerland, the Mediterranean, and West Africa, and a fourth programme focused on Sustainable Economy, MAVA works through partnerships with international, national, and local NGOs, research institutions and universities, and occasionally with government bodies or individuals.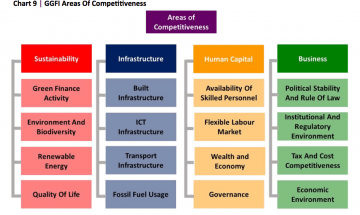 Finance Watch is a European, not-for-profit association of civil society members, dedicated to making finance work for the good of society. Finance Watch works for a financial system that allocates capital to productive use through fair and open markets, in a transparent and sustainable manner without exploiting or endangering society at large.
Z/Yen helps organisations make better choices. The organization's name combines Zen and Yen – 'a philosophical desire to succeed' – in a ratio, recognising that all decisions are trade-offs. One of Z/Yen's specialisms is the development and publication of research combining factor analysis and professional assessments.

Founder Dinis Guarda
IntelligentHQ Your New Business Network.
IntelligentHQ is a Business network and an expert source for finance, capital markets and intelligence for thousands of global business professionals, startups, and companies.
We exist at the point of intersection between technology, social media, finance and innovation.
IntelligentHQ leverages innovation and scale of social digital technology, analytics, news and distribution to create an unparalleled, full digital medium and social business network spectrum.
IntelligentHQ is working hard, to become a trusted, and indispensable source of business news and analytics, within financial services and its associated supply chains and ecosystems.