Marketing has seen its fair share of big personalities over the years, from early 20th century giants such as as Bill Bernbach and David Ogilvy to more recent visionaries such as Apple's Steve Jobs. These are men who came to dominate their professions through sheer force of personality – and perhaps more importantly, their quotability.
But advertising just isn't what it used to be. People have learned to tune it out, aided and abetted by technological advances such as DVRs and the popular AdBlock browser plug-in. In particular, the explosion of social media has changed the way that people consume content and experience culture in a profound way. The old tricks just don't work anymore, and if even if they do, they don't work nearly as well as they used to. This created a void for a new marketing messiah – someone who could tell the world how to sell things to a public that had become adept at ignoring advertising.
Step forward, Gary Vaynerchuk. While there are countless people claiming to be social media marketing experts – so many, in fact, that the very concept has lost nearly all credibility – here is a man that can actually walk it like he talks it. And crucially, he talks a lot. And when he does, millions of people listen. He has over a million followers on Twitter, and can command between $40,000 and $50,000 for a single speaking engagement. His four-year-old marketing company VaynerMedia has 290 employees and can boast a roster of clients that includes PepsiCo, General Electric, and Del Monte. He's also a best-selling author, and recently made Business Week's list of the top 20 people every entrepreneur should be following.
The Making of a Social Media Guru
Unlike many social media marketers who have shied away from describing themselves as 'social media experts' or similar, Vaynerchuk embraces it with gusto. In fact, the very idea of shying away from anything seems anathema to this larger-than-life personality. Take this quote from a recent interview, for example:
"I have as big of an ego as it gets… but I have, stunningly, a lot of humility considering some of the accomplishments I've had."
And while this type of self-aggrandisement might not be to everybody's taste, he may just have a point. By the age of 8, he was operating seven lemonade stands in his local neighbourhood, and by the age of 12 he had amassed $30,000 in cash by selling baseball cards at local malls. And then he got a taste for wine – or rather, for selling wine. While working in his parent's liquor store, he developed an interest in wine collecting, with which he found he could draw plenty of parallels with his previous hobby of collecting baseball cards.
And as with baseball cards, he soon thought about how he was going to make money out of it. He became a self-made wine expert, poring over wine books and copies of the Wine Spectator, and spending every weekend of his college years working at his family's wine store. He saw the potential in e-commerce early, and launched an online wine marketplace called winelibrary.com which helped to grow his family's business from $3m in 1997 to $45m in 2005.
The Wine Library Goes Viral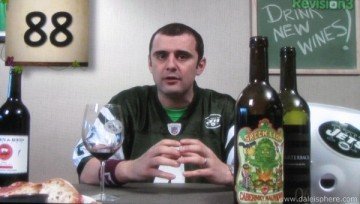 In 2006, he started a daily video blog on YouTube called Wine Library TV, which he (loudly) called "the Internet's most passionate wine program!" in a thick New Jersey accent. The show was taped five days a week for five and a half years, and consisted of Vaynerchuk sitting at a table in his office describing wines in terms of things that the everyday Joe could relate to. Like bubblegum, or hot dogs for example.
The show was a smash, and led to an appearance on top US talk show Conan O'Brien – all of which helped Wine Library's revenue to shoot past the $60 million mark. Mr Vaynerchuk had become a poster boy for a generation of internet entrepreneurs. but the internet was changing, and he knew it.
In fact, he had seen this change happening long before most people, and became an early-stage investor in both Facebook and Twitter. The importance of social media to business was starting to become all-consuming, leaving countless executives scratching their heads wondering what to do about it. Millions were being poured into social media marketing, but very few people really seemed to know how to do it. Having proved himself with the viral success of the Wine Library, Vaynerchuk soon found himself at the forefront of a massive new industry – and he wasn't the type to miss out on a big opportunity….
How @garyvee is Riding the Social Media Marketing and Business Revolution – Part 2
I am a writer based in London, specialising in finance, trading, investment, and forex. Aside from the articles and content I write for IntelligentHQ, I also write for euroinvestor.com, and I have also written educational trading and investment guides for various websites including tradingquarter.com. Before specialising in finance, I worked as a writer for various digital marketing firms, specialising in online SEO-friendly content. I grew up in Aberdeen, Scotland, and I have an MA in English Literature from the University of Glasgow and I am a lead musician in a band. You can find me on twitter @pmilne100.