The runaway success of Wine Library TV made Gary Vaynerchuk into something of a celebrity, and it wasn't long before other companies were beating a path to his door to tap into his undoubted marketing nous. At this point, many major corporations were pumping millions of dollars into digital and social marketing, and in many cases it just wasn't working.
From Entrepreneur to Guru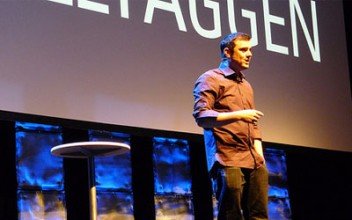 Meanwhile, here was this guy who was achieving the digital marketing holy grail – viral success – with minimal investment. Furthermore, he was fast becoming a highly influential mouthpiece for a new generation of internet marketers through his speaking appearances at tech conferences. The first of these, at the  Future of Web Apps conference in Miami in 2009,  was a resounding success, and soon after, a speech he gave at the Javits Convention Center (which is unfortunately no longer online) became a viral success. In this speech, he begged the audience to quit their jobs unless they really enjoyed them.
"If you love Alf, do an Alf blog!" he yelled, strutting across the stage "You collect Smurfs, Smurf it up! Stop crying and just keep hustling. Hustle is the most important word ever."
The online popularity of this speech led to calls from book publishers, and it wasn't long before Vaynerchuk became the go-to guru for a new generation of internet entrepreneurs. Naturally, he was quick to capitalise on his new-found status, signing up with the same talent agency as Oprah, and inking a $1,000,000 book deal with HarperStudio.
His first book, "Crush It! Why Now is the Time to Cash in on Your Passion" struck a chord with readers, peaking at #2 on the New York Times Hardcover Advice & Misc. Bestseller list. His second book, "The Thank You Economy", which focused on the need for companies to adapt to the fundamental shifts in consumer behaviour brought about by the internet, was published in 2011 and repeated this feat.
Meanwhile, his speaking engagements were becoming the stuff of legend, and soon after he was inundated with executives asking for his advice. This led to the formation of his marketing agency VaynerMedia, which can boast clients including Fox Broadcasting, the Campbell Soup Company, and General Electric.
Most of his speeches run along similar lines – he gives his back story to establish credibility, before launching into a critical tirade against the majority of social media marketing campaigns. His blustering, obscenity-laced approach to public (and one suspects, private) speaking is not to everyone's taste, but it certainly seems to please the crowds. And, it also seems to win him plenty of major clients – even though he doesn't explicitly advertise his agency in these appearances.
Riding the Hashtag
So what does Vaynerchuk do that's so different to the rest of the social media marketing rabble? His detractors paint him as something of a rent-a-quote merchant, spouting banalities wrapped up as genius insights. Yet, for every critic, there seem to be thousands of loyal disciples hanging on his every word. Ultimately, Vaynerchuk's energy and determination to live his life out loud is his message.
Take his recent Youtube rant, "Every Single One of You is a Media Company"(see below) for example. The message he's trying to convey – that the internet has democratised the publishing process to the extent that there are virtually no costs involved, and that people should strive to produce content of genuine value – is hardly an original sentiment. What sets him apart is the urgency with which he delivers the message – and this is what gets him results.
Although VaynerMedia's approach to marketing is largely similar to that of most other agencies in many respects, it's the urgency with which they set about their business that sets them apart. The instant, news-based nature of social media requires a reactive, heavily involved approach, and this is central to Vaynerchuk's modus operandi.
"The people I'm trying to hire here are journalists and improv actors," Mr. Vaynerchuk said in a recent New York Times interview. "Creative today is more about breaking news. We need clever, funny and quick. If orange juice trees burn down in all of Florida, is there a play for our Tropicana client?"
This approach, which he calls "riding the hashtag", is one of his go-to strategies for social media marketing. It's all about genuine interactions, hooking onto whatever people are talking about on social media, and trying to somehow involve the brand. This opportunistic approach means that clients might have to be patient and wait until something suitable comes along that can be latched on to, but this is just one strand of a longer-term strategy primarily based around building relationships with people online.
And it's this – building real relationships with people online – that has become his calling card. In the third and final part of this series, we'll be talking about how Vaynerchuk sets about achieving this goal, both for himself and for his clients – and how he leverages this to achieve the ultimate goal of social media marketing.
And what is this goal? Well, perhaps it's best summed up by the quote embazoned on the giant blackboard in his two-storey Park Avenue office:
"We love social media because it sells s#!@!"
Part 3 will be published on Monday
Previous articles in this series:
How @garyvee is Riding the Social Media Marketing and Business Revolution – Part 1
I am a writer based in London, specialising in finance, trading, investment, and forex. Aside from the articles and content I write for IntelligentHQ, I also write for euroinvestor.com, and I have also written educational trading and investment guides for various websites including tradingquarter.com. Before specialising in finance, I worked as a writer for various digital marketing firms, specialising in online SEO-friendly content. I grew up in Aberdeen, Scotland, and I have an MA in English Literature from the University of Glasgow and I am a lead musician in a band. You can find me on twitter @pmilne100.