Francesca Giobbi is an Italian Brazilian fashion designer and producer, recognized by leading personalities and brands. She began her career at 18 years old when she moved to Italy to study at Milan European Institute of Design. While there, she had the opportunity to work for leading global personalities such Björk, Penelope Cruz and Luxury brands such as Versace and many others.
In the second part of this interview, with cover her career and achievements, her vision for the future of the fashion industry and her most recent project freedomee.
II. Career and achievements
Can you tell us what were the major milestones of your career?
I began working at fashion showrooms in Milan, in my first year of University. I was 18 years old and was able to do it due to my network. My experience of 11 years expanded into a global vision due to the education I was fortunate enough to receive. My first client was a Japanese group which belonged to the Japanese department store "Isetan". This was a funny coincidence because my mother lived in Tokyo during her childhood, so I grew up listening to her experiences of Japanese culture whenever we visited the Japanese quarter in São Paulo, Bairro da Liberdade (Brazil is the country where more Japanese expats live!). Then, I really enjoyed my young years as a freelance showroom sales person. I would close my collection sales campaigns and in the meantime, I would study and travel the world.
Back then, we used to work with four seasonal collections per year.  So with the introduction of the concept of fast fashion, we began working with pre-collections. Crazy energy! We would produce collection after collection. The pace and adrenaline of the work was fantastic! I really enjoyed reaching commercial goals and working with clients and deliveries, in coordination with the Marketing department. The commercial machine of "made in Italy" in the creative sector, was a big success. Then, during the 90s, Berlusconi signed a commercial deal with China allowing for  "made in Italy" to be produced in Chinese territory up to eighty percent. Its products (which were fake "made in Italy") would afterward be finished and marketed in Italy. Maybe Berlusconi never imagined that his agreement would trigger so much change including waste in fashion. Also the fashion creative industry began to have to deal with disloyal global competition, counterfeit copies, IP theft, and the generation of large amounts of rubbish and waste; in sum the disrespecting of human, social and environmental values.
In 2001 I decided to start my own brand in Brazil, and to focus on the shoe industry for the luxury market.   What I had in mind was to step into the niche of Louis XV leather shoes, produced specifically for the "made in Italy" label. Those type of shoes had a know-how that I wanted to explore. Of course I was young and with no experience in terms of commercial agreements between countries, but I truly believed that by having a good product with high quality, creative design and a skilled labour force coming from Brazil  I would be able to step into the world of giant companies like ones located in Italy and China. But it didn't quite happen as I planned… Yes, I did build a successful brand – I was present in all trendy magazines – but because I didn't have enough capital to invest in commercial marketing my sales were just for shops, not department stores, which were the ones capable of buying large quantities of stock. My first collection, appeared in all the major American Magazines, being displayed side by side with a Chanel purse, for example,  and in the same month appeared also in UK Vogue. I just couldn't believe it!
I gained lots of prestige, but because I needed to produce brand new models to for my very exclusive clients, all my returns would be reinvested in research and development. I wasn't achieving much profit.  Plus, it is important to bear in mind that because I was producing luxury shoes "made in Brazil", their price had to be 1/5th of the price of "made in Italy". That was quite unfair and scary because our shoes had more manufactured work, then any shoe "made in Italy". But since the beginning, I have always invested in handicraft, side by side with the lean production values of the factory. I realise now how at that moment I was laying the foundation for my recent project "freedomee".  Anyway, I closed the factory and began working in China and India, through an intermediary coming from the English street market sector.
I remember that when I arrived there, I noticed how he had been copying me for years! And I realised how I would never gain any money in my factory located in Brazil. Actually, what I had was an atelier of luxury shoes producing one hundred pairs of shoes per day, in 4 models. This was our daily production quota. I was practically paying to work!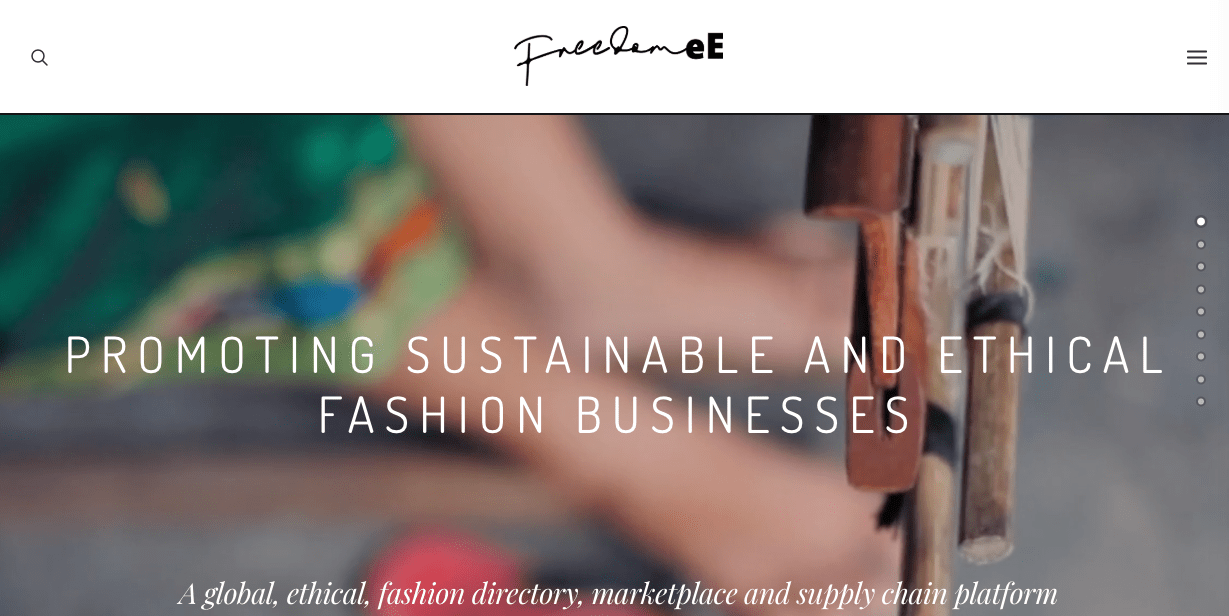 Can you tell us about your experience and work in Italy?
Italians are phenomenal at selling luxury products. It's part of their culture to state that their products are the very best. In my time there I have to admit that this was true. The collections that we would receive were amazing, with incredible back stories in terms of research and development of source materials, modelling, and empowerment of one hundred percent Italian craftmanship. You see they were dealing with a millennial culture of fabric and trims, ie pure Italian handicraft.
In my time, we would sell the luxury collections at department stores, but nowadays, brands retail those spaces inside shops. The roles are inverted, the client now instead of buying "made in Italy", sells its spaces for "made in Italy" and any other "made in" labels. So products lost quality, since the calculation of their prices implies another set of factors…
You worked with some major global brands. Can you tell us about it? 
I was a Showroom salesperson, so I received information about my business goals, customer profiles, and product information, all formatted by the brand, so that was fantastic. The collections' products were impossible to copy, and there were no Instagram or Whatsapp to send the information before the collections arrived in the stores for the street market. And there were no factories hungry for production, signing up orders with delivery dates of 10 days. At that time we sold products signed by brands and not just brands produced for marketing.
Can you tell us about your experience and work in Brazil and other places in the world such as China, India and Italy?
Outsourcing clients between China, India and Italy was a great adventure, since I love to travel and to encounter new cultures. I enjoy exploring and discovering how technology can develop industry. In the beginning, it was all fascinating, particularly in China wherein the production area everything was happening. Then, due to unfair competition, the product disappeared and the price turned to "zero". But when I came across a collection of embroidery in India where the same supplier to the luxury market was the same supplier to the mass market because of so many intermediaries and the lack of competitive labor in Europe or the United States, I said enough is enough. "Francesca" this industry has gone too far! It's not possible that the same worker earns only $ 2.30 per day working both for the mass market or the luxury market.
You created your own fashion shoe brand, can you tell us the story behind that?
The "Francesca Giobbi" brand began with my willingness to venture into entrepreneurship. I anticipated a retail opportunity to supply "made in Italy", where at the time its main supplier was China. China, in its eighty percent ownership of the productive agreement with the "made in Italy", did not yet have the business expertise to develop leather Luis XV shoes. My knowledge of the global market enabled me to run a business but the unfair competition and lack of bilateral agreements between Italy and Brazil made production growth difficult. I was able to produce thirty pairs per model, and my retail customers and luxury boutiques loved my unique shoes. I got publicity in all the key magazines, from Elle UK, Elle Brazil, Elle USA, Vogue Brazil, Vogue Italia, Vogue UK, Bazaar Russia, Bazaar Uk among many others. Celebrities like Bjork, Gisele, Penelope Cruz, Naomi Klein among other fashionable women with attitude looking for design, exclusivity and comfort, wore my creations. And still, I couldn't have make a profit since there was a lot of research and development for little end product. Also we had to sell according to "made in Brazil" prices, even if the shoes had the quality expertise of "made in Italy."
Producing fashion products has been your passion and work. How do you see that in a global complex geopolitical landscape?
Production, creation and taking advantage of the best from the craftsperson in the creative process are my passions. I understood that everything that is done valuing people, works and consequently has organic growth. But everything that is done through unfair competition does not have long lasting durability. Manufacturing is structured in such a way now, that one has to produce huge volumes to sell a lot, earning a few cents per piece. This system is broken and damages the environment, whilst humans are fed up with it. Today the fashion industry is the second most polluting global industry and all of its economic methods need to be rethought. I came to realise during these last years of global outsourcing that all manufacturers, brands, professionals in the field and consumers complain about the same things, regardless of whether they are based in China, Brazil or Italy.
You have been working with global icons such as Björk, that bought collection from you, and others can you tell us about it?
Strong women have always loved my creations. My background is in interior architecture, and because I was educated by my grandmother who was "very chic" and I worked for the best showrooms of fashion of "made in Italy" which were back then, very focused on delivering a great product, I always invested time in designing a product with amazing craftsmanship. I remember the day the manager of my store located in the noblest shopping malls of Brazil, called me saying: "Francesca I'm shaking, Björk just bought eight pairs of your shoes, and she asked if you would be willing to draw and produce something super exclusive for her."
I was very flattered, but at the time I was trying as much as possible to make my production profitable by bringing art to my shoes. It's funny that the answer to this question did not come immediately, it came with KM and through my own global research.
III. Fashion views and vision
What are the present major challenges in the fashion industry?
To reconnect with better values, by enabling production transparency.
You are an advocate of social impact and sustainability in fashion and business can you explain how you see these areas?
Fashion sustainability needs to be accessed by measuring its socio-ecological impact, and the only way to do so is by using the five pillars, that anchor what we are developing with "freedomee": social, cultural, ecological, technological and economic.
Circular economy is very dear for you. How do you see it and the relationship with the fashion industry?
The fashion industry needs to rethink how and what it is producing. It needs to develop more functional and durable products to combat excessive waste. These need to be developed for new niche markets such as products using biodegradable technology. Plus it is necessary to bear in mind income generation for micro-entrepreneurs. The fashion industry needs to look at and unite with start-ups which are creating better solutions for fostering the so-called circular economy. That's what we've come up with "freedomee" solutions. The fashion industry also requires more conscious designers who are aware of what they are developing and conscious consumers who think through what they are buying. We also need more legislation since everyone is now searching for and purchasing products online.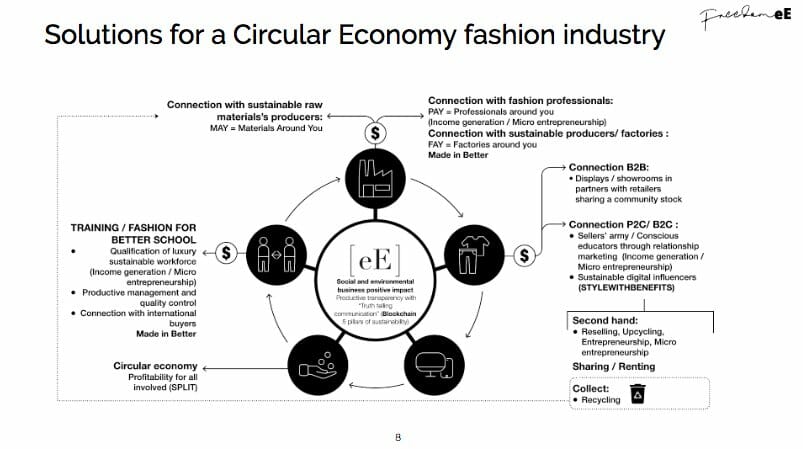 The supply chain is a major thing for the fashion industry. How do you see it?
It is crucial to foster union in order to solve the problems of the industry. That union is only possible when we minimise unloyal competition, where the consumer decides what s/he will purchase, in a transparent way, and without the manipulation of the Green Market. We need to get rid of the middlemen who eat into the costs and the margins of those who actually do the job.
How do you see digital transformation in the fashion industry?
Digital transformation has the power to educate and unite the whole industry by enabling better solutions to collective problems. It is critical to a global growth and more positive impacts.
How do you see Blockchain technologies in the fashion industry?
Blockchain has the potential to minimize the major problems of this industry. Its a three trillion dollar industry that employs directly more than 100 million people. Most of these are women who earn less than seventy dollars per month. Blockchain also has the potential to sort out problems with copyright, environmental waste, and to highlight working conditions that are similar to slavery.
You work closely with micro-entrepreneurs and artisans. What are the best practices to tackle problems in this area of the fashion industry?  
The empowerment/training of micro-entrepreneurs and their inclusion as part of the industry 4.0 is fundamental to the organic growth of new ways of producing and consuming fashion. Training has to focus on two aspects: financial/administrative management and the valuation of handicraft.
You created "Fashion for Better" and "Made in Better". Can you tell us more about that?
Fashion for better is a movement I created when I realised how the industry needs urgently to review its practices, but in order to do so, it needs information. We created a blog and a fashion consultancy to help the implementation of new practices in the industry, and to minimize the social and environmental costs this massive industry is producing.
Why Made in Better?
To end the "made in" wars and invest in improvements in the industry as a whole. There is no need to throw anything away, only to change places. If I burn the garbage of fashion I will be creating negative impacts to the ozone layer. I live today in a developing country, and for the past 14 months, I have been involved in some social programs and been overwhelmed by all the negative things I have witnessed. This is why I became so interested in transparency.
IV. Freedomee
How did "freedomee" began?
4 years ago in Mumbai I came across with a sad form of modern slavery in the production section of the fashion industry. I realised how both luxury fashion and the street market sector was benefiting from that exploitation.
When I came back to São Paulo, I began asking my connections and friends from the fashion industry if they were happy with their industry and making money? The answers I received were ones of sadness and low returns. Unfortunately people felt that they were tied up  by what they were doing, since they didn't know how to do anything else. That is when I thought of the word "freedomee" as a way to promote transparency in the production chain, by using blockchain technology.  Since I study the bible, I also connected it with the idea: truth liberates. Truth =transparency/ transparency = freedom / freedom= blockchain.
The conventional fashion industry faces a huge challenge and crisis. Due to disloyal competition, brands have little money to invest in new technologies, thus they are generating products with bad quality and lack of creativity. The consumer ends up buying based on price. This undervalues the market and creates huge amounts of waste. Its impact on the environment is huge.  "Freedomee" function is to raise consumer's awareness, by providing transparency across the entire fashion product chain. It plans to do so by assessing the positive socio-environmental pillars of the project.
You built "freedomee" based in the concept of the 5 Pillars. Can you describe it and your vision for this?
The main concept behind the 5 pillars is that every action is followed by a reaction. Those reactions happen according to the place where they come from, and its specific cultural and moral values. So I developed the 5 pillars of sustainability of "freedomee": social / cultural / environmental/technological/economic as a way to bring more transparency to the whole process. Anyway, we do not want to point the finger  at anyone. We only want to help industries and brands make better choices, by providing them with a toolkit based on the 5 pillars, to measure their impact. According to the cultural and economic values of the place where each company is located/operates, its impact varies. So this index also helps to provide local solutions. It plans to use blockchain as a way to show improvements, also via ONGs etc and to avoid corruption. The 5 pillars have to do with:
1) social – what kind of certificates the company uses, ISOS , B corps, etc.
2) cultural – how much the production will empower and invest in the development of micro- entrepreneurship.
3) environmental –  ie the environmental impacts of the source materials, of the production process, the waste, the factory's structure, its logistics etc.
4) technological–  what type of technological innovation is being used by the production process?
5) economic – what is the economic impact of the company on local development?
What are the main problems you see in the fashion industry and how can "freedomee" tackle some of those? 
The problems we aim to address are copyright and intellectual property, waste and carbon footprint, and working conditions similar to modern slavery. What we have in mind is to develop a QR [eE] cod in each product of clothing, that would convey production transparency.
Our mission is to transform the fashion industry, towards an industry that operates via ethical and transparent economic and commercial practices:  because managing an ecosystem with total transparency is the only way to educate the consumer into thinking about the consequences of their daily patterns of consumption.
Francesca Giobbi, Social Impact Fashion Visionary, Founder of Freedomee Part 1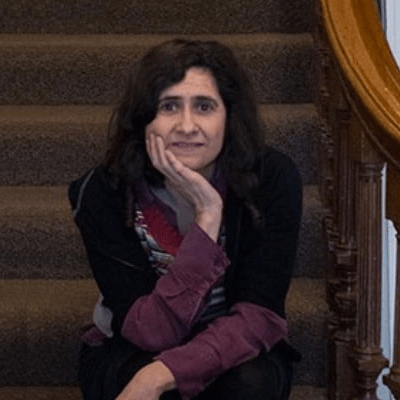 Maria Fonseca is the Editor and Infographic Artist for IntelligentHQ. She is also a thought leader writing about social innovation, sharing economy, social business, and the commons. Aside her work for IntelligentHQ, Maria Fonseca is a visual artist and filmmaker that has exhibited widely in international events such as Manifesta 5, Sao Paulo Biennial, Photo Espana, Moderna Museet in Stockholm, Joshibi University and many others. She concluded her PhD on essayistic filmmaking , taken at University of Westminster in London and is preparing her post doc that will explore the links between creativity and the sharing economy.