FINTECH NOW
The Fintech concept is a critical word of our times and comes from the connection of the terms "finance" and "technology".
The Fintech term refers to any innovative business that uses technology to enhance or automate with technology solutions for financial services, money transactions and related b2b2c processes.
The Fintech word is a large concept and has been creating a broad and rapidly growing industry serving both consumers and businesses.
The fintech industry offers all types of solutions such as financial and digitisation of services, transactions and innovation within the big money and financial industry at large.
As we speak, the global economy and financial industry from mobile banking and insurance to cryptocurrency and investment apps, runs on fintech broad applications.
The fintech industry is huge and somehow now is almost everything in the financial industry.
Everything in the money and financial industry at the moment uses some kind or type of financial technology – fintech solution.
"Ignoring technological change in a financial system based upon technology is like a mouse starving to death because someone moved their cheese." Chris Skinner
HOW BIG IS THE FINTECH INDUSTRY?
Recent studies show that the global fintech market was worth $127.66 billion in 2018. The full Fintech ecosystem has a predicted annual growth rate of ~25% until 2022, to $309.98 billion. These are still very small compared to the global financial services market.
However bearing in mind that the Global market capitalization in 2019 was estimated to be approximately $90 trillion. That means all these numbers are now becoming part of the fintech industry at large
The market capitalization of the global banking sector as of October 2019 was $7.9 trillion. This is the market cap for global banks but the metric will mainly measure publicly traded banks.
We have to consider a lot of money financial transactions that are using some kind of technology and add to these numbers. Which means the global economy and financial industry is powered by Fintech solutions.
This includes now also the biggest tech players like Alibaba, Amazon, Apple, Google that have been offering multiple fintech related financial solutions. One driving factor of fintech is that all traditional banks are supporters and adopters of the technology.
The entire financial industry is now actively investing in, acquiring or partnering with fintech startups or solutions providers.
As society becomes digital it is easier to give digitally-minded customers what they want, while also moving the money and financial industry forward and staying relevant.
The market's largest segment will be Digital Payments with a total transaction value of US $4,934,741m in 2020.
Bellow the Fintech outlook data Transaction Value Growth, Transaction Value from FinTech worldwide outlook by Statista
https://www.statista.com/outlook/295/100/fintech/worldwide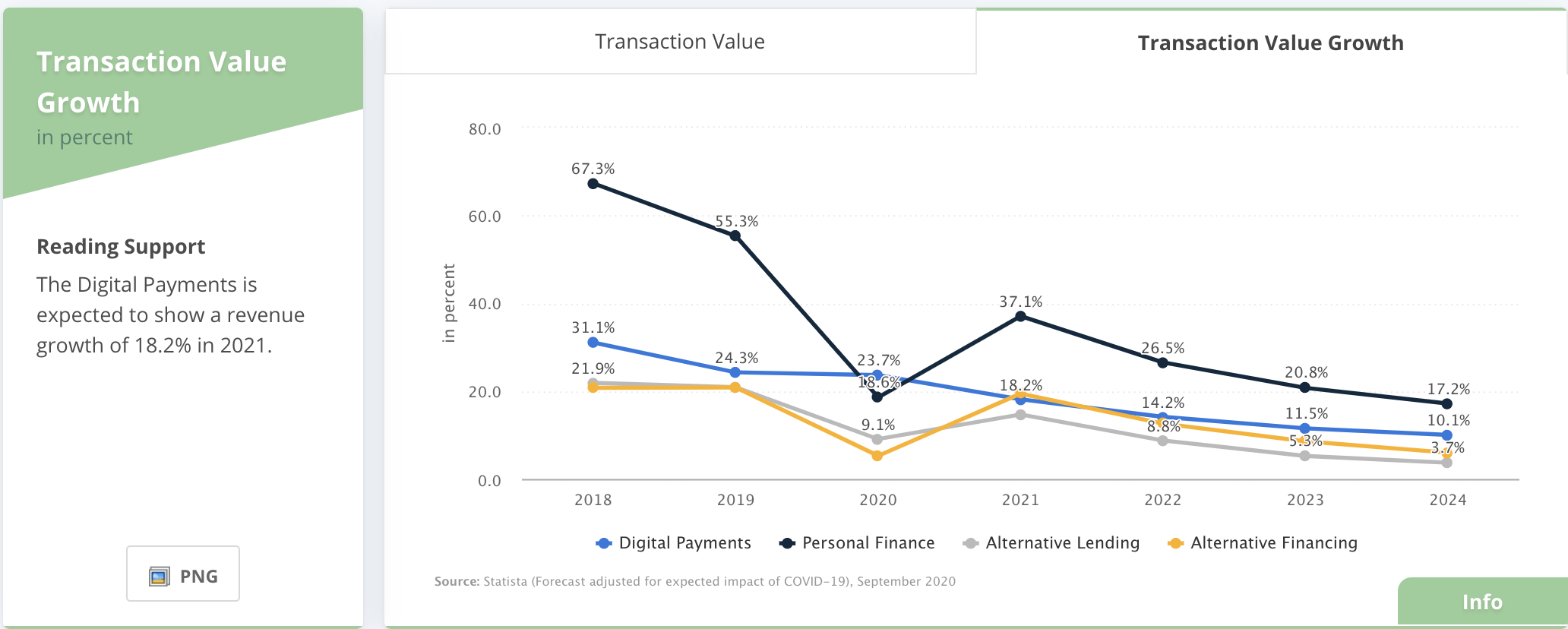 WHAT IS A FINTECH COMPANY?
Fintech companies are organisations that integrate technologies (like AI, blockchain and data science) into traditional financial sectors. Fintech companies make operations and services safer, faster and more efficient.
The Fintech sector no doubt is one of the emerging technologies fastest-growing and disruptive tech sectors.  Almost all companies innovating in almost every area of finance. Fintech solutions go from payments and loans to credit scoring and stock trading. Increasingly Fintech is based on quantified data and related rewards systems.
HOW DOES FINTECH WORK?
Fintech is not a new industry, it's just one that has evolved very quickly as part of the digitisation of the global society – economy and financial services.
Technology and related innovations, has, to some degree, always been part of the financial world, whether it's the introduction of credit cards in the 1950s or ATMs, electronic trading floors, new ways of personal finance apps and high-frequency trading in the decades that followed.
The multiple ways to look at fintech depends and is behind financial technology.
The overall Fintech solutions as a mater of fact vary from project to project, application to application and concrete solutions.
Some of the newest advances in fintech are utilizing increasingly and merging the full Fourth Industrial Revolution 4IR large 360 solutions.
Most of the Fintech solutions and services include AI – machine learning algorithms, blockchain and data science.
These solutions are used to do everything from payments to process credit risks to run central banks and manage billions of USD in hedge funds.
In parallel with Fintech there's now an entire subset of regulatory technology dubbed "regtech" designed to navigate the complex world of compliance and regulatory issues of fintech.
A quick look at how the industry is both disrupting and enhancing some areas of finance.
BANKING
Mobile banking is a large part of the fintech industry. In the world of personal finance, consumers have increasingly demanded easy digital access to their bank accounts, especially on a mobile device. Most major banks now offer some kind of mobile banking feature, especially with the rise of neobanks.
Neobanks are essentially banks without any physical branch locations, serving customers with checking, savings, payment services and loans on a completely mobile and digital infrastructure. Some examples of fast growing bank alternatives, neobanks or non banks are Revolut, Chime, Simple and Varo.
PAYMENTS
Moving money around is something fintech is very good at. The phrase "I'll Venmo you" is now a replacement for "I'll pay you later." Venmo, of course, is a go-to mobile payment platform. Payment companies have changed the way we all do business. It's easier than ever to send money digitally anywhere in the world. In addition to Venmo, popular payment companies include Zelle, Paypal, Stripe and Square.
LENDING
For instance Fintech is also overhauling credit by streamlining risk assessment, speeding up approval processes and making access easier. Billions of people around the world can now apply for a loan on their mobile devices, and new data points and better risk modeling is expanding credit to underserved populations. Additionally, consumers can request credit reports multiple times a year without dinging their score, making the entire backend of the lending world more transparent for everyone. Credit companies worth noting include Tala, Petal and Credit Karma.
INSURANCE
While insurtech is quickly becoming its own industry, it still falls under the umbrella of fintech. Insurance is a somewhat slow adopter of technology, and many fintech startups are partnering with traditional insurance companies to help automate processes and expand coverage. From mobile car insurance to wearables for health insurance, the industry is staring down tons of innovation. Some insurtech companies to keep an eye on include Oscar Health, Root Insurance and PolicyGenius.
INVESTMENT & SAVINGS
Above all the Fintech growth has caused an explosion in the number of investing and savings apps in recent years. More than ever, the barriers to investing are being broken down by companies like Robinhood, Stash and Acorns. While these apps differ in approach, each uses a combination of savings and easy, small dollar investing to introduce consumers to the markets.
BLOCKCHAIN SOLUTIONS
Running parallel to fintech is the fast growing fintech blockchain related solutions. Blockchain solutions are increasingly powering financial services and foundation complimentary applications in which all three can work together to deliver new kinds of ID, provenance, payments, proof of funds, decentralised / distributed more efficient secure financial services.
CRYPTOCURRENCIES AND DIGITAL ASSETS
Crypto currencies are now a big part of the fintech ecosystem. Crypto went from being menaces to the financial systems to be part of the financial industry. The cypto or so called digital currencies have brought major innovative fintech solutions Cryptocurrencies are creating new ways to create ecosystems, funding, payments and major smart contracts innovation. These new solutions are now reaching from central banks to digital assets of the world financial institutions.
AI MACHINE LEARNING AND TRADING
AI and machine learning are now at the center of the Fintech industry. Being able to measure and predict where markets are headed is the Holy Grail of finance trading and investing. With increasingly trillions and billions of dollars on the global capital markets transacted every day and minute, AI machine learning play an increasingly important role in fintech growth. The power of this AI-subset lies in its ability to run massive amounts of capital markets data through algorithms designed to spot trends and risks. Most of the global trading and investing industry is digitised and using fintech AI driven solutions.
THE MAIN FINTECH NOW FUTURE TRENDS
1. Fintech = society ID, banking – payment – finance services
2. Blockchain and AI become part of all financial operations
3. Financial & personal advisors AI chatbots become norm
4. Major tech players become banking fintech players
5. CBDC Central Banks Digital Currencies becomes norm
6. AI Robo-advisors, traders take over wealth management and stock trading
7. ID Reward financial empowerment transaction models will replace old financial banking models
"In each revolution, we create a brand new way of trading, transacting and storing value — but we don't get rid of the old ones.
So, 5,000 years ago, we invented money; we still have money.
Three hundred years ago we invented banks; we'll still have banks. But in this revolution, the digital revolution, seven billion people on this planet can get access to real-time trade.
And that means that there's a new way of thinking about how we'll create this Internet of value, and what it's going to look like longer term."
Chris Skinner
Finance + Tech Now are 360 in our lives and are about creating & keeping value – special serving people society customer needs & expectations. Fintech solutions are at the core of our society value money building transactions – organisations.
Fintech Now is a fast growing area of society. Fintech is critical for businesses, organisation and banking – financial 360 companies. More than ever Fintech is all about serving + creating value!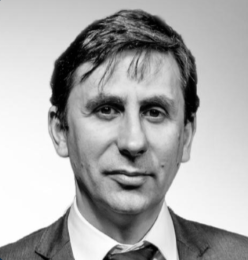 Dinis Guarda is the founder of intelligenthq.com and an author, serial entrepreneur and CEO of ztudium that manages openbusinesscouncil.org, fashionabc.org, blocksdna.com, lifesdna.com.
He creates and helps build ventures focused on global growth, 360 digital strategies, sustainable innovation, Blockchain, Fintech, AI and new emerging business models such as ICOs / tokenomics.
Dinis is the founder/CEO of ztudium that manages blocksdna / lifesdna. These products and platforms offer multiple AI P2P, fintech, blockchain, search engine and PaaS solutions in consumer wellness healthcare and life style with a global team of experts and universities.
He is the founder of coinsdna a new swiss regulated, Swiss based, institutional grade token and cryptocurrencies blockchain exchange. He is founder of DragonBloc a blockchain, AI, Fintech fund and co-founder of Freedomee project.
Dinis has created various companies namely Ztudium, a tech, digital and AI blockchain startup that builds cutting edge software, big data insights, publishes intelligenthq.com, hedgethink.com, fashionabc.org, openbusinesscouncil.org and tradersdna.com, citiesabc.com among others.
Dinis is the author of various books. His upcoming books "4IR AI Blockchain Fintech IoT Reinventing a Nation", "How Businesses and Governments can Prosper with Fintech, Blockchain and AI?", also the bigger case study and book (400 pages) "Blockchain, AI and Crypto Economics – The Next Tsunami?" last the "Tokenomics and ICOs – How to be good at the new digital world of finance / Crypto" will be launched in 2018.
Some of the companies Dinis created or has been involved have reached over 1 USD billions in valuation. Dinis has advised and was responsible for some top financial organisations, 100 cryptocurrencies worldwide and Fortune 500 companies.
Dinis is involved as a strategist, board member and advisor with the payments, lifestyle, blockchain reward community app Glance technologies, for whom he built the blockchain messaging / payment / loyalty software Blockimpact, the seminal Hyperloop Transportations project, Kora, and blockchain cybersecurity Privus.
He is listed in various global fintech, blockchain, AI, social media industry top lists as an influencer in position top 10/20 within 100 rankings: such as Top People In Blockchain | Cointelegraph https://top.cointelegraph.com/ and https://cryptoweekly.co/100/ .
He has been a lecturer at Copenhagen Business School, Groupe INSEEC/Monaco University and other leading world universities.
He is a shareholder of the fintech social money transfer app Moneymailme and math edutech gamification children's app Gozoa.
Between 2014 and 2015 he was involved in creating a fabbanking.com a digital bank between Asia and Africa as Chief Commercial Officer and Marketing Officer responsible for all legal, tech and business development. Between 2009 and 2010 he was the founder of one of the world first fintech, social trading platforms tradingfloor.com for Saxo Bank. In 2011 he created the B2B platforms socialmediacouncil.org and openbusinesscouncil.org with Jamie Burke.