Living more sustainably doesn't have to be difficult. Many effortless tips can help you make small changes in your everyday life that will have a big impact on the environment.
From reducing your consumption of plastic bags and bottles to turning off electronics when they're not in use, making small changes to live more sustainably is easier than you think.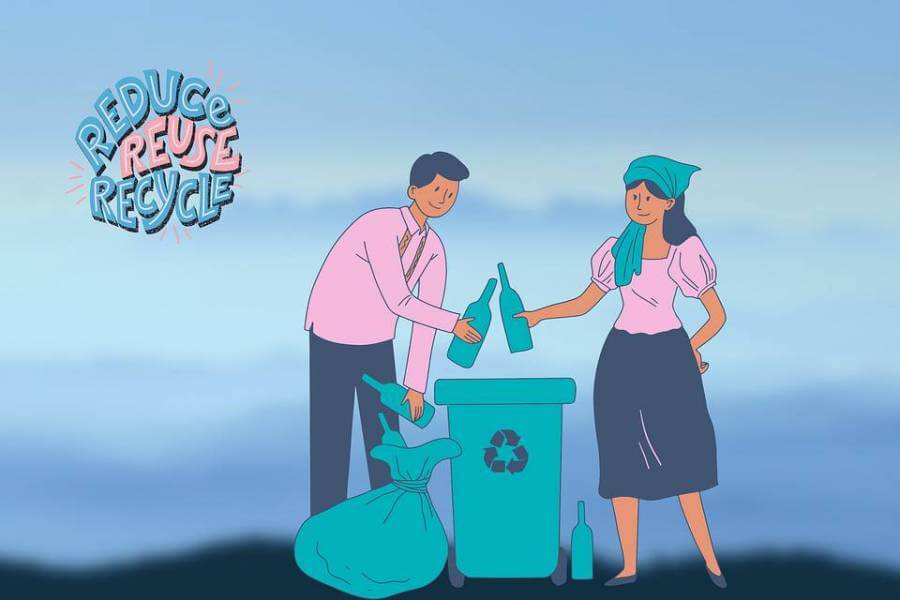 Use Reusable Packaging
One of the easiest ways to reduce your impact on the environment is to switch to reusable packaging. This could mean using a reusable water bottle or coffee mug, investing in a reusable lunch box, or even ditching plastic wrap in favor of reusable silicone bags. Not only will this help reduce waste, but it can also save you money in the long run.
On the other hand, many business owners and manufacturers are turning to reusable, biodegradable, and compostable packaging. This way, they are reducing their ecological footprint and making it easier for their customers to do the same. Additionally, this kind of packaging often comes with a smaller price tag than traditional options.
Plastic is one of the most damaging materials to the environment, so it's important to try to reduce your use of it as much as possible. Therefore, one way to do this is to avoid purchasing products that come packaged in plastic, such as single-use water bottles, disposable coffee cups, and straws.
Bring Your Own Bag
Another easy way to reduce your impact on the environment is to always bring your own bag when you go shopping. This could be a reusable grocery bag, a backpack, or even a canvas tote. By bringing your bag, you'll reduce the need for disposable plastic bags, which often end up in landfills or as litter.
Additionally, many stores offer discounts when you bring your bag, so you'll be saving money as well as helping the environment. Add the many personal designs you can choose from, and you have a win-win situation!
Skip the Drive-Thru
Try to avoid going through the drive-thru at fast-food restaurants as much as possible. Not only will this help reduce your carbon footprint, but it can also save you money and help you eat healthier. If you must go through the drive-thru, try to choose a restaurant that also uses eco-friendly packaging.
This is also a great tip for reducing your waste. Instead of getting a to-go container, you can save money and packaging by eating at a restaurant or preparing your meal at home – even better!
Turn Off Electronics When You're Not Using Them
Another easy way to save energy and reduce your impact on the environment is to turn off electronics when you're not using them. This includes computers, TVs, and game consoles. Additionally, unplugging devices that are not in use can help save even more energy, for instance, when you're traveling, or your home is unoccupied for an extended period.
You can also save energy by using a power strip so that you can easily turn off multiple devices with one switch. This is especially helpful for office equipment, like computers, printers, and fax machines
Reduce Your Food Waste
One way to start living more sustainably is to reduce the amount of food you waste. It's estimated that the average person wastes about one pound of food per day, which adds up to a lot of wasted resources.
There are a few easy ways to reduce your food waste. First, try planning your meals ahead of time so you know what you need to buy and avoid buying too much. Second, get in the habit of storing leftovers properly so they don't go bad. And third, compost your food scraps instead of throwing them away. Composting is a great way to reduce your waste and provide nutrients for plants. If you don't have a lot of space for a compost bin, there are many small-scale options available.
Support Sustainable Brands
One way to live a more sustainable lifestyle is to support sustainable brands. This could mean buying eco-friendly products, choosing fair trade options, or investing in companies that are working to reduce their environmental impact.
Fortunately, there are more and more sustainable brands to choose from, so it's getting easier to find products that align with your values. Additionally, many sustainable brands are also affordable, so you don't have to sacrifice quality or price to shop eco-friendly.
There are many easy ways to reduce your impact on the environment, from reducing your consumption of plastic to turning off electronics when you're not using them. By making small changes in your everyday life, you can make a big difference for the planet.

Founder Dinis Guarda
IntelligentHQ Your New Business Network.
IntelligentHQ is a Business network and an expert source for finance, capital markets and intelligence for thousands of global business professionals, startups, and companies.
We exist at the point of intersection between technology, social media, finance and innovation.
IntelligentHQ leverages innovation and scale of social digital technology, analytics, news and distribution to create an unparalleled, full digital medium and social business network spectrum.
IntelligentHQ is working hard, to become a trusted, and indispensable source of business news and analytics, within financial services and its associated supply chains and ecosystems.