Blockchain and AI make a formidable alliance, especially when it comes to security and data management. So in order to protect people's data with blockchain and AI tech for good, we have to build and deploy an ecosystem with an open source set of APIs that limits how much technology makers can learn about individual customers.
Artificial Intelligence solutions are already being deployed within all our interactions on social media and the internet, from the sensors on our IoT driven smartphones to our financial, wellness and healthcare data. Adapting future AI, it is now being integrated on the top of blockchains solutions too, especially in the financial industry and supply chain transactions.
This will be increasingly intertwined with Machine Learning solutions, capability and even opening up new ways of creating new social media, wellness, and financial products. We can protect people's data with technology that integrates the convergence of Blockchain and AI. This is the way forward and inevitable in the short to mid run, because this convergence deals with both secure data management and value storage. In one way Blockchain enables the secure storage and sharing of data or anything of value. On the other hand AI offers new ways to analyze and generate better solutions to manage insights from data and enable the generation of value.
The best practices that are required to build and to protect people's data solutions are offered by Blockchain tech that have to use cryptography and smart contracts to ensure that data, transactions, and identities can be assured by having:
Ways to protect the record of ID, data and transactions, incorruptibly, securely and irreversibly. A way to look at verification as being trustworthy whilst remaining private — participants can verify the veracity of data without needing to look at the data, and only see what they are authorized to see
Ways to easily share P2P digital actions / services / operations so that everyone in a tech blockchain driven network ecosystem has an identical copy of the entire ledger, including updates as they occur.
Reward of transactions, actions and operations based on performance, loyalty and integrating the best gamification solutions.
The diagram below shows how identity, messaging at its core and reward mechanisms are integrated into the marketplace and supported by a dashboard that encompases a CRM, CMS and data analytics can deliver a holistic solution where the best practices can be deployed.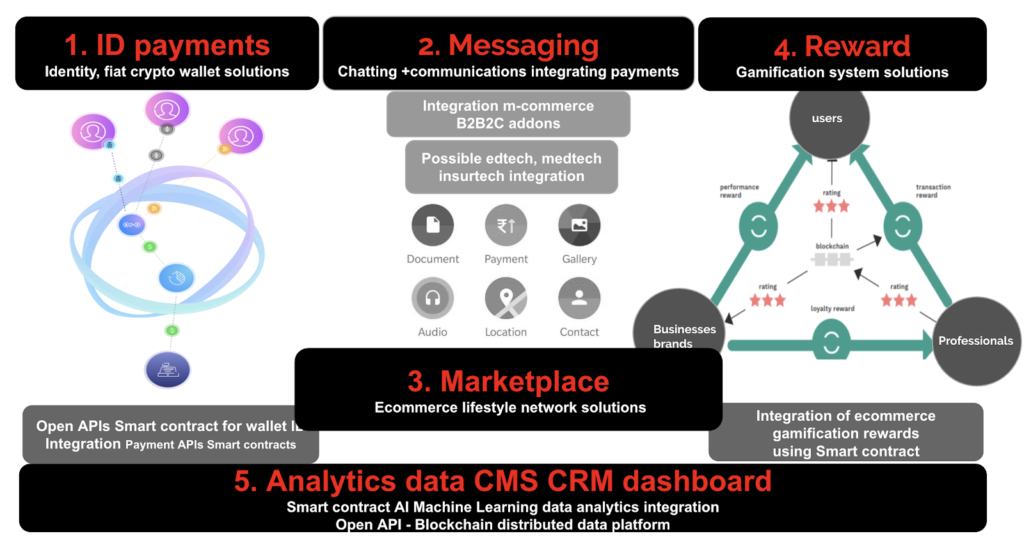 Blockchain, Artificial intelligence and AI models are now being used together to analyze, classify and make predictions from data. AI models improve and learn over time since they are continuously being fed with new data. The table above shows that as we move into the digital world there are 10 areas that need to be addressed to ensure the effective and safe use of these digital technologies.
Machine Learning, which is a subset of artificial intelligence, is now being the main area of research to glean insights from data, and the opportunities to improve and learn with this data are increasing. Larger datasets help create better intelligence, insights and their very own machine learning models. Because at this point what is more important is the quality of the data — and all the datasets that are necessary to be updated with recent and relevant data so that models can remain effective.
Data is the central DNA for AI effectiveness. Together with the correct usage of blockchain we can create models that are based on the best practices of collaborative and secure data sharing. Blockchain can therefore ensure the right trustworthiness of our data and can enable and protect  (whilst creating identity and protection with smart contracts) the growing sources of our daily data and share it securely before AI extracts insights from it. So in order to create protection for users we need a set of solutions based on blockchain and a decentralised open source AI tech that is based on a technique called differential privacy, designed to protect individuals' identity even when data allegedly has been anonymized.
To build this setup we need to use the best compliance and best practices worldwide. One of those that needs to be taken into consideration is the GDPR data protection framework – the EU drafted the General Data Protection Regulation 2016/679 and passed it into law in 2018. As of today, the GDPR is the leading regulation in European law on data protection and privacy in the European Union and the European Economic Area. Likewise, for a solution to be considered worldwide, it needs to follow the best practices from the UN and the SDGs. Only then can it better address the transfer of personal data within all our digital transformation ecosystem areas.
From these solutions in the business world , teams and employees can at best query data, internet privacy and manage information, identity and all streams of intelligence embedded in a controlled and regulated environment.
Decentralised databases are key. Databases summarize recent developments and innovations in these particular areas. Additionally it allows us to reward users for the use of their data, when using their wallets, doing ecommerce activities, for their loyalty, for being ambassadors or for engaging in their business or financial transactions.
Behind the scenes, machine learning based algorithms assess the profile of the users under anonymity and minimise the risk of leaking information about individuals. Machine Learning solutions also help manage and inject random noise into the data to neutralize that risk and protect privacy and data.
Using advanced and ethically driven, differential privacy data compliance neutral software, with blockchain to make sure that you have ID integrity but at the same time ownership of your own data. These solutions offer new cutting edge ways to create a new economic and community model, that is P2P and ownership driven.
Under these solutions implementers can offer a new digital track records system guarded by cryptography that neutralise and decentralise risks. It limits and logs who makes changes or additions. The idea is to focus on a privacy and security set of systems that can create value for users.
This software IP builds privacy or security systems plugged into decentralised blockchain that will be able to provide cryptographic assurances to one another. The solution ensures that brands, businesses or their customers, received from their systems what was promised. This provides the security and privacy layer infrastructure that the internet is lacking—and for which we are all paying a price.
With using tailored smart contracts, we can protect and mediate transactions, and reward all participants being different people, ambassadors or companies. This way we can offer people, influencers, ambassadors, businesses and organizations private and neutral solutions for social media, healthcare, finance, and ecommerce. This will also provide a secure and integrated digital flow of supply chain data from these partners. while protecting personal, commercial and financial sensitive information.
We can protect people's data with blockchain AI tech for good. The aim is to build a way for users and organisations / companies to prepare themselves to develop combined AI and blockchain solutions by improving their digital and data capabilities to manage and own their financial, ecommerce, health, insurance data. We do this with smart contracts and with integrated machine learning tools / research in a way that their data will be owned by these users while being rewarded by everything they share.
Leading edge technology companies are building the next blockchain AI tech infrastructure through an ecosystem of technology to tackle credibility, compliance regulated solutions to ownership of data and other related integrity issues.
Read more about blockchain and AI
How Can Emerging Economies Benefit From Blockchain Plus AI?
Guide to How Artificial Intelligence Can Change The World
How AI and Blockchain Will Be The Future Of Cybersecurity
Digital Transformation and the 4IR – AI, Blockchain, IoT, Fintech
If you want to know more about blockchain, AI, cloud computing and Emerging technologies, check out Dinis Guarda's 4IR: AI BlockchainFintech IoT – Reinventing a Nation and signing up in one of our premium courses.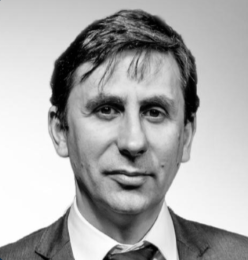 Dinis Guarda is an author, academic, influencer, serial entrepreneur, and leader in 4IR, AI, Fintech, digital transformation, and Blockchain. Dinis has created various companies such as Ztudium tech platform; founder of global digital platform directory openbusinesscouncil.org; digital transformation platform to empower, guide and index cities citiesabc.com and fashion technology platform fashionabc.org. He is also the publisher of intelligenthq.com, hedgethink.com and tradersdna.com. He has been working with the likes of UN / UNITAR, UNESCO, European Space Agency, Davos WEF, Philips, Saxo Bank, Mastercard, Barclays, and governments all over the world.
With over two decades of experience in international business, C-level positions, and digital transformation, Dinis has worked with new tech, cryptocurrencies, driven ICOs, regulation, compliance, and legal international processes, and has created a bank, and been involved in the inception of some of the top 100 digital currencies.
He creates and helps build ventures focused on global growth, 360 digital strategies, sustainable innovation, Blockchain, Fintech, AI and new emerging business models such as ICOs / tokenomics.
Dinis is the founder/CEO of ztudium that manages blocksdna / lifesdna. These products and platforms offer multiple AI P2P, fintech, blockchain, search engine and PaaS solutions in consumer wellness healthcare and life style with a global team of experts and universities.
He is the founder of coinsdna a new swiss regulated, Swiss based, institutional grade token and cryptocurrencies blockchain exchange. He is founder of DragonBloc a blockchain, AI, Fintech fund and co-founder of Freedomee project.
Dinis is the author of various books. He has published different books such "4IR AI Blockchain Fintech IoT Reinventing a Nation", "How Businesses and Governments can Prosper with Fintech, Blockchain and AI?", also the bigger case study and book (400 pages) "Blockchain, AI and Crypto Economics – The Next Tsunami?" last the "Tokenomics and ICOs – How to be good at the new digital world of finance / Crypto" was launched in 2018.
Some of the companies Dinis created or has been involved have reached over 1 USD billions in valuation. Dinis has advised and was responsible for some top financial organisations, 100 cryptocurrencies worldwide and Fortune 500 companies.
Dinis is involved as a strategist, board member and advisor with the payments, lifestyle, blockchain reward community app Glance technologies, for whom he built the blockchain messaging / payment / loyalty software Blockimpact, the seminal Hyperloop Transportations project, Kora, and blockchain cybersecurity Privus.
He is listed in various global fintech, blockchain, AI, social media industry top lists as an influencer in position top 10/20 within 100 rankings: such as Top People In Blockchain | Cointelegraph https://top.cointelegraph.com/ and https://cryptoweekly.co/100/ .
Between 2014 and 2015 he was involved in creating a fabbanking.com a digital bank between Asia and Africa as Chief Commercial Officer and Marketing Officer responsible for all legal, tech and business development. Between 2009 and 2010 he was the founder of one of the world first fintech, social trading platforms tradingfloor.com for Saxo Bank.
He is a shareholder of the fintech social money transfer app Moneymailme and math edutech gamification children's app Gozoa.
He has been a lecturer at Copenhagen Business School, Groupe INSEEC/Monaco University and other leading world universities.