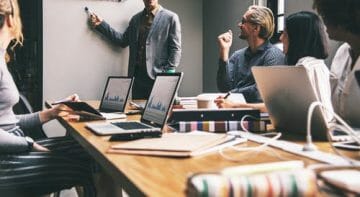 This is the age of computerization and automation. The relatively new science of data analysis or 'Data Science,' as it is called has opened up new vistas to automation. In this article we will discuss the Automated Business Process Discovery (ABPD). With many businesses growing at a supersonic speed, management requires the ability to obtain insights into business processes at lightning speed, and the agility to implement adjustments instantly. How could this be achieved? ABPD is the answer to this conundrum. First of all, let us understand what it is.
What is Automated Business Process Discovery
Another name for Automation Process Discovery is process mining. ABPD is a kind of business process analysis that is fully automated and is designed on the basis of algorithmic and computational logic. Data is collected from audits, event logs and so on, cleansed and analyzed to identify the process models. It also analyses exceptions and provides an overview of the business process, giving users the ability to analyze it and see how changes made to it would affect the entire business prospects. Of course, ABPD can only visualize and analyze processes that have a data chain. Other processes involving individual discussions or verbal communication need to be either captured in data form or analyzed using different methods.
ABPD analyzes existing data very closely to pinpoint bottlenecks, links that need to be strengthened, or risky areas that could become a liability within the business process. ABPD can give the higher management a very clear picture not only of how business processes run currently within the organization, but also how they will perform in different possible situations.
Creating a business process model using ABPD takes only a fraction of the cost and time required for accomplishing the same task in traditional ways. This fills in the process understanding gulf between departments as well as the understanding of fringe processes.
The ABPD Process
ABPD collects unstructured data by capturing information from different applications that are used in the course of a business process." This is done with process mining software like Apromore. This includes event logs, transactions, audit trails, databases, and so on. It then uses this data to identify patterns and build process definitions and models. Due to the extremely high volume of data that is collected and examined detailed and exhaustive analysis is possible. It is also possible to identify bottlenecks, the basic causes of problems, deviations from the process, and the distribution of process events. In other words it captures what happens in real life and provides a meaningful simulation to enable process optimization.
The one limitation with ABPD as mentioned earlier is that it does not capture human activities that are not machine related, thus leaving no trace on audit logs or transaction trails. Hence, ABPD is used in conjunction with other techniques to provide a complete picture. However, ABPD is a great analysis tool helping the analysts discover and understand business processes that might otherwise be overlooked. This drastically cuts down on the time required for the analysis as comparatively little time has to be spent in interviews to obtain information about non-machine work practices.
The Problems with Traditional Methods of Analysis
Traditionally employees are interviewed, observations are made, and data is obtained from different sources and points. This is then analyzed and the results are presented. There are a number of drawbacks with this.
Data collection itself is a time consuming and resource intensive step. Thereafter analyzing the data and drawing conclusions from it takes much more time. Quite often after having spent a huge amount of time and money on obtaining the analysis, they realize that time and opportunity has passed them by. Subjectivity is another challenge. Depending on the individual's role and perspective his personal views often come in the way of an objective analysis. Since it would be impossible for one individual to handle the entire process, different people handle different departments or operations. Thus, there is a lack of an overall view.
There are always exceptions to any process. In the course of analysis these exceptions are either overlooked or over emphasizes.
It is possible for the analysts not to have the complete information simply because of lack of knowledge or human error on the part of the employees interviewed.
All these challenges are easily resolved by the ABPD. All data with an electronic trail is automatically captured and analyzed. Only a very small part of analytical data is collected by means of interviews.
How ABPD Works
Collection of data: When machines perform their tasks, or when humans use them to accomplish certain tasks, there are traces of the action left on the system. ERP, CRM, BPM, LOB, Service Management and so on are systems that log data. This data is extracted and processed. If a process cuts across several systems, data from all these systems are combined to obtain a complete picture of the process.
Existing process analysis: The log is automatically put together using advanced neural networks and AI algorithms to provide a current business process model. Algorithms are used to combine events, analyze the timeline, frequency and performance as well as its correlations with other events. All relevant information is extracted within seconds with minimal hardware needs. Even huge amounts of data can be thus analyzed.
Further analysis of the process: Each process is visually depicted as an interactive map with all the relevant information. Process exceptions, unusual activities, bottlenecks, non-confirmity, and the potential risks in the current process are highlighted. Now the results could be studied, causes for problems or risks understood, and steps could be taken to enhance efficiency and performance. Investment can thus be maximized.
Advantages of ABPD
Faster process discovery: All the existing processes, even fringe processes, with all the potential variations are uncovered without much manual effort.
Real automation at work: Robotic Process Automation software is integrated with AI and Machine learning to leverage the advantages of automation for your organization.
Realistic as-is process mapping: The results generated by ABPD is bias free and comprehensive as well as transparent.
Forecast outcomes: Potential problems and challenges could be avoided by studying the analysis and through smarter exception handling.
Quick and cost efficient: A business model could be generated at only a fraction of what would otherwise be spent on traditional process analysis methods. Additionally, ABPD minimizes human error in the analysis.
Detailed, interactive analysis possible: Since a huge volume of data is used to generate the analysis, many different aspects could be looked into. The different aspects of the process, as well as deviations, bottlenecks and potential challenges could be identified.
Handle "white space": ABPD bridges the knowledge gulf that exists between systems and departments and also discerns fringe processes. Thus nothing is left out of the analysis.
Conclusion
For organizations that want to stay on top of the pack ABPD is a key requirement. This provides them with quick real-time analysis enabling the management to act with agility and speed in bringing about adjustments that help the organization retain its lead.
This is an article provided by our partners network. It might not necessarily reflect the views or opinions of our editorial team and management.
Contributed content

Founder Dinis Guarda
IntelligentHQ Your New Business Network.
IntelligentHQ is a Business network and an expert source for finance, capital markets and intelligence for thousands of global business professionals, startups, and companies.
We exist at the point of intersection between technology, social media, finance and innovation.
IntelligentHQ leverages innovation and scale of social digital technology, analytics, news and distribution to create an unparalleled, full digital medium and social business network spectrum.
IntelligentHQ is working hard, to become a trusted, and indispensable source of business news and analytics, within financial services and its associated supply chains and ecosystems.