Before founding her own fashion and furniture design company, Amrita Sen was a Harvard Business School graduate working as the CEO of a product licensing company with high-profile clients. After taking some time out to reflect on her life and ambitions, she used her network as a launchpad for an impressive career in music and art, performing at the Oscars in 2009.
• Film, retail and music are just some of the industries the multitalented Amrita Sen has left her mark on.
• She worked as CEO of The Vault Agency, a consumer product licensing company, for eight years. After the company was dissolved in 2011, she reinvented herself as a Bollywood singer and musician, working with leading figures in film and music for over ten years. Today, she is producing the Indian adaptation of John Le Carre's The Night Manager, starring A-list actor Hrithik Roshan, for Disney Plus Hotstar; and has founded her own line of fashion and furniture design inspired by Indian art: Amrita Sen Designs. 
• Dinis Guarda's interview with Amrita Sen continues in the tradition of the citiesabc openbusinesscouncil YouTube interview series with thought leaders and personalities at the top of their fields.
In the latest Dinis Guarda citiesabc openbusinesscouncil YouTube Podcast Series, Amrita Sen started by recounting her move from India to the USA in the 1980s. She described her experience as an immigrant as being profoundly marking, in a 1980s America more hostile to foreigners than it is today. It is this fortifying experience, she explains, that nurtured the pride for her Indian heritage she still feels (and is inspired by) today – a chip of her shoulder of sorts, as her parents chose to invest much of what they had in her education.
The need to earn a living and gain independence profoundly shaped who she is today. After a brief stint at Goldman Sachs, she worked at Capitol Records in order to launch herself into a career in the creative industries. With a B.S. from the Wharton School of the UPenn and an MBA from HBS on her resume, she founded The Vault Agency in 2003. Serving as CEO of the company until 2011, she brokered deals for brands to department stores and mass retailers, representing celebrity clients such as Beyonce, Prince and Kanye West, as well as corporations like Universal Music Publishing, Sony Music Publishing and Nintendo, in consumer product licensing.
---
More Interviews 
From The Oscars to Bollywood: Dinis Guarda Interviews The Multitalented Amrita Sen On Her Career In Music, Film And Design
Interview with Calvin NG, General Partner at Plutus VC – How To Successfully Manage a $200 Million Blockchain And Innovation Fund
Interview with Prof Xiaolan Fu, Director of the Technology and Management Centre for Development TMCD – University of Oxford, Founder OxValue.AI
Interview with Deyan Georgiev – Forbes 30U30 Winner, CEO at NitroPack – Digital Marketing & Website Optimization Solutions For Today's Businesses
Interview with LaMondre Pough, CEO of Billion Strong, Mentor, Recognized Leader for the Community of People with Disabilities
Interview with Richard Haigh, Managing Director at Brand Finance, BA from University of Oxford, Lecturer – "Bridging The Gap Between Marketing And Finance"
---
Intrigued by a career as winding as it is impressive, Guarda asked her about the pivotal experiences and decisions that have defined her path, and what kind of cosmic energy she has embraced to find her footing in something she really loves. Sen responded that she did not believe in cosmic energy as a fact of life, but rather that 'cosmic energy is something you create for yourself.' Claiming agency over her own narrative, she argued that her departure from CEO lifestyle was part of a wider, slow burning movement. 'I think I was signaling to people, very strongly, that I was just bored,' she explained. Not what you might expect from a former CEO.
But Sen is no classic CEO – she's a free, independent thinker with a knack for finding niches where even she didn't expect to find them. The fact that Sen does not play by the book has paid off hugely in happiness, fulfilment and career progression; she used a dying business in which her interest was flagging as a springboard to relaunch herself:
Vault was my main strategic alliance [because of the partnerships I had forged as CEO], and when the firm dissolved, I didn't aggressively chase after the new entity. I was open to it but I didn't chase […] my previous owners and say "Hey, you're starting a new company, let me come with you." Instead, I went home. I took naps. […] I felt like my time was opening up. I still had clients, of course, who were keen to see where I was going to take my practice next. But, [not succumbing to the pressure, I found that in those crucial moments of silence which I cultivated],  you learn to shorten your lines. What I mean by that is that when I was running my business with these big strategic alliances making me busy 24/7, my lines were very long: it would take forever to organise a meeting with me because I was just fully booked. I barely had time to call people back. But then, as I chose not to join CNA or UTA, I was suddenly calling people back faster; responding to emails faster; because I had more time. In the process of just being more available, I was able to practice singing, play the piano, and enjoy doing things I never had the time to do. And these amazing opportunities started to show themselves to me [in this newfound free time]. That's when 'Slumdog Millionaire' came along. […] That 20% extra spare time allowed me to appreciate the film [in a  way that I wouldn't have if I were still working as hard as I used to].
Sen allowed herself to be profoundly marked by the film and, upon hearing that the score's composer, Oscar-nominee A. R. Rahman, was in town to hold auditions for backing singers at the Academy Award Ceremony performance, auditioned for the part. 'There'll be a thousand women in this line, but in this community no one knows I'm an executive or a Harvard MBA'. With this unprecedented degree of anonymity, Sen was able to cast a new role for herself as a Bollywood singer. She called her first meeting with A. R. Rahman 'the most pivotal moment of [her] life'.
Sen has gone on to perform and record with several major recording artists and musical groups, including Justin Timberlake, Weezer, Timbaland, Pitbull and the LA Philharmonic. Most recently, Amrita scored and performed in Leonardo DiCaprio's HBO climate change documentary 'Ice on Fire'.
Inspired by her Indian heritage, Sen has also ventured into furniture and fashion design, drawing on ornate patterns from her home country to create intricate pieces for homes and outerwear. Products from Amrita Sen Designs have retailed at Wayfair, Walmart, Barnes & Noble, Bed Bath and Beyond, Shop NBC, Dillard's, and Nordstrom. Amrita Sen Designs also houses Sen's own cosmetics brand, BollyDoll; she has created collections with MAC Cosmetics.
Guarda and Sen also touch on her colouring book, Cosmic and Eternal Love (Chronicle Books), which was featured prominently at Barnes & Noble, Amazon and Walmart; as well as on her production slate deal with Roth Kirschenbaum films, which include projects the WWE, John Cena, Tiger Shroff, among other high budget Hollywood Bollywood films slated for release in 2022.
Closing the discussion, Guarda asked Sen to draw on her experience in production, business development, and merchandise rights to share her thoughts on technology in the creative industries.
'I work primarily with musicians, digital artists, e-commerce artists – a highly creative business format – and screenwriters,' she explained. 'Fundamentally, [what all artists want to do] is control their IP.' Sen believes new technologies like NFTs may help solve what she sees as a deluge of online art which never rewards the artist due to a lack of authenticity certification. She criticised 'the concept of overposting everything we do, including high res versions of our own digital art, on Instagram, so that anyone can take a screenshot and print it'. NFTs are a solution because they ensure that any screenshot trying to pass as the real thing is invalidated by the lack of authentication.
Overall, Sen advocated for more restraint. She underlined the distinction between promotional platforms and consumer platforms, highlighting how important it is for them to work together:
There are teaser platforms out there designed to be promotional [of art], and then there are platforms, I believe, which are truly meant for consumption. A YouTube link to a trailer, for example, is a great promotional vehicle for the consumption of a full miniseries on a subscription service like Netflix or Amazon Prime.
But, even more crucially, she highlighted the role of the artists themselves: 'You have to be very intelligent [when deciding what to do with your art],' she said, explaining that there is a time to share art but also a time to guard it. 'You shouldn't be vomiting out content,' she playfully concluded. 'That's no way to actually sustain a living [as an artist].'
Shifting From The Corporate World To The #CreativeIndustries

Interview Amrita Sen – Singer, Musician, Artist, Producer, Designer#AmritaSen #Wiki https://t.co/XMlNq3tn6B pic.twitter.com/NBMqzsx9TZ

— openbusinesscouncil (@openbusinesshq) July 28, 2021
Watch the interview with Amrita Sen now on Dinis Guarda's YouTube Channel.
Read Amrita Sen's full biography on openbusinesscouncil.
Read more about Amrita Sen Designs.
https://amritasen.demoriver.com/
https://www.instagram.com/amritasendesigns/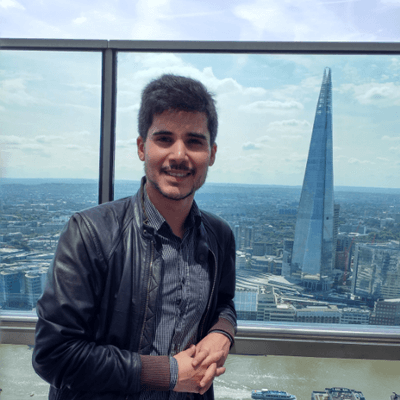 Hernaldo Turrillo is a writer and author specialised in innovation, AI, DLT, SMEs, trading, investing and new trends in technology and business. He has been working for ztudium group since 2017. He is the editor of openbusinesscouncil.org, tradersdna.com, hedgethink.com, and writes regularly for intelligenthq.com, socialmediacouncil.eu. Hernaldo was born in Spain and finally settled in London, United Kingdom, after a few years of personal growth. Hernaldo finished his Journalism bachelor degree in the University of Seville, Spain, and began working as reporter in the newspaper, Europa Sur, writing about Politics and Society. He also worked as community manager and marketing advisor in Los Barrios, Spain. Innovation, technology, politics and economy are his main interests, with special focus on new trends and ethical projects. He enjoys finding himself getting lost in words, explaining what he understands from the world and helping others. Besides a journalist, he is also a thinker and proactive in digital transformation strategies. Knowledge and ideas have no limits.