Reid Hoffman is an entrepreneur, co-founder of LinkedIn, venture capitalist and author well-known for being at the forefront of the tech revolution. His latest endeavour is 'Impromptu', the first-ever book written with Chat GPT-4. We will explore below some of the significant contributions made by Reid to the world of consumer internet, software, emerging technologies, through their work and books.
Reid Garrett Hoffman is an accomplished serial entrepreneur, investor, and strategist, who has been an integral player behind many of today's leading consumer technology businesses, including LinkedIn, Zynga, Last.fm, Flickr, PayPal and LinkedIn, the social network for professionals. He has had a successful career in the entrepreneurial capacity for more than two decades now and has left a long-lasting impact through his books.
An advocate of Artificial Intelligence
Reid has been one of the pioneers in the field of AI, having ventured into space since its very inception. He has since been the proponent of the technology, advocating for its applications and investing in companies like OpenAI and Inflection.AI.
Reid also backed the Ethics and Governance of Artificial Intelligence Fund, a joint venture between the MIT Media Lab and the Berkman Klein Centre for Internet and Society at Harvard University.
He is a board member of the Stanford Institute for Human-Centered Artificial Intelligence (HAI). The mission of HAI is to "advance AI research, education, policy and practice to improve the human condition".
Reid also launched the HAI's Hoffman-Yee Research Grants to "fund interdisciplinary teams with research spanning HAI's key areas of focus: understanding the human and societal impact of AI, augmenting human capabilities, and developing AI technologies inspired by human intelligence".
In 2018, Hoffman made a gift to the University of Toronto's Faculty of Information, to endow a chair "to study how the new era of artificial intelligence (AI) will affect our lives."
Speaking about the opportunities that lie within AI, Reid recently posted on LinkedIn:
"Last summer, I got access to GPT-4. It felt like I had a new kind of passport. My pages were quickly filled with stamps: Over 1,000 prompts. 800+ pages of outputs. Just in the first few months."
Impromptu: An author's imagination enhanced by the power of AI
Using the power of Chat GPT-4 and his will to be at the forefront of technology, Raid has presented his latest book, 'Impromptu: Amplifying our Humanity through AI', as the product of OpenAI's latest, most powerful language model. According to his announcement post on LinkedIn:
"This, as far as I know, is the first book written with GPT-4. With GPT-4, I travelled through light bulb jokes, epic poems, original sci-fi plots, arguments about human nature, and musings on how AI might strengthen democracy, society and industries. The goal, like in any good trip, was to learn as much about my travelling partner as the place I was exploring.
Earlier this year, I organized my explorations with GPT-4 into sections: creativity, education, criminal justice, public intellectualism, journalism and more. My travelog, Impromptu, captures my treks with GPT-4. These paths will be well-trodden soon (if not already) by others."
This travelog, as he explained, would both encourage people to know GPT-4, embrace the choice to use it, and explore the different ways this choice might play out.
Reid is a frequent public speaker, known for his approachability and skill at explaining complex topics with clarity. He also benchmarks this skill by translating his ideas into words. He has co-authored many books, including Blitzscaling: The Lightning-Fast Path to Building Massively Valuable Companies. The book, which was published in October 2018 by Currency Publication House, provides a general framework as well as specific techniques to facilitate the significant scaling of companies at an accelerated speed.
The Start-up of You, The Alliance, and Masters of Scale, were his other two books that were New York Times best-sellers. "The Startup of You: Adapt, Take Risks, Grow Your Network, and Transform Your Career", published in February 2012, guides readers to accelerate their career and gives them direction.
"All humans are entrepreneurs not because they should start companies but because the will to create is encoded in human DNA, and creation is the essence of entrepreneurship," he said about his book.
"The Alliance: Managing Talent In The Networked Age" was published in July 2014 by Harvard Business Review Press. The book teaches managers how to recruit, manage, and retain the entrepreneurial employees their business needs to succeed in the networked age.
Reid also hosts "Masters of Scale", a business and finance podcast, produced and owned by WaitWhat. The podcast's first episode was released in May 2017, featuring the CEO and Co-Founder of Airbnb, Brian Chesky. The podcast aims to highlight a comprehensive theory for scaling successful businesses. Reid distilled these collective insights of his guests into a set of counterintuitive principles, and authored them into "Masters of Scale: Surprising truths from the world's most successful entrepreneurs". The book was published in September of 2021 by Bantam Press.
Reid Hoffman: A Life Dedicated to Entrepreneurship and "The Next Big Thing"
His entrepreneurial journey began with SocialNet.com, which he founded in 1997 to offer online dating and matching services, like matching golfers with partners of similar interests in their neighbourhood.
Reid co-founded LinkedIn in December 2002 with two former colleagues from SocialNet. Launched on May 5, 2003, it was one of the first business-oriented online social networks. LinkedIn has been a game changer in the world of professional networking, boasting over 774 million members in over 200 countries and territories. LinkedIn has revolutionised the way professionals connect and engage with each other, making it the go-to platform for job seekers, recruiters, and companies looking for new talent. Over 50 million companies have a LinkedIn page, and 97% of recruiters use the platform to find candidates for job openings. The platform has seen an impressive 55% increase in conversations among connections, with over 5 billion conversations taking place on the platform every week.
As an investor at Aufklarung LLC, Reid played a key role in the success of iconic companies such as Facebook, Zynga, Digg, Fandom, Ironport, and Airbnb. He also helped new companies like Aurora and Convoy to scale.
In his present role as a partner at Greylock, he focuses on building market-transforming companies, like Workday, Roblox, Palo Alto Networks, Dropbox, Pure Storage, Convoy, Pandora, Instagram and Discord. He also represents the company on the boards of Aurora, Coda, Convoy, Entrepreneur First, Magical Tome, Nauto, and Neeva.
Beyond marketplaces and social ecosystems, his fundamental belief in the potential of networks has influenced his investment decisions in various sectors, such as autonomous transportation, cryptocurrency, and shipping logistics.
"Networks and marketplaces are central to all of my investing and thinking. They are foundational to scaling businesses that reach hundreds of millions of people. Today, that has broadened into areas beyond web 2.0 or online people-product-networks. There are now networks being created through serious, deep technology", he says.
A multifaceted personality
Reid was born on August 05, 1967, in Palo Alto, California, U.S. He earned a B.S. with distinction in Symbolic Systems from Stanford University and has a Master's degree in Philosophy from Oxford University. Babson University and the University of Oulu also awarded him Honorary Doctorate degrees.
Reid is known for his wider range of interests. Beyond startups and technology, he has made valuable contributions to politics, philosophy, board games, philanthropy, and science fiction. He serves as the Board Member for several not-for-profit organisations, including the Berggruen Institute, Kiva, New America, Endeavor, the MacArthur Foundation's Lever for Change, CZI Biohub, and the Stanford Institute for Human-Centered AI.
He lives by the philosophy that he shared in his book "The Startup of You":
"If you're in permanent beta in your career, twenty years of experience actually is twenty years of experience because each year will be marked by new, enriching challenges and opportunities. Permanent beta is essentially a lifelong commitment to continuous personal growth. Get busy livin', or get busy dyin'."
Reid has received various awards for his philanthropic work, including the Visionary Award by Silicon Valley Forum, an honorary CBE from Her Majesty the Queen of the United Kingdom, the "Salute to Greatness Award" from Martin Luther King Jr. Center, the "Marshall Medal" by UK Marshall Commission, and David Packard Medal of Achievement Award by TechAmerica.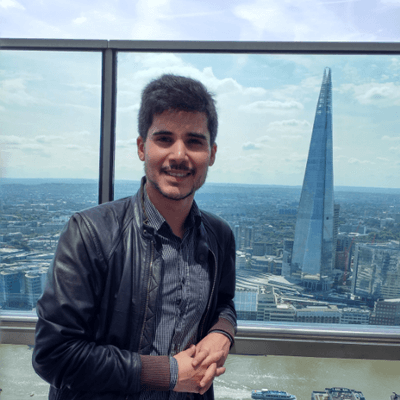 Hernaldo Turrillo is a writer and author specialised in innovation, AI, DLT, SMEs, trading, investing and new trends in technology and business. He has been working for ztudium group since 2017. He is the editor of openbusinesscouncil.org, tradersdna.com, hedgethink.com, and writes regularly for intelligenthq.com, socialmediacouncil.eu. Hernaldo was born in Spain and finally settled in London, United Kingdom, after a few years of personal growth. Hernaldo finished his Journalism bachelor degree in the University of Seville, Spain, and began working as reporter in the newspaper, Europa Sur, writing about Politics and Society. He also worked as community manager and marketing advisor in Los Barrios, Spain. Innovation, technology, politics and economy are his main interests, with special focus on new trends and ethical projects. He enjoys finding himself getting lost in words, explaining what he understands from the world and helping others. Besides a journalist, he is also a thinker and proactive in digital transformation strategies. Knowledge and ideas have no limits.