The dynamic industries of aeronautics, aerospace, and defence thrive on the foundations of innovation and technology. Within this context, the imperative of digital transformation takes on unprecedented significance. These industries must take the lead in 4IR's digital upheaval while keeping its pace undeterred. In this pursuit, it must harmonise real-time digital models with their physical counterparts, navigating rapid evolution and achieving multiple breakthroughs.
The Aviation, Aeronautics, Aerospace, Defence Industry are complex sectors characterised by many stakeholders, long lifespans of its operations and assets, and high technical and advanced requirements regarding finance, engineering, safety, security, and documentation. To meet these requirements as well as customer needs, the industry and aircrafts need to be regularly retrofitted with new cabins. During the planning and execution of these operations, product and areas such as cabin retrofit, handling the needed and available data poses a challenge to the engineers.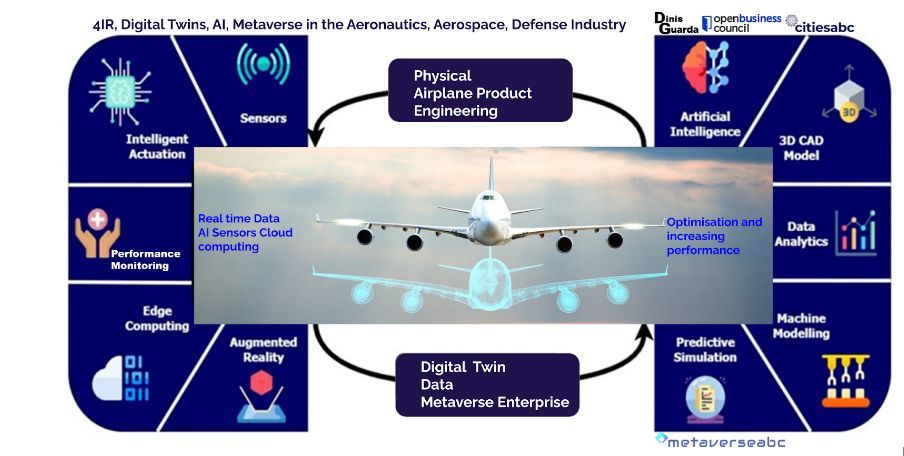 However, research from Accenture shows that most aerospace and defence companies' digital operations are still incredibly low and their maturity is somewhere between the pilot stage, with initial digital capabilities implemented in a single site, and the scale-up of those capabilities to multiple sites.
The same data establishes alarmingly that only 15% of today's aerospace and defence companies have both strong digital operations strategies and the ability to generate value from those strategies. This means that while much of the required data is available in some form, generally there is a lack of a digitally usable dataset of the specific aircraft—a virtual representation of the physical asset is missing, for example. To support the implementation of such a physical and digital twin and, thus, the overall process of retrofitting aircraft, a new approach needs to be introduced: a model-driven data-handling tailored to the unique circumstances and requirements of aviation.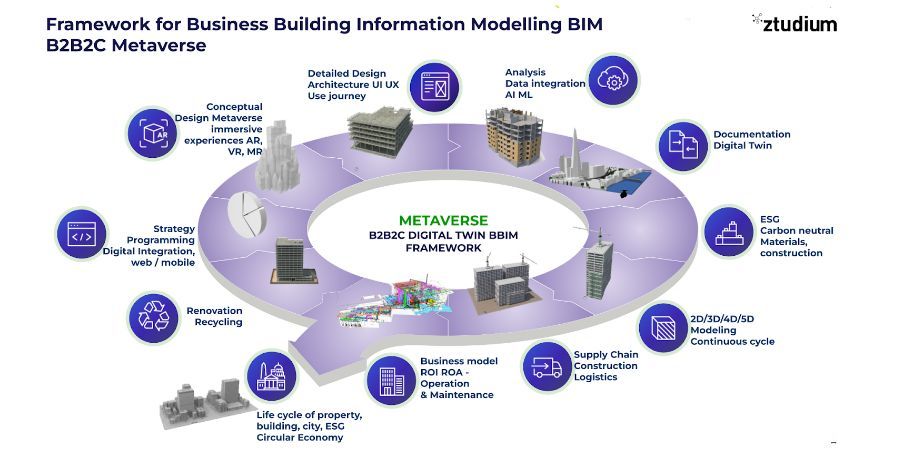 The digital transformation methodology consists of a combination of systems engineering and data science techniques, framed by an overarching procedure that iteratively creates and enhances a digitally accessible dataset of the relevant data. This supports the management and retrofit engineers by easing the access to required information. Besides the presentation of the research background and the methodology, a simplified example is shown, demonstrating the approach using abstracted but realistic information provided by partners from the industry.
Aerospace and defence companies have to thrive in adopting best enterprise technologies — remove siloed in on-premise legacy systems and data centres— and they may have to get the agility or decision-making ability required to capture this digital 360 potential new growth.
Applications of 4IR, AI, Digital Twins and Metaverse in the Aeronautics, Aerospace and Defence Sectors
Aerospace and defence companies have a unique opportunity to simultaneously grow and optimise their core operations, business and plant flags in the new critical segments of Digital Twins, AI and Metaverse.
The Use of AI in Aeronautics, Aerospace and Defence Sectors
AI data models PAAS integrated Digital twins and Metaverse enterprise technologies are opening new radical solutions and opportunities for the aeronautic and the defence and planes industry at large.
These sets of technologies and, particularly Artificial intelligence, are now driving the industry and its innovation in all its sectors and it will be much more powerful when it comes to aerospace and defence. The radical transformation will touch from the management, factory, fleet to the combat field. 4IR, Digital Twins, AI, Metaverse  technologies are increasing all operations, security and safety in leadership, strategy, autonomous flights, threat detection, radio communications, and more.
In this regard, supporting software has to make quick decisions in high-risk scenarios. 4IR, and Artificial intelligence in particular, are becoming integral to the $8.7T industry space as companies and government agencies are using technologies from robotics and autonomous systems to cybersecurity and telecommunication for company and national security.
Some functions of AI are already applied to business strategy, leadership management, Aircraft design and development, financial and engineering models such as Aircraft testing & optimization. There is also a high presence of AI software in Pre- and Post-flight inspection, operations & safety compliance.
All major aeronautics and defence companies and contractors such as Raytheon, General Dynamics, and Northrop Grumman have announced digital transformation AI-based research initiatives and product launches. Companies such as Lockheed Martin, Airbus, and Boeing have made investments in AI startups through their venture arms. 
Digital Twins And Metaverse in Aeronautics, Aerospace and Defence Sectors: A Game Changer
The several profound transformations in the entire aerospace sector stem from the convergence of the physical and digital realms, blurring the demarcation between hardware and software through seamless data integration.
Here is where digital twin technologies and metaverse are changing the entire way the physical and digital combine in the industry and sector at large. In Aerospace and Defense the digital representation of an intended or actual real-world physical product, fleet, plane, system, or process will in much more impact serve as the effectively indistinguishable digital important counterpart of it for practical purposes, such as simulation, integration, testing, monitoring, and maintenance.
Digital twin technologies are now used to train AI to fly autonomous aircraft and combine and optimise overall business operations. Industry professionals such as AI pilots can get thousands of hours of flight time on a digital simulation in a fraction of that time and learn in days than what it takes, a human pilot, months to experience.
At the same time, many companies and militaries are investing in the metaverse market to augment and enhance their current capabilities. Metaverse-enabling technologies, such as VR and AR, have been a staple of the defense sector for several decades. However, the emergence of new COTS technologies promises to see further application of the metaverse in training, manufacturing, and battlefield scenarios.
Examples include Project Maven, announced by the US Department of Defense (DoD) in 2017. This is a large-scale initiative to develop computer vision algorithms for military purposes. The following year, the DoD launched the Joint Artificial Intelligence Center (JAIC) to focus on AI R&D. Other leading aerospace and defence industry companies currently deploying the metaverse are Royal Australian Air Force, Royal Australian Navy, People's Liberation Army (PLA), Israeli Defense Forces, and British Army among others.
The Future of the Aeronautics, Aerospace and Defence industry
The combination and integration of the digital twins with AI and Metaverse offers a powerful way to improve and offer new ways to optimise aeronautics 360 as the solutions evolve together is known as digital transformation and artificial intelligence combining thread.
Aeronautics, Aerospace, Defense companies can leverage these technologies and their digital twins in a way that delivers significant value today. The solutions go from use while building the engineering architecture, its deployment and its life cycles and real time operations. 
The importance with these technology solutions offer a Modeling asset performance optimization across a fleet, set of aeronautic infrastructure and combined SAAS and PaaS model dashboard that offers a much faster optimization than in real time. Aeronautics, Aerospace, Defence organisations and organisations that will use and leverage these tech solutions are set to dramatically improve and optimise their business and performance in all different areas of the industry in coming decades.
This 4IR and AI, digital twins and metaverse shifts are unsurprising as the aerospace companies and government defence agencies that work with these private contractors are beginning to adopt at large and stress the need for full digital transformation and AI to enhance full operations, safety and security.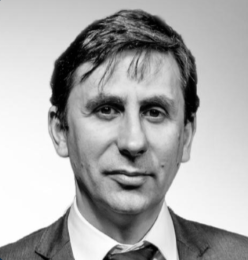 Dinis Guarda is an author, academic, influencer, serial entrepreneur, and leader in 4IR, AI, Fintech, digital transformation, and Blockchain. Dinis has created various companies such as Ztudium tech platform; founder of global digital platform directory openbusinesscouncil.org; digital transformation platform to empower, guide and index cities citiesabc.com and fashion technology platform fashionabc.org. He is also the publisher of intelligenthq.com, hedgethink.com and tradersdna.com. He has been working with the likes of UN / UNITAR, UNESCO, European Space Agency, Davos WEF, Philips, Saxo Bank, Mastercard, Barclays, and governments all over the world.
With over two decades of experience in international business, C-level positions, and digital transformation, Dinis has worked with new tech, cryptocurrencies, driven ICOs, regulation, compliance, and legal international processes, and has created a bank, and been involved in the inception of some of the top 100 digital currencies.
He creates and helps build ventures focused on global growth, 360 digital strategies, sustainable innovation, Blockchain, Fintech, AI and new emerging business models such as ICOs / tokenomics.
Dinis is the founder/CEO of ztudium that manages blocksdna / lifesdna. These products and platforms offer multiple AI P2P, fintech, blockchain, search engine and PaaS solutions in consumer wellness healthcare and life style with a global team of experts and universities.
He is the founder of coinsdna a new swiss regulated, Swiss based, institutional grade token and cryptocurrencies blockchain exchange. He is founder of DragonBloc a blockchain, AI, Fintech fund and co-founder of Freedomee project.
Dinis is the author of various books. He has published different books such "4IR AI Blockchain Fintech IoT Reinventing a Nation", "How Businesses and Governments can Prosper with Fintech, Blockchain and AI?", also the bigger case study and book (400 pages) "Blockchain, AI and Crypto Economics – The Next Tsunami?" last the "Tokenomics and ICOs – How to be good at the new digital world of finance / Crypto" was launched in 2018.
Some of the companies Dinis created or has been involved have reached over 1 USD billions in valuation. Dinis has advised and was responsible for some top financial organisations, 100 cryptocurrencies worldwide and Fortune 500 companies.
Dinis is involved as a strategist, board member and advisor with the payments, lifestyle, blockchain reward community app Glance technologies, for whom he built the blockchain messaging / payment / loyalty software Blockimpact, the seminal Hyperloop Transportations project, Kora, and blockchain cybersecurity Privus.
He is listed in various global fintech, blockchain, AI, social media industry top lists as an influencer in position top 10/20 within 100 rankings: such as Top People In Blockchain | Cointelegraph https://top.cointelegraph.com/ and https://cryptoweekly.co/100/ .
Between 2014 and 2015 he was involved in creating a fabbanking.com a digital bank between Asia and Africa as Chief Commercial Officer and Marketing Officer responsible for all legal, tech and business development. Between 2009 and 2010 he was the founder of one of the world first fintech, social trading platforms tradingfloor.com for Saxo Bank.
He is a shareholder of the fintech social money transfer app Moneymailme and math edutech gamification children's app Gozoa.
He has been a lecturer at Copenhagen Business School, Groupe INSEEC/Monaco University and other leading world universities.