Creating a sales funnel is easy, but optimizing it is a whole new story. So, you probably stumbled upon this page in hopes of increasing your conversion rate throughout your sales funnel. Fret not — because we lay out a comprehensive guide that should do the trick. After all, who wouldn't want to ensure that every dollar they invest in advertisements ultimately leads to an improved business profit, right?
In the fast-paced age of eCommerce, business owners resort to different promotions, campaigns, and an effective social proof tool to boost their sales. These techniques are elaborated one-by-one for your convenience, but it is essential to define what a sales funnel is first.
What is a Sales Funnel?
In essence, a sales funnel is a tool that can help entrepreneurs to visualize the journey of their potential customers from the moment they become aware of your goods or services to when they finally decide to make a purchase. It can be represented as a pipeline, as shown below.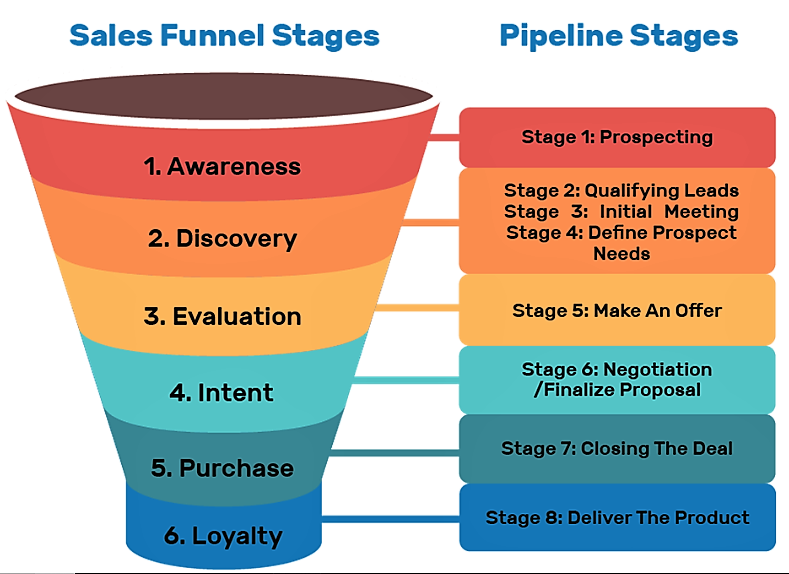 As observed, the number of prospective buyers typically decreases as we go further down the key stages since prospects enter the funnel from a wide array of engagements; however, only the most involved ones are channeled to the bottom. Each step plays a crucial role in increasing engagement and trust, leading to converted sales and repeat customers.
If you can optimize each stage, your business has a better shot of increasing its sales funnel conversion rate. While it is true that your sales funnel is always going to lose some leads, you can still prevent too much lost count and nurture your prospects. Now, let's dissect each stage and delve deeper into the marketing techniques to improve your products or services' salability.
Increase awareness through educational content
You need to know your prospective customer's pain points, which are specific problems they experience, and be proactive in addressing them. However, you cannot sell a solution if your target leads are not aware of your presence in the first place, so they are most likely to turn to other providers. Hence, it is vital to establish your brand as an industry leader in its area of expertise.
There are different types of content to educate your buyers, but we have compiled the most effective ones in engaging leads further down the funnel.
Solution-oriented blog articles

.

This is a basic marketing strategy that budding entrepreneurs should be aware of. It is important to create a product- or industry-related content that can improve your branding and establish your authority. Most blogs employ optimization techniques to help their published articles rank up higher on their search engine page. Winding up in the first five of the search list can dramatically increase your chance of fishing a customer since most of them click on what is readily accessible in the search engine pages.

How-to videos

.

These types of videos allow you to showcase your expertise with your website visitors. Though the goal is mostly to answer questions, it would not hurt if you incorporate your brand to solve your audiences' pain points.

Research reports

.

Researching a relevant topic in your industry and presenting your findings in a report can also attract prospective buyers. It is considered a practical move as customers trust data more than a product description or sales copy provided by manufacturers.
Put up a landing page to nurture interest & evaluation
A landing page is a standalone page on your website, created specifically for an advertising or marketing campaign in digital marketing. Its content usually focuses on a single problem or goal and includes a call to action (CTA). This is also where website visitors are supposed to land after clicking a link in an email, ads from social media, or other similar places on the internet. 
Its entire purpose is to offer a lead magnet that addresses your prospect's problems — either through an ebook or webinar — to capture their contact information or compel them into purchasing your goods and services. For the best result, it is advisable to target people who are most interested in what you offer and create a visually appealing design.
Constructing a landing page helps send higher traffic to your website and potentially increase your conversion rate. In relation, increasing visits on your landing page can be done in many ways, but here are the most common tactics to maximize the use of such pages:
Pay per click campaigns

. Pay-Per-Click (PPC) campaigns are marketing schemes where you pay websites for every visitor that clicks on your advertisement on one of their web pages. Host websites can also be paid by the number of impressions the shared ads receive. In general, PPC campaigns help drive traffic to landing pages where email IDs are then captured.

Autoresponder series and drips

. Drip marketing strategy sends or "drips," a pre-written set of email messages that are blasted to prospects over time. A well-crafted autoresponder series piques the potential buyer's interest and entices them into a direct purchase.

Traditional public relations

. While online strategies are proven to be useful, conventional public relations such as print publications and advertising, live events, direct mail, TV commercials, and even SMS marketing can still attract offline customers. It would not hurt to try since your main goal is to engage as many leads as possible to multiply conversions.
Present social proof to increase consumer desire
As more consumers are inclined to resort to social networks to look for reviews, advice, and referrals, the chances of them checking your business out are high. Studies show that almost 92% of online consumers check out product reviews before deciding to make a purchase or not. They expect real-time answers to their questions, much like a window shopper attended by a sales agent. Thus, expanding your network in big platforms such as Facebook, Instagram, Twitter, and LinkedIn should already be a given.
Social proof, which is a marketing technique utilized by businesses to assure leads that current customers are using and enjoying their products and services, is an effective tool to build trust among consumers. Apart from promoting your business on social media to jumpstart your exposure, there are effective social proof tool available in the market to help you generate more sales..
Set up calls to action to encourage purchase
After establishing your authority and trust, now what? Customers should not be left wondering what to do next, or else they might lose their interest and check out your competitor's brand instead. Clear call-to-actions (CTAs) are essential parts of converting a prospect into sales. These CTAs should be brief and direct that motivates your buyer into purchasing. Notable lines that  encourage leads to seal the deal are:
Start your free trial

Go premium

Buy your favorites today

Schedule your appointment

Book now

Secure membership access

Call/Phone us at (business number) for a free quote
Remember, your CTA's appearance is as important as your sales copy, and therefore, should be as equally enticing. One strategy to help CTAs stand out visually is to use colors that contrast with the webpage background. This step helps draw attention to the most crucial part of your sales funnel. Lastly, customers are easily bored and distracted. That is why it is necessary to put your CTA in a prominent location where prospects can quickly access your purchase page with ease.
In some cases, some interested customers are not yet ready to commit. Letting them go without trying to keep them is a wasted opportunity. This is where a contact or comment form comes in handy. It is a perfect way to add subscribers to your list. It is wise always to include an option for visitors to receive your email newsletter either in your form or confirmation page. This way, unprepared buyers are still on the hook of your latest products and updates, and hence a maximized potential of engaging them in the sales funnel again.
Hopefully, you have learned ample opportunities for conversion. However, you need to realize that it is not only about the sales funnel but also about learning how to optimize it. With careful planning and proper implementation, you are guaranteed a loyal customer base that gives your business more engagement, conversions, more sales.

Founder Dinis Guarda
IntelligentHQ Your New Business Network.
IntelligentHQ is a Business network and an expert source for finance, capital markets and intelligence for thousands of global business professionals, startups, and companies.
We exist at the point of intersection between technology, social media, finance and innovation.
IntelligentHQ leverages innovation and scale of social digital technology, analytics, news and distribution to create an unparalleled, full digital medium and social business network spectrum.
IntelligentHQ is working hard, to become a trusted, and indispensable source of business news and analytics, within financial services and its associated supply chains and ecosystems.