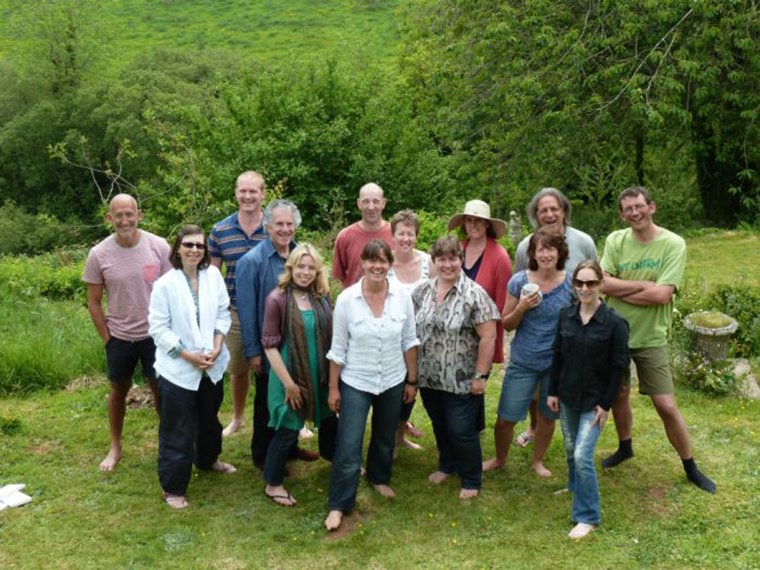 It is interesting that a considerable number of the initial actions of fairly new groups are related to food. Rob Hopkins believes it has something to do with the fact that it doesn't require enormous amounts of money to do this, and also there's no need to wait around for the bureaucracy. Dan McTiernan is the Co-founder of Handmade Bakery, a local food project that can be seen as either a social enterprise or a co-op. In this particular case, when he was setting up,Dan was able to find families who were willing to pay up front for their bread and was also able to obtain several loans from individuals and community members whose interest was later repaid in bread.
Heal the soil was the first Transition Initiative in India, whose main concern was ensuring that everybody had access to good quality food. In order to evolve but still keep the rural spirit of India's villages, in order to find a balance, they decided to introduce kitchen gardens and other green practices.
Green Valley Grocer is another example of a food related initiative. It is known as a local grocery store, which has been open from around the time of World War II. More recently, the grocer was on the point of closing because there weren't enough costumers to finance its survival and the business struggling. So one of the Co-founders, Graham Mitchell, decided to take the shop on as a community-owned approach, with the business owned collectively. The purpose was to recapture the interest of the town's people and encourage them to come back to shopping there, in other words to make people shop locally instead of driving to supermarkets. The way to do this is to make the community the owner of the shop. People sell local farm products to the shop, products that are grown by themselves, and then they spend the money that they earn, or recycle it (as a shopper/owner points out), at the shop again.
This is actually a component of the fourth, and final, step referred to by Rob Hopkins, and one that can help us to understand and define Transition Initiative. Always keeping in mind togetherness the fourth stage of the process is called building and is all about strategic thinking and the creation of new infrastructures. It's to do with how to start collectively and strategically thinking about local needs and transforming abstract ideas into something concrete.
An example of a particular initiative at the level of local infrastructures, besides the food trade, is the establishment of local energy companies. Chris Rowland, of Ouse Valley Energy Services Company (OVESCO), is an example someone who has driven the creation of local energy companies in the UK. But OVESCO is not the only one: Fujino Power Company is also a renewable energy company (solar panels) that was started to serve the need of local people, in this specific case, after a natural disaster.
"In these difficult months following the 11 March quake and tsunami, it has been a time for reflection and an opportunity to ponder what the future holds in store for Japan. Some hints of what a better future may look like can be found just a short train ride from Tokyo, in a place called Fujino." – Brendan Barrett, United Nations University
It would appear that people tend to unite not just to celebrate good times, but also in the face of despair and necessity. Christchurch, New Zealand, is a case where, very like Japan, people suffered severe damages caused by natural disasters and, yet, were still able to reinvent themselves and their community. "The true heart of a community is its people" – Julie Lee, Time Banc Coordinator, assures us.
To be able to imagine change on a small scale is a challenge, but it also makes it more manageable and achievable for each individual, according to the Co-founder of Transition Network. That is the main reason why each group, from each locality, has its own goals and diverse needs. For the small Portuguese village, Aldeia das Amoreiras, the mainly objective is to keep dreaming, as it was the power of dreams that managed to get people together to paint houses and to set up markets in the village. In Brazil, Transition Initiative primarily represents educational concerns and the preservation of species diversity. This kind of localized social cohesion is believed to be necessary in order to create cooperation on more global scale.
For Rob Hopkins and Sophy Banks, also Transition Network representatives, it is important to realize that one doesn't need to be part of a particular organisation in order to start transforming neighbourhoods and communities and making them into better places.
Whitney Avenue Urban Farm (Pennsylvania, US) is the example given in the documentary made by Transition Initiative, which is known as In Transition 2.0: a story of resilience and hope in extraordinary times. The co-founder Chris Condello started shifting the mentality of the suburban people, much to the joy of some of the inhabitants, such like Lorna Taylor, who speaks proudly and emotionally of her new neighborhood.
Even though there are certainly some individual changes that can be made, the strength comes from unity and togetherness. Communities are also encouraged, by the people who first dreamt up Transition Initiative, to have places where members can join in, celebrate and appreciate the work that their communities have achieved. Somewhere where everyone has the right to speak and, more importantly, has the right to be listened to. However, despite what's currently being promoted by the Co-founders of the movement, there have been some active critics of this initiative. According to Jay Griffiths, from Orion magazine, there are some conflicts within the movement with divisions created between those who want to act faster and want to see more results sooner, and the ones that would rather wait and plan a strategy which would be more efficient in the long term.
Transition Lancaster, for instance, did not go so well. There's always conflict and differences, and entire organizations can crumble, if not able to deal correctly with these problems. Chris Hart tell us about his bad experience:
"If I'm absolutely honest it was horrible (…) had an absolutely horrible ending to it. Gosh! If this is people trying to get together and try to save the world get me of this planet, I don't want to be here. Cause we ain't got hope, and we are probably or completely misguided, and we're naive and a bit stupid."
There are also the critics proposed by certain organisations and large companies who do not directly profit from this kind of social awareness. In fact, some of these initiatives might lead to some fierce questioning of economical agendas and political orientations.
To put it in a simpler, briefer way, Transition Initiative is imagining the best possible future and trying to figure out how to get there with the support of local communities. This complex movement starts with a much simpler proposition, which is the will to do more for a common future. Although these are the intents of the movement, there must always be an awareness that Transition is a social experiment, not a certainty. Its members and defenders are conscious of the possibility that it might not work at all, as they have stated:
"Transition is a social experiment on a massive scale. We don't know if it will work, what we are convinced of is that if we wait for governments it will be too little, too late. If we act as individuals it'll be too little. But if we act as communities, it might just be enough, just in time."
Even with the possibility of failure, the uncertainty and the reasonable doubt, to Naresh Giangrande (Co- founder of Transition Town Totnes) "we're facing a historical moment of choice – our actions now [are] affecting the future. Now is the time" to act.
Transition Initiative, a change within ourselves Part 1
This article was first published in I'M Magazine
Ana Teresa Silva is a journalist, writer and life coach.
After many years as a freelance journalist, working on TV documentaries and for several newspapers and magazines, she founded I'M Magazine, an international digital magazine that covers projects and extraordinary people that are changing the world. 
Since 2008 she has been interviewing social entrepreneurs and innovators, futurists and change-makers, thinkers and facilitators from all over the world and sharing compelling life stories, ®evolutionary roads, projects for a sustainable future and ideas in motion…
Ana Teresa is also the Managing Director of a portuguese digital magazine on health and well-being. As a writer, she authored 6 books (one of her novels won a 1st prize fiction award), and she has also written 2 children's theater plays and a daily TV series. Her last published novel, "Amanhã é outro dia" was published in November 2014 by Talent Hunter Editions.
She works also as a Life Coach and PsyCH-K facilitator.